2010's 10 Most Intriguing Rookies in Major League Baseball Thus Far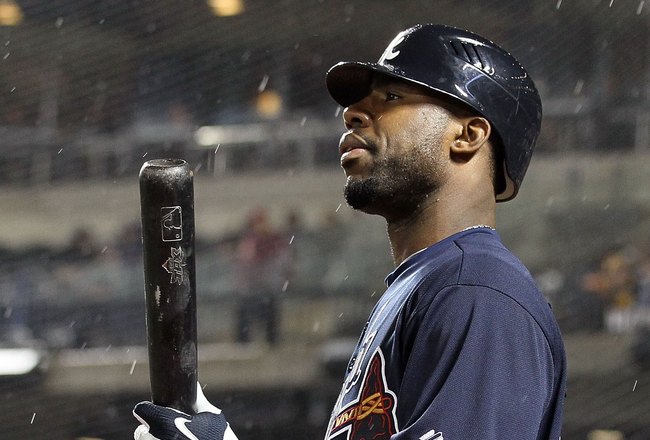 With a couple of months of the 2010 MLB season in the books, there are a handful of interesting young rookies making a big splash around baseball. It seems like nearly every successful team has a young arm or bat that has gone from rookie to mature ballplayer in this brief period of time.
It is safe to assume that these rookies are key pieces to the success of their respective teams.
Here is a collection of 10 big league rookies that have already proven to be headlining the race for the Rookie of the Year awards. Fans can expect these names to remain in circulation throughout the season when it comes to discussing baseball's best young stars.
Missed the List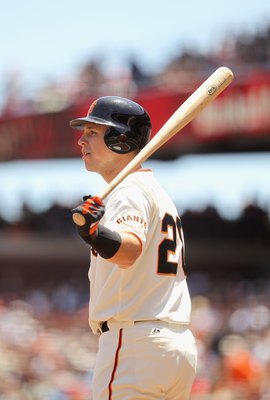 To avoid the snubbing of any deserving rookies, here are five that just barely missed the list, but still are in need of a mention. It also would not be much of a surprise if some of these names would be worthy of being posted high up on the actually list in a month or two.
Drew Storen, RHP—Washington Nationals: He's appeared 10 times in a relief role for the Nationals and has given up only two earned runs in 9.1 innings pitched. As their top reliever prospect, the Nationals expect this production to continue as Storen will one day close games for the team.
Buster Posey, C/1B—San Francisco Giants: He has not experienced much big league action just yet, but in nine games and 33 at bats, he has hit safely 15 times, good for a .455 batting average. The Giants hope he can live up to his hype, and he has set off on the right foot.
Starlin Castro, SS—Chicago Cubs: This 20-year-old has hit a pair of home runs while batting .272 in 28 games for the Cubs. The Cubs may have a rare homegrown gem here, especially if his batting improves, considering that he hit .376 at AAA this year.
John Ely, RHP—Los Angeles Dodgers: A relatively no-name starter rising to the occasion in the bigs, Ely has been a pleasant surprise for the team, looking like the most consistent starter in that Dodger rotation. He has posted an ERA of 3.00 and a WHIP of 1.06 in eight starts.
Jhoulys Chacin, RHP—Colorado Rockies: His ERA has ballooned a bit to 3.77 of late, but he's got a great arm that can easily record strikeouts. He's collected 45 through his 43 innings pitched.
Gaby Sanchez, 1B—Florida Marlins: Sanchez has been able to come up with big hits and drive and runs, and has been useful up and down the Florida lineup. He has hit four home runs through 55 games, driving in 21.
*Oh and Stephen Strasburg should get a mention here. He missed the list because It got published before he made his start. 14 srikeouts to 0 walks, even against the Pirates is literally something else. At this rate, expect to see Strasburg way up on this list as the season rolls on.
10. Ian Desmond, SS—Washington Nationals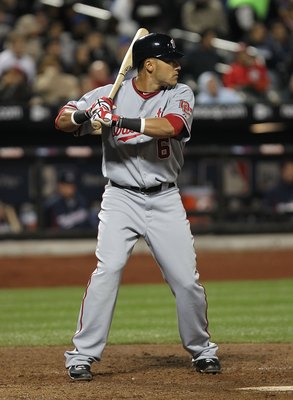 Ian Desmond has provided the Nationals with a solid offensive addition to their lineup, especially as a shortstop. Through 56 games, he is batting .277 with four home runs and 30 RBI's. Desmond has stolen four bases, but his past minor league experiences state that he could easily steal more.
The main concern that surrounds Desmond is his fielding. He's committed a staggering 15 errors at shortstop this year. The number looks hideous, but scouts say that the errors overshadow his athleticism in the field, especially when it comes to turning flashy plays and getting big outs.
9. Ike Davis, 1B—New York Mets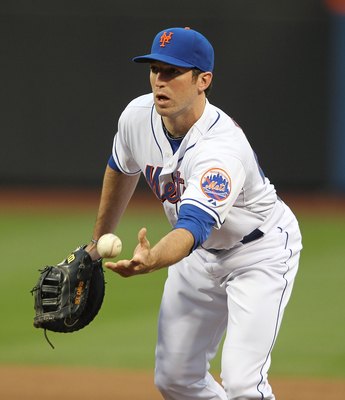 When Ike Davis stands in at the plate, he looks nothing like a rookie. He looks like an experienced hitter who demonstrates patience. He has a smooth swing and can drive the ball with ease, smacking six home runs thus far in 2010. Davis also has displayed the uncanny ability to hit southpaws, batting .372 against them.
Ordinarily, he looks like an average first basemen defensively. For example, he has committed four errors. However, that cannot take away from the four to five ridiculous-looking over the railing foul catches he has made through his 44 games this year.
8. Neftali Feliz, RHP—Texas Rangers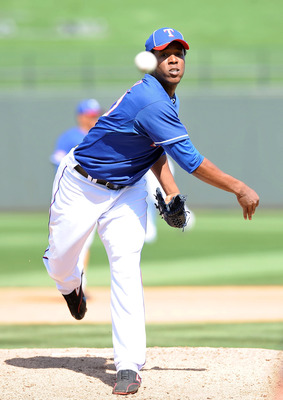 Feliz has begun to shine as the Rangers closer. At the moment, he finds himself fourth in the Majors in saves with 15, in 17 opportunities. He has continued to show off some solid control, walking just seven in 26.1 innings pitched. Due in part to his control, his WHIP is sitting pretty at 0.95.
Feliz is only 22 years old and could easily have a long career ahead of him as a closer, especially if he keeps it up with the power pitching. His fastball can reach the upper 90s, and he has even been able to record triple digits. He is the ideal man for the closing job in Arlington.
7. John Jaso, C—Tampa Bay Rays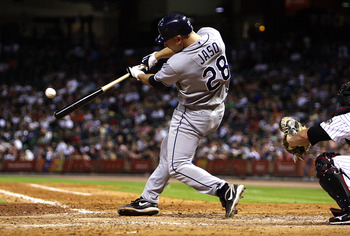 Jaso has been particular interesting for how he's been utilized in the lineup by Rays Manager Joe Maddon. Jaso's offensive flexibility and athleticism has been showcased by his ability to hit wherever Maddon places him in the lineup. For example, just the other night, Jaso was the designated hitter and batted leadoff. Rarely does a positional catcher ever touch the top of the order.
Statistically, Jaso's offense proves that he is a threat in the lineup. He has bat .307 in 34 games with three home runs and 24 RBI's. His .423 OBP pushes him towards the top of the lineup, and it does not hurt that he has struck out just 11 times, as compared to the 19 walks he has drawn.
6. Brennan Boesch, OF—Detroit Tigers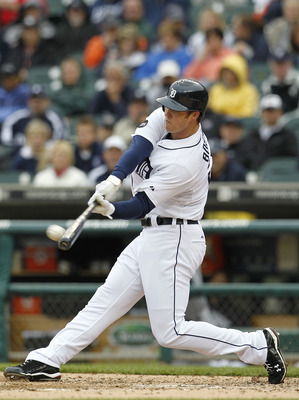 Boesch is another name that most of Major League Baseball may not be familiar with. He's a 25-year-old left-handed hitting outfielder that has reached the Tigers' active roster for the first time. He has found plenty of success and has earned himself a starting role. Through 35 games, he is sporting a .339 batting average. He has tallied five home runs, while driving in 25.
He has posted his production strictly against right-handers, but against lefty pitchers, he 11 of 20. Boesch will need to work on his plate discipline to continue producing, however. The nine walks he has drawn are simply not enough, especially in comparison to his 27 strikeouts. His potential power is easily a plus.
5. Austin Jackson, OF—Detroit Tigers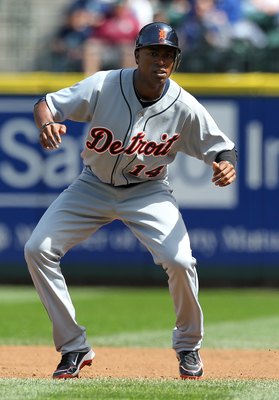 Jackson comprises the second half of Detroit's rookie tandem of outfielders. Jackson immediately attracted attention after the first month of baseball. In the month of April, Jackson's 36 hits led Major League Baseball, a number he has increased to 74 at this point. His hitting prowess is accompanied by a .325 batting average.
Jackson has speed on the base-paths as well, swiping eight bases. He also has a good arm in the outfield. Relatively accurate, he has only committed one error through 51 games started in the outfield.
He'll need to work on his patience at the plate. His 61 strikeouts have him tied for the eighth most in baseball. If he works on his discipline, he'll pick up even more hits and will be a 200-hit threat at the end of the year.
4. David Freese, 3B—St. Louis Cardinals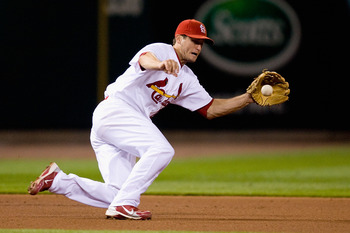 David Freese has done a very fine job of hitting with regularity for the Cardinals. He has even found himself batting cleanup on multiple occasions. He is showing that he has the potential to hit for some power with four home runs, right now on pace for about 10-15.
Freese can be somewhat unpredictable to an opposing defense as he tends to spray the ball all over the diamond.
His .313 batting average and 32 RBI's marks him as a reliable bat in the Cardinals order, a healthy alternative to the big names like Albert Pujols, and Matt Holliday. If he continues to develop and be consistent, he could fly under the radar as one of the better all-around third basemen in the National League.
3. Mike Leake, RHP—Cincinnati Reds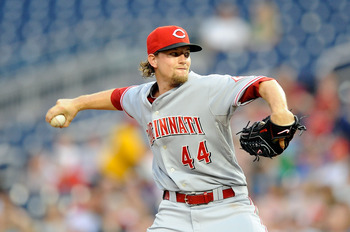 It is not every day that a pitcher gets drafted, skips the minor leagues and jumps straight to a big league rotation. Mike Leake is the exception. He's started 11 games thus far into 2010 and has posted a 5-0 record. He has received plenty of run support, but his ERA is still sitting at a very fine 2.22.
His command has looked pretty good. The Arizona State product has walked 25, but struck out 50 in 73 innings pitched. That is good for a 1.23 WHIP.
Leake dominates when he gets ahead in the count on batters. In these situations, he hasn't walked a batter all year, and has collected 23 strikeouts.
It is just simply astounding that a guy can skip developmental ball and jump right to Major League Baseball, but look like he has been groomed in a farm system for years anyway.
2. Jason Heyward, OF—Atlanta Braves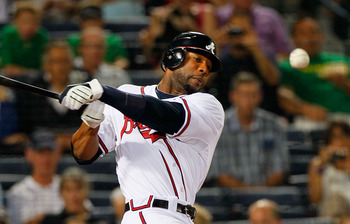 Easily, Heyward has been the most productive offensive rookie. He leads all rookies in home runs and runs batted in with 10 and 39. His patience at the plate has helped him draw 36 walks, contributing to a good .396 OBP.
Heyward is capable of hitting lefties and righties alike, but his overall average may be down for where he would like it to be, sitting at .267. Heyward can crush the ball with runners in scoring position. In these clutch situations, he is batting .340 with 26 runs knocked.
Heyward has the makeup and maturity to develop into the best hitter in this Braves lineup in no time.
However, he is not the number one pick here because he simply is not that much of a surprise. It was almost a given that he would emerge with the Braves and produce immediately.
1. Jaime Garcia, LHP—St. Louis Cardinals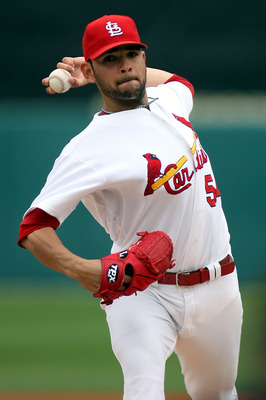 When it came out from Tony La Russa during spring training that Jaime Garcia was the best looking starting pitcher on the Cardinals staff, it was almost laughable considering that he pitches alongside the likes of Cy Young threats Adam Wainwright and Chris Carpenter.
But small wonder, Garcia is out-pitching both of them, and most of the National League. Through his 11 starts and 67.1 innings, he has surrendered just 11 earned runs, good for 1.47 ERA and a 5-2 record.
The 1.47 ERA is second in baseball, as he sits atop names like Roy Halladay and his teammates Wainwright and Carpenter.
He has yet to give up an earned run to a lefty batter, prompting opposing teams to avoid throwing left-handed bats his way. He's struck out 42 while ahead in the count, as he is a great finisher. Garcia may very well be the most intriguing rookie in all of baseball simply because of the names he is out-pitching.
If he can continue this outstanding pitching performance, he will give Heyward a run for his money when it comes to the Rookie of the Year Award.
Keep Reading