Burning Questions for the SEC Western Division for 2010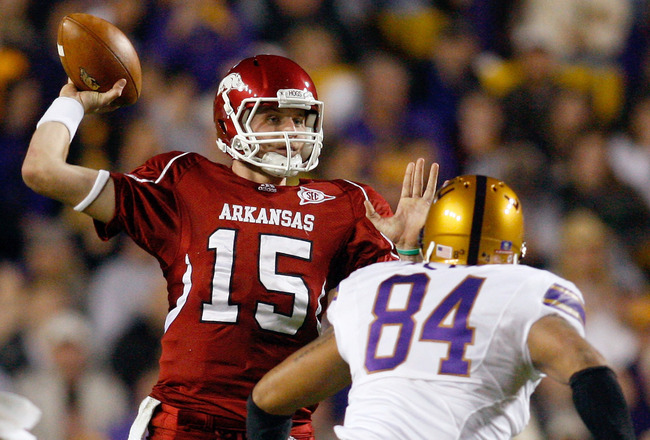 We are now officially in the summer doldrums for college football. Most fans want to know where their team stands going through summer seven-on-seven sessions going into fall two-a-days.
There are some interesting developments that could make a big difference in the conference and nation in 2010.
The SEC will once again be the strongest conference in the nation. If the SEC champion has less than three losses, it is likely they will once again appear in the BCS Championship Game.
It appears that some of the teams in the SEC West are poised to make a run at the championship and make life unpredictable for prognosticators across the country.
There is no single theme across the SEC Western Division for 2010.
There are no less than four solid teams that could win the conference outright. The other two teams are solid and building. They look to upset someone and get into the bowl picture at the end of the season.
There is only part of one coaching staff that seems to be on the hot seat in this division for 2010. The highest new staff is an offensive coordinator. This is a division of teams and coaches that have faced each other before and know what to expect.
Many have said that this division will be harder to win than any other entire conference in college football. Most think the winner of this division will win the SEC Championship and continue on to the BCS Championship game.
There are a couple of teams in the SEC Eastern Division that might disagree with that; of course it makes a good subject for another article.
Can Alabama Compete?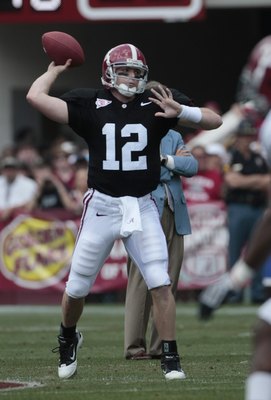 Why would anyone ask this question about Alabama?
They lost nine starters and several backups off of that tough defense. This is not the biggest problem area. They will be a little thin in the defensive backfield until freshmen step up, but they will have a top-20 defense.
They lost their two most experienced offensive linemen. They have good if inexperienced talent to fill the ranks. This is a nuisance more than a problem.
They lost their exceptional kicker. This is a bigger problem than the above two, but still more of a nuisance.
They lost their experienced punter. They should find someone to get them by in this area.
They lost their all-SEC returner. This will hurt some, but still does not make a huge problem.
They lost their experienced long snapper. Yes, I did have to include this.
The problem for Alabama this year is not one big glaring fault; it is a combination of these six minor nuisances added up with apathy that always follows a championship team. When a team has this many nuisances to overcome they have to be intensely motivated to work hard.
This is seldom the case with several team members that just took part in a championship season. Finding a collective goal that the entire team can rally around and work toward could be the biggest nuisance of all.
Can Arkansas Make a Move?
Arkansas lost less talent than any other team in the SEC after the 2009 season.
They have a great starting quarterback that has experience. They have a good receiving corps. They have a decent offensive line. They have productive running backs.
All of this adds up to a productive offense. They will in all likelihood be as good or better on offense in 2010.
Their problem on offense—while they were good, Florida and Auburn were better in 2009. While Florida looks to take a step back on offense in 2010, Auburn will likely be better as well.
Alabama was a strong fourth in offense and they return a very effective ball control offense with an experienced quarterback.
Can Arkansas out-perform Alabama and Auburn on offense in 2010?
On defense, Arkansas started the 2009 season as porous as a sieve. By the end of 2009, the defense had improved some against the run. Word out of spring practice had the defense being more athletic.
While being athletic is good, stopping opponents' offenses is better. This Arkansas defense enters the summer needing a lot of improvement on both rushing and passing defense if they are to compete in 2010.
Will Auburn Surprise?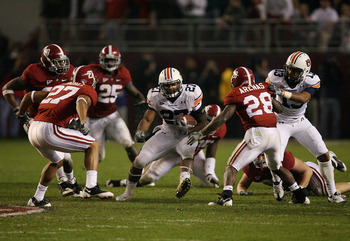 In 2008, Auburn had an anemic offense. In 2009, they had an anemic defense. Can Auburn produce on both sides of the ball in 2010?
The Auburn offense is one of the most talented and productive in the nation. There is little doubt that production will improve in year two for the Tigers as players get more accustomed to the plays.
The Auburn defense accumulated the worst statistical season in school history in 2009. They could not stop the run in the beginning of the season. They could not stop the pass toward the end of the season.
Word out of spring practice was positive.
The defensive line was said to be very good. The defensive corners got rave reviews almost daily. The linebackers and safeties still had work to do.
These holes will have to be filled this fall if Auburn is to contend in 2010.
Is LSU Ready for a Comeback?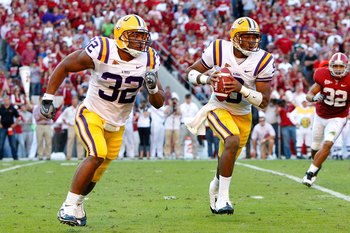 LSU had a good defense in 2009. They look to continue in 2010 with a tough defense that will keep them in the hunt every game. They have talent at every position and it appears to be coming together.
If all goes well LSU should have another stingy defense that will frustrate SEC offenses.
LSU took another year off on offense in 2009. This once-potent unit has been on vacation for a few years now. Much of the blame has been placed on the quarterback position.
This is simply not the problem.
LSU features one of the most talented offenses in the nation every year. There is always enough talent to field an effective offense. The problem is, and has been, offensive talent development.
The offensive staff simply has not made the most of the talent they have.
It looks as if the mighty LSU rushing attack is set to return in 2010. It will be a welcome sight for LSU fans. For most, it looked as if LSU needed an upgrade in its offensive staff and not a new quarterback.
It would seem that this could well be a come through or leave situation for the offensive staff.
LSU has filled the NFL ranks with talent over the last few years only to fall short in their own division. LSU fans are ready to see a complete team hit the field in 2010. All the talent necessary is on the team.
Can the LSU offensive staff come through?
Will Mississippi Miss a Beat?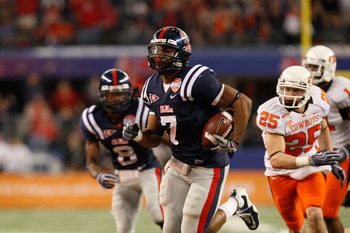 Mississippi has found success in the last two years that they haven't experienced on any regular basis since the 1960s. They are fresh off of two big bowl wins and a season where they cracked the top 10 for a few weeks.
Ole Miss will have a pretty good defense in 2010.
They have a strong defensive line and look to be solid elsewhere. It will be tough on most SEC teams to find the end zone against them.

The Ole Miss offense does not have any offensive playmakers that have proved themselves. They look to replace one of the most versatile offensive athletes in school history and will have an inexperienced quarterback. To top this off they have a new offensive coordinator.
Word has been mixed this spring. There is reason for hope and many questions without answers so far. These questions all revolve around the offense.
One look at the roster will tell anyone that the talent is there. It will be the job of the new offensive staff to put it together.
Look for Ole Miss to go into fall practice having taken a step back on offense, but solid overall. The level of success this season will hinge on the rate of improvement for this young offensive unit.
Can Mississippi State Make a Bowl?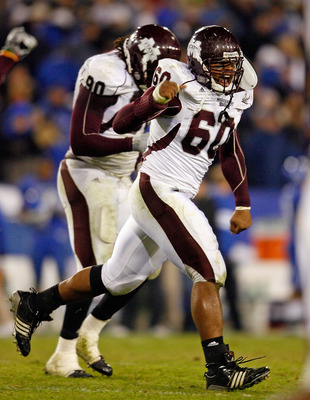 In year two under a new coaching staff, expectations are reasonable at Mississippi State. They want to field a good team and show improvement. They want to slip up on a few teams and kick them around some.
Spring practice ended on a positive note for the Bulldogs. The offense seemed to be executing and the defense was solid. There was a ton of improvement needed on both sides of the ball.
How much this team improves through the summer and into the fall will determine if this team is able to get bowl eligible in 2010.
They are not good enough now, but could be when the season starts.
Keep Reading

Auburn Football: Like this team?