The Ten Best Catch Phrase Sports Announcers of All-Time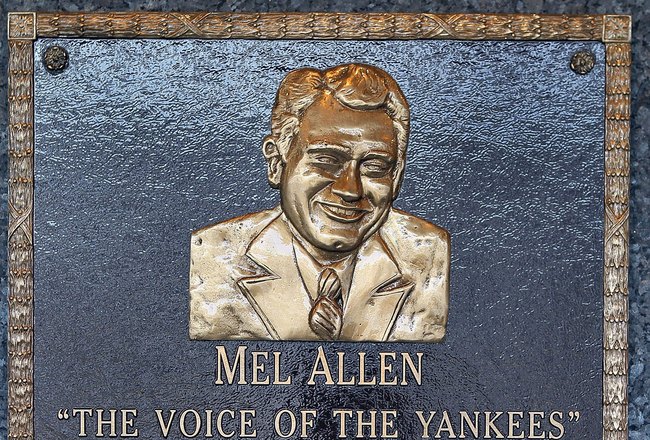 Catch phrases are what gives a sports announcer his signature and separates them from their peers. Catch phrases have been around since the advent of sports media. Everyone has their favorites and they can often be narrowed down to regional allegiances.
10) John McEnroe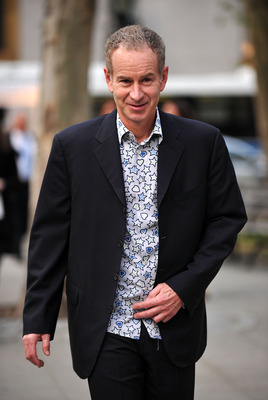 John McEnroe has become a great analyst and ambassador for tennis after his playing career. The catch phrase that made him famous "You cannot be serious" was one he used during his playing career when he was frustrated with the umpires and linesmen.
9) Ken Harrelson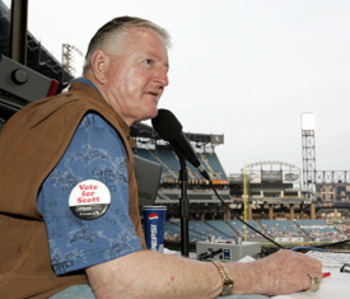 Ken "The Hawk" Harrelson has been the Chicago White Sox Announcer for 25 years. He is one of the most quoted local announcers on SportsCenter. He is beloved by White Sox fans and hated by many opposing fans, especially Cubs fans.
He has an entire dictionary of terms he uses. "Sit back, relax, and strap it down" (at the beginning of every telecast), "You can put it on the board, yes!" (HR), "duck snort" (bloop hit), "He gone" (K), "Gas" (Fastball), "Rack 'em up" (Double Play), and "This ball game is over" (at the end of a White Sox victory).
He is the ultimate homer announcer and unabashedly supports the White Sox while not being afraid to criticize them.
His career has become so storied, there is even a song dedicated to him.
He was honored on June 8, 2010 for his 25 years of service to the White Sox.
Here is a link to the Hawkionary. http://www.csnchicago.com/06/08/10/Hawktionary-A-guide-to-Harrelsons-Hawkis/landing_whitesox.html?blockID=249554&feedID=662
8) Clark Kellogg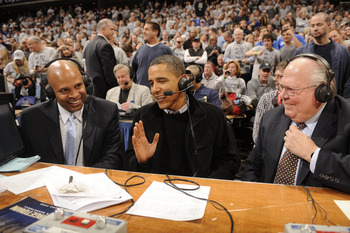 With CBS finally realizing that Billy Packer's time had passed and a newer, hipper, 21st century analyst was needed, Clark Kellogg moved into the No. 1 analyst's chair for CBS at the beginning of the 2008-09 season. He is known for his catch phrases, spurtability, and stat sheet stuffer.
7) Michael Buffer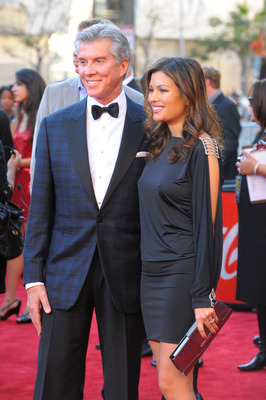 Michael Buffer is the preeminent ring announcer in boxing and wrestling. While he might not have a long list of catch phrases like other announcers, his "Let's get ready to rumble" is recognized world wide as the time for a boxing or wrestling match to commence.
6) Gus Johnson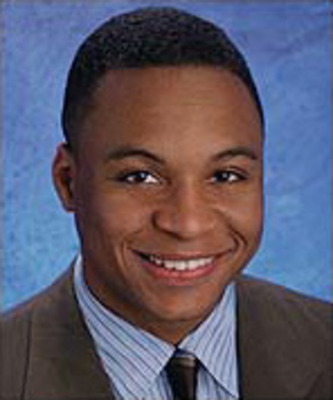 Gus Johnson has become one of the most followed announcers in sports. His popularity gains during the NCAA Tournament. The site http://www.gusjohnsongetsbuckets.com/ has his best highlights and catch phrases.
"To the Bucket," :From the Parking Lot" "What a Game" "What a comeback," "To the hoop," and "Instant classic" are some of his best.
5) Marv Albert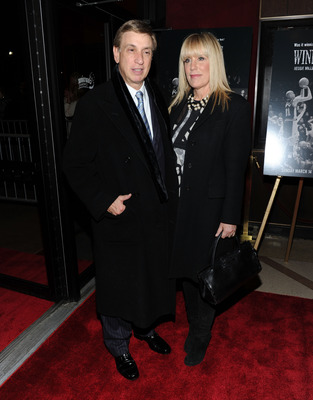 Marv Albert has had a long and storied career as a sports announcer. His biggest association is with the NBA. His calls go back to being astonished when Willis Reed came in from the locker room to play for the Knicks in the 1970 NBA Finals.
He is also closely identified with NBC as their lead announcer for NBA games from 1991-1997. He is therefore closely aligned with Michael Jordan. Albert's signature catch phrase is "Yes, and it counts."
4) Harry Caray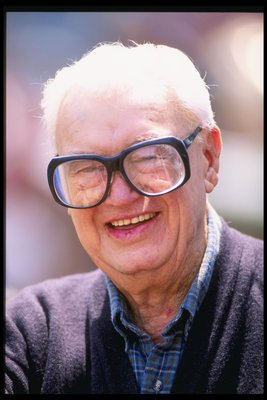 Harry Caray was known as being the Cubs' biggest cheerleader during the later days of his career. He began his career with the Cardinals and had a famous, and sometimes infamous, stint with the White Sox.
While on the South Side, he was partnered with Jimmy Piersal in a somewhat testy relationship at times. He had three famous sayings, "Holy Cow!" "It might be, it could be, it is...a home run!" ,and "Alright (Nancy while with the White Sox), let me hear ya for the seventh inning stretch!"
Former Yankee announcing great Phil Rizzuto also was well known for "Holy Cow!"
3) Mel Allen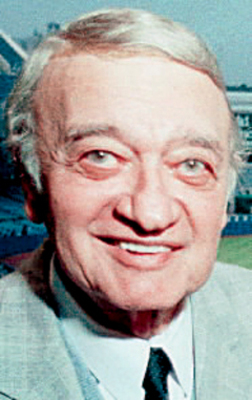 Mel Allen was the longtime voice of the Yankees and host of This Week in Baseball. He was part of the golden age of baseball announcers. His signature catch phrase "How about that" could be heard as part of the Yankee telecasts on TWIB and was honored and spoofed by Allen himself in the movie The Naked Gun.
2) Dick Vitale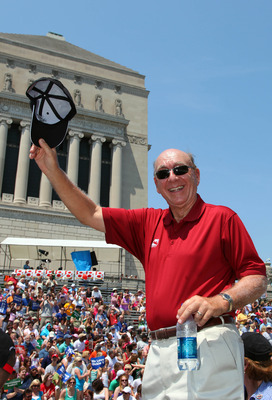 Dick Vitale has been the face of college basketball for 30 years. His catch phrases are legendary and repeated across the country. "Slam, bam, jam," "Diaper dandy," "Showtime," "They love it in...," "Dispy doo, dunkaroo and HELLO!" "Up, up and away," "Are you serious?" are among some of his best.
He was a major reason that college basketball and ESPN exploded in popularity beginning in the 1980s.
1) Al McGuire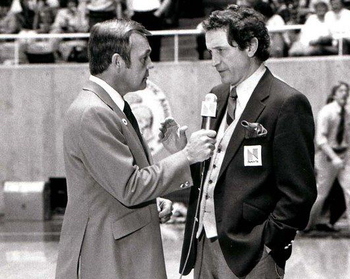 Before Dick Vitale became a media sensation on ESPN, Al McGuire helped push college basketball to the mainstream of American sports. He was a true treasure to watch and gave us many catch phrases.
French Pastry was for fancy pass and an Air Craft Carrier was for a big center. He coined terms that are still used today. "Cupcakes" were for teams scheduling easy opponents and "white-knuckler" for close games.
ESPN did a great job chronicling McGuire's catch phrases. http://espn.go.com/classic/s/McGuirisms.html
Here is McGuire announcing the 1979 NCAA Championship game between Michigan State and Magic Johnson and Indiana State and Larry Bird.
Keep Reading