Cooperstown-Bound: 11 Current Major League Baseball Players on Their Way
(Photo by Nick Laham/Getty Images)

The current talent in Major League Baseball rivals that of any era. Stars are both being born and resting, such as Ken Griffey, Jr.
Of the Hall of Fame hopefuls, here are 11 players whose names you can expect to see enshrined in Cooperstown, NY—the ultimate accomplishment in baseball.
Begin Slideshow

»
Manny Ramirez, Alex Rodriguez, David Ortiz, and Gary Sheffield are out because of PEDs.
Billy Wagner, Roy Halladay, Johan Santana, Carlos Delgado, Miguel Tejada, Michael Young, and Mark Buehrle glimmer and are maybes.
I predict Todd Helton will make it to Cooperstown.
We have a stack of other promising players, too: Tim Lincecum, Ryan Howard, Adrian Gonzalez, Prince Fielder, Ryan Braun, Stephen Strasburg, Carl Crawford, Justin Morneau, Matt Holliday, David Wright, Francisco Rodriguez, Miguel Cabrera, and Chase Utley.
Mauer has already accomplished what few catchers have ever done. In just five seasons, the Twins backstop has three batting titles and the 2009 A.L. MVP award. Over his brief career in the majors, he has hit .326 with a .407 OBP. If Joe continues on this path, we will be able to call him one of the game's greatest ever along with the likes of Yogi Berra and Johnny Bench.
Vladdy will forever be known as the man who could hit anything. When it comes to Guerrero, he has no strike zone. Many of his 419 career home runs have come on pitches that would not have been called strikes. A former Expo and Angel, and current Ranger, Guerrero has compiled a .322 career average. So consistent has been Guerrero that the only season in which he did not hit over .300 was 2009, when he still raked .295.
He's already a first-ballot Hall of Famer. Anything else is just a bonus.
A World Series title; 380 home runs; .333 average; .427 OBP; 1,156 RBI; three MVP awards; five Silver Sluggers; a Golden Glove award; and Rookie of the Year. Anything else you want to add?
The list goes on and on for Albert, who is accepted as the game's best player.
Hoffman is the all-time MLB saves leader with 596 and is on the cusp of being the first to 600 saves. His changeup is considered one of the best in the history of the game.
Also in Hoffman lore is "Hell's Bells," his entrance song.
In 18 seasons, he has a 2.87 ERA and has only walked 298 hitters in more than 1,000 innings, showing his impeccable control.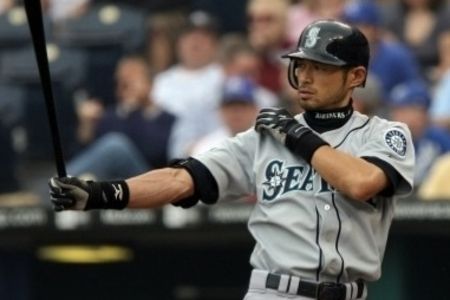 In each of his nine seasons prior to 2010, Ichiro compiled more than 205 hits, including setting the single-season record with 262 in 2004. His career average is at a .334 mark. He has the power to go yard but does his job and lines the ball around the field for singles.
He is one of the best all-time fielders, winning nine Gold Gloves in nine seasons. Ichiro has a cannon in right field.
His 2,112 hits put him on pace to reach 3,000 within five more seasons. Call him a lock for the Hall of Fame.
Ever the bubble-gum-chewer, Chipper is the perfect combination of power and average. With 429 career dingers, Jones is second all-time among switch hitters, just trailing the great Mickey Mantle. He won the 1999 N.L. MVP award while hitting .319 with 45 homers, 110 RBI, and 25 steals.
Consistency is Chipper's thing: 10 times in his career he has hit better than .300.
The game's greatest defensive catcher as well as a dandy hitter, I-Rod is a lock for Cooperstown.
The 14-time All-Star, 13-time Gold Glove winner, and 1999 A.L. MVP, Pudge is a career .299 hitter and .991 fielder. It's beyond tough to steal on Rodriguez, as he has thrown out an all-time high 46 percent of runners. Put him down as one of the top catchers ever.
Agree with it or not, Vizquel deserves to make the HOF. Just like I-Rod, Omar is the best defensive player ever at his position. That's right—move over, Ozzie Smith.
Vizquel has garnered 11 Gold Gloves at shortstop. His .985 fielding percentage is stellar for shortstops. His .272 career average has put him on pace for more than 2,800 hits. He definitely is an above-average hitter for a shortstop. Smith only hit .262 with around 2,400 hits, so Omar deserves the same attention The Wiz got.
Thome, an old-fashioned, pure slugger has 569 career round-trippers, good for eleventh all-time and third among active players. With 1,582 RBI and .556 SLG, the current Twins slugger will be a tough turn-down.
The Yankee captain and all-time franchise hits leader is seemingly a lock for the Hall. One of the best winners in history, "Jeet" has five World Series rings.
Add to this 10 All-Star appearances, four Gold Gloves, and a .317 average, and Jeter is a first-ballot HOFer.
He is a mortal. His cutter is not.

Mariano Rivera will go down in lore as the closer with the best cutter ever and as the best postseason pitcher ever. He, like Jeter, Posada, and Pettitte, has five rings—plus Mo boasts 39 saves and a 0.79 ERA in the postseason.
Lock? I think so.