Stephen Strasburg and Sports' 10 Most Hyped Debuts of the Past Decade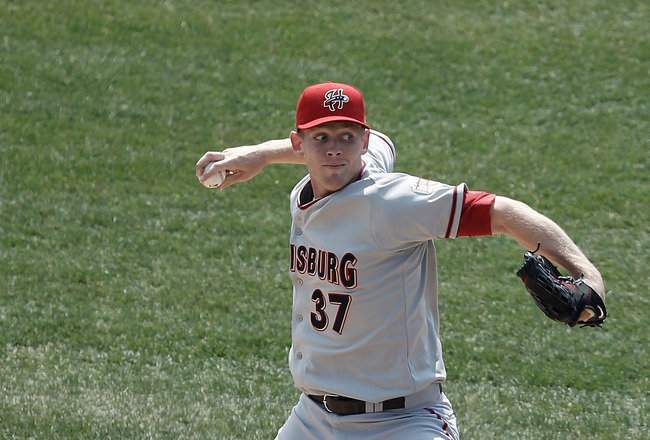 You have been hearing about Stephen Strasburg since he burst onto the scene throwing fireballs at San Diego State.
The hype has been building ever since he was taken first overall in the MLB draft last season by the Washington Nationals.
Well, guess what?
The wait ends tomorrow, when Strasburg is expected to finally make his major-league debut against the Pittsburgh Pirates.
The 21-year-old certainly will feel the pressure in front of a sold-out crowd and a full media lineup (over 200 press releases requested).
You will have to tune in tonight to see if he actually lives up to the hype in his first performance, but rare is the athlete who lives up to the enormous expectations that tower over him.
With the ESPN machine running in overdrive these days, there is no shortage of hype for phenom athletes making their debut on the big stage in the past decade.
So where does Strasburg's debut rank on this list?
Note: These are professional debuts in America, not debuts for a new team (Brett Favre the past two seasons, A-Rod in New York, etc.) or after a long layoff (I'm looking at you, Tiger).
And unfortunately, a lot of deserving hyped players were left of this list. Feel free to let me know who you think belongs here.
Now, let the hype begin.
10. Tim Tebow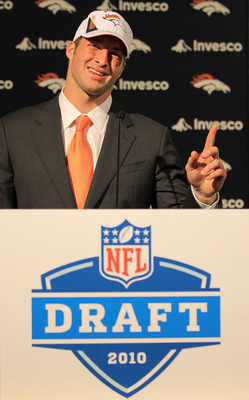 Sure, he hasn't actually had his debut, and he was just drafted two months ago. But you know when he makes his debut, it will be all over ESPN.
When you think of hype in the year 2010, I'm sure many of you think of Tebow.
His detractors will tell you that he will never actually get around to this hypothetical debut, which is a good reason to start him off at No. 10 on this list.
But when he does finally make that debut, you can bet it will be near the top of this list on the hype machine.
Tebow has created a cult following wherever he has gone, and so far, he has been just as successful as that hype would indicate (two national championships and a Heisman at Florida).
It will be interesting to see how he fares when he actually makes his debut, but you can be assured that ESPN is licking its collective chops in anticipation.
9. Michael Vick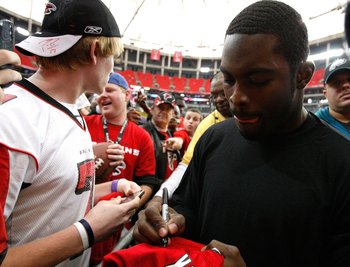 Not exactly the predecessor to Tebow, Vick was coveted for his unique running ability that dominated the college game, just as Tebow was.
His debut was anticipated even more, because Atlanta traded up to take him first overall.
Vick debuted in limited fashion to the tune of an 0-for-4 throwing day, but he did run for 32 yards on two rushes in a 16-13 loss to San Francisco.
Vick never turned into the elite quarterback that many people anticipated after his Virginia Tech days, but he did fill up ESPN highlights on a weekly basis.
He had moderate success in the playoffs, appearing in one NFC Championship.
But, due to off-the-field issues, his career was completely derailed. San Diego earned the better end of the deal in the long run, scoring LaDainian Tomlinson and Drew Brees in the trade.
8. Michael Crabtree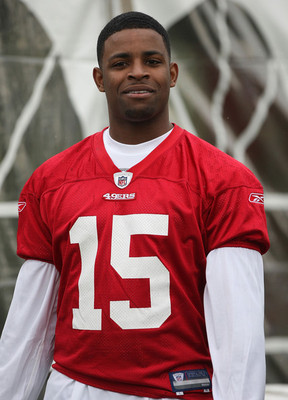 Crabtree blossomed under Mike Leach's air attack at Texas Tech. He had his coming-out party with the famous game-winning touchdown over Texas.
That led people to assume he would be the first receiver taken in the NFL draft.
But then a funny thing happened: Al Davis.
Crabtree decided to do something no receiver has ever done and act like a diva, holding out for the first five games of the 2009 season.
He thought he should be paid like the top receiver in the draft. ESPN loves controversy and talked about Crabtree to no end, until he finally debuted against Houston in Week Five.
Crabtree showed that he might have known what he was talking about, catching five passes for 56 yards in a close loss.
He totaled 48 receptions for 625 yards and a pair of scores last season. Not bad for a rookie receiver in 12 games, showing that he might be one of the guys who will actually live up to the hype.
Of course, to truly live up to the hype, you have to turn that talent into a career.
So, we will see.
7. Mark Prior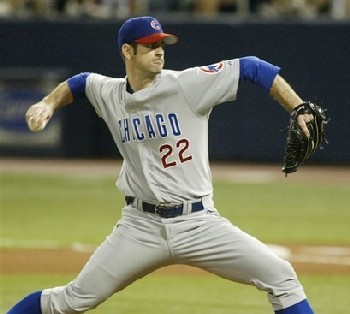 Prior is an example of what can happen when the hype doesn't turn into production. He is the predecessor to Strasburg in that he was the next "superstar" pitching prospect.
He showed lots of promise after his 2002 debut, a Cubs win, in which he gave up two earned runs and four hits in six innings pitched.
Prior continued to live up to the hype by making an All-Star game appearance the following season.
But it just wasn't meant to be.
Unfortunately, the lack of production was not Prior's fault.
Prior couldn't overcome the injury bug, and was cut last season after not being called up to the majors by the Padres.
Sometimes, all the hype in the world can fall flat because of that pesky little injury bug.
6. Yao Ming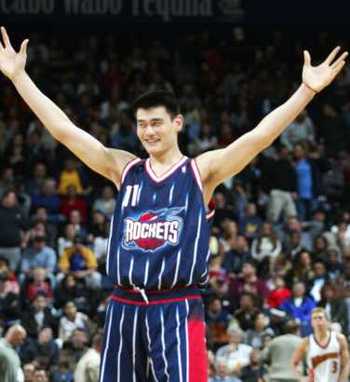 Yao enamored scouts with his freakish size, standing at 7'6" and weighing over 300 pounds. On top of that, he was China's biggest basketball star ever.
With China's enormous population, people were excitedly anticipating his debut. Whether he turned into a star or not, ESPN and all television stations were going to milk Yao's Chinese popularity for what it was worth.
His debut was not a great success—he was only able to record two rebounds. But as Houston played him in the lineup more, he had a decent rookie season, averaging 13.5 points and 8.2 rebounds.
Yao grew into an offensive force the next few years. Simply put, no one could cover a 7'6" guy with a decent shot. His scoring peaked in the 2006-07 season, when Yao averaged 25 a game.
His skills never translated into deep playoff runs, though. Part of that could be attributed to his counterpart, Tracy McGrady, having numerous injury problems.
Yao succumbed to the injury bug himself last season. After having foot surgery and missing the entire season, his future is now unclear.
5. David Beckham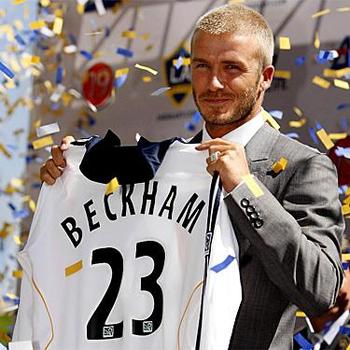 If soccer were popular in America, Beckham might be higher on this list.
But perhaps the reason his American debut was so blown out of proportion was exactly for that reason: Nobody in America really cares for soccer (at least the kind played here in the States).
ESPN and networks tried to parlay Beckham's move to America into a popularization of soccer.
It might be the most-hyped move with the smallest return in sports history (I'm sure you can think of some, but to the tune of this article, we must over-hype everything, ESPN style).
Beckham was injured much of his MLS career. Actually, I'm not really sure if he was or not.
In fact, nobody was.
It turned out the Galaxy and ESPN banked a whole lot on America turning into something it's not.
4. Reggie Bush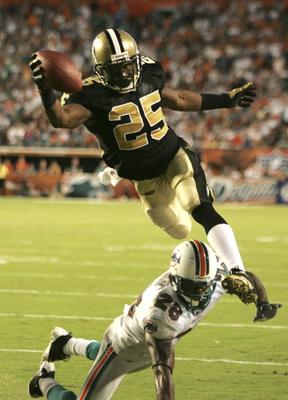 Bush dazzled on the big stage at USC—and it turns out now that he might have gotten paid for it too.
Everyone assumed he would go No. 1 in the NFL draft, simply for all the same reasons that Vick went No. 1: Nobody had really seen anything quite like him.
But like Vick, he had some highlights and was never really able to effectively transition his talent to the NFL level.
Bush had a fairly impressive NFL debut against the Cleveland Browns to open the 2006 season: 15 rushes for 67 yards and seven receptions for 52 yards.
But Bush never really blossomed into the NFL back that people imagined when they saw him performing all those spectacular leaps and jukes at USC.
He certainly didn't live up to the hype, but Bush is a decent NFL player.
He has become more of a decoy than anything, but he is certainly a dangerous weapon that defenses have to garner extra attention toward on game day.
Bush isn't the new-age Barry Sanders or Marshall Faulk, but I'm sure most people wouldn't mind having him on their team.
3. Stephen Strasburg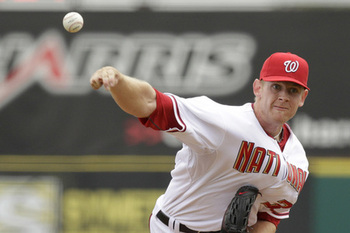 The man who inspired the article (talk about hype).
Strasburg has inspired tales of legend about him and his wicked fastball. There have been accounts of him reaching 103 mph on the radar gun.
It is the stuff of legend, or at least the kind of stuff that makes people think of Nolan Ryan. That in itself is some mighty hype.
Strasburg has definitely torched the minors with his superior talent.
But tomorrow we will get a glimpse of what Strasburg can do against the Pirates.
It is definitely a good team to break in against, so I am expecting a lights-out performance from the hurler.
But with all that hype, he will have to be wildly successful in the majors.
I'm not saying he can't do it. I'm just waiting until he does.
Welcome to the Big Show, Mr. Strasburg. We have been waiting for you.
2. Sidney Crosby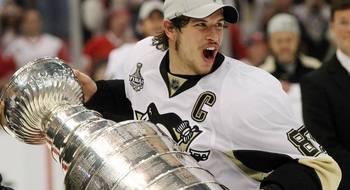 When you inspire comparisons to the Great One, people will eagerly anticipate your arrival on the big stage.
I will admit that I really do not follow hockey, but I know about Crosby. That in itself shows the level of the hype surrounding The Kid.
He is one of the few who has lived up to the massive burden of hype placed upon him.
Crosby has succeeded at a personal level, showing that the comparisons to Gretzky were not too far off (although he still has a ways to go in that department, obviously).
Crosby is also even rarer in the fact that his talent did exactly what the team had in mind when they drafted him: win a championship.
If nothing else, that shows that the hype surrounding Crosby was well worth it.
1. LeBron James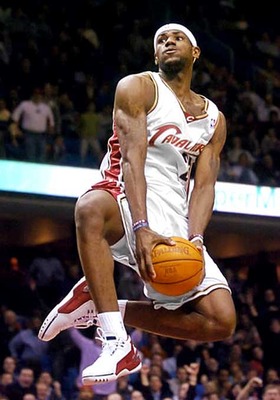 No one in the history of sports has been hyped as much as LeBron.
As stated before, we are putting hype into overdrive in this article. Even then, I don't know if that is hyperbole.
From Day One, LeBron showed that he really might be The King. With 25 points, nine assists, and six rebounds, LeBron showed that he was no kid straight out of high school.
He was something else.
He had it all. The comparisons to Magic and Oscar seemed like they might not be too far off.
These days, the King's minions feel he is already the best player in the NBA.
But that hype has yet to be proven, and Kobe still wears a few rings that beg to differ.
LeBron hype has reached an entire new level this year with his impending free agency. It has surpassed even that of his debut.
When LeBron announces his decision, the hype will grow even larger.
And, depending on where he decides to call home next year, his 2010-2011 debut may be even bigger yet.
His talent has certainly lived up to the hype, but the court is still out on the King until he wins the ring.
At least, no one will out-hype the King anytime soon.
Keep Reading

Washington Nationals: Like this team?