2010 NBA Finals: Lakers and Celtics Trading Punches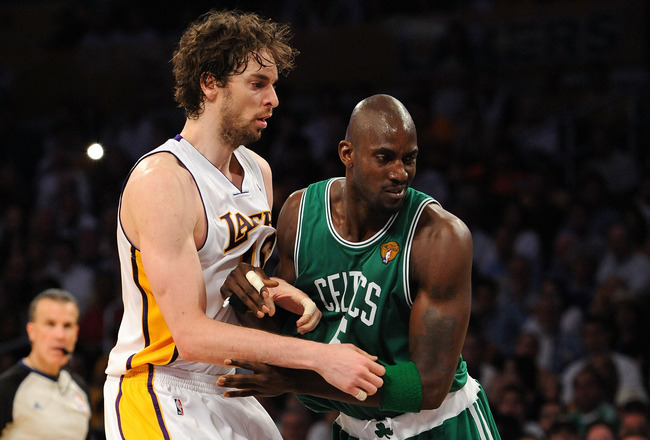 With a victory in Game Two on Sunday night, the Boston Celtics are now hoping they will not have to make a return trip to Los Angeles anytime soon.
Led by the hot shooting of Ray Allen, the Celtics took control of the series, as they gained home court advantage by winning at the Staples Center to knot the best-of-seven series, 1-1.
Doomed by early foul trouble, Kobe Bryant was never able to fully get on track like he did in Game One.
Here is a rundown of the major events that have impacted the series so far, along with my prediction for Game Three in Boston.
Ray Makes it Rain 3s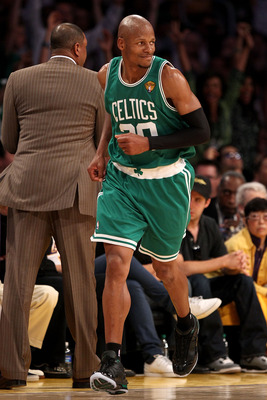 After being held to 12 points in Game One, Ray Allen simply took over the first half of Game Two.
By halftime, Allen had already tied the all-time playoff record for most 3-pointers in a game by making seven shots from behind the arc. Allen drained one more trey in the third quarter to set the record, and finished the game with a game-high 32 points.
Bynum Playing Big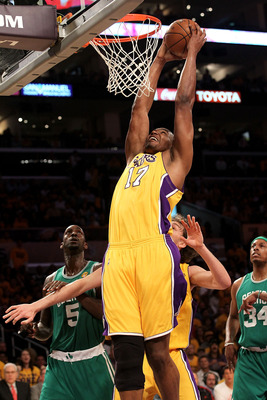 Lakers center Andrew Bynum owned the paint in Game Two. Bynum scored 21 points and added six rebounds on the offensive side.
Despite the impressive scoring total, Bynum's best work came on the defensive end. He totaled seven blocks, and played a key role in holding Kevin Garnett and Kendrick Perkins to a combined 18 points.
Rondo Runs Wild in Game Two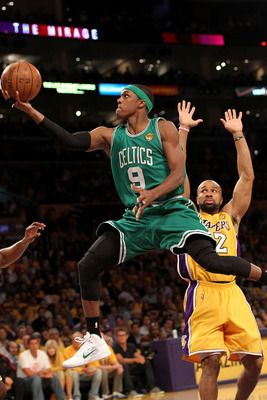 Rajon Rondo was simply fantastic for the Celtics in Game Two.
He finished with a triple-double, as he poured in 19 points, grabbed 12 rebounds, and dished out 10 assists. It was Rondo's fifth career playoff triple-double
However, his most important play may have came defensively, when he stripped the ball away from Kobe Bryant while Bryant was stepping into a 3-pointer that could have brought the Lakers to within three with 40 seconds to play.
Bryant, Artest Stopped by Officials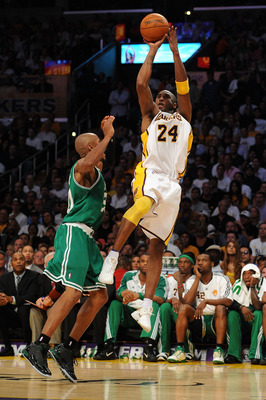 After dominating Game One with 30 points, Kobe Bryant was unable to escape the quick-whistled officiating crew in Game Two. Bryant, along with teammate Ron Artest, were both called for fouls early and often.
Artest eventually fouled out and left the game, while converting only one field goal for the game.
Bryant finished with 21 points, but he played only 34 minutes, which was the fewest of any Lakers starter. Bryant finished the first half with three fouls, and he picked up his fifth only one minute with the fourth quarter.
Lakers need Lamar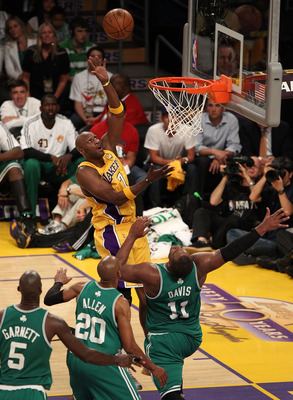 If the Lakers are going to win this series, Lamar Odom needs to contribute. Through the first two games, Odom has totaled only eight points.
Odom needs to step it up in Boston in a big way. Defensively, he will have to help make sure Rasheed Wallace and Glen Davis do not get on track.
Offensively, Odom must become more aggressive in order to help get the Celtics' big men in foul trouble. Putting the ball in the basket and grabbing some rebounds would help, too.
Garnett Goes Quiet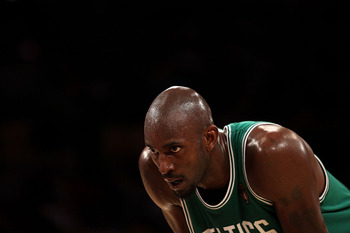 Much like Lamar Odom for the Lakers, the Celtics will not win this series without Kevin Garnett making a major contribution.
Although he was virtually nonexistent in a Game Two victory for the Celtics, Garnett needs to begin holding his own against the Lakers' big men, who completely dominated him in Los Angeles.
If Garnett can get his interior game going against Bynum and Pau Gasol, the Celtics will have a much better chance of winning this series.
Game Three Prediction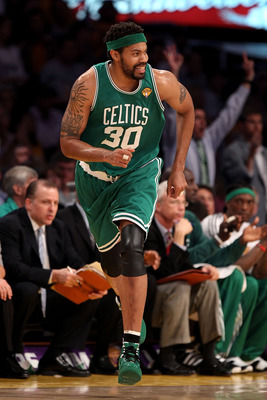 Call me crazy, but I'm predicting that Rasheed Wallace will make a major impact on Game Three. Wallace was quiet through the first two games, but I expect a clutch outbreak of treys from Wallace that will turn the game in favor of the Celtics.
Along with Wallace, I expect the Celtics front-line as a whole to play bigger and stronger against the Lakers' big men.
Kobe Bryant will get his, but the Celtics will turn up the heat defensively, and control the tempo in Boston on Tuesday night.
Celtics 95, Lakers 86
Keep Reading

Boston Celtics: Like this team?