2010 NFL Draft: Which Rookies Are Most Likely To Hold Out?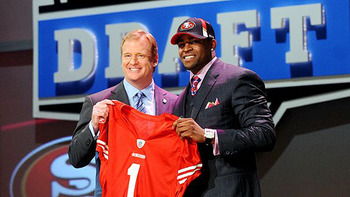 Many, including myself, have complained about how professional athletes today are paid too much money. This is particularly pertinent in the NFL, where enormous sums of guaranteed dollars are given to their players.
The aspect I disagree with the most is how unproven first round rookies are paid as if they are guaranteed future Hall of Famers. Last year, the Detroit Lions rewarded their prized No. 1 overall pick, QB Matthew Stafford, with a six-year $72 million contract. For comparison purposes, that's $12 million more than three-time Super Bowl winning QB Tom Brady earns over the same span.
In my mind, even more mind-boggling is the fact that some are not satisfied with the money they are being offered. For players such as Michael Crabtree, $20 million is "unfair treatment". As a result, several rookies each year undergo contract holdouts.
Not only does this show disrespect to the league, including your own organization and fellow teammates, but it is extremely detrimental to your development as a player.
A prime example of this exact principle is JaMarcus Russell. After the Oakland Raiders selected him with the No. 1 overall selection, he sat out nearly his entire rookie campaign.
Due to his contract holdout, he lost valuable time in the learning curve. Since he didn't practice with the team, he didn't receive the necessary training, didn't have sufficient time to study the playbook, nor did he have the repetitions to build a rapport with his teammates.
Three years later, he's unemployed, which just goes to show how important it is to get the whole contract issue settled as quickly as possible.
Of course, we can only dream of such an ideal situation. It is very likely that, once again, we will disappointingly witness a few more rookies hold out.
That said, here are the five rookies that I think are most likely to holdout. Of course, like always, be prepared for some bold predictions
5. Kansas City FS Eric Berry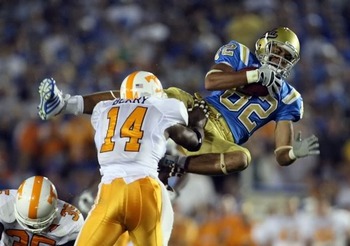 While I know Berry holding out may come across as a surprise to some—due to his intense passion for the game—I believe is a legitimate possibility.
First of all, realize that Berry is the highest drafted safety since Eric Turner was selected with the No. 2 overall pick in 1991. Obviously, teams don't put much emphasis on addressing the safety position early in the draft.
Since Berry was the fifth overall pick, he will be demanding a contract worth approximately $60 million over six years.
Of course, there's no doubt that Berry was worthy of this selection. He is extremely talented in all phases of the game, and I predict him to be a big-time playmaker for years to come.
Even though the Chiefs are definitely aware of this, they may still resist paying a safety $10 million a year.
This may end up playing out much like Tyson Jackson's situation did last year. The Chiefs failed to sign the 3-4 DE, another position of less importance compared to a QB or LT, until a week into training camp when he signed a six-year $60 million deal.
4. Detroit Lions DT Ndamukong Suh
Ndamukong Suh is widely considered as the consensus best overall player in the draft. When the Detroit Lions selected him with the No. 2 overall pick, they must have understood that this quality would be accompanied with a heavy price tag.
Suh is ultimately this year's version of Aaron Curry, who signed a six-year, $60 million contract with the Seattle Seahawks last year. Therefore, due to inflation, Suh's projected contract will be in the vicinity of a six-year $70 million deal.
The Lions already have large contracts on their payroll including Calvin Johnson and Matthew Stafford. Not to mention, they have another first round pick pending to be signed in Jahvid Best. Considering, the Fords' poor financial situation, signing Suh may be difficult.
Moreover, it has already been reported that Suh will not be signing a contract until training camp is over. Despite his great intangibles, this could pose a major problem. With so many other football-related issues arising during camp, focusing on the business aspect of the game can be tough and subsequently contract disputes can become a major distraction.
3. Carolina Panthers QB Jimmy Clausen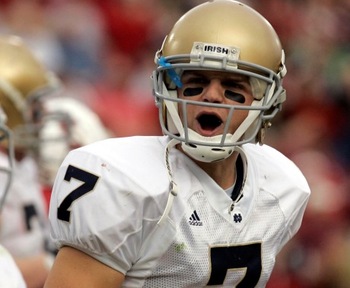 Heading into the draft, few predicted Jimmy Clausen would fall to the 48th overall selection. In fact some, including Mel Kiper Jr., had him rated as a top-five prospect.
That said, he may argue that he is worthy of a first round selection, and should be paid accordingly. Moreover, he has some leverage due to the success rookie quarterbacks have had in recent history.
In addition, one of the primary reasons Clausen slipped so far was because of his poor intangibles. It has been noted that he has a cocky, arrogant attitude, which may become an issue, particularly in contract negotiations.
Clausen's contract situation is certainly one of the more intriguing in the draft. Realize that Matt Moore is on the roster as well, and will be competing with Clausen for the starting job. However, if the Panthers throw starter money at Clausen, that may cease any competition between the two.
2. Dallas Cowboys WR Dez Bryant
Based on talent alone, Bryant was recognized as a surefire top-five talent. However, due to character issues, many expected him to fall a bit in the draft, possibly to the middle portion of the first round.
On the other hand, nobody expected him to be the 2nd receiver taken. Strangely, that was the case as the Denver Broncos drafted Georgie Tech WR Demariyus Thomas two spots earlier.
Sound familiar? Well, personally, this reminds me a lot like how Darrius Heyward-Bey was taken three spots ahead of Michael Crabtree, despite being a less talented player. Of course, we all know how that contract controversy ended.
Fortunately, Dallas Cowboys fans still have something to stay optimistic about. In my mind, the key differences in this situation compared to Crabtree's will be how Jerry Jones is a much wealthier owner than Jed York and how Dez Bryant actually wants to play for the Cowboys.
At the same time, though, Dez Bryant's agent is Euegne Parker, who worked with Crabtree last year. Moreover, with two other solid receivers on the roster, Bryant is likely to be third on the depth chart. This may make the team reluctant to sign Bryant to a large contract.
1. Jacksonville Jaguars DT Tyson Alualu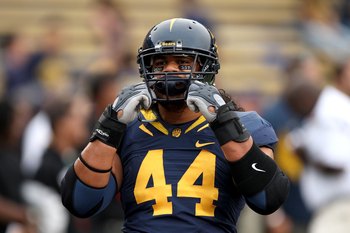 The Jaguars made one of the surprising moves in the draft when they selected Tyson Alualu with the 10th overall pick. Many had him projected as a 2nd-3rd round prospect at best, so taking him there was a huge reach.
This may cause for a conflict dilemma, as the Jaguars may not want to pay him money worthy of a 10th overall pick. They may explain how since he's not the 10th best player in the draft, he shouldn't be paid like one.
What will make matters even worse is the fact that the Jaguars management is in a very tricky financial situation. The value of their franchise has rapidly declined over the past few years, as their attendance was one of the lowest in the league. Consider the fact that this is an uncapped year, and they may hesitate to make a major financial commitment.
Thanks For Reading!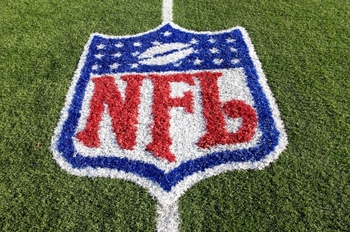 I hope you enjoyed my article. Now it's time to let your voices be heard! Be sure to express your opinion on whether or not you agree with me. List which rookies you believe will undergo a contract holdout.
Keep Reading