College Football: Calling Out the Worst Voters in the Coaches' Poll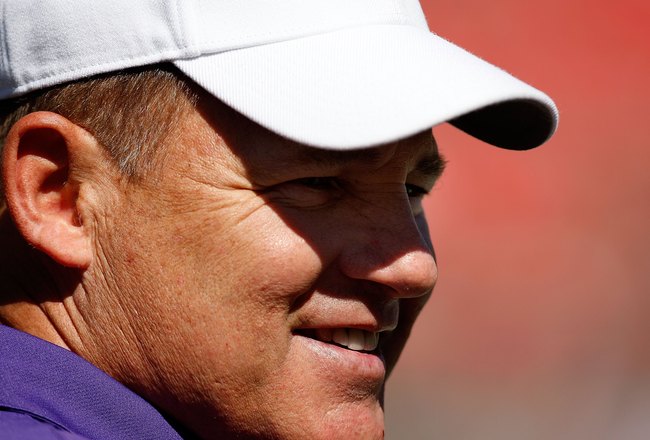 When the coaches' poll votes first became public just a few years ago, many of the voters were apprehensive about the media plunging into the now public record.
As it turns out, they should have been.
What has been discovered since that decision is exactly what we thought we already knew. Many of these coaches have no clue. Others vote along conference lines or for friends or former employers, and a few have clear biases against other schools.
In the slides that follow, you will see the worst of the worst. And I'm sure you will scratch your head at the fact that the coaches' poll is a major component in the BCS formula that determines the top two teams in the country at season's end.
Conference Nepotism Division: Houston Nutt—Ole Miss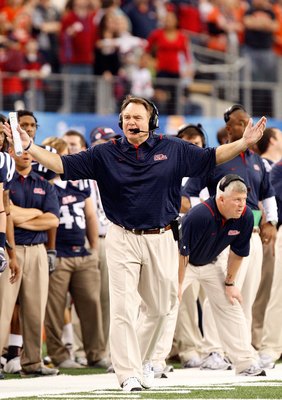 In 2005 Nutt was just plain nutty for the SEC. He placed 9-2 No. 7 Auburn at No. 3 in the country. No. 8 Georgia was ranked No. 6 by Nutt as well.
No. 18 Florida was placed at No. 13 by the-then Arkansas head coach.
Nutt ranked SEC teams an average of four spots ahead of where they actually finished.
All this while not even ranking No. 11 West Virginia at all and ranking No. 5 Oregon at No. 10.
Yes folks. This poll is a major contributor to the BCS formula. Scary, isn't it?
Non-BCS Conference Hater Division: Gary Pinkel—Missouri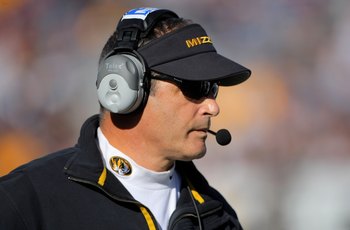 Apparently, Gary Pinkel doesn't care for the "mid-majors" of college football.
In 2008, Utah and Boise State were both undefeated and finished No. 6 and No. 9, respectively. That is, no thanks to Pinkel.
He ranked the two at No. 15 and No. 16, respectively.
He didn't stop there, either. Georgia Tech, who finished No. 15 at 9-3, was ranked No. 9 by the Missouri coach, while TCU, who finished 10-2 and ranked No. 11, was voted No. 16 by Pinkel.
In '09, he ranked Oregon (10-2) No. 7 while he put Boise State, who defeated the Ducks head-to-head AND finished 13-0, at No. 9.
It's safe to say that Pinkel doesn't care for little brother.
Just Plain Odd Division: Larry Blakeney—Troy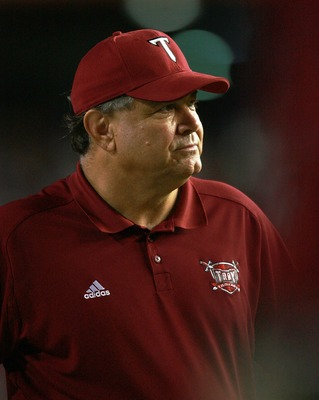 This guy is just strange. There's no rhyme or reason to his voting methods.
In 2006, he completely left No. 11 Texas off his ballot.
In 2005, he voted 7-4 Nebraska and 8-3 Toledo at No. 24 and No. 25, respectively. He was the only one who voted for Toledo and one of only two to vote for the 'Huskers.
In '07, he was one of a handful of coaches to place Hawaii as high as No. 7.
He also had No. 14 TCU ranked at No. 7 in '05. That same season, he had No. 4 Ohio State ranked No. 9.
Blakeney is all over the map. Maybe he's too busy watching his team get waxed by those three BCS opponents Troy plays every season to actually pay attention to what's happening elsewhere.
The Ohio State Haters Division: Steve Spurrier—South Carolina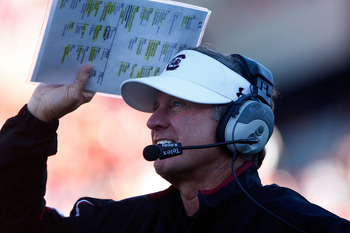 The Old Ball Coach has done his fair share of ribbing teams in the past. He's made controversial votes as well, like leaving Tim Tebow off his All-SEC coaches team in '09.
His voting record in the USA Today/ESPN Coaches Poll, however, would surely draw the ire of many Ohio State fans.
In 2009, Spurrier ranked Ohio State No. 11—three spots below their No. 8 finish.
In '07, he ranked 10-1 Ohio State No. 5, behind four two-loss teams.
In '05, Spurrier ranked the Buckeyes at No. 8—they finished at No. 4.
Apparently he's not a big Notre Dame fan either, as he ranked the No. 6 Irish at No. 14 in that very same year.
BCS Conference Hater Division: Charlie Weatherbie—Unemployed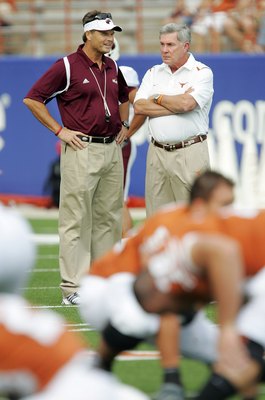 Charlie Weatherbie was fired from Louisiana-Monroe after the '09 season. He didn't leave without a minor bang, however.
He gave Texas its lowest ranking at No. 4.
He gave Troy one of its two votes.
He voted Northwestern at No. 16, West Virginia at No. 11, and Georgia Tech at No. 7. All three were the highest votes those teams received.
Weatherbie left LSU completely off his ballot as well. He was the only coach to do so.
I guess he had nothing to lose anyway.
Conference Nepotism Division: Les Miles—LSU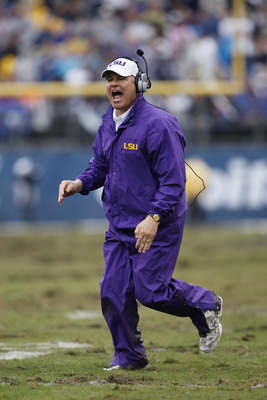 In '07, LSU became the first team to win the BCS title after having lost twice during the regular season, including its final regular season game.
Les Miles' voting habits throughout the season helped that tremendously.
Miles voted his team No. 1 after it defeated Tennessee in the SEC title game, not a surprising move by any measure. But he also voted six SEC teams an average of five spots ahead of where those teams actually finished in the final poll. He voted Arkansas and Auburn a full nine spots ahead of their final resting places.
No wonder SEC teams have won so many National Championships in a row.
Homerism Division: Bob Stoops—Oklahoma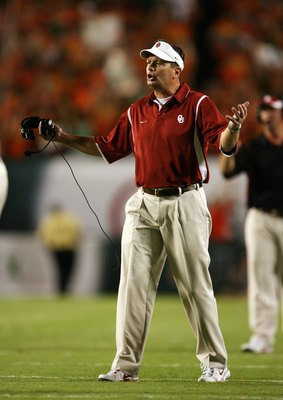 Now, it's hard to blame a coach for voting his own team high. I would hope that most coaches feel their teams are the best in the country, especially when they actually are.
But Stoops takes that idea to a whole other level.
The Sooners went 7-5 last season. It was a disastrous season by all accounts. Yet, in the final poll of the year, Stoops had Oklahoma at No. 23. He was one of only five coaches to vote for the Sooners.
When Oklahoma went 11-2 in '07, the Sooners had two first place votes. One of those was from Stoops, and the other was from Steve Spurrier, Stoops' former employer at Florida.
In 2005, Oklahoma went 7-4 and finished outside the Top 25. Yet Stoops had his team at No. 21.
Makes one wonder where Stoops would have placed his team had the Sooners lost to Stanford in the bowl game and finished 6-6.
Homerism Division: Brian Kelly—Notre Dame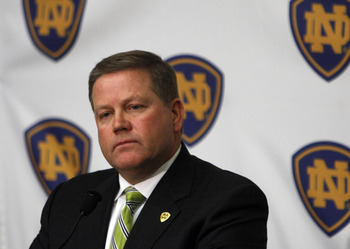 Maybe Brian Kelly was justified in his reasoning when he placed Cincinnati at No. 1 following the regular season in '09. I certainly understood why he did it.
His team was undefeated and the Big East is still a BCS Conference, for some strange reason.
Considering Alabama and Texas had the two best teams in the country all season long, however, I have to call Kelly out.
The coach has now moved on to Notre Dame. He'll no longer have to worry about his ranking if the Irish go undefeated.
BCS Conference Hater Division: Rob Akey—Idaho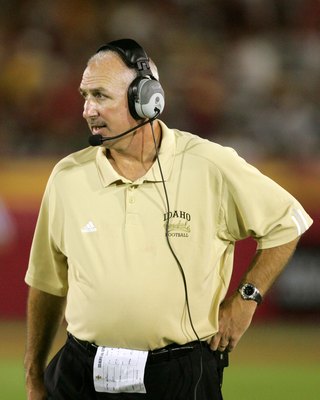 Last year, Akey had Central Michigan and East Carolina ranked instead of No. 15 Miami and No. 21 Stanford in his final poll. He had No. 6 Boise State and No. 3 TCU at No. 3 and No. 4, respectively.
Akey placed the Chippewas at No. 18, right after Houston at No. 16 and BYU at No. 14. It was Central Michigan and Houston's highest rankings.
Akey was also one of just five coaches to rank Texas at No. 1 instead of Alabama heading into the BCS National Championship game.
Akey takes the road less traveled in his offensive philosophy. Apparently, he does so in his voting philosophy as well.
One Vote Makes You an Idiot Division: Hal Mumme—McMurry University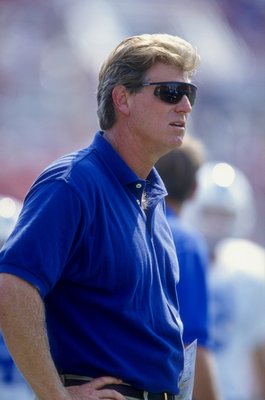 In 2007, then-New Mexico State head coach Hal Mumme apparently wanted to make a statement.
Hawaii was undefeated after playing a schedule of mostly cupcakes. Mumme felt the Rainbow Warriors, who finished No. 10, were worthy of the top spot in the all the land.
He voted Hawaii at No. 1. Hawaii then proceeded to get waxed by Georgia in the Sugar Bowl, 41-10.
The former Kentucky head coach left Tennessee completely off his ballot, which was submitted mere minutes after the Vols lost by seven to the eventual national champion LSU in the SEC title game.
That vote alone is reason enough to understand why Mumme is coaching Division III football at McMurry University these days.
Keep Reading