Love 'Em Or Leave 'Em: Possible Theme Songs for Iowa's Ricky Stanzi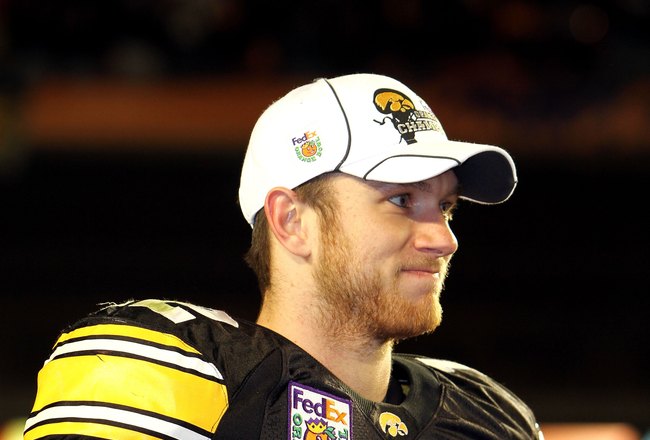 Iowa quarterback Ricky Stanzi finished the 2009 season with 2,417 yards, 17 touchdowns, and a completion percentage of 56 percent. He also threw 15 interceptions, four of which were returned for touchdowns.
At first glance, those stats are nothing to write home about.
ESPN's Adam Rittenberg took a closer look, though, and noticed the Hawkeyes went 4-0 in games when Stanzi threw an interception the opposition ran back for a touchdown. Still, that's a fact most people don't remember about Iowa's quarterback.
Unfortunately for Stanzi, what people do remember is his post-Orange Bowl interview with Fox Sports' Chris Myers.
So, after a weekend of player arrests and conference expansion hysteria, it seemed appropriate to loosen things up a bit. What better way to do that then to use his interview as inspiration and pick a theme song for America's favorite quarterback.
'Real American' - Hulk Hogan's Theme Song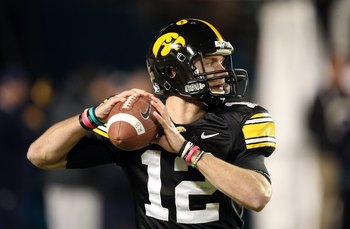 When it comes crashing down
And it hurts inside.
You gotta take a stand
It don't help to hide.
Well, you hurt my friends
And you hurt my pride.
I gotta be a man,
I can't let it slide.
I am a real American, Fight for the rights of every man.
Hulk Hogan might not be too fond of the idea of Stanzi adopting the Hulkamania theme song for his own, and Stanzi certainly has a long way to go before matching Hogan's 24" pythons.
Still, this is a near-perfect fit for the Iowa quarterback. One YouTube highlight reel already makes use of it.
'Party in the USA' - Miley Cyrus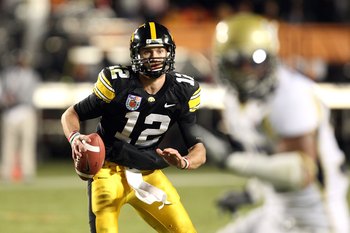 It's a Party in the USA.
According to Penn State fans Stanzi listens to Hannah Montana.
He might listen to Miley Cyrus, but he also knows how to beat the Nittany Lions.
This one's for you, PSU.
'America' - Neil Diamond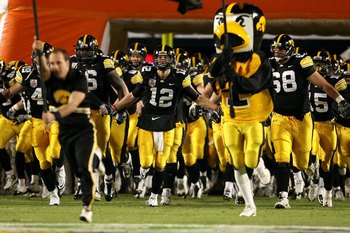 Got a dream to take them there
They're coming to America
Got a dream they've come to share
They're coming to America
As Jack Black so eloquently put it in the movie Saving Silverman, "Comingtoyaaaahaaaa!"
In other words, Neil Diamond rules. $10 says Stanzi has 'America' on his iPod. Doesn't everyone?
'Living In America' - James Brown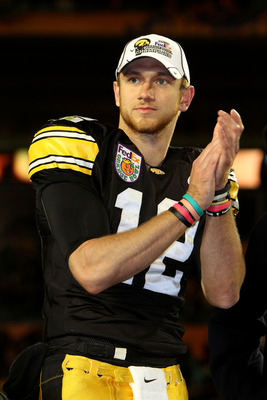 You might have to walk the fine line,
you might take the hard line
But everybody's working overtime
Living in America
Stanzi is going to have to walk a fine line, take the hard line and work overtime if he is going to cut down on the interceptions in 2010.
Let's just hope James Brown helps Stanzi with the interceptions more than he helped Apollo Creed beat Ivan Drago in Rocky IV.
'Born in the USA' - Bruce Springsteen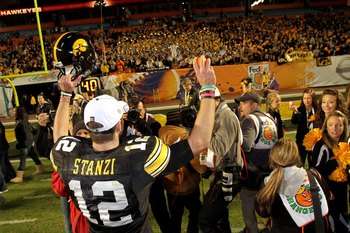 It proved a tad difficult to link the lyrics of Bruce Springsteen's song about a guy returning from Vietnam to Stanzi's performance on a football field, but I highly doubt Bruce has a problem with Stanzi's Love It or Leave It philosophy.
'America' - Will Ferrell, John C. Reilly and Chris Isaak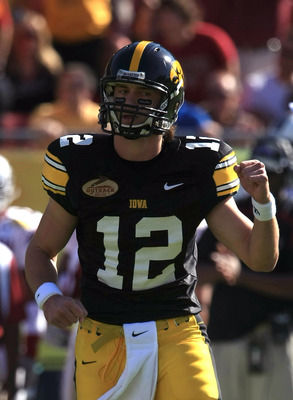 "Cause when you wake up American, you're guaranteed poon!"
Stanzi made his now-infamous comments about USA during his interview with Fox Sports' Chris Myers after the Hawkeyes' Orange Bowl victory. Below is the video that inspired it all, as Ricky Stanzi meets Ricky Bobby.
You know what the best part of America is? America!
'American Bad Ass' - Kid Rock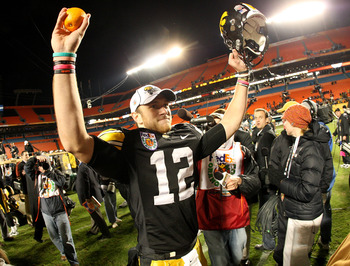 They call him Stanzi
He's the quarterback in black
So throw a finger in the air and let him see where you're at
Say I-O-W-A
Let him hear where your at
Say I-O-W-A
Picture this...
Stanzi comes running out of the tunnel at Kinnick Stadium before the Ohio State game (Big Ten Championship) to Kid Rock's 'American Bad Ass' blasting on the loud speakers.
Ok, maybe I've had too much AMP.
Keep Reading

Iowa Hawkeyes Football: Like this team?