The Five Most Injury-Prone Wrestlers in Recent WWE History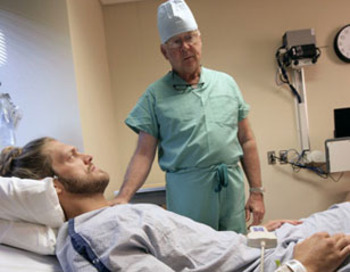 Blame it on the pain.
Pro wrestling, despite being pigeonholed as a fake sport with an emphasis on entertainment over physicality, is a very dangerous field of employment.
The WWE's recent depth issues, as a result of retirements and injuries, inspired this article as the moving and shuffling of stars is just another routine part of professional wrestling.
It's safe to say that there are few, if any pro wrestlers who can say that they've gone their whole career without suffering a single injury.
Injury is basically the name of the game.
However, there have been many WWE superstars who have struggled with injuries more than others.
Wrestlers who just can't seem to stay healthy for too long before returning to the vaunted hospital room where superstar surgeon James Andrews (pictured above) is usually called upon to work his magic.
While nobody wants to be considered injury-prone, this unenviable tag in the context of pro wrestling is often a testament to the WWE's faith in a performer's talent, potential, or drawing power.
WWE is a machine that does not stop for anybody. Many times, those who get injured simply lose their spot.
However, it is hardly a mere coincidence that the superstars mentioned on this list are all top guys and/or former world champions.
These injury-prone stars have proven to be among the tougher, more dedicated stars in recent WWE history, as they constantly return to the fold only to be featured just as prominently.
This isn't for the faint of heart.
These are the five most injury-prone wrestlers in recent WWE history.
5. Triple H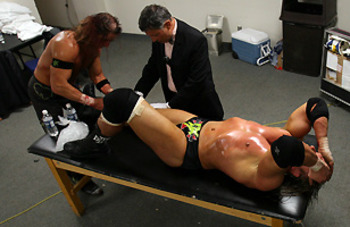 Triple H has undoubtedly been one of the best WWE Superstars of his generation.
With The Game's well documented ties to the McMahon family, namely tying the knot to Stephanie McMahon in 2003, it would be safe to assume that the sky is the limit for this former 13-time champion.
The only thing that has kept him on the ground is the injury bug.
Triple H has suffered numerous leg injuries throughout his career. As a member of the original DX and the DX Army, Triple H was often seen on crutches or in a wheelchair due to debilitating knee injuries.
Triple H's most significant injury came in 2001, when he tore his left quadriceps muscle in a freak accident during the main event of Monday Night RAW.
Triple H suffered a similar quad injury during a pay-per-view match in 2007, this time on his right quad.
Triple H has valiantly battled back from injury on multiple occasions. Many of his injuries were thought to be career threatening, however unmatched dedication has kept him an active wrestler to this day.
Although, it's worth noting that Triple H is currently on sabbatical due to less serious injuries that require some much-deserved R&R.
4. Rey Mysterio Jr.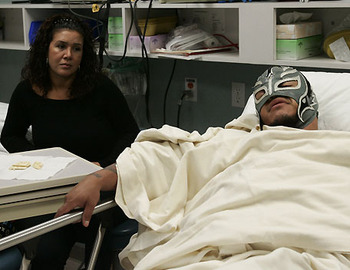 As one of the smallest competitors in WWE history, it should be no surprise that the rough schedule of the WWE has taken its toll on Rey Mysterio Jr.'s body on multiple occasions.
Rey Mysterio's diminutive frame should not be confused with his immense heart, as he has fought through and fought back from a laundry list of injuries.
Mysterio suffered a serious knee injury in 2006 that required surgery. Less than two years later, Mysterio was hindered by a biceps injury that compromised a big time world title match against Edge at the 2008 Royal Rumble.
Despite continuing to endure the WWE schedule, that is unrivaled in terms of non-stop brutality, Mysterio is wrestling in spite of a knee injury that has required surgery since late last year.
Mysterio still shows no signs of slowing down for the much-needed surgery, as he is currently booked for the main event of the upcoming Fatal Four Way pay per view.
Talk about toughness.
3. Randy Orton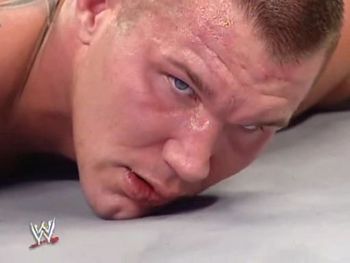 Randy Orton battled the injury bug since his his debut with the WWE in 2002.
Orton suffers from hypermobile shoulders, leaving him more prone to shoulder injuries.
When Orton was sidelined with his first of a series of such injuries in 2002, he was featured in Randy News Network segments updating aggravated fans on his current status which improved with each self-indulgent segment.
Orton would return and compete virtually injury-free for years before his next bout with shoulder problems.
Orton was injured in 2008 at the One Night Stand pay-per-view after taking an ill-advised bump over the top ropes to the outside of the ring. The bump broke his collarbone and kept him out of action for five months.
Just before he was slated to return to in ring action, Randy Orton suffered an out of the ring injury when he was involved in a motorcycle accident that re-aggravated previous injuries to his shoulder.
Orton is currently battling his most recent injury, a freak shoulder injury, suffered while pounding the mat in preparation for an RKO attempt.
Orton's status as a top WWE star despite problems out of the ring, which involve both injury and controversy, are a testament to the WWE's continued faith in Orton's potential to be a top-tier talent.
It is without question that Randy Orton has lived up to every bit of that potential as he is arguably the top babyface in the company as mandated by the fans.
2. Batista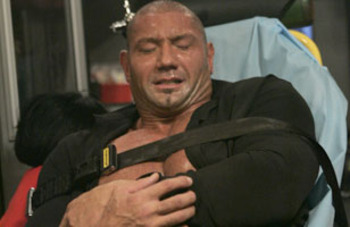 While Batista's recent retirement is thought by many to be a break from pro wrestling, perhaps Batista needed to step away from the game for a bit in order to prolong an otherwise brilliant career that riddled with injuries.
Batista has suffered numerous muscle tears throughout his career, mostly during world championship reigns.
During his first reign as WWE World Champion in 2006, Batista suffered a triceps tear and was forced to vacate the title.
In 2008, Batista suffered a similar muscle tear, this time in his hamstring. The injury put Batista on the shelf for what was supposed to be six to eight months.
However just four months later, Batista made a surprising return to the WWE and went on to capture the WWE Championship in June.
Unfortunately, an injury to Batista's biceps forced him to vacate the belt the following night.
As previously mentioned, Batista is currently retired from WWE. He was supposed to finish with the company by working a series of house shows.
But a lower back injury suffered from an impressive bump through the stage at the WWE's recent Over the Limit pay-per-view forced him to leave without completing this circuit of house shows.
1. Edge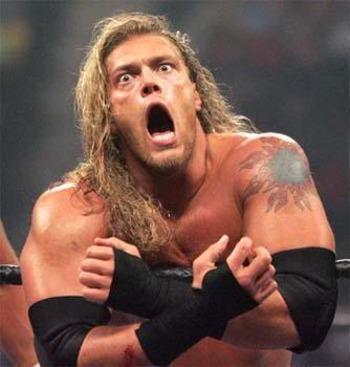 Edge's combination of character and ability have established him as one of the biggest stars in WWE history since the Attitude Era.
Unfortunately, Edge's injury problems, stemming from a serious neck injury that kept him out of action for almost a full year, followed him to the top of the food chain in WWE.
It wasn't too long after Edge returned from his neck injury that Edge was stripped of the Intercontinental Championship due to an injury to his groin.
Upon his return from a groin injury, Edge literally received a momentous push up the ladder as he went on to win the inaugural Money in the Bank Ladder Match during Wrestling XXI.
After capturing the briefcase for a second time, ironically so the WWE could take it off of an injured Mr. Kennedy, Edge won the World Heavyweight Championship and was figured to be the face of Smackdown! for a lengthy period of time.
These plans were scrapped as Edge would suffer a pectoral injury that kept him out of action for six months.
Upon his return to action, Edge would immediately return to the WWE and World Heavyweight Title picture, capturing the top titles on numerous occasions.
However it was during a reign as tag team champion with Chris Jericho that Edge would suffer yet another career threatening injury, this time to his Achilles tendon.
The Achilles injury suffered by Edge kept the Rated R Superstar out of action for six months. Yet, once again, Edge would return almost without missing a beat.
Edge recently announced that he plans on retiring in the near future.
While the WWE's depth issues will not be helped should this retirement occur sooner than later, perhaps it would be a wise decision for Edge to hang up the boots after a magnificent career before another major injury rears its ugly head.
Keep Reading