2010 NBA Finals: Five Things Boston Must Do To Beat LA
The Boston Celtics were thoroughly beaten on Thursday night by the Los Angeles Lakers.
At every turn during Game 1, the Celtics were just over matched, and seemed to have regressed to their regular season form.
Nothing seemed to go right for them, not even on the defensive end. LA scored 102 points on the rugged Celtic defense.
The Celtics absolutely must make changes to even have a chance to win game 2.
5) Rondo must bring himself into the Celtic offense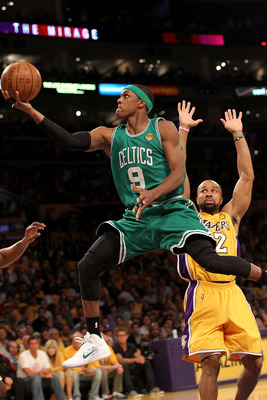 Rondo's final stat line wasn't horrible, or bad by any means: 13 points on 6 of 14 shooting, and 8 assists, to go along with 6 rebounds. Again, a solid, all round outing.
But for the Celtics to even have a chance, Rondo needs to put up the kind of numbers he did against the Cavs, most notable, get a triple double, and the Celtics will likely win.
I can expect Rondo to be more aggressive on the offensive end, and I wouldn't be surprised if he tallied a triple double. If Rondo is attacking the basket with vigor, you can expect something along the lines of a 20-10-10 game.
4) The Celtics must attack the basket as a team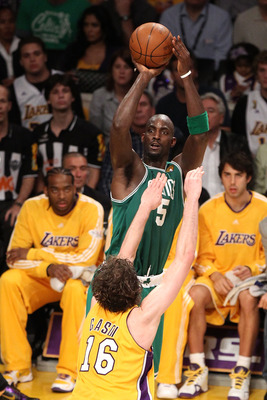 The Celtics seemed way to complacent, and were all too willing to take mid range, and long range jump shots. Like Kevin Garnett for instance.
They are not a particularly good shooting team, they just aren't built for that kind of game, like the Orlando Magic for example. All the more reason to be aggressive on the offensive end, and attack the basket relentlessly.
Attacking the basket will get fouls on the Laker big men, and that will open up more opportunities for easier lay ups. It's much harder to put up shots over 7 footers.
Not to mention the free throws that they would get in the process. If the Celtics are attacking the basket, you can bet that they will score easier points this time around.
3) Need for 'Sheed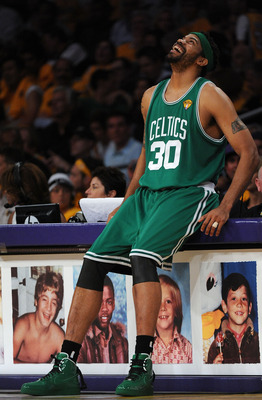 While his stats weren't eye popping (9 points, on 3-4 shooting, 4 rebounds) It's what didn't show up in the stat sheet that was impressive. He managed to guard Pau Gasol without being embarrassed; Gasol wasn't very effective against Wallace.
With that said, the Celtics should put him into the fray whenever Bynum hits the bench, stick him on Gasol. The matchups would look like this: Wallace on Gasol (as we saw in game one, Wallace can actually cover him) and Garnett on Odom, this one seems to favor the Celtics, since Garnett can push Odom around easier than he can to Gasol.
Garnett can also post Odom up, fade away over him, grab rebounds over him etc. There are so many things Garnett can do to Odom, that he can't to Gasol.
The Celtics need more Rasheed Wallace, the question is, does Doc Rivers recognize that?
2) Tony Allen needs more time off the bench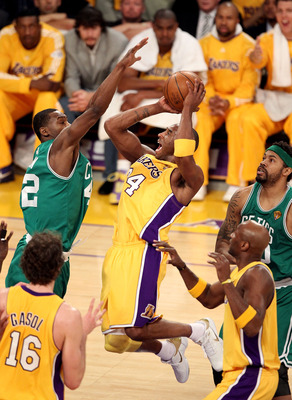 Kobe Bryant was guarded by Ray Allen, Paul Pierce, Tony Allen, and even in some spurts, Rajon Rondo. The Celtic that put up the most resistance was Tony Allen.
Kobe Bryant had Ray Allen in foul trouble all night, with slick pump fakes in the post getting Ray Ray in the air. Tony never seemed to jump on those, and he blocked several Bryant jumpers.
While his offense is pretty limited, the Celtics can do what Orlando did with Jameer Nelson, with Paul Pierce.
Give the ball to Pierce near the top of the key, and give him screens. Not just one screen, but two, and sometimes even three. If Pierce can turn the corner, its going to be an easy lay up, or a foul of some kind, either way, Pierce would be free to do his thing.
The sad thing was that Tony Allen only got 18 minutes off the bench in Game 1. Lets see if Doc Rivers changes that.
1) Rebounding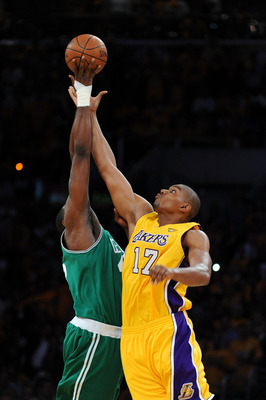 Los Angeles won the rebounding war 42-31. But that doesn't tell the whole story.
At one point, I believe during the first half, LA had that margin at 31-17. I don't think the Celtics need to be explained the importance of rebounding. Rebounds can stop second chance points from your opponents, or give your own team second chance points.
To have gotten beaten like that on that end of the court should be embarrassing to the Celtics. It's not like they are extremely undersized. Kendrick Perkins is 6'11'', so too is Garnett and Wallace, again, what gives?
This looked to be more of a thing of effort more than anything else. The Celtics seemed to not be motivated to go and fish out the rebounds. They seemed to forget that a defensive stand isn't over until the rebound is secured.
The Lakers scored 16 second chance points, while the Celtics were 0-7 on second chance opportunities. Again, this can't happen if the Celtics want to win. Even if they don't convert their second chance opportunities, if they secure the offensive rebound, it gives LA less shots/possessions, and it gives them less rebounds to go and work into their offensive scheme.
The Celtics need to put energy and effort into their rebounding if they want to win.
Keep Reading