How Good Is YOUR Quarterback? Ranking The SEC's 12 Quarterbacks Of 2010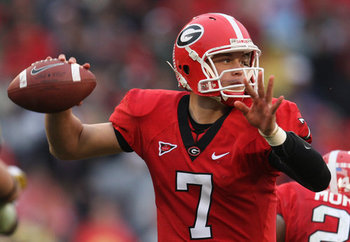 There are six new quarterbacks in the SEC this year. Auburn, Florida, Georgia, Mississippi State, Ole Miss and Tennessee will all be breaking in new offensive leaders.
Which ones will be successful and which of the returning quarterbacks will stumble?
Preseason rankings are fun but rarely mean anything. Here is how I rank all 12 quarterbacks in the SEC this year.
If anybody disagrees, then let us know how you rank your favorite QB.
12. Larry Smith - Vanderbilt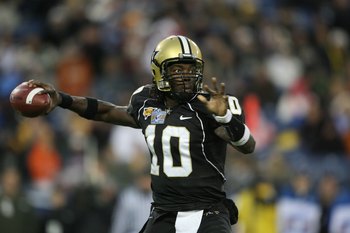 At 6'2" and 220 lbs, Alabama's 2006 "Mr. Football" struggled mightily in 2009.
Larry Smith finished the season with only 47 percent completion rate, throwing for an anemic 1,126 yards, four touchdowns and seven interceptions.
2010 doesn't look much better. With the Commodores possibly starting five new offensive linemen, Smith may not be able to improve his 2.5 yards per carry or his five yards per pass stats from last season.
The backup quarterback may show some promise. JUCO transfer Jordan Rogers comes with a pedigree. He's the younger brother of Aaron Rogers of the Green Bay Packers.
11. Matt Simms - Tennessee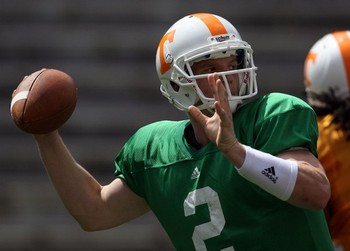 Simms, 6'3" and 209 lbs, is brother of NFL quarterback Chris Simms and son of former NFL great Phil Simms. But he isn't near as good as either.
A JUCO recruit, Simms became the only quarterback with college experience after senior Nick Stephens transferred from Tennessee.
Playing for El Camino CC he threw for 2204 yards and 17 touchdowns. He also threw 12 picks. At Louisville, Simms completed just 4-of-10 passes for 39 yards and had one interception.
If he can't show Dooley some promise, he may be replaced by one of the freshman quarterbacks to give them some valuable playing time before the 2011 season.
10. Mike Hartline - Kentucky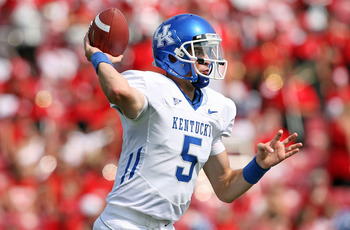 Due to a season-ending knee injury last season Hartline, 6'6" and 206 lbs, only played in five games. In that limited action he threw for six touchdowns and had seven interceptions.
In 2008 he threw for nine touchdowns and eight interceptions.
Hartline, a drop-back passer, has big play potential but is also susceptible to making big mistakes.
If he can't keep his propensity for throwing interceptions down to a minimum he could lose his job to Morgan Newton or Ryan Mossakowski.
9. Nathan Stanley - Ole Miss
Stanley, 6'5" 215 lbs, was Houston Nutt's top recruiting prospect at Arkansas and Nutt quickly offered him a scholarship after taking the helm of the Rebels.
Stanley saw very limited action last year and completed 48 percent of his passes for 163 yards, one touchdown and one interception. He looked much better in spring practice.
Stanley is a more accurate passer than Jevon Snead and knows the playbook. After one full year of SEC football under his belt he may be one of the better quarterbacks next season.
But this season he rates as the ninth-best QB.
8. Aaron Murray - Georgia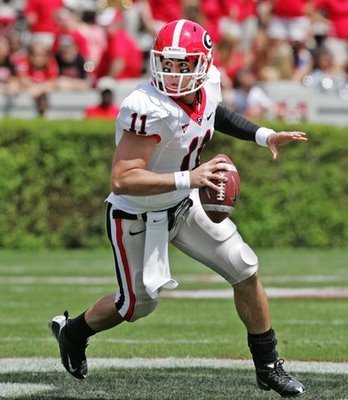 At 6'1" and 206 lbs Aaron Murray is the smallest SEC quarterback to take the field this year. And maybe one of the toughest.
In is senior year in high school Murray broke his leg but still returned to lead his team to a Florida state title.
Murray has a strong throwing arm and is able to move within the pocket. He should be able to be a more productive passer than Joe Cox was last season.
If not, there are a couple of other QBs waiting for their turn to run the Dawgs' offense.
7. Chris Relf - Mississippi State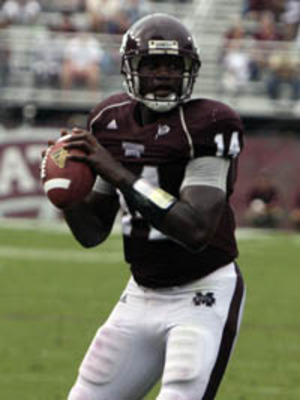 Chris Relf, 6'4" 240 lbs, finished the 2009 season with style and flair. As back-up (tandem?) QB to Tyson Lee, Relf went 22-41 for 296 yards, five touchdowns and three interceptions.
He ran 76 times for 500 yards and two touchdowns. He made 174 of those yards and three of those touchdowns against Ole Miss in the final game of the season.
Relf will tandem again this season, only he will be the Bulldogs' starter.
Compared to Lee, Relf is the better quarterback, but Tyler Russell is no slouch either. If Relf is to keep the starting position he'll have to impress Mullen and do it quickly.
MSU has a lot of talent at the QB position this year.
6. Cameron Newton - Auburn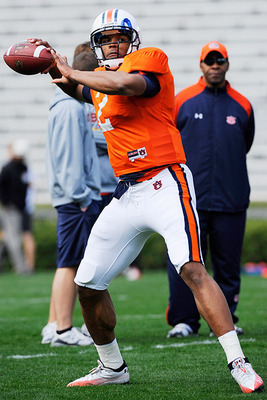 At 6'6" and 247 lbs, Newton is what you would call a "big 'un." And he's no stranger to SEC football.
As a JUCO quarterback Newton had 204 completions after 336 attempts for 22 touchdowns and five interceptions. He also ran 655 yards on 108 rushes and made the end-zone 16 times.
If Newton can make the transition to SEC starter and keep those stats up then Auburn, who has the front five to make it happen, could be serious contenders in the SEC West.
But its been rumored that Newton has a hard time grasping the playbook and has an accuracy problem with his throwing arm. And SEC defenses are a little more aggressive than JUCO.
5. Jordan Jefferson - LSU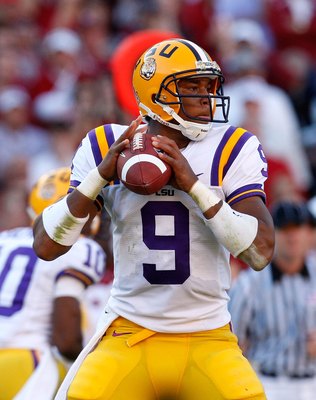 Some quarterbacks are only as good as their front five. Because of that we may never know how good Jordan Jefferson, 6'5" 220 lbs, really is.
Last season he threw for 2,166 yards and 17 touchdowns and seven interceptions, but was wildly inconsistent.
There is a lot of talent and drive but a lack of coaching that could make him a better quarterback.
The first game against North Carolina may spell his fate. If he can't produce then Jarrett Lee may find himself trying to right the ship again. That's a thought many LSU fans find frightening.
4. Stephen Garcia - South Carolina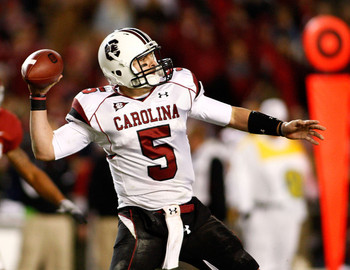 Now that his off-the-field bad behavior seems to have ended, Stephen Garcia, 6'2" 230 lbs, can concentrate on improving his game.
In 2009, he threw for 2,862 yards, 17 touchdowns and 10 interceptions. Even though he has four rushing TDs, he only averaged 1.6 yards per carry after 120 attempts. Much of his problems stemmed from the front five.
Garcia has yet to play up to his potential and now has only two seasons to do so. Spurrier has given him the weapons (Tori Gurley and Alshon Jeffery), but it's up to Garcia to pull the trigger.
3. John Brantley - Florida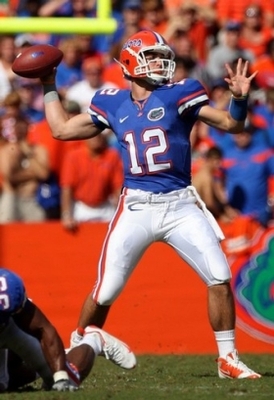 John Brantley, 6'3" 217 lbs, doesn't have to worry about filling Tim Tebow's shoes; he's bringing his own.
In 2009, he threw 48 times, connecting 36 times for 410 yards, seven touchdowns and zero interceptions. He is everything he was hyped to be in high school.
Brantley first committed to Texas but later signed with Florida, where his father and uncle attended.
No. 2: Greg McElroy - Alabama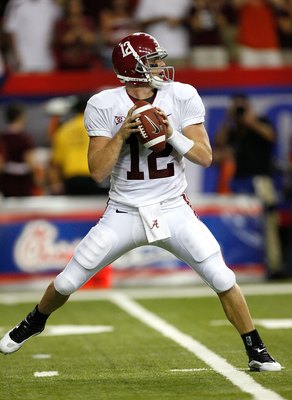 If you think Greg McElroy is a just a game manager, then you are sadly mistaken, my friend. Consider what kind of offense Alabama runs and then look at his numbers.
Alabama finished second in the SEC in rushing with 2,806 yards and Greg McElroy, 6'3" 220 lbs, still managed to throw for 2,508 yards, scoring touchdowns 17 times and giving up only four interceptions.
McElroy has accepted his role at Alabama. He excepted his role at Southlake Carroll High in Texas where he threw 56 touchdown passes his senior year. A 60.9 percent passer, Greg McElroy can air it out when called upon.
No. 1: Ryan Mallett - Arkansas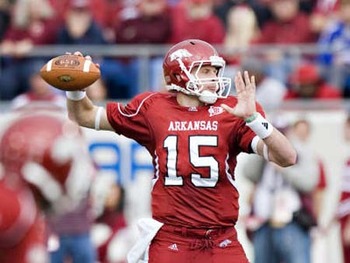 If Dr. Frankenstein were asked to build a prototypical NFL quarterback he would build Ryan Mallett. All 6'7", 240 lbs of him. And he would give him a good brain.
Mallett finished the 2009 season as the SEC's top passers, with 3,627 yards, 30 touchdowns and only seven interceptions. He led the SEC on both passing yards and touchdowns.
Mallett needs better protection in big games. Against Alabama, Florida, Ole Miss, LSU and East Carolina he complete just 39.7 percent of his passes, scoring only five TDs.
But if he is given time to get set he can pick anybody apart. He's accurate and strong in the throwing arm.
Mallett still has two years to impress the NFL scouts, but something tells me he'll be trying to get it done this year.
Keep Reading

Alabama Crimson Tide Football: Like this team?