2010 Stanley Cup Playoffs : Five Reasons The Flyers Can Win The Cup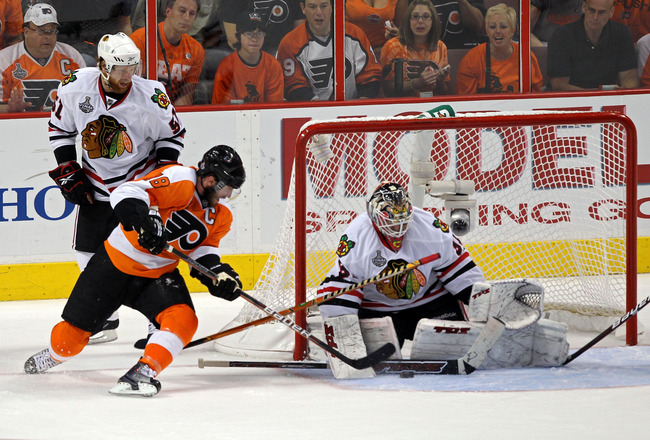 It must be an odd feeling to go from suiting up for a game on the final day of the regular season not knowing whether you'll play beyond that day, to playing in game five of the 2010 Stanley Cup Final.
Going into that fateful game, the Flyers had been just plain bad down the stretch, going 3-7-1 in their last 11, before that winner-take-all on the final day of the season against the New York Rangers.
To add to the drama of course, the game remained deadlocked at 1-1 all the way through to a shoot-out despite the Flyers badly out shooting the Rangers by a total of 46-25.
After the Flyers' Claude Giroux scored the go-ahead goal in the shoot out, the entire Flyers bench, their fans, and the rest of the organization was on pins and needles as New Yorks Olli Jokinen flew in from center ice to try and tie the shoot out, only to be stopped Boucher.
"I think everybody on the bench was thinking about that last shot that he stopped," Flyers' forward Danny Briere said.
"That was a big rush for us on the bench. I can't imagine what it was for him."
The rest as they say is history. No one outside of Philadelphia would have expected to see the Flyers facing the Blackhawks for the 2010 Stanley Cup.
Not many have given the Flyers much of a chance to beat Chicago, still, I think that of any team the Hawks have faced so far in the playoffs, Philly probably has as good a chance as anyone.
Here are five reasons why.
The Fans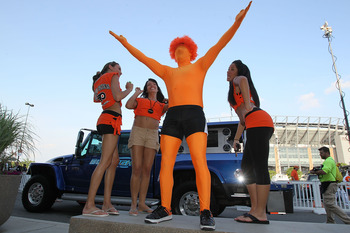 Yes sir, it's hard to play at the Wachovia Center.
If you're anyone else but the Philadelphia Flyers.
Flyers fans aren't unique in their passion for their team, though they may be unique in some of their ways.
Recently there was a Facebook page dedicated to ' mobbing ' the Blackhawks.
Organizers were garnering support on a number of fronts from Facebook to Twitter and several internet blog sites.
The idea was not an actual physical altercation, but to shake up the Chicago players by following their bus everywhere they went on a sea of bicycles driven by "orange and black" fans.
The plan reportedly went off without a hitch and unlike the last time this was tried in the "City of Brotherly Love".
Several years ago, local TV stations accidentally told viewers where Tampa Bay was staying before the NFC title game with the Philadelphia Eagles.
Fans mobbed Tampa players, but to no avail, as the Eagles lost 27-10.
Flyers fans are nothing if not consistent!
Daniel Carcillo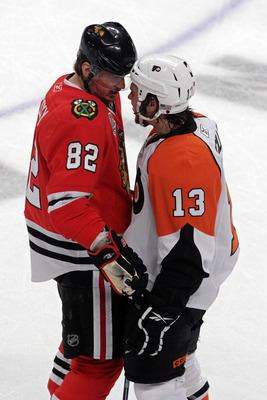 Right now there are several hundred jaws dropping and about eight inches above those several hundred jaws there are several hundred brains wondering if I've lost mine.
Ummmmm, maybe.
The fact of the matter is this. Daniel Carcillo is the ultimate x-factor.
He can skate and score, he can throw a check and he can fight, doesn't, but can. He also has the incredible ability to burrow under the skin of an opposing player to the point that the said player develops a lifelong nervous twitch.
Carcillo is one of those guys that everyone loves to hate because it's fashionable and deep down most of us begrudgingly love him just a little. He's like a fly in the ointment.
Yeah I know he's a bit of a diver, but he doesn't dive with no purpose or because he's a wimp, he dives to try and draw penalties and give his team an advantage.
That being said, I'll leave you with a really funny YouTube 'parody' clip starring him.
http://www.youtube.com/watch?v=8zjzxP3utNM
Chris Pronger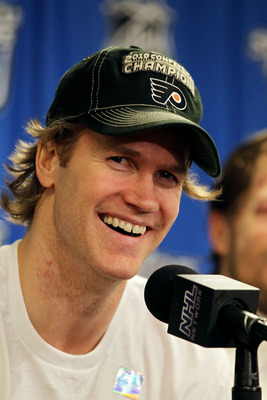 One of the biggest reasons the Flyers have a chance to win the cup is this man right here.
No, he can't walk on water or turn said water into wine, but in mine and most people's opinions he is not only playing some of the best hockey of his career, but also some of the smartest.
Playing over 30 minutes a game has got to be exhausting, but he still does it and manages to make light of every serious situation along the way.
When the headlines should have read something like 'Philadelphia Down in Series...' or 'Jeff Carter Unable to Produce..... ' or ' Michael Leighton Should Ride The Pine....', they almost all read something like ' Psssst, anyone want a hockey puck'?
This guy wants the Stanley Cup.
Say what you will about him, it's hard to argue with what he's accomplished in the 2010 Stanley Cup Playoffs.
Peter Laviolette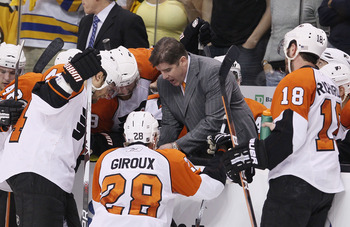 Peter Laviolette has a lot of critics, but so do a lot of coaches in the league and the fact is though we all think we could do better, we're sitting on the couch watching.
It is hard to shower him with accolades after watching his team struggle for stretches in the regular season and barely squeaking into the playoffs to begin with.
Laviolette, however, has proven to be a much different coach in the playoffs. He has displayed a knack for analyzing and adjusting to almost every situation and the Flyers seem to be following his coaching with tenacity.
This ability of Peter Laviolette's could easily be the difference between the Philadelphia Flyers winning or losing in the 2010 Stanley Cup Final.
Toews & Kane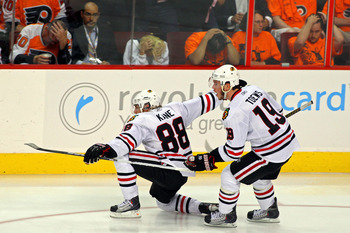 Toews and Kane are on this list because the Blackhawks are for the most part dictated by their play and their collective inability to produce offensively could prove to be a major help to the Flyers winning the cup.
Jonathan Toews is a -3 so far in this Stanley Cup Final and only has one assist.
Patrick Kane on the other hand is a -7 and has a goal and an assist for a grand total of two points.
The "Dynamic Duo" isn't so dynamic so far, but in all fairness to them, it's too much to expect so much out of them especially when they have to play against the likes of Chris Pronger.
Keep Reading

Philadelphia Flyers: Like this team?