2010 FIFA World Cup: Stadiums in the Sand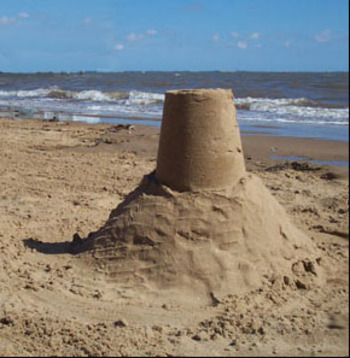 A sandcastle is about the easiest, and one of the most entertaining things to do for kids on the beach.
Some of those kids grow up, but still like to build things on the sand.
With the World Cup approaching, one of those kids decided to build the Stadiums for the World Cup on the beach of Durban.
Durban Stadium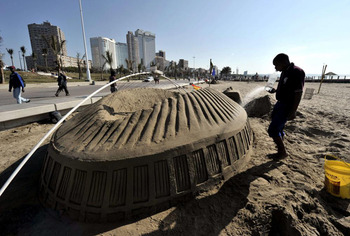 He started with Durban Stadium, which seems logical, as he's doing this in Durban.
This is a picture of a (not so) early stage in his progress.
Finishing it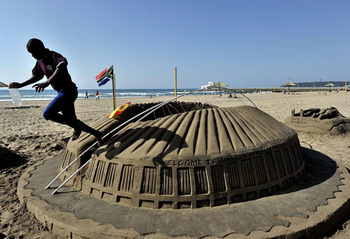 The guy is giving it some final touch ups, before he's finally happy with his work.
Finished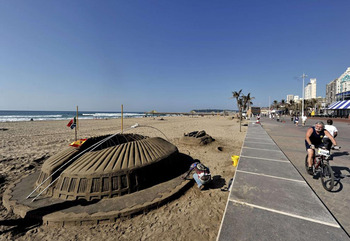 He's already finished Durban Stadium, and started working on the next sculpture.
It may not be visible, but Spain's flag is under South Africa's, as Spain will make it's debut in this stadium on June 16.
The Real One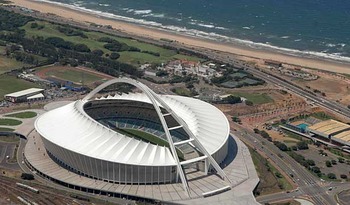 Here's the real Durban Stadium, so that, if you want, you can go back and forth and compare it to it's sandy replica.
Next up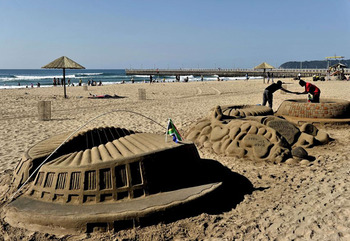 Durban had a little setback, but before fixing it the artist continues his work in the other stadiums.
Welcome
More stadiums are being finished, as time passes. I don't know if he has finished with all stadiums, but it's a good way to pass time until the World Cup started.
"Welcome to mama Africa, feel it is here" (with an arrow pointing to South Africa) is written in the Africa sketch see-able in the front.
Keep Reading