The Five Most Undervalued San Diego Chargers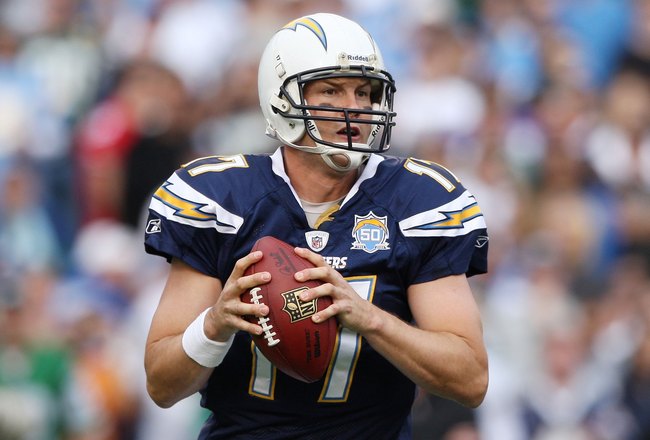 Everyone knows this guy.
Philip Rivers has quickly become one of the most recognizable faces on the Chargers and in the League because of his excellent passing and his loud mouth.
The Chargers get a lot of credit for talent. Everyone knows guys like Vincent Jackson, Marcus McNeil, Shawne Merriman, and Quentin Jammer.
I'm not arguing that these guys aren't important, because they are. However, there is a lot of unsung talent on the Chargers roster, and it's about time they got their due praise.
Without further a due, here are five San Diego Chargers who deserve everyone's respect.
David Binn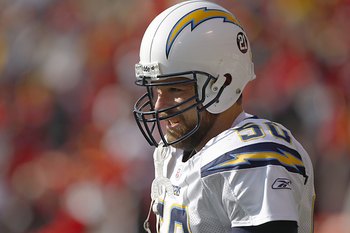 Even the die-hard Chargers fans might not know this guy, and that's because he plays the most under appreciated position in all of sports: the Long Snapper.
David Binn has been one of the Chargers most reliable players, and he's been doing his job without flaw for 17 years now.
The fact that he is still performing on the level that he is right now is incredible, and the man deserves credit for every stat put up by Mike Scifres.
For me, Binn wins the Unsung Hero award hands down.
Legedu Naanee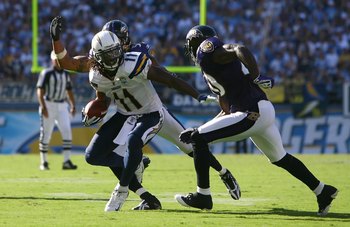 Legedu Naanee may be my favorite player right now on the San Diego Chargers.
He has a huge shadow cast over him considering his spot on the depth chart behind Vincent Jackson and Malcolm Floyd, but Naanee brings his A game every time he comes out on the field.
Not only does he have decent size, speed, and football intelligence, but Naanee is the most versatile weapon that the Chargers have.
He may be a wide receiver now, but he was a quarterback at one time, and has been used on a few great trick plays.
I really hope the Chargers realize the value of Naanee and start building some trick plays around him, because he is that kind of guy.
Naanee gets my That Guy award.
Brandon Manumaleuna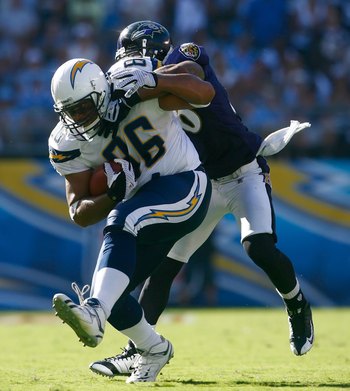 While he no longer wears the powder blues, Manumaleuna deserves recognition for everything he did in San Diego.
His numbers may not impress a whole lot of people, but Brandon is one of the best blocking tight ends in the game.
Built like a truck at 6'2", 295 lbs, Manumaleuna was practically an extra lineman on the field for run plays.
Manumaleuna did a lot of the dirty work out in the trenches while getting none of the recognition for being integral to what used to be a great San Diego running game.
Manumaleuna gets my Tunnel Worker award, for opening up those holes and getting none of the spotlight.
Mike Tolbert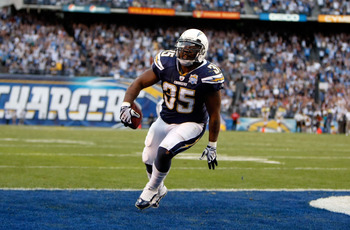 He might not be a nobody any more, but there was a time where people were scratching their heads wondering who this bowling ball shaped man was stepping in for Jacob Hester.
Coming out of Coastal Carolina, a lot of people didn't think Tolbert had what it took to succeed in the league, and he has all but silenced them.
Tolbert has become a good blocker and a great threat out of the backfield (as shown by his touchdown against Cleveland.)
The spotlight is on him now at the Fullback position, and I hope it stays that way, because this guy is the real deal. Tolbert gets the Counted Out Until Counted In award for playing hard and earning his spot with blood, sweat, and tears.
Ogemdi Nwagbuo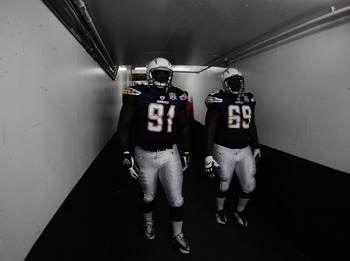 Nwagbuo is one of the many people who rotated through the DT position last season after Jamal Williams went on IR.
While his play was not on the same level as Williams, Nwagbuo did an excellent job filling in as a rookie coming cold off the bench.
What makes Nwagbuo even more impressive, though, is his story. Nwagbuo was playing on the Chargers practice squad and working at an Enterprise Rent-a-car to make ends meet, and it was at that Enterprise where he ran into one of the Chargers coaches.
Ultimately, he was brought to the attention of the Chargers brass and elevated to the active roster to become a potential successor to Jamal Williams.
He is still a little green, but Nwagbuo is in the competition with Cam Thomas and Vaughn Martin for the chance to fill number 76's shoes.
O yeah, and I can't forget my award.
I'm going to give Nwagbuo the Enterprise Rent-a-Car award, not just for the irony, but because he stepped in for another player, played well, and made you wonder if this could be your next car.
Keep Reading

San Diego Chargers: Like this team?