The Top 10 Running Backs Going into the 2010 Season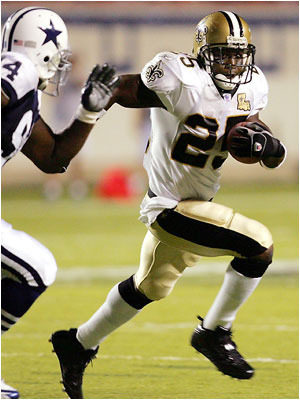 The Running Back position is one of the most important positions on the offensive side of the ball. Some running backs are willing to carry their whole team, and some are there to provide more of a spark than anything. Here is my opinion on who the best 10 running backs going into the 2010 season are.
10. DeAngelo Williams/Jonathan Stewart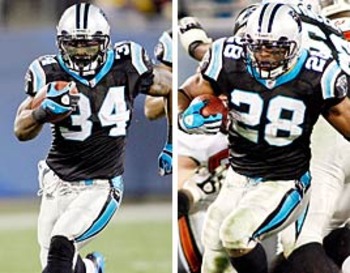 9. Ryan Grant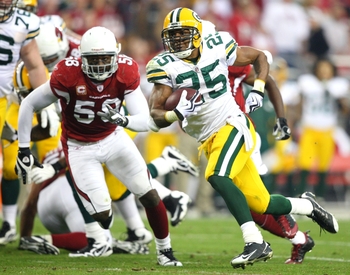 Ryan Grant has been the Green Bay Packers running back since 2006. In my opinion, he is one of the most underrated running backs in the NFL. Last year, he averaged 4.2 yards per carry and rushed for 1253 yards. Not many people know who he is because of the whole Brett Favre/Aaron Rodgers era that occured. Grant was a very dominate back in college as well for Notre Dame. He is one of my favorite running backs simply because of his speed and his ability to stiff arm the crap out of a linebacker
9. Ryan Grant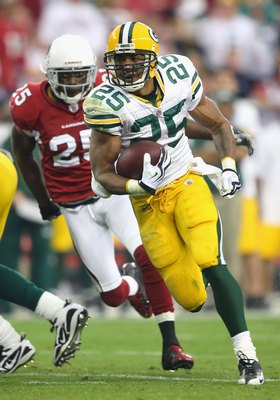 Ryan Grant isnt an absolute superstar but he is definitly a running back that I would love to have on my team. His speed is blinding to defenders and he has the juke move like no other. His numbers from last year were 1253 yards rushing with 4.4 yards per carry. He is a key part for the Green Bay Packers' offense along with Aaron Rodgers. Rodgers said last year in an interview "this guy is just a beast and im spoiled to be with him." I believe he will have a great season next year and will hands down he the leading rusher in the NFC North.
8. Michael Turner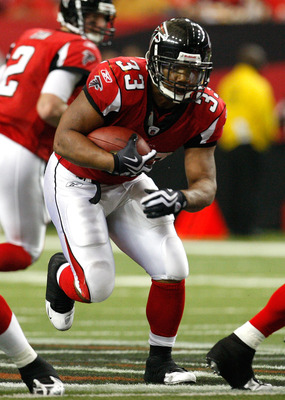 Michael Turner did not have the year that everyone though that he would have last year. He put up a mere 871 yards rushing with 4.9 yards per carry. Although he didnt have a great year, he was also suffered an injury that sat him out 5 games last season. He is still an absolute beast and will run over anyone that is in his path. The move for him to come over to Atlanta really helped his career because of the system of play that Mike Smith and the Falcons run. He he had a good run in San Diego backing up LT because he learned from one of the best to ever play.
7. Jamal Charles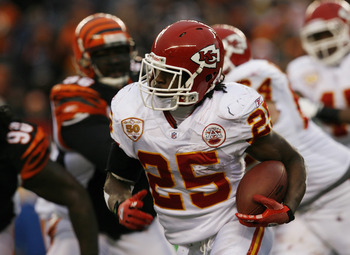 Jamal Charles is only 23 years old. He put up good numbers last years with 1120 rushing yards. He also was on a team with so much drama and crap. He had to go through the change from Larry Johnson to himself getting all the carries. He has blinding speed and can change his direction as fast as any running back in the NFL. I feel that he will be one of a handful player on the chiefs that will carry their entire team.
6. Cedrick Benson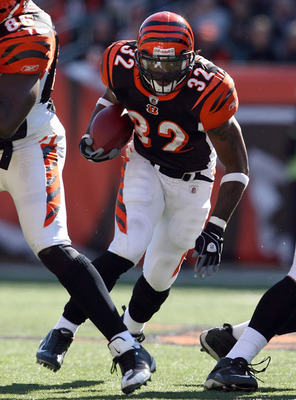 Cedrick Benson had an unbelieveable year last year for the Bengals. I think he caught every NFL fan by surprise. He put up 1251 rushing yards with 4.2 yards per carry. I say an unbelieveable year because in the years past, Benson never really put up any of those kinds of numbers even when he was with the Bears. He and Carson Palmer carried that team on the offensive side of the ball. He even rushed for over 100 yards against the Ravens in one game and also against the Steelers in one game. Running for 100 yards against one the league's best rushing defenses is proving a lot for his ego and his team.
5. Ray Rice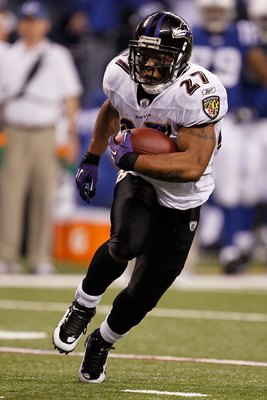 Ray Rice had a breakout year last year for the Baltimore Ravens. He rushed for 1339 yards with 5.3 yards per carry. The reason why this guy is going to be a star in the years to come is because of his ability to run through guys and his speed in the backfield to get around them. Don't forget that he shared carries with Willis McGahee as well. He was not as a threat in 2009 because of the 3 running backs Baltimore was using. Now, he has proven to the team that he can take the bulk of the carries and still have McGahee come in every now and then. Rice is also very undersized at 5 foot 8. I guarantee you this man will have a breakout year next year.
4. Adrian Peterson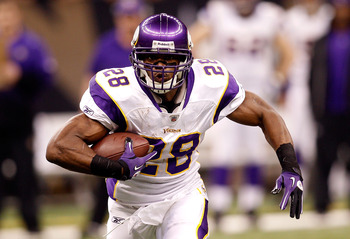 Yes, Adrian Peterson had a good year last year with 1383 yards rushing and 4.4 yards per carry. But the reason why I don't put him higher is because of his fumbling issues that he had last season. It seemed like he lost the football once every game. He started out good last year, but slowly dropped off as the season went on. He will continue to be a great back for the Vikings, but I do not think he is better than some others. The man still does get it done with all the touchdowns that he gets.
3. Steven Jackson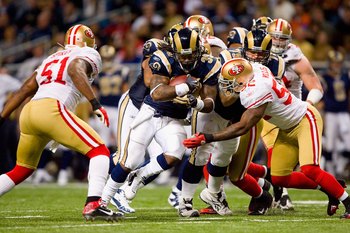 This guy is an absolute beast. Even though Jackson just had back surgery, he will still be one of the most feared running backs in the league. He is such a big back and will literally run through you like a brick wall. He had 1416 yards last year with 4.4 yards per carry. Don't forget that he is on one of the worst teams in the NFL. The linemen infront of him suck, and he can still get it done better than most running backs in the league. Look for him to continue his domination and his number to consistently stay the same.
2. Maurice Jones-Drew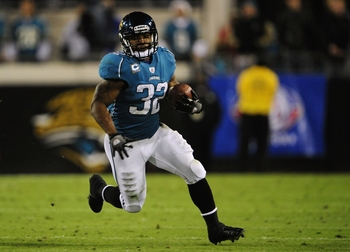 Maurice Jones-Drew is just an absolute beast of a running back to have on your team. His numbers speak for itself last year. He had 1391 yards rushing with 4.5 yards per carry. The only reason this guy wasn't known for his great numbers is because of the season that Chris Johnson and Steven Jackson had last year. Jones-Drew is undersized at 5 foot 7, but carries 208 pounds of pure mussle. His spin move is probably one of the best in the league and he is just a complete team player. Look for him to be competing for the top spot in NFL rushing next year.
1. Chris Johnson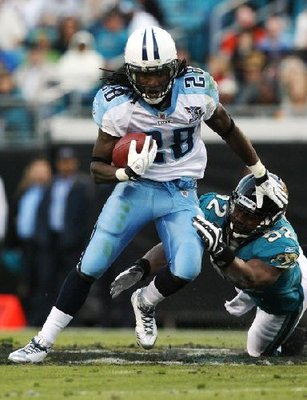 Enough Said. Chris Johnson had 2006 rushing yards with 5.6 yards per carry. With the steller Titans' offensive line in front of him and his pure speed and juking abilities in the backfield, this guy just can not be stopped. He had 100 yards rushing in 13 of the 16 games last year. Thats just unbelieveable and I promise you he will lead the league in rushing yards again.
Keep Reading