From Rags to Riches: Which Trophyless NFL Team Has Best Shot in 2010?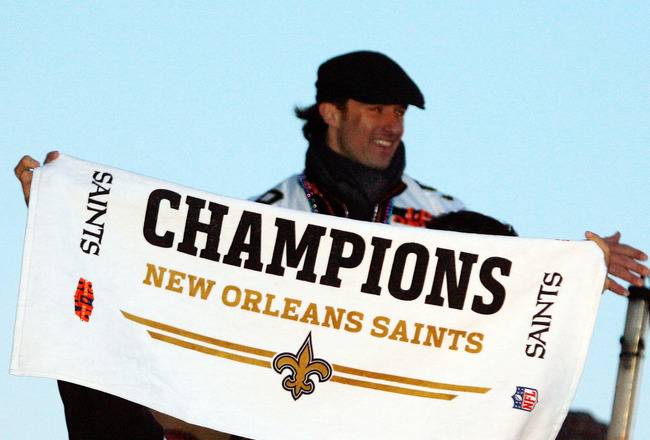 "Winning isn't everything, it's the only thing" --Henry Russell
It's only natural for each and every one of us as football fans to want to experience success. We devote our lives to following our respective teams and for some of us, no matter how much loyalty and devotion we show, our teams still fail to win the big one.
As of right now, 14 teams remain to have never won a Super Bowl. Many teams come as quite a surprise to see featured on this list, while others can be marked down as absolute blunders in the history of the NFL.
But as we enter into a new season, and a new decade of NFL football, who has the best chance in 2010 to eradicate their previous un-Super Bowl like ways?
It's a question that is not often addressed, so hopefully at the end of this list we will know for sure.
Minnesota Vikings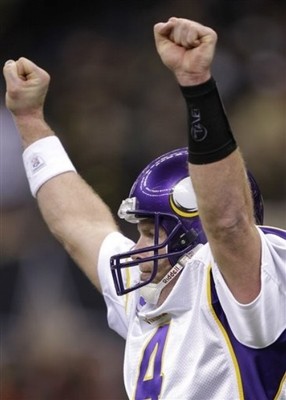 Last Super Bowl Appearance: 1977
Close, but no cigar.
That's probably the most suitable statement I can make in regards to the Minnesota Vikings. They've quite often had the talent, they've quite often had the coaching, but at the end of the day no Lombardi Trophy sits in the cabinet.
Prior to the 2009 season, no one knew exactly how to feel about the Vikings. Brett Favre was their new quarterback and despite the Adrian Peterson factor, many fans felt that the Vikings were still a step away from the big time.
Unfortunately for Vikings fans, this belief became reality. After an impressive regular season campaign, the Vikings saw their Super Bowl hopes crushed by the New Orleans Saints in the NFC Championship Game.
So where does this leave the 2010 Minnesota Vikings?
Well, funnily enough it leaves Minnesota in a relatively decent position. The Vikings now know what it feels like to lose, and pending Brett Favre's decision, are still a serious Super Bowl contender this season.
Things will be tough in the NFC North for the Vikings, but if trusty old Brett Favre returns, you can't help but like their chances.
Adrian Peterson, Percy Harvin, Jarred Allen and Bernard Berrian? What else could a Vikings fan want?
Buffalo Bills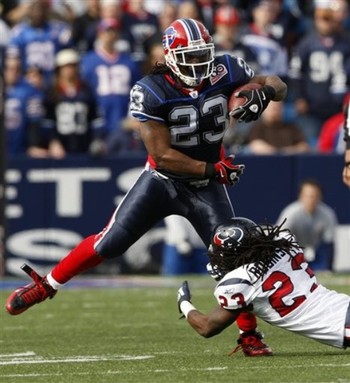 Last Super Bowl Appearance: 1994
Ah the Buffalo Bills. If it weren't for those pesky New York Giants, perhaps the Bills wouldn't be featured on this list.
Unfortunately for all Buffalo fans, I can't help but feel that the Bills glory days are well and truly over. They've tasted success, yet somehow still managed to fail.
With this said, we thought the same of the Arizona Cardinals only five years ago, but look how their story almost turned out in 2008.
The Buffalo Bills of 2010 are still a question. A starting quarterback is yet to be named, and besides Marshawn Lynch and now C.J Spiller, talent is hard to find on the Bills starting roster.
It probably isn't any news to anybody right now, and I hate to be the bearer of bad news, but I do feel a Super Bowl for Buffalo is at least a decade away.
Until some serious coaching steps in and takes over the Bills, they will continue to struggle. Although Chan Gailey is yet to coach a game, some questions still loom around Buffalo, particularly in regards to whether or not they can post an above .500 season anytime soon.
Lets face it, Buffalo have just been an unlucky franchise. In 1994 their dreams were crushed, and it seems that a New York Jets style curse still hangs over Ralph Wilson Stadium.
The Super Bowl is a long way off for Buffalo, and in relation to the other 14 winless teams-- they are at the back of the pack. But who knows, the NFL is always full of surprises.
Cincinnati Bengals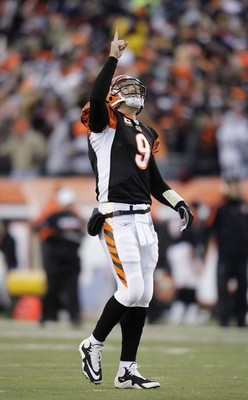 Last Super Bowl Appearance: 1989
Although I am no Bengal fan, I am a massive supporter of Carson Palmer.
I will forever rank him in my Top 10 quarterbacks of today, and like it or not, I still feel that number 9 is vastly underrated.
To me, Carson Palmer is like the Dan Marino of the modern era. He has never won a Super Bowl, and given his age, probably never will. This of course isn't to say that Cincinnati don't have more than a great chance of getting it done in 2010.
After acquiring both Jermaine Gresham and Jordan Shipley in the NFL Draft, Cincinnati are now loaded with receivers.
The wide receiver game wasn't the biggest problem for the Bengals, but it became clear after the AFC Wildcard game that some serious motivation was needed for Carson Palmer and the Marvin Lewis' offense.
The thing that seems to hold Cincinnati back each year is their division. Baltimore and Pittsburgh are still solid teams, and with Cleveland now looking to finally be on the rise, the Cincinnati Bengals are caught between a rock and a hard place.
Still, I can't help but feel Carson Palmer's career wouldn't be complete without a ring. He's risked his body many times for this sport, and has often been injured for extended periods of time.
Some fans may disagree with me, but wouldn't it be nice to see not only Carson win a ring, but Chad Ochocinco also? I know that is a celebration I am eager to witness.
Is 2010 the Bengals year? Possibly.
Philadelphia Eagles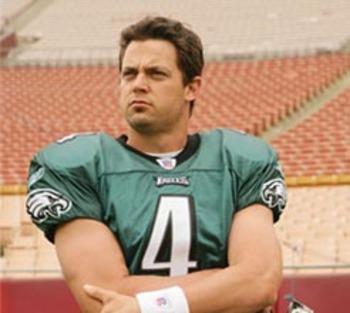 Last Super Bowl Appearance: 2005.
McNabb, McNabb, he's our man if he can't do it no one can!
Okay so most Eagles fans weren't chanting that during McNabb's time as an Eagle, but that is the question that now faces the Eagles as a franchise.
If a considerably solid and elite quarterback can't lead Philadelphia to the promise land, who can?
It's a question no one knows the answer to.
In 2005 the Eagles came close. They rallied the New England Patriots and despite the criticism that surrounds this club, the Eagles did make more than a name for themselves due to simply appearing in the Super Bowl.
In 2008 it seemed that fate may repeat itself. The Eagles had momentum going into the NFC Championship Game, but unfortunately failed to defeat a hot Arizona Cardinals side that was determined on making a name for themselves.
Now we look toward the future, and it is a future that features young Kevin Kolb at the helm. Like many young quarterbacks who are new to the starting position, not many people know how Kevin Kolb will perform in 2010.
So let's be realistic, the Super Bowl isn't the first priority for the Eagles right now. The team still has concerns on defense, along with some questions arising in regards to running game.
If all goes right the Eagles do have a shot. It seems when we do write Philadelphia off, they come back in the final month of the season to clinch on to a Wildcard spot.
The NFC East as always will play against the Eagles this season, and I would be surprised to see Kevin Kolb lead the Eagles all the way. Who knows what this young man is capable of, and until we see him in all his glory, it is reasonable to still assume that the Eagles could make it all the way.
San Diego Chargers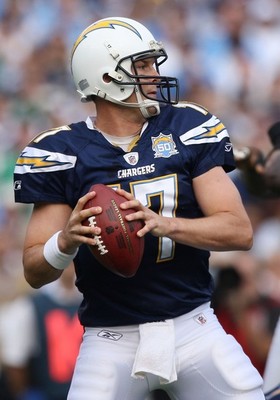 Last Super Bowl Appearance: 1995
For those of you that have made the wise decision to pick San Diego as your Super Bowl favorites this season, I commend you for a good choice.
With this said, year after year so called "experts" tip San Diego to hoist the Lombardi Trophy, only to see the Chargers choke once again in the playoffs.
For some AFC fans the Chargers are a little hated. San Diego always seem to overshadow more promising teams such as Baltimore and Indianapolis each season, and even though the Chargers do wind up failing, the constant San Diego appreciation does run a little dry at times.
Of course, this isn't the Chargers fault. Funnily enough, the talk about LaDainian Tomlinson has been rather low compared to recent years, and some fans do feel that the Chargers Super Bowl hopes have drifted right out the window with L.T signing in New York.
As fair as this idea is, there is no denying that Philip Rivers does have the ability to lead this team to the promise land some time in the near future.
So should we all jump on the Charger bandwagon again?
Personally I'd prefer to just purchase a pushbike and ride along side it. If the Chargers make yet another impressive run, I, like most people will give them credit.
However right now the odds are against the Chargers, and with Norv Turner now facing the hot seat, things could go from good to bad in the matter of a season.
Atlanta Falcons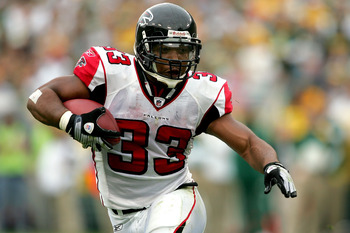 Last Super Bowl Appearance: 1999
Michael "The Burner" Turner returns in 2010, and I can't help but get excited.
It doesn't take a rocket scientist to realize that the Atlanta Falcons were downright outplayed by the New Orleans Saints in the NFC South last year. It seemed when Atlanta would post a win, the very next week a poor performance would result in a loss.
So what makes me so confident that the Falcons can turn this around in 2010?
It's simple, the Falcons now have more of a grudge than ever against the New Orleans Saints. Watching Drew Brees lead the city of New Orleans was of course sweet for all, but a bitter taste for Falcons fans was felt after watching New Orleans capture the NFC South division with ease.
I guess you could say now, the Falcons have a thorn in their side. They are a tough as nails team, with a great young quarterback who is set for bigger and better things.
Are those "bigger and better things" Super Bowl related? You bet.
The Falcons are intent on giving their fans a slice of glory. They came close in 1999, but failed to get the job done.
A new stadium along with a new look offense excites me enough to truly believe in the Falcons. If there is a more deserving team in the NFL, I haven't found it. 2010 may not be a red and white year just yet, but expect them to at least make a playoff run.
Tennessee Titans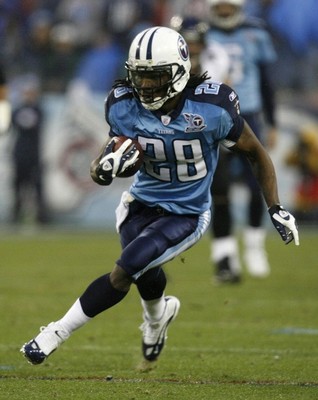 Last Super Bowl Appearance: 2000
Finally the Tennessee Titans seem to have their team on the same page. Vince Young is the solid starter and speedy Chris Johnson is set to have another beastly year.
The problem that has faced the Titans recently is consistency. It seems one week they are an explosive team capable of dominating even the biggest of opponents, while the very next they fail to totally show up, and as a result are served a disappointing loss.
There's not much right now to say that we won't see the same from the Titans in 2010, aside from the fact that the Titans now seem to see the future on the horizon, and are intent on reaching that goal.
One of the more underrated sides to Tennessee is their coaching. Head coach Jeff Fisher has done an exceptional job of not allowing Tennesee to stray off the beaten path, and has managed to keep the Titans together, and functioning as a unit.
Like the Philadephia Eagles, the only criticism I can see for the Titans Super Bowl case is the division. As long as Indianapolis have Peyton Manning as their quarterback, it seems the Titans will constantly play the runner up role.
Oh and did I mention the Houston Texans? Another team that could also upset the Titans hopes and dreams.
I'm not willing to go as far as saying that the Titans will reach the Super Bowl, but I do acknowledge both the game plan and the talent is definitely there. Things just need to start clicking for Tennessee, and once again I relate back to consistency.
If a few solid seasons are posted, we may be looking at a team similar to the Baltimore Ravens of today.
Carolina Panthers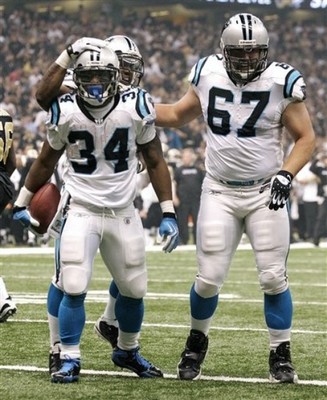 Last Super Bowl Appearance: 2004
It's extremely hard to place a finger on the Carolina Panthers right now. On one hand you have DeAngelo Williams and Steve Smith, while on the other you have newly appointed starter Matt Moore, and of course the loss of Julius Peppers.
Things in Panther land aren't all that positive right now. A ton of questioning surrounds this franchise, and it seems that the Panthers recent 2004 Super Bowl appearance has been overshadowed by a few poor seasons.
Until we see Carolina open their regular season account in September, no one knows for sure what the future really holds for the Panthers.
If one thing is for sure, this organization is at a crossroads. If another below average season is posted, talent may continue to drop off. DeAngelo Williams is among the top backs in the NFL, and given this fact alone, poor motivation offensively may result in him straying away from the Panthers.
The Super Bowl is still a long way off for this club. No one in their right mind should honestly be tipping Carolina to win it all this season, and given the fact that head coach John Fox is facing some scrutiny, the Panthers have become a "sit back and watch" type team.
If somehow they manage to make an upset in the NFC South, then by all means they are once again contenders. However if another poor season is posted, then we may be looking at a very sad franchise in years to come.
Arizona Cardinals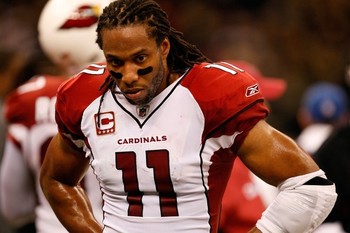 Last Super Bowl Appearance: 2009
It was a fairytale story in the making, but unfortunately it ended rather sourly.
For the most part the Arizona Cardinals are still the same team they were in 2009. Although, the departure of Kurt Warner and Anquan Boldin will definitely hurt this franchise.
Like the Eagles, Arizona have a new quarterback who could go either way. We have witnessed glimpses of Matt Leinart in recent years, but it still hasn't been enough to totally persuade most people.
The key standout for Arizona is Larry Fitzgerald. He has that rare winning gene that separates him from the rest, and it seems when he does hit a slump, he bounces back the very next week to deliver in every way imaginable.
The more optimistic fan is likely to have taken Arizona as Super Bowl favorites. They are still not to be written off, as the Cardinals winning ways particularly toward the playoffs always keeps them in contention.
Could it possibly be a red and white year?
I don't see why not. However, some serious convincing will be needed in the early weeks of the season to change peoples minds.
Seattle Seahawks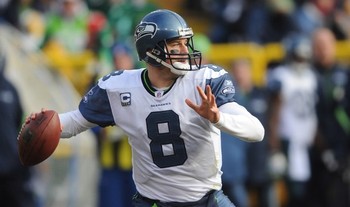 Last Super Bowl Appearance: 2006
Following Seattle's highly impressive Draft campaign, many people feel we will see a new-look Seattle Seahawk's side in 2010.
Pete Carroll is quite possibly one of the best newly appointed coaches in the league, and he should gift Seattle with the knowledge and leadership they have been lacking.
In 2006, I don't think anybody expected Seattle to drop off quite like they did. Sure they lost to the Pittsburgh Steelers in Super Bowl XL, but it seemed that the Seahawks were set for a promising future.
Unfortunately the very opposite happened, and Seattle's game plan dropped.
Right now Seattle are far from the Super Bowl, despite acquiring such impressive talent in the Draft. No matter what people say about Seattle, there is no denying that they are a rebuilding franchise.
A lot of new talent combined with some old is the make up of the 2010 Seattle Seahawks who, even if they do manage to post an above .500 season, I don't see winning a Super Bowl anytime in the near future.
Cleveland Browns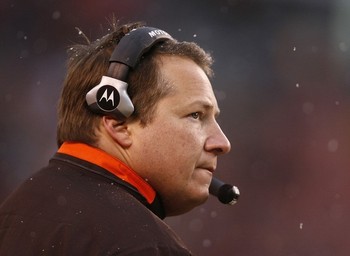 Last Super Bowl Appearance: Never
Enter the Eric Mangini era.
In the Browns storied history, they have never made it to the big dance. It is a sore spot for most Brown fans, but give them credit, they've stuck with their team through thick and thin.
Although there is no past Super Bowl appearance to reference here, there is of course the matter of the Browns future.
As a mini Cleveland fan myself, I've always felt that given the right coaching and leadership, this team could really turn themselves around in an instant.
Fortunately for the Browns, that very circumstance has become a reality, and we find ourselves in an Eric Mangini era accompanied by Mike Holmgren, who have a grip on this franchise like no other.
In the Draft the Browns cleaned up nicely. Joe Haden along with Colt McCoy made up for a successful Draft outing for Cleveland, and also made for some future style picks that could work out nicely in the coming years.
The concern for the Browns is simple. Can they get it done?
They've gotten rid of the problem players (for the most part), and are now rebuilding to build a more humble and stable franchise.
It is a question that many have tried to answer, and ultimately failed in doing so.
When it comes to the Super Bowl though, well let's just say the less said the better. If you ask me in 5 years time, I may have a different answer, but right now, I obviously have to say no.
Detroit Lions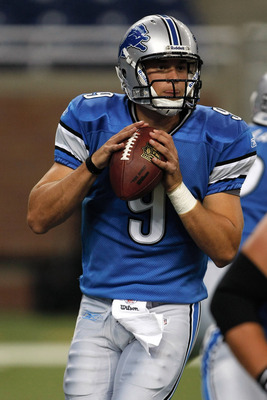 Last Super Bowl Appearance: Never
The poor old Detroit Lions. Since the Barry Sanders days of old, they seem to have been on a downward path to self destruction.
But is there new light in Matt Stafford and Ndamukong Suh? I sure hope so, as it would make the NFC North just that little bit more exciting.
Aside from divisional play though, the Lions have taken some necessary steps in the right direction.
They've drafted well with Matt Stafford and Ndumakong Suh two years in a row, and have even gone as far as changing their logo to add a bit of fierceness to a team needing a spark.
The concern with Detroit, like Cleveland is not a matter of if, it is is a matter of when.
When will we see the Lions come back? And when will we see Detroit take over the NFC North finally?
To answer this question, I once again do not know. It's in God's hands really, and if history is anything to play off of, the Lions may never make it.
The Super Bowl? It is kind of a silly question right now, but I can answer it simply.
Not this season, probably not next, but in 2012. If the world is going to end, then hell will truly need to freeze over. Therefore, the Lions taking it in 2012 seems fitting for the end of civilization. Packer, Viking and Bear fans mightn't like it, but maybe the Lions can finally get it done.
Houston Texans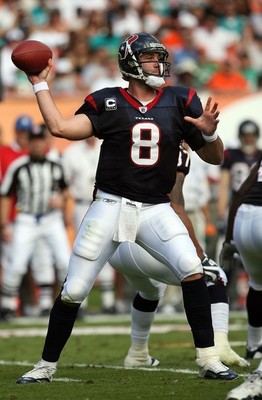 Last Super Bowl Appearance: Never
They are only a new team, but one heck of an impressive franchise.
Perhaps a lot of the credit is due to Matt Schaub in Houston, as it seems he has never panicked in the slightest, and now all of his hard work and dedication to the Texans has finally payed off.
Like everyone, I expect bigger and better things out of the Texans this season. Aside from off the field controversies with Brian Cushing and Andre Johnson, Houston's missed playoff campaign in 2009 should only add fuel to an already burning desire to play postseason football.
Therefore, expect Houston to come out charging. The fan base is excited, I'm excited and more importantly the top quarterback in 2009 is excited.
For most, picking Houston as the Super Bowl winner is considered a "sleeper pick". A few people have chosen this route, and they will look like absolute genius's should it come true.
So is a Super Bowl on the horizon for Houston?
Definitely, if not this season, then the next, or the one after that. They are a talented and young team that strives on pure adrenaline, not to mention a ton of confidence.
Not only would it be great to see a young team like Houston hoist the Lombardi Trophy, it would also do wonders for the league in general.
Jacksonville Jaguars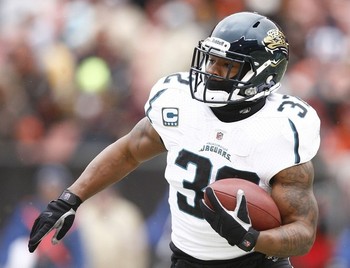 Last Super Bowl Appearance: Never
The Jacksonville Jaguars are a team in turmoil. The fanbase is lacking a little, and head coach Jack Del Rio is quite possibly the most criticized man on God's green earth right now.
So far this offseason we have heard quite a bit of talk in regards to David Garrard's work ethic. Kudos to him for trying so hard, along with his wide receivers, as it this type of attitude that can really put a team back on the right track.
With this said, perhaps no matter of sweat, blood and tears will help poor old Jacksonville this season.
A lousy Draft in the books, not to mention a total lack of confidence leaves the Jaguars in dire strait mode, especially when the league is once again considering possible team location changes.
The Super Bowl was within reach for Jacksonville 2 years ago, but now it is well out of reach. If somehow a miracle happens and the Jaguars post a great record, credit it to pure luck, as right now things look dull at the moment in Jaguar land.
So Who Is The Favorite Trophyless Team?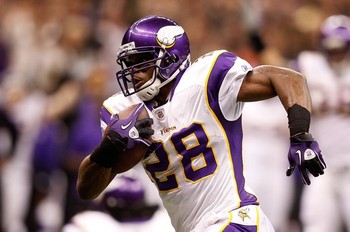 It was a toss up between Cincinnati, Arizona and Minnesota, but the edge goes to the Vikings.
Pending Brett Favre's well drawn out decision, it would only be fitting to see the old timer get it done in purple, and hang his boots up with an extra ring on his finger.
Ending a Super Bowl drought in Minnesota would be monumental. For a team with so much talent over the years featuring the likes of Fran Tarkenton, Randy Moss and Adrian Peterson, it would seem almost unfair to see the Vikings go any longer without a trophy.
The younger players of the Vikings roster will have to step it up this season, and if one thing is for sure, Brad Childress is the right man to address this issue.
The NFC North is a tough place, and trust me, the Vikings know this first hand. However, if there is one trophy-less team that is intent on making it their year, Minnesota is the favorite.
Keep Reading

Minnesota Vikings: Like this team?