Orlando Magic Draft 2010: The Short List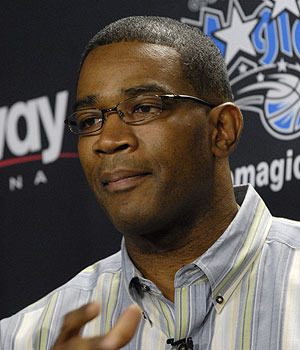 Orlando Magic general manager Otis Smith believes his team needs only an "eighth of an inch" improvement to be an NBA champion.
He told fans finding ball handlers, and adding one or two pieces to the "puzzle" would be the priority.
Orlando's lack of cap space, and multiple high-dollar contracts limit what can be accomplished via free-agency. The Magic do have a trade-exception and mid-level exception, giving them some slack.
That figures to be consumed with keeping J.J. Redick— possibly a free-agent.
Any other moves would require a sign-and-trade agreement. In the words of Smith, it takes "two teams" wanting to make a deal.
Smith described both of Orlando's back-up guards, Jason Williams and Anthony Johnson, as "long in the tooth." We can assume that means they will be released.
The draft will provide the only other means of improving the team. Again Smith says he's looking for the best player available. At the 29th position, most draft analysts predict quite a few guards available.
That works in Orlando's favor.
I've provided what I believe the preliminary short list of players the Magic might consider drafting.
Check out the UFR Sports Talk website for updates to the list.
Begin Slideshow

»
Position: Shooting Guard
Vitals: 6' 4", 198 lbs, 21
Home: Detroit, MI
Projected: Late first, early second round.
Stat Line: 20.5 points 4.7 rebounds 2.9 assists, 2.4 turnovers
Bio
Jordan Crawford may be best known for his dunk over LeBron James during a camp game last summer.
Lately he has become known for how he has moved up the projected draft board.
Crawford appears to deal with adversity well. He broke his ankle the first game of his senior season in high school.
But he still found a way to play Division I basketball.
Crawford originally attended Indiana University for one season. He transferred to Xavier, after the program received three years of probation for NCAA violations. He sat out the required one year, and played well as a Musketeer.
In the most recent NCAA Tournament, he scored 32 points in his teams loss to Kansas State in the NCAA tourney. He likes the big stage, and doesn't lack confidence.
Crawford's older brother Joe, played for the Knicks at one time.
His stock has increased since the combine and other private workouts.
He would create instant buzz in a Magic uniform.
Upside
This guy is pure athleticism, with a scorers mentality. If the Magic do lose Matt Barnes, he could be that emotional replacement, with more talent.
He creates shots at the rim, and can finish—often times with dunks. He's a great pick and roll player, which fits well with what Orlando does offensively. On top of that, he shoots the jumper well. He can score from practically anywhere in the gym.
Downside
Because he's a good one-on-one type player, at times he can be the victim of his own success. Attempting to do too much, often times leads to undisciplined play and turnovers.
He'll have to learn to the pass the ball to be part of the Stan Van Gundy offense. He has struggled with his consistency, but that could be attributed to his not playing competitively for a year.
Notable Quote:
"He has good basketball I.Q.," Minnesota head coach Tubby Smith said. "Players like him are pretty rare."
Position: Shooting Guard
Vitals: 6' 4", 205 lbs, 21
Home: Lake Wales, FL
Projected: Mid to late first round
Stat Line: 21.4 points, 6.1 rebounds, 3.6 assists, 2.9 turnovers
Bio
Jones played on a South Florida team with very little help from his team. Because of that, he hasn't received a great deal of publicity.
He was forced to be the team's "everything" man, and did just about that. He won the 2009-10 Big East scoring title, and was selected to All-Big East First Team as a sophomore.
This guy came into the NBA Draft Combine under the radar. He left, after putting his name on the map. He followed the combine workout with even more impressive private team workouts.
Right now he's projected to go late first round. That could change in the upcoming weeks, as he continues to improve his draft status.
Upside
He already owns well developed offensive skills, combined with solid defensive play. Very talented basketball player, but skeptics worry that he may be too small to be an NBA shooting guard. Hopefully those concerns keep him around until the Magic have an opportunity to draft him.
Draft chatter says that the Boston Celtics and Orlando Magic really like Jones.
In terms of physical skills, he's quick, attacks the rim and can even play from the post. He plays hard every night, always giving maximum effort. Scouts like his demonstrated ability to be a floor general.
To add even more luster to his polished game, he can get fouls on the drive, rebounds well and defends just as well as any other prospect in the draft.
Downside
If Jones is so good, why aren't people talking about him?
Most of the complaints involve his shooting. Though he shoots well, he can be streaky. When he's on, he scores in bunches. When he's off, he sometimes tries to press the issue.
Part of the problem could be his shot mechanics. The other part could be that he was really the only weapon the Bulls had on the team. Many believed he forced shots, because he felt like he had to score.
He will have to learn how to create space on his own for his jump shot. He will also have to get better in catch-and-shoot situations.
Notable Quote:
Billy McKinney, Director of Scouting for the Milwaukee Bucks— "He's a pretty good play-maker."
Position: Shooting Guard
Vitals: 6' 4", 175 lbs, 20
Home: Collierville, TN
Projected: Late first Round
Stat Line: 17.9 points, 4 rebounds, 3.8 assists, 2.9 turnovers
Bio
Williams amazes and confounds all in one. He started his college basketball career as a Duke Blue Devil. While a freshman, he started a total of twelve games, with eleven of those starts, being the last eleven games of the season.
After his first season at Duke, Williams' mother became seriously ill, and he decided to transfer to Memphis to be closer to home. The NCAA granted him a waiver to play immediately, and not have to sit out the mandatory year.
Since declaring for the draft, he has become somewhat hard to read. He withdrew from the combine at the last minute, with what was called a "minor knee injury." The knee injury didn't bother scouts, the fact he didn't even show up to provide measurements worries them more.
Upside
Mr. Williams is yet another extremely athletic shooting-guard, who can play the point when needed.
Offensively he can shoot from mid to long range, drive to the hole and handles the ball well. Memphis utilized a lot of drive-and-kick, with Williams finding open shooters on the outside. That makes him attractive to Magic executives.
He plays good defense, but that's expected from a guy who played a season for Coach K. He can defend both the shooting and point guard positions. He excels at reading passing lanes.
He works very hard, at being good. Most scouts emphasize his character and high basketball IQ. Something important for a team like the Magic, looking for someone who can come in an contribute immediately.
Downside
Like most young guards, he can at times struggle with turnovers. That could be related to what's perceived as his weakness with his left hand.
Pro scouts worry that NBA defenders will hone in on this weakness. He will dribble with his left, but will in most cases choose to go right. He has trouble finishing, because he will shoot with his right hand, when the left would be better.
He struggles with catch-and-shoot situations, which could be a problem for a rookie. Rookie's usually get the ball off of passes, when called plays break down.
Notable Quote:
"We've asked him to do a lot and he has stepped up and produced," Josh Pastner, Memphis Mens' basketball head coach.
Position: Shooting Guard
Vitals: 6' 5", 211 lbs, 20
Home: Memphis, TN
Projected: Early second round
Stat Line: 15.1 Pts, 4.6 Rebs, 1.5 Asts 1.3 turn overs
Bio
Another athletic guard, with the potential to play both positions.
White can be described as an all-around athlete. He threw for over 4,500 yards as a high school quarterback. He played baseball and ran track as well.
His brother Shun played football for the US Naval Academy, and was drafted by the Patriots.
In 2008-09 White earned SEC Freshman of the year and SEC All-Freshman team accolades. In addition, the AP recognized his rookie college campaign, awarding him it's SEC Newcomer Award that same season.
White started as a point guard for the Rebels temporarily. His play at the position while starter Chris Warren recovered from injury, first brought attention from NBA scouts.
Many believe if he had completed the season as point guard, his draft stock would be much higher.
Terrico decided to declare for the draft after two years at Ole Miss.
Upside
White may be one of the most athletic players in the draft. He has great physical attributes, with only 3.7 percent body fat.
He makes good decisions with the basketball, and can handle the ball well. He's got a great first-step, that makes him difficult to defend one-on-one. He can shoot, as well as defend both the point and shooting guard positions.
White might be a sleeper, with a big payoff. If he remains projected as a second round pick, the Magic most likely would not use their rookie salary slot for White.
Downside
The biggest negative for White, will he be questions about his readiness. He showed great ability at the point guard position, but only played it due to injury to the normal starter. Not playing the position for an entire season, leaves lots of questions for scouts.
From early workouts, it appears his skills may need more development. He can't create shots well, which leads to him not attracting many fouls with his drive.
Otis Smith noted that the Magic needed more "shot creators." This weakness might cause the Magic to pass on White.
He has shown great potential. But because he's young, and doesn't have a great deal of experience at his natural position, he's a big risk. If he can convince scouts at workouts, he may be worth the risk.
Notable Quote:
"...when I decided to leave Ole Miss, it was a clear decision." -Terrico White
Position: Shooting Guard
Vitals: 6' 1", 190 lbs, 19
Home: Birmingham, AL
Projected: Late first round
Stat Line: 11.3 Pts, 3.1 Rebs, 2.9 Asts
Bio
Potentially one of the best kept secrets of this year's draft. Bledsoe played back-up to soon-to-be No. 1 pick, John Wall.
Because John Wall was John Wall, Bledsoe spent more time at the two or in a back-up role as point guard. Draft Express ranks him the third best point guard available in the draft. That said, because of his lack of extended playing time, scouts worry he may be a high risk pick.
As a high school player, he was often compared to Rajon Rondo because of his build. He has worked through some tough early circumstances in life. He brings plenty of swagger to the court, something the Magic definitely need.
Upside
When it comes to this guy, its almost all upside. Scouts have very little negative to say about Bledsoe.
He handles the ball well, makes quick moves, physically dominates other players and can play both guard positions. He encompasses almost everything Otis Smith needs in a back-up point guard.
He can also create his own shot, utilizing his quickness to get to the rim. On the break he has proven to be a good passer, including the around the back and no-look stuff that excites the crowd.
Defensively, his physical build, makes up for his lack of height.
Downside
On the flip side, most detractors really only focus on his playing time as a point guard. To many, that makes him a risky pick for the first round, due to the unknown about his ability to lead the offense in a half-court set.
He does have a tendency to shoot fancy shots in the paint, rather than drawing contact to get the foul.
Like most young good players, he can get undisciplined, which leads to turn overs. But as a back-up point guard for the Magic, there would be less opportunity for him to stray from the plan.
Notable Quote:
"Only time will tell whether or not this decision was the right one"-Draft Express