Best Possible Fantasy Team This Year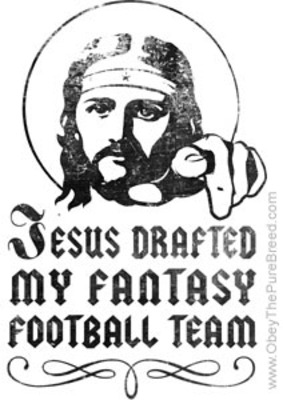 Just take a few minutes of your time to take a look at who might dominate in fantasy football this year. I can tell you now that you are going to disagree with a couple of my picks, well because one or two are questionable, but we'll get to that when we get to that. For now, this is my first slide show so bear with me for the next couple minutes. Have a great time and i hope you see through my eyes what you might want next season.
Quarter-Back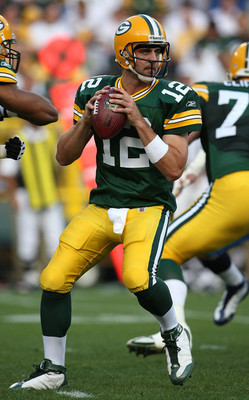 Aaron Rodgers had a lot to learn from and proved to be an excellent student. No a prolific one. In any case, Jermichael Finley shows great potential whens hes on the field, and we aren't the only ones seeing that. A-Rodge sees it too being a protege of none other than Brett Brett (One more) Brett, we know he will target the TE. Even if Finley struggles to stay healthy continue through this year A-Rodge will still get it to speedy Greg Jennings or the possession king of the pack Donald Driver. In Summary A-Rodge is a touchdown MACHINE. Expect to see him improve from day one because chemistry can only get better with such a short but a literally amazing bond.
Wide-Receiver One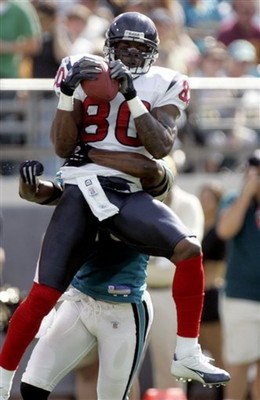 He's Dre from back in the day from...O i'm sorry got outa hand there (Maybe some of you will get that ;). He's Dre of today no doubt. Best Fantasy Wide-Out on the market. If you got a live draft going be sure to pick this guy up in Round One or Two. He'll be sure to please. I got him for a steal last year and he's most of why i took home the gold (Bad draft, great late season stories...). Anyway back to my point. In an auto-draft league be sure to have him very very high up on your boards because Dre will go early in these drafts. Not much to say other than he will get the yards. And with the return of Owen Daniels he might get freed up for some more TD's.
Wide-Receiver Two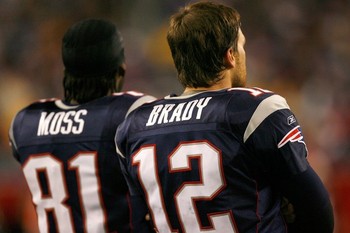 These two are best friends. People try to tell me that Moss' time is done. I don't think so. He is still TD buddies with the big man in town, Tom Brady. On top of that, the Patriots still don't have a running back. So ummm yea. He's easily Top Ten best ever and he's not done. Enough said.
Wide-Receiver Three
Yes, another Johnson but he's the last one, this might be a long-shot but considering this guy, his past years and his great physical ability, i just could not let him sit in the dark. Matthew Stafford showed he had what it takes to become an elite Quarter-Back. That kid has, for lack of a better word, balls and love for the game. You would never, in a million years, see Tom Brady or Peyton Manning get up and get in after doing god knows what to their shoulder to throw a game winning touchdown with zero seconds on the clock.
They would've been afraid that their career was over. But Matt, he wanted more than a career. He just wants to play the game and win. Not saying TB and PM don't but Stafford will be great this year. Back to Calvin. It really all depends on him, he showed lack of discipline all over the field last year. He fumbled and dropped too many balls. Although I am confident he will pull through this year because of his ego. And if he does, you all better watch out because he could be a monster.
Running-Back One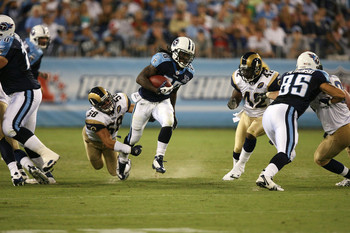 Oops, I lied, another Johnson. Yea that's Chris and if hes not holding out be sure that he wont repeat last year but he will get 1200+ with a boat-load of touchdowns and a good amount of receiving yards. He's is way too fast to pass up, and he can break a tackle so CJ2K is the way to go. He'll leave the other competition in the dust as you take home the crown and the $.
Running-Back Two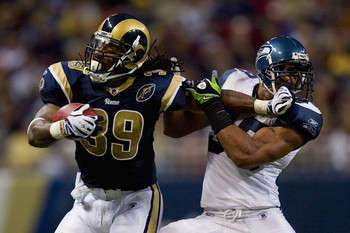 He is my other stretch. This guy was his own insurance last year. He had me scared to death when they said hed be out til the end of the season just before the playoff weeks in Fantasy. Reports were he was playing and i had nobody else, being in a twenty person league it's hard to find a decent RB. He played three games of pure gold but then I had to give him the boot because he was done and I was in the championship. Still, he will get the yards. I also feel he'll get the TD's now that some REAL talent is in there at quarter-back. It is mostly on Sam Bradford which is why some might disagree. He's going high in the league i play in though.
Tight-End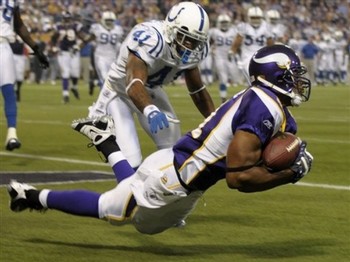 In case you didn't know. That is Visanthe Shaincoe. Favre unloaded touchdowns into Shaincoe's hands last year. He's quick for a TE and has exceptional hands. I think Favre is coming back so expect another great year from this guy.
Kicker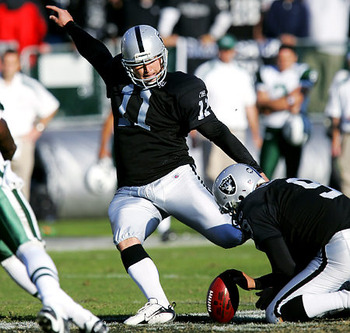 This guy has the biggest leg in the game and most predict him to break the 63 yard record. His left foot is so strong. He quite the accurate kicker as well. He but up numbers a little higher than average last year with a crap QB. Some might say Jason Campbell is crap too, but that is an argument for another day, and nobody can deny hes an improvement. He's going into his tenth season as a Raider after being drafted by them in the new millennium. He became the Raiders all time leading scorer and that says alot for a kicker because Raider Nation has seen ALOT of greats on their team. He gets a lot of work in, and Cable isn't afraid to let him kick it from the 47 going for that 64.
Defense
At 6' 4'' and 360 el bees. This guy is huge. He also extremley talented. His relatively small size for a NT allows him to move and with his weight you aren't stopping him. That is the reason the Jets Jets Jets are the way to go on defense. Do not expect Revis to put up the same numbers as last year. Look what happened to Asomugha after his 8 INT season. Instead expect a lot from Cromartie and safety help over the top. They are a blitzing team and without Jenkins due to injury last year i believe they were the best defense in terms of fantasy points. Had em for two years running now :D.
Thank You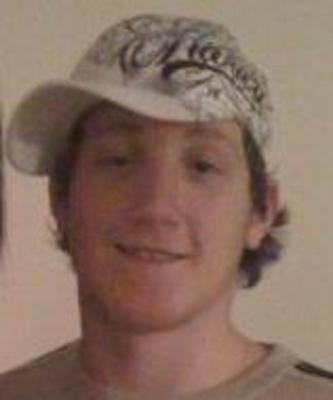 Thanks everyone for taking a look. Save this somewhere in your bookmarks so you can use it later. I'm not afraid of criticism, so criticize me. Be sure to like in the bottom right, but only if you do! Good luck next year people. :)
Keep Reading