The 10 Hottest WAGs of MMA Fighters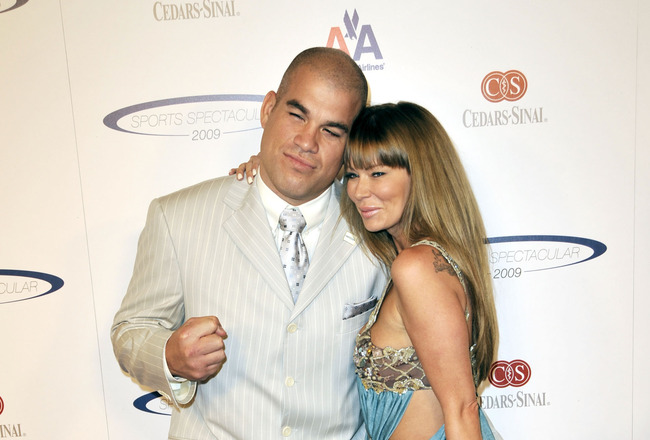 I'm going to take it back to the old school here for a minute.
When I was in high school, rapper Skee-Lo had a one-hit-wonder with his song "I Wish."
When I first started on this project, a line from that song immediately got stuck in my head:
"I've never understood why jocks get the fly girls and me I get the hood rats."
I quickly found that the answer to this question is simple.
Fighters are rich, tatted-up, butt-kicking machines; I'm a not-so-rich, tatted-up, pseudo-MMA journalist.
So just how hot are the women that MMA fighters hook up with? Let's take a look...
10. Heidi Northcott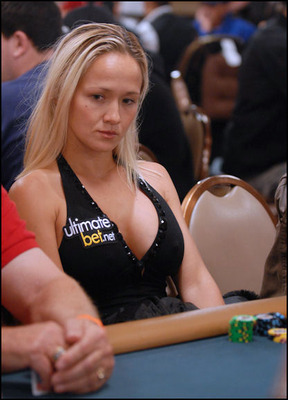 Before I begin, I must say that I have nothing but respect for Chuck Liddell. He is one of the fighters who helped bring the sport to the mainstream and was a dominate force in the sport for many, many years.
But Chuck, are you serious dating one of Jose Canseco's seconds?
This blonde, with the whole "girl next door" thing going, enjoys playing poker (if that wasn't obvious enough) and working out in the nude with her new squeeze "The Iceman."
Here's just something that I thought of:
Jose Canseco has been calling out Herschel Walker, and we all know it's for the money.
Would Canseco ever call out Liddell for drinking his Kool-Aid?
If you answered "No" or started laughing at the thought of it even happening, you are correct!
9. Jennifer Mir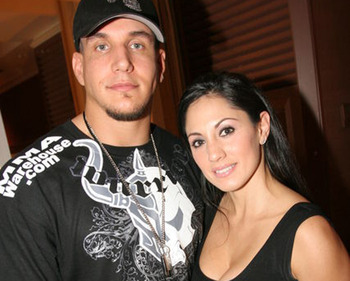 Frank Mir met the future Mrs. Mir while he was working as a bouncer at a gentleman's club.
I'm not sure if Jennifer was handing out drinks or climbing the poll for a dollar, but nonetheless, the ever-cocky Frank scored himself a little hottie who has stuck by his side through all the ups and downs of his career.
8. Kerry Vera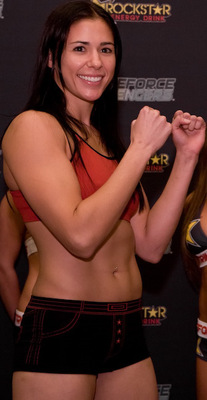 Kerry Vera is the lovely wife of UFC Light Heavyweight fighter Brandon Vera.
Not only is she a knockout, but she knocked out Randy Couture's ex-wife Kim Couture.
A hot chick that will go knockout the ex of a guy who beat up her man—does it get any better than that?
Keep reading...
7. Rena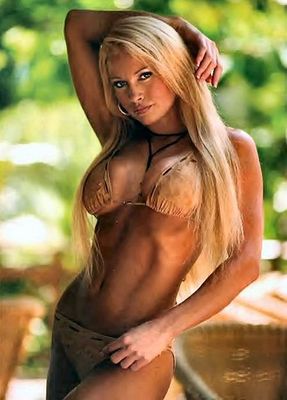 Former professional wrestling valet and current wife of reining UFC Heavyweight champion Brock Lesnar has left nothing to the imagination.
She has appeared multiple times in Playboy, much to the delight of the wrestling fans who are too young to buy Playboy and have internet access.
We all know what Brock said during his post-fight interview at UFC 100. What man with a beating heart wouldn't want to do what he said he "might" do that night?
6. Jenna Jameson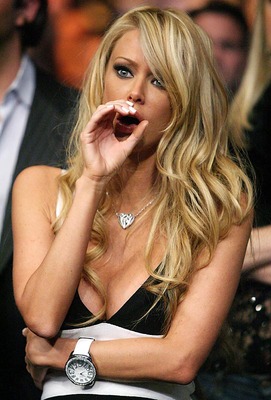 The Queen of Adult Films is currently dating the "Huntington Beach Bad Boy" Tito Ortiz.
Tito recently took time away from triangle choking Jenna to become the proud papa of twins with this bombshell.
Has all the plastic surgery taken away from her natural beauty? Maybe, but she's still smoking hot.
As far as the pic goes, I know what you're thinking and you are wrong.
She just dropped her beer.
5. Jody Penn
Seen here with her hubby, former UFC Lightweight and Welterweight champion B.J. Penn, Jody Penn has a hotness that cannot be denied.
I grew up in San Diego. You can go to Mission Beach anytime and there will never be a shortage of hotties playing in the sand.
However, when I went to Hawaii a few years back to visit my nephews, I was blown away by the hotness that surrounded me for the week I was there.
Jody embodies the Pacific Islander hotness that Hawaii has to offer.
4. Brittney Palmer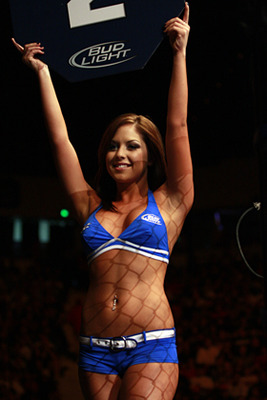 If you're a ring card girl working for Zuffa, you know that you're one of the hottest women out there.
Brittney can be regularly be seen carrying around the numbers 1, 2, and 3 (3 is jealous of 2 right now) on any given WEC telecast.
This insanely hot hottie is currently dating WEC Lightweight Donald "Cowboy" Cerrone.
No, I am not going to make any of the dirty "Cowboy" references you have going through your head right now.
And no, don't post them below.
But feel free to message me any really good ones you may have!
3. Melissa Pellegrino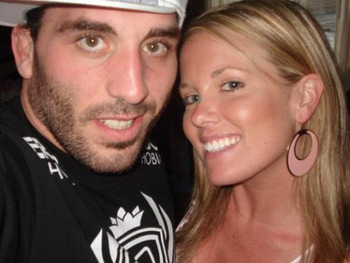 Is it just me, or does Mrs. Pellegrino remind you a little bit of Jessica Simpson?
I am so sorry Melissa, I didn't mean to insult you like that. Let me try that again.
Is it just me, or does Mrs. Pellegrino remind you of a much hotter version of Jessica Simpson?
That makes me wonder if she looks as good in a pair of Daisy Dukes as Jessica Simpson did in the "Dukes of Hazard" movie.
I'm sure she looks even hotter, but we'll never know. If anyone ever gets up the nerve to ask Kurt, be sure to let me know how the beatdown you got for asking felt.
2. Randy's Flavor of the Week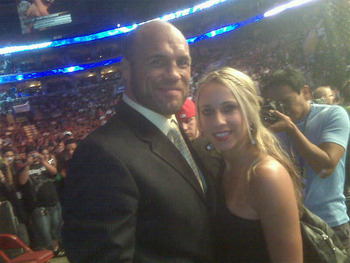 Captain America reminds me of my brother-in-law.
He came to America from Germany back in 1991. After many failed business ventures, he finally found his niche and has become very financially secure thanks to his internet based store front.
So what does he do with all the cash he's bringing in? Well, after paying off all his debt and spoiling my sister, niece, and nephew to death, he buys cars.
This year alone, he has owned a 2008 Mercedes SLK 22 AMG ($96k), a 2009 BMW 323i Hardtop convertible ($71K), and two different 2010 BMW Z4 hardtop convertibles (around $65-70k each).
So what do my bro-in-law's cars and Randy's women have in common?
When they start to get old, get a few miles on them, or if they just get tired of them, they trade them in for a new one.
Randy has recently been see out and about with this unknown, insanely hot blonde who looks way too much like my best friend's wife.
Is "The Natural" still keeping this one around? Who knows and who cares.
Randy is a pimp. You know that he'll always be seen with some incredibly hot blonde hanging all over him. If he grows tired of her, there are hundreds of even hotter blondes waiting in line.
1. Feiticeira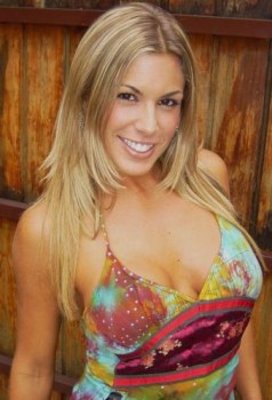 OH...
MY...
(EXPLETIVE)...
GOD!!!
Vitor Belfort hit the jackpot here. Hands down, without any doubts, he has the hottest wife of any MMA fighter on the planet.
I don't care if Joana Prado, or Feiticeira as she is better know as, is a television star in Brazil or is quick to show off her assets whenever she feels the urge. The only thing I can think of right now are the pics from her spread in Brazil's Playboy that I found while trying to find something suitable to put for her pic here.
This could possibly explain the never ending "Old Vitor", "New Vitor" debate.
If you were a fighter, had a wife this freakin' hot, didn't have to worry about money, had a wife this friggin' hot, really didn't need to fight because you're smoking hot wife makes plenty of money, and you had a wife this hot, what would be your motivation to fight?
I don't know what I'm talking about either.
If I was Vitor (which I would kill to be), I would just retire and make more babies with this Goddess of Hotness.
Keep Reading