NBA Draft: The 10 Most Overrated Prospects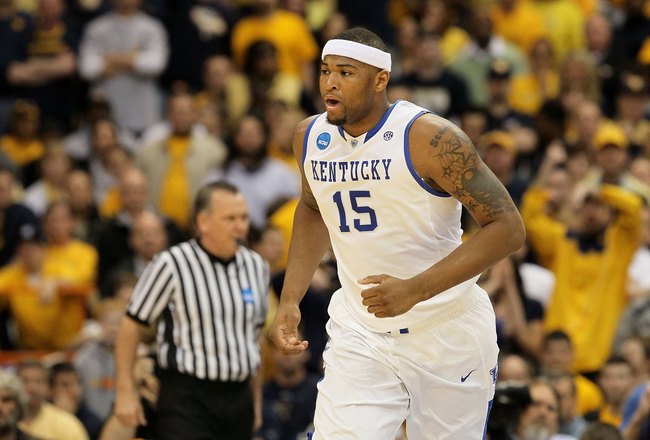 With the NBA Finals set to tip off tonight, the league's attention is focused on pro basketball's main stage, and excitement is high to see the how the Lakers-Celtics series will pan out.
But, once the Larry O'Brien trophy is determined, the league will shift its focus to the highly anticipated 2010 offseason and the NBA draft. This year's draft is headlined by Kentucky's John Wall and Ohio State's Evan Turner.
Although this draft is considered decently deep, there will undoubtedly be prospects who turn out to be busts.
So, here are the top 10 most overrated college players expected to be selected high in this year's draft.
Xavier Henry: Kansas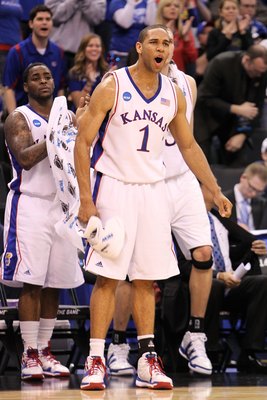 Henry was the Jayhawks' second leading scorer at 13.4 points per game and turned in a decent year, but he is definitely overrated.
He is projected to be a top-15 pick, and that seems a little too high for a guy who is not a great athlete.
He doesn't hold on to the ball well, and while he is a pretty solid shooter from beyond the arc, he seems simply one-dimensional for a potential lottery pick.
Hassan Whiteside: Marshall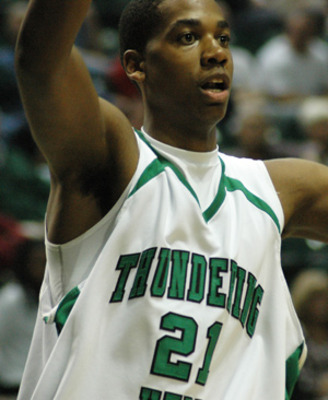 Being a fan of the UCF Knights, I saw a lot of Whiteside and the Thundering Herd. At 6'11", this guy has great size and is undoubtedly an outstanding defender, leading the nation in blocks this year.
But he is certainly overrated.
He plays in a very weak conference (Conference USA) and faces weaker, smaller opponents on a consistent basis. It's very easy to be fooled when Whiteside is blocking shots left and right.
Remember, they are against teams like Rice and UCF that have shorter and less athletic players.
He warrants a first-round selection, but doesn't deserve to go in the top 20 as expected.
Gordon Hayward: Butler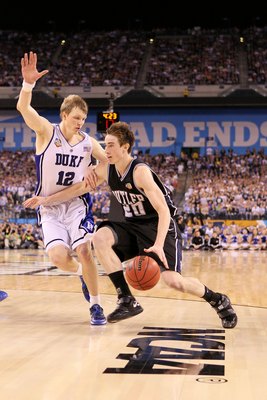 Being that Butler was the national runner-up in this year's tournament, it is easy to see why Hayward is put on a high pedestal.
The sophomore averaged 15 points and eight rebounds for the Bulldogs, leading them in both categories, but his athleticism is what makes him a risky pick.
He simply can't match up to the elite wing players in the NBA, making him an overrated lottery pick.
Hayward will perform, but he is not worth a top-15 selection.
Ed Davis: UNC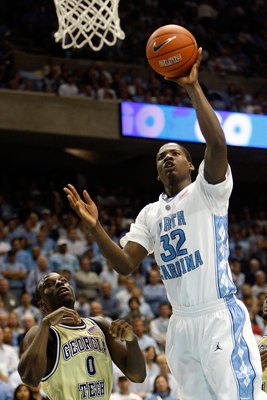 Davis was one of the lone bright spots in a rather off-year for the Tar Heels. He posted solid numbers of 13 points and nine boards per game, but his play was not enough to lead a young UNC team to the tournament.
The sophomore really didn't prove much this year, and with this year's draft stocked with power forwards, Davis is overrated.
He is projected to be a top-10 pick, but his lack of strength leads to questions of whether or not he can be a reliable inside player in the NBA.
Eric Bledsoe: Kentucky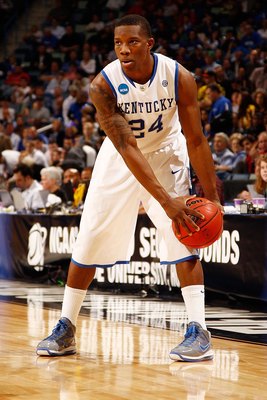 With so many big names coming out of Kentucky this year, it's hard to imagine that Bledsoe could be overrated, when John Wall and DeMarcus Cousins clearly overshadow him.
However, he is projected to be a top-20 pick, and he didn't really do much to prove he is worth that. Bledsoe benefited from playing on a great team and used that to improve his name in the draft.
The freshman could have used another year to mature and would have been the go-to-go if he had stayed another year in Kentucky.
But, as of right now, Bledsoe is an overrated first-round pick because he hasn't really shown much yet.
Larry Sanders: VCU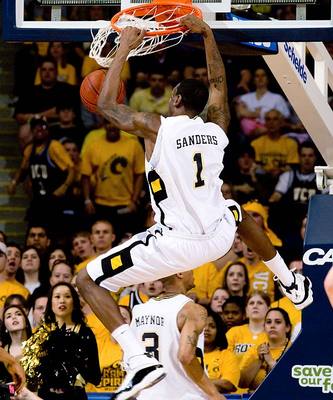 Sanders suffers from the same thing as Whiteside—he plays in a weak conference.
He led the Rams in scoring and rebounding, but still couldn't manage to propel his team to the top of the Colonial Athletic standings. There were many times when his play looked downright awful.
With a draft status projected to be mid to late first round, he seems to be pretty overrated.
Cole Aldrich: Kansas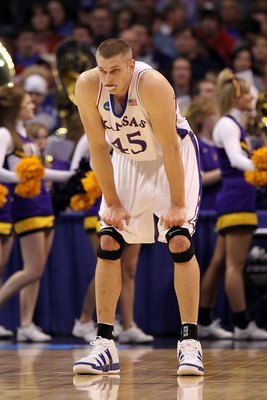 Aldrich is a great college player, and that's all he will be.
He is very slow, and his offensive skills don't match his defensive skills. His feet are too slow to match up against some of the top big men in the league, and he will get outplayed in a lot of situations.
He is currently projected to be a top-15 pick. That is too high for a guy who will probably end up averaging around nine points and five boards a contest.
Devin Ebanks: WVU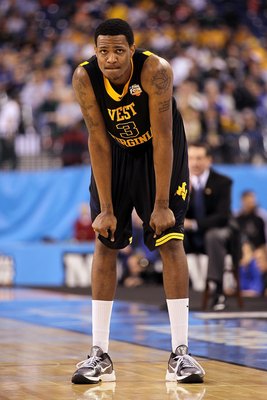 This guy is simply overrated; he barely showed any progress from his freshman to sophomore year. Ebanks had minimal improvements in his statistics, and still played a secondary role to Da'Sean Butler and Kevin Jones.
He is projected to go in the first round, but with noted attitude problems, Ebanks seems to be a very over-hyped player.
Daniel Orton: Kentucky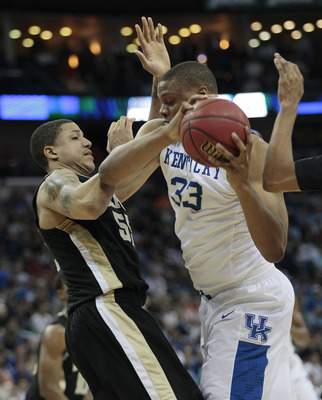 Why is Orton's name so hyped up in this year's draft? The freshman averaged a mere three points and three rebounds a game, and somehow is expected to be a top-15 pick.
While he certainly has the frame to be a solid NBA big man with his big body, he really hasn't proven anything yet. Very low production on a Kentucky team that was dominated by freshmen should show that he is not NBA-ready yet.
He could afford to stay another year in Kentucky and develop his game, because his draft hype is certainly overrated.
DeMarcus Cousins: Kentucky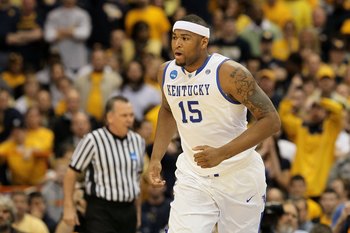 Ok, before I get completely chastised for putting Cousins as an overrated draft pick, hear me out.
I am in no way saying that Cousins is not a great player. It's clear that he is a highly gifted basketball player.
However, he is slated to be a top-five pick, and being a top-five pick means you are burdened with responsibilities as soon as you set foot onto an NBA court.
Cousins' demeanor is very questionable, especially with the way he handles losing. He often let his emotions get the best of him in his freshman campaign at Kentucky, and a lot of NBA teams view attitude as a key component come draft day.
Just look at Michael Beasley, the second overall pick in the 2008 draft.
The Miami Heat were reluctant to pick him, because Pat Riley was concerned with his immaturity issues. His character was under constant speculation before he was drafted.
Either way, Cousins will be a good NBA player, but a top-five pick might be considered overrated if this guy is going to react poorly to adversity.
Keep Reading