2010 NFC North Offseason Fantasy Football Impact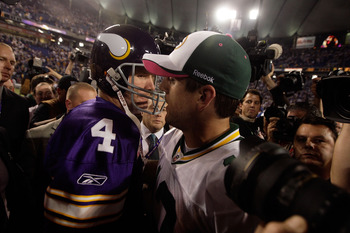 This is the second article in the series being co-written by Evan Huntley.
In this installment, we will dissect the teams of the NFC North, and what standout players might bring you that big fantasy win this year. For each team, we'll select a player that is "Always Hot", two players whose fantasy value is either "Rising" or "Falling", and an "Impact Rookie" from the draft.
Enjoy.
If you have any additional ideas for players from each team and respective spots please comment and inform us of our mistakes.
Thanks.
"Always Hot"—Minnesota Vikings—Adrian Peterson, RB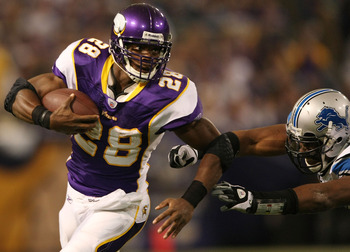 Adrian "All Day" Peterson. All Day. Need I say more.
Peterson has been an elusive force since he first stepped on to the field. He was very consistent all throughout last season and is ranked as the number 2 running back, behind Chris Johnson.
Peterson's only issue has been holding on to the football. He had many key fumbles that cost his team dearly towards the end of the season but his pros definitely out weigh his cons.
Get him if you can, he'll go fast.
"Rising"—Minnesota Vikings—Percy Harvin, WR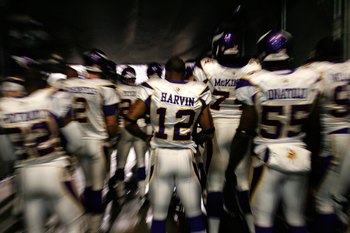 Percy Harvin is the type of receiver that you undoubtedly have to check up on each week. Last season he was rather inconsistent, scoring great numbers for three weeks then taking off the next two.
He is one of the most explosive and do it all players in the NFL. Harvin can score in many different ways, creating more opportunities for fantasy owners to gain points.
Towards the end of the season he dealt with migraines on a consistent basis putting him either out of the game or sidelined for the majority of it.
The other lurking question casting a shadow for Harvin is whether he will have his gun slinger quarterback Favre back next season.
Even if he isn't back Harvin would be a good pickup for the mere fact of his ability to create and make plays himself.
"Falling"—Minnesota Vikings—Bernard Berrian, WR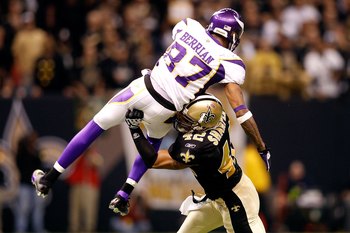 Bernard Berrian is an easy option for many fantasy owners to fall in love with. He is an experience receiver who has a great quarterback throwing to him.
His name is one of those that seems to pop into most fantasy owners minds when looking at wide receivers.
The truth is Berrian hasn't been productive even when he had Brett Favre throwing to him. He was putting up extremely mediocre numbers all throughout last season and with Favre's return in question once again, it's doubtful his numbers will rise.
His age is starting to be a factor going into his 7th season and getting closer to 30 years old.
In 2009 he only had 4 touchdowns, 618 receiving yards, but no fumbles.
Berrian may be a good player to watch and see if his productivity goes up but pass on him for now and wait.
"Impact Rookie"—Minnesota Vikings—Toby Gerhart, RB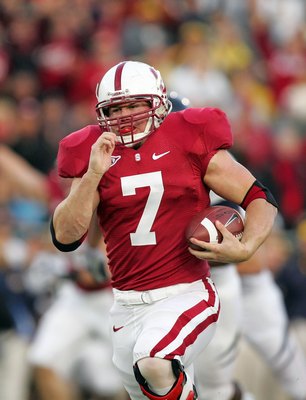 Toby Gerhart was the Vikings recent second round pick in this past draft going 51st overall. With the loss of Chester Taylor, the Vikings were looking to fill in the number two spot for their running core.
Adrian Peterson is still around and will be taking the majority of the carries.
Gerhart is a 6'0" 231 pound powerback who is a great compliment to Peterson's elusive speedy nature. Though he is not the prototypical NFL running back he is a great fantasy pickup due to his goal line abilities. He is the wrecking ball that will push the O-line in for the touchdown.
Rookies are always a tough call but with Gerhart being the back that he is and the fact he is going to an already great team, he will most certainly be one to watch in the fantasy ranks.
"Always Hot"—Green Bay Packers—Aaron Rodgers, QB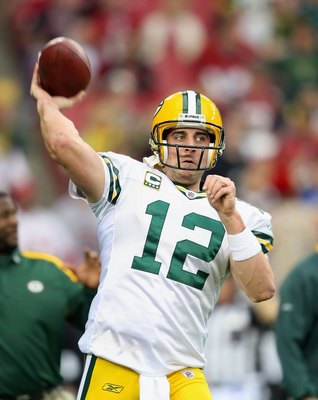 The only problem that the Rodgers consistently had was with pressure from the defensive. He was tied for the most times sacked at 50 in the 2009 season.
Even with that, quarterback Aaron Rodgers was the No. 2 overall in scoring leaders in last year's fantasy pools.
You thought Brees was good forget it, Rodgers was a fantasy highlight reel, scoring double digit totals in all but one game.
Many were hesitant to whether or not Aaron Rodgers would answer the questions of the critics and emerge from Favre's shadow early on. He had no problem with answering and obliterating those questions.
This year the Packers used their first round draft pick to choose the highly touted OT, Brian Bulaga. He will undoubtedly provide Rodgers with a much more hospitable environment in the pocket this year.
I know Brees might be a hard one to pass up if available but trust me Rodgers is more consistent in producing week winning numbers.
"Rising"—Green Bay Packers—Ryan Grant, RB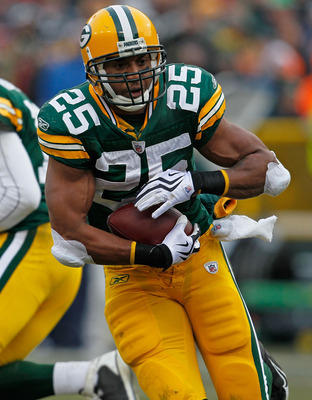 Ryan Grant has seen a steady increase in playing time along with rising production. Last season he ranked 7th in total yards and fixed his fumbling problem from the year prior.
In most fantasy leagues he provided a great compliment to any team's number one running back. Rushing for 1253 yards with 11 touchdowns, Grant has been a consistent player.
Grant will also benefit from Bulaga's presence in two ways. Making those holes even bigger for him to run through and providing enough protection for Rodgers to go through his progressions to get to Grant for the dump off instead of being sacked.
Rodgers doesn't seen anything at 1, 2, or 3 so he dumps it off to Grant for a nice 6 yard gain, and with his athletic ability Grant will more than likely break one for a TD at least once.
Grant has been a hard-worker and is showing that he has what it takes to eventually become a elite running back.
Give him a look as a second RB or backup for sure.
"Falling"—Green Bay Packers—Donald Driver, WR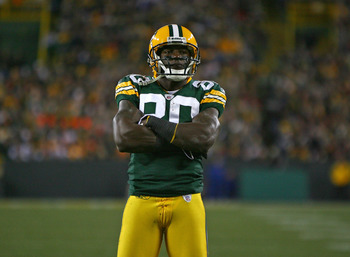 Oh Donald, where do I begin?
Donald Driver is one of those guys that you hope would produce for you just based on who he is and what he has done in the past. Having played for 12 years and aging just as quickly, the 35 year old Driver just isn't where he once was.
Since the '04-'05 season there has been a steady decline in total yards, receptions and touchdowns. Meaning?
"Buyer Beware"
He may be a crafty veteran but fantasy owners beware because your teams don't run on hopes and dreams of the past. Last season his only double digit scoring games were ones against team with horrific defenses. (Detroit, TB, Cleveland,St. Louis)
Last season he ranked 19th among wide receivers and tight ends with 1061 yards, with only 6 touchdowns, and 2 fumbles.
The only plus is that you have the #1 scoring QB throwing to him and with increased protection he could find Driver more often.
Driver would be a great backup for two starting players with rough schedules. If you do end up grabbing him, play him without hesitation during "easy win" type games.
"Impact Rookie"—Green Bay Packers—Brian Bulaga, OT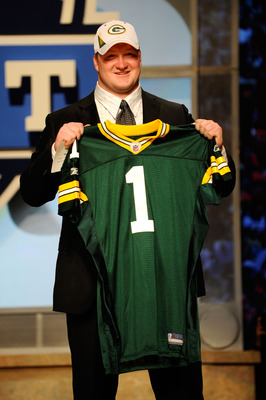 Do you think Rodgers was whispering in the ears of the Packers' front office on draft day saying, "I would like to not be on my ass every play."?
The No. 23 overall pick in the draft, Bulaga will come in and make an immediate impact on the offensive line.
Though I know OT is not a position in most fantasy leagues, it will be in my mind just to see what kind of effective this guy has on the position players in the prior slides.
The 6'5", 314 pound big man from Iowa was drafted so high for a reason.
To serve and protect.
"Always Hot"—Chicago Bears—Greg Olsen, TE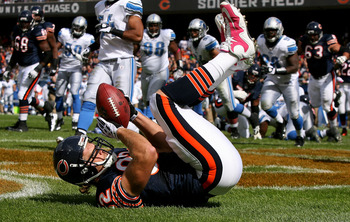 Greg Olsen is truly the type of tight end with the best of both worlds. He's got great hands, physical, and has the speed to make him a threat for not just linebackers but also the secondary.
At 6'5" 255 pounds, Olsen is a big target for his quarterback. Last season he was the No. 10 overall tight end in fantasy leagues and No. 64 overall including wide receivers.
In 2009, Olsen had 612 yards for 8 touchdowns and remember all of this happening with the disappointing Jay Cutler. Imagine what he could do with a promising quarterback. He's had issues with injuries in the past but a healthy Olsen is a good pick for the tight end position.
Olsen is a good pick up for the starter position if other tight ends aren't available.
"Rising"—Chicago Bears—Johnny Knox, WR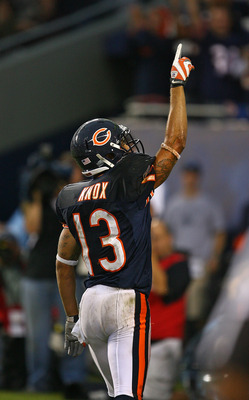 The rookie Johnny Knox out of Abilene Christian hit the lime light last season with his explosive and elusive quickness as a receiver and return man.
Knox has really brought a new energy to the Bears offense and we can only assume this playmaker will continue to do so. Last season he racked up 527 yards and 5 touchdowns.
Like Harvin, he is a valuable asset to have because he can score as a returner and a wide receiver. Knox being a humble undrafted player I believe will have a great hard working off-season and come out next season in an even more highlight reel fashion.
Not a starter but a good backup if you can pick the right break out games. Last year was versus Pittsburgh and Green Bay ironically.
"Falling"—Chicago Bears—Jay Cutler, QB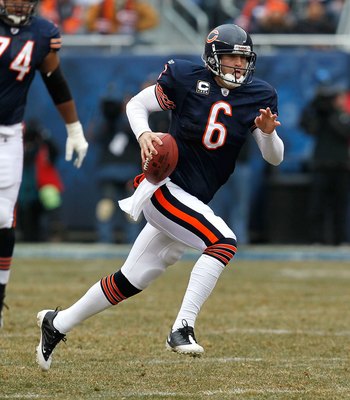 Jay Cutler is the true "Con-Man" of the NFL.
On one hand he fools so many fans and himself many times into believing in his abilities on the field. He makes the throws simply because he thinks he can and then suffers the consequences of his ill-advised decision by putting on his copyright frumpy face as he trots back to the sideline.
On the other hand, he is a confidence man. Make no mistake these are not the same thing. Cutler thrives like most other players off of confidence. He is like a pure shooter in the NBA who is in a slump and just keeps shooting until he gets the rhythm back in their shot.
Once Cutler does have that mental stability which is always in question, he performs better. Now the only worry is his "finding his rhythm" time is way too long sometimes.
Be weary.
"Impact Rookie"—Chicago Bears—Dan LeFevour
Of course I know that Dan LeFevour is not the starter for the Bears.
On the other hand if Cutler suffered either an injury or was taken out due to lack of performance, like we all saw last year was a habit, this rookie could make an impact for the Bears.
Like all draft picks that franchises choose, they hope that they will be bred for an elite future.
LeFevour may not have all the technical skills or come from the most prolific conference but he has a .45 Magnum for an arm and can make the throws when he's asked too.
I can think of another one of those types of quarterbacks right now. Joe Flacco who attended small Delaware State has earned and fought his way to be the starting QB for the Ravens.
Very similar to LeFevour. Height, weight, arm strength, and lack of accuracy as a rookie.
LeFevour shouldn't be thought of as a starting QB this season due to the fact that you can't earn points on the bench, but for the future and potential opportunities down the road, he is one to watch.
"Always Hot"—Detroit Lions—This Guy, Anonymous Angry Detroit Fan
Hopefully we will have some bright lights coming out of Detroit after this season.
And by "we" I mean this guy.
"Rising"—Detroit Lions—Matthew Stafford, QB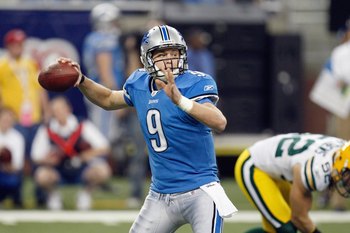 Young and in a tough situation.
His ears are still ringing by all the hits that wouldn't stop coming last season.
Draft Bust or Golden Boy?
The questions are all out there and with one season behind him, Stafford looks to build on top of the 2 win season, a victory in Detroit, as the 2010 season approaches.
He will have a great running back coming into the mix in Jahvid Best to take some of the pressure off of him but he better have grown a lot in the off-season in order to have any sort of significant effect in Detriot.
Rising, Yes. Starter, No. Avoid in any fantasy league.
"Falling"—Detroit Lions—Calvin Johnson, WR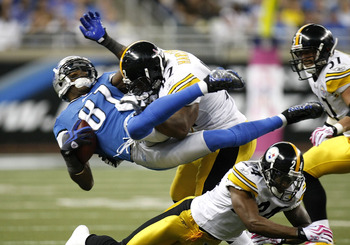 Hopefully Calvin found a way to throw the ball to himself because if not, he isn't getting any higher than the 23rd-best receiver by fantasy stats next season.
Of course Matthew Stafford will have gotten better through the off-season, the Lions had a decent to good draft and got some good pickups but there are still problems
Calvin Johnson is the victim of the bigger problem of being the loser of the NFL Draft.
He is one of the best receivers in the league playing for a terrible team.
Imagine if he played, for a pass-heavy team like the Cowboys, Patriots, or Steelers. I don't even want to imagine the amount of touchdowns that Peyton and him could have. Ridiculous.
Calvin has done everything he can to produce as much as he can for the Detroit Lions.
Pick him up if he is there but until they get a reliable QB, not much he can do for your team.
Lions got nowhere else to go but up.
"Impact Rookie"—Detroit Lions—Jahvid Best, RB
This 5'10", 199 pound quick foot running back will no doubt make an effect with the Lions. Anything will help.
With his break the corner and elusive nature, I am sure he will draw comparisons to Lions great Barry Sanders in no time.
At California, Best racked up 2,668 yards in 364 attempts coming out with 29 touchdowns in his three years. A few times through his career his durability has been questioned but hopefully NFL trainers can get him built to last through the harder hits that will certainly come in the NFL.
Could be a break out rookie-of -the-year candidate but he's on the Lions so I wouldn't hold much stock in him or his team just yet.
Next Up: We Breakdown the AFC East and NFC East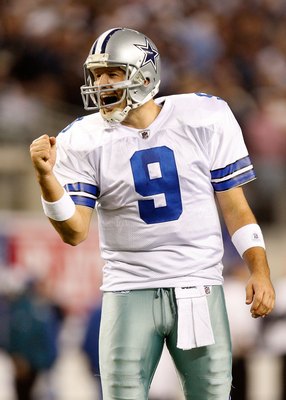 Keep Reading

Green Bay Packers: Like this team?