Five Chargers Entering a Make-or-Break Season in 2010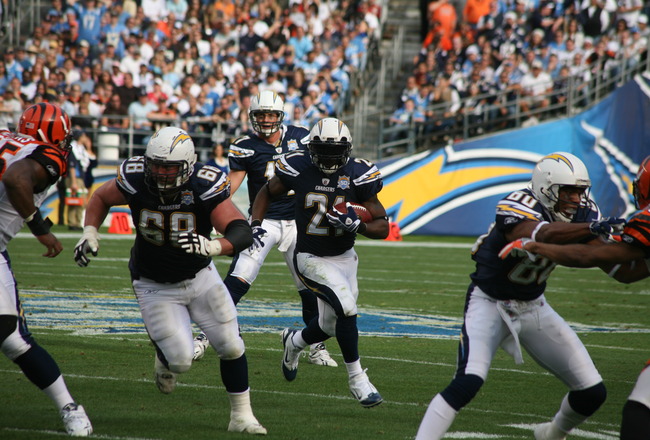 Some pills are hard to swallow, like watching your favorite player (and the face of your franchise for the past nine years) slowly decline, only to be cut. LT is one of these players.
Sometimes, though, when a player gets cut you wonder why it didn't happen ages ago.
The Chargers are a talented team, and most of the players are keeping up, but here are five players, some liked some disliked, that may find themselves off the team in 2011 if something goes wrong.
Nick Hardwick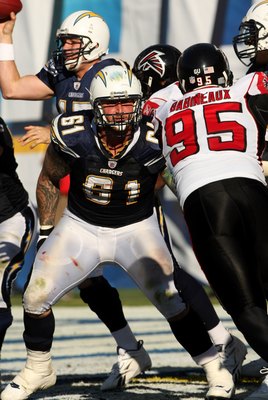 Nick Hardwick is one of my favorite players on the Chargers, and his impact on the offensive line is clear.
Their performance as a whole dropped when he was injured in Game One against Oakland in 2009, and it was clear that they regained at least some of their old form when he finally returned.
That having been said, Hardwick has an injury problem. After having his foot essentially reconstructed, the stout center has been plagued with constant issues surrounding that leg, and it has cost him 20 games over the last three seasons.
Hardwick is still young, and his talent and importance cannot be ignored, but if he sustains another injury in the 2010 season the Chargers could be shopping for a replacement in 2011.
Shawne Merriman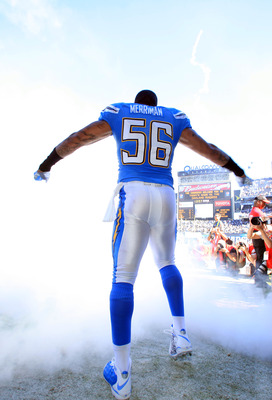 Shawne Merriman electrifies Qualcomm Stadium with the "Lights Out" dance.
He is a great person on and off the field who has repeatedly expressed his loyalty to San Diego and his desire to play his whole career there.
That having been said, Merriman has been weighed down by a few problems in the last few years.
The first, of course, was the drug bust (Merriman's bust and subsequent suspension for PED use in 2006.)
If he was on the juice, he certainly isn't anymore, because he hasn't been the same since.
The second problem is Merriman's injury.
Merriman tore two tendons in his knee at the end of the 2007 season, but chose to forgo surgery in the hopes of playing in 2008.
He played one game after which he was placed on IR. Since then he has only generated four sacks.
The third problem is his off field image. While Merriman seems to be well liked around San Diego, the controversy over the PED suspension as well as the legal debacle with ex-girlfriend Tila Tequila have put him in the dog house in the Chargers organization.
Merriman can still be a superstar, and I expect his numbers to increase in 2010 as he gets further away from his knee surgery.
However, it will likely take a 10+ sack season to convince the Chargers brass to extend his contract.
Craig "Buster" Davis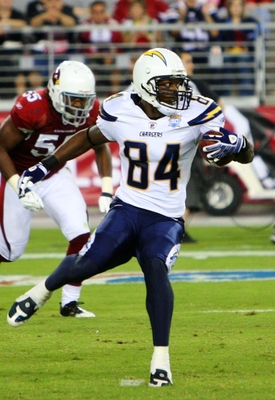 If you're a Chargers fan, you've been saying for a long time that the Chargers need to turf this kid.
If you're not a Chargers fan, chances are you're wondering who Buster Davis is right now. Why? Because he is never healthy, and thus never on the field.
Buster Davis has had nagging groin issues since his first year with the Chargers, leaving him on IR in 2008 and out for 15 games in 2009
On his career he has only played in 19 games, and started only one.
You may be wondering then if he has star potential when he can make it onto the field. The simple answer is no.
His combined numbers between 2008 and 2009 would be a good single game for a wide receiver (10 receptions for 111 yards.)
Even in his rookie season (2007,) he was averaging 9.8 yards per catch, but with only one TD and a long of 18 yards.
Davis also finds himself reentering a lineup that has changed direction since his draft day.
At 6'1", Davis is dwarfed by the rest of his cast, and may not have a place on the basketball team that is the Chargers wide receiver corps.
The simple fact is that Buster Davis hasn't been able to do enough to prove that he deserves a roster sport.
The only way that he returns in 2011 is if he has a 700+ yard season without missing a game next season.
Jacob Hester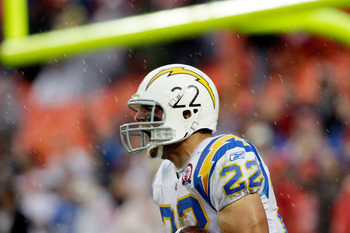 Let me get this out of the way first: Jacob Hester has talent.
He is a good hybrid player who is a decent runner and a sometimes scary receiving threat out of the backfield. He is also an excellent special teamer.
Whether he was worth the third round pick or not is still up in the air though.
Hester's problem is that he is lost in the depth chart.
The coaching staff seems to be really high on Mike Tolbert right now, and with good reason.
Tolbert is an excellent hybrid player who is consistently getting better. So Hester is beat right now on the hybrid front.
On the blocking front, Hester is not strong to begin with, and his situation only got worse this off-season.
Hester doesn't seem to be on the same mauler level of Cory Jackson or Billy Latsko, who are bigger, stronger, and honestly better than Hester.
Hester just doesn't fit in in this competition. If he has a good 2010 season, and shows that he can contribute more to the team than excellent special teams play, he may be retained on a short term deal.
If not, Hester will surely end up in another jersey come 2011.
Jeromey Clary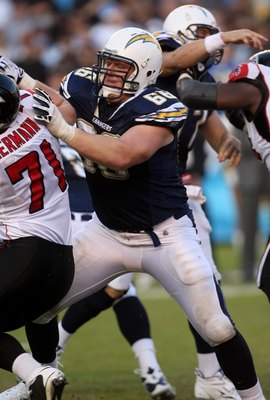 Right tackle has been a sore spot on an otherwise great San Diego offensive line.
When Clary went down at the beginning of the 2009 season, several players were rotated through, from Brandyn Dombrowski to veteran Jon Runyan.
The problem for Clary is that nothing drastically changed after he was placed on IR.
Brandyn Dombrowski stepped in and played most of Clary's snaps, and he played them on the same level that Clary would have, if not better.
Clary is not hanging by a thread, but he definitely doesn't have a secure spot coming into training camp.
Clary's current contract expires at the end of the 2010 season, so he has to come back strong from his injury.
If he gets hurt again, or has a lackluster season, the Chargers could go with Dombrowski instead.
Keep Reading

San Diego Chargers: Like this team?