The 25 Hottest Cheerleader Squads in Sports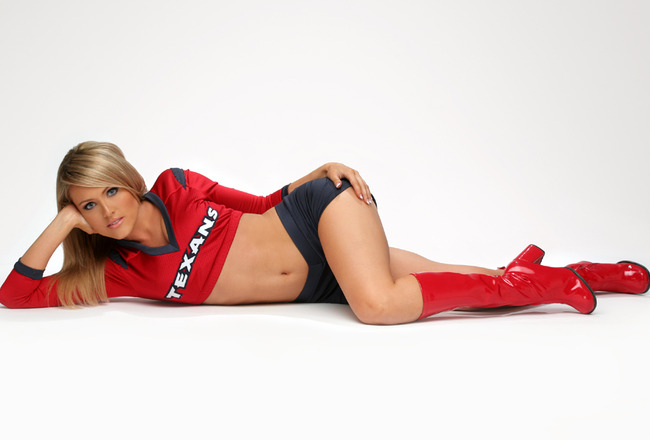 When I was was asked to make a list of the 25 sexiest cheerleader squads in sports, my first thoughts were, "Am I on Punk'd?"
Cheerleaders have always been sexy. You can make an average girl into a hottie just by adding a cheerleader costume.
Even someone as ugly as Kirsten Dunst looked good as a cheerleader
They are the salt of the fantasy world, just add cheerleaders and they make everything better.
Was there ever a time that you saw a cheerleader and became depressed?
I did not think so.
I have done plenty of research to find the hottest, sexiest cheerleader squads in sports. I found cheerleaders from all over the United States and even one from Canada for this slideshow.
Enjoy!
25. University of Iowa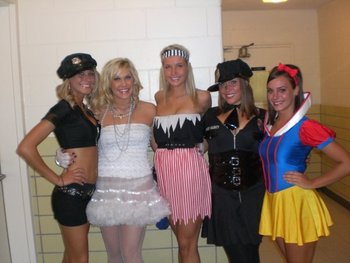 I was not sure if I wanted to add the University of Iowa cheerleaders in this slideshow, but then I found a few pictures including this one that helped me make the decision.
What is hotter than cheerleaders in cheerleading uniforms? Cheerleaders in Halloween costumes!
24. Nashville Preds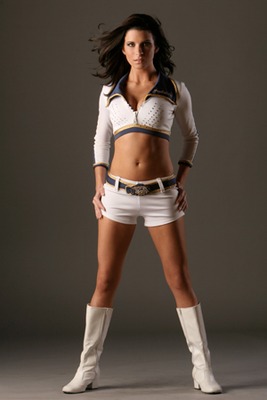 I am not a hockey fan and I do not watch it unless it is the Olympics, but I do respect their decision to have a cheer team.
These sexy women have their own calendar where they remove their already tiny outfits and squeeze into an even tinier bikinis.
23. Nuggets Dancers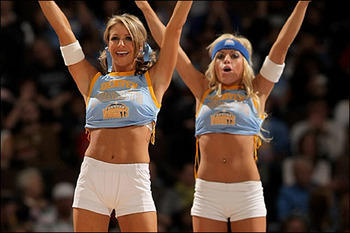 This cheerleading team is more than just a team that looks good in tight outfits. They are a stunt team, too.
What would you do if a hot chick with pigtails dunked a basketball from the free-throw line?
The same thing I would, not care and just enjoy the sexy women in tight, skimpy costumes.
22. Atlanta Thrashers Blue Crew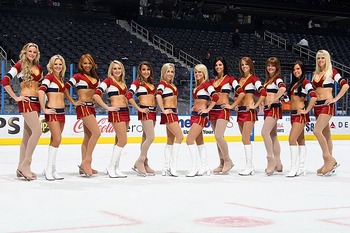 How hot is this team? They not only have to dress in short skimpy outfits while entertaining thousands of fans, they also have to ice skate while doing all this.
From my experience, ice skating is not too easy but when you have to wear a skirt too, not that I have ever tried to skate on ice in a skirt. I can only imagine how hard it is.
21. Celtics Dancers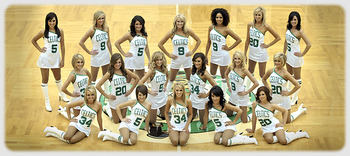 In honor of one of the most celebrated NBA teams of all time, I present to you the Celtics cheerleaders.
Any cheerleader squad that uses a basketball jersey and turns it into a short dress easily makes my list. If they are taking uniforms and turning them into costumes, I wish they cheered for the USA swim team.
I cannot imagine what those cheerleading outfits would look like.
20. Edmonton Eskimos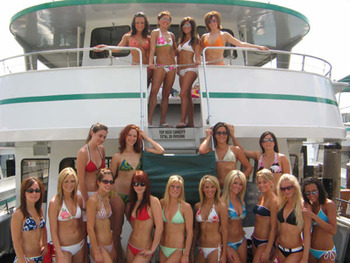 Who would have thought that a CFL (Canadian Football League) team would have a super hot cheerleading team? I know I didn't think that.
I came across this team by accident when searching for some good shots to use. When I saw them I was curious to know who and where they came from so I looked into it.
I now realize it doesn't matter where you came from, as long as you look good on a boat in a bikini.
19. St. Louis Rams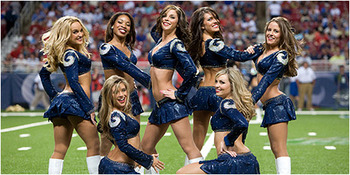 Sometimes I just do not need to prove anything. I can just let the picture do all the talking for me.
So many sexy cheerleaders, so little time.
18. Baltimore Ravens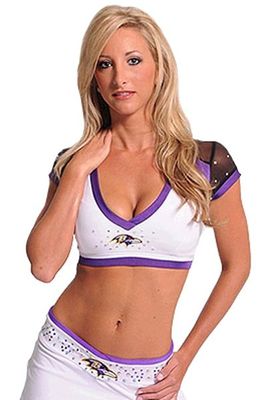 Aside from the level of hottness the Baltimore Ravens cheerleaders already posses, imagine Stacy Keibler in that same uniform.
Any team that once featured a babe with longer legs than the Lincoln Tunnel deserves a spot on this list.
17. Houston Texans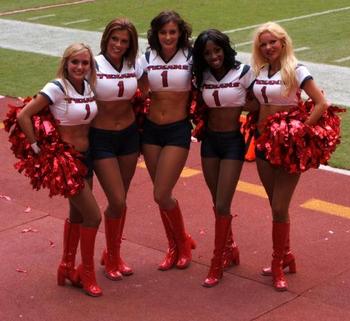 Well, you know what they say, "Everything is bigger in Texas."
16. University of Texas Orange Squad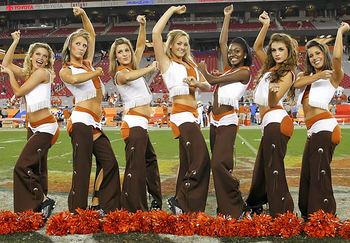 There is nothing like a good ol' country girl to liven up the party. These women put the hot in the word Texas.
I know that hot is not in the word Texas but if it were, it would be because of the Orange Squad.
15. UCLA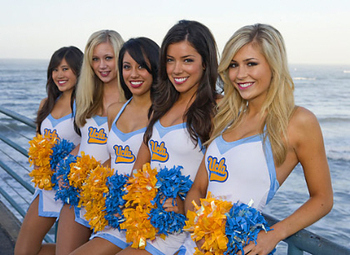 You didn't expect a list of hot cheerleaders, without seeing the beauties from SoCal, did you?
This picture is just a tease. These girls are more than just your average cheerleading squad, they know how to party too.
14. Cincinnati Ben-Gals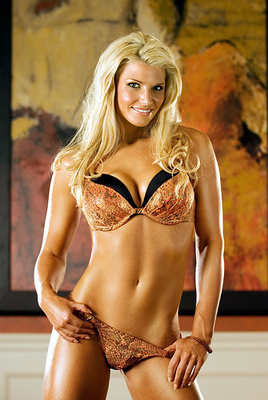 If Bruce Dickinson was a real person and he was looking at this picture he would say, "I have a fever and the only prescription is more Ben-Gals!"
It might be corny, but this team is so hot I wish the prescription for headaches was Ben-Gals.
13. LSU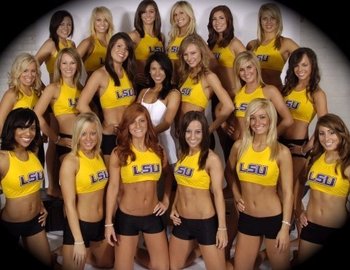 I am not biased by putting the LSU cheerleaders on my list. I think they are honestly one of the hottest.
When the coach of the team, the lady in white in the middle, is smoking hot too, you know the team has to be filled with babes.
12. Washington Redskins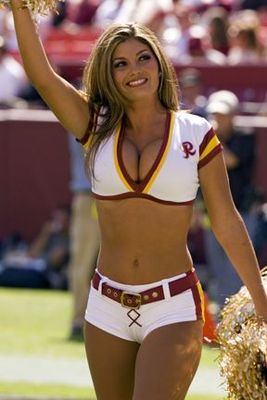 There is so much talent here.
The Redskins cheerleaders, formerly known as the Redskinettes, is...wait, is anyone even reading this with that picture right there?
11. San Francisco Gold Rush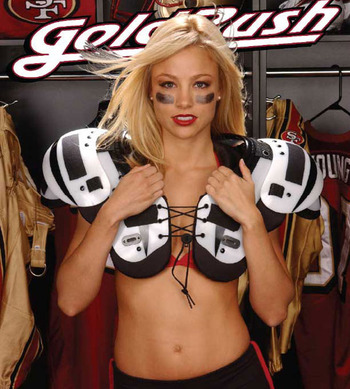 All we need now is a picture of a hot blonde cheerleader wearing shoulder pads and almost nothing else.
Oh wait, we got one right here.
Maybe next year they can do a photo shoot wearing helmets and of course, nothing else.
10. Philadelphia Eagles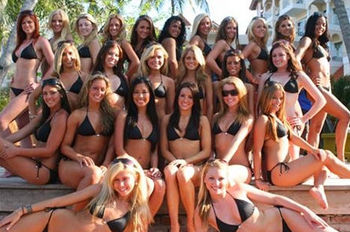 If you can find the hottest one in this shot you are a better man than I. I had trouble finding the ugly one, let alone finding one girl and claim her as the hottest in this group.
That would be like someone handing you 34 bars of gold and asking you to take the one that is worth the least amount. They are all the same.
9. Tampa Bay Buccaneers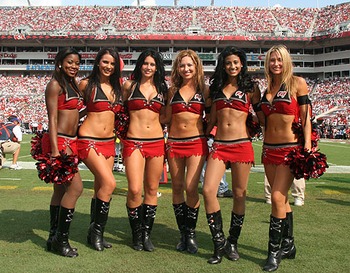 No need to explain this one. The proof is in the picture.
Can you believe that this is the ugly dancers? I cannot imagine how much hotter they can get.
8. Denver Broncos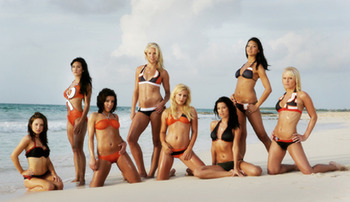 7. Chicago Luvabulls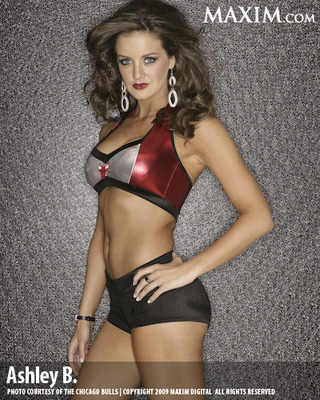 This selection is probably not a surprise to any fans of the NBA but in case you do not follow the NBA cheerleading squads, this one is one of the most famous.
The Luvabulls are full of beautiful cheerleaders. They even have a former Miss Illinois, Ashley Bond (pictured) and had some dancers pose for Maxim.
Now that Michael Jordan has long been retired, it is time to stop watching the game and start looking towards the sidelines for these hot ladies.
6. USC Song Girls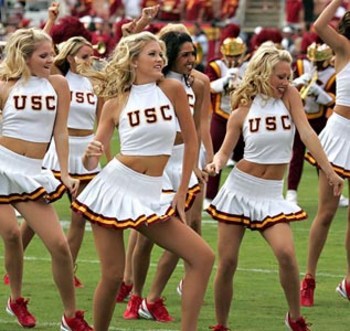 If this was the list for the best cheerleading costume in the history of sports, the Dallas Cowboy cheerleaders would be tied with the USC Song Girls.
This team has tease written all over them. Since most USC football games are blowouts, it leaves fans plenty of time to watch the action on the sidelines.
5. Laker Girls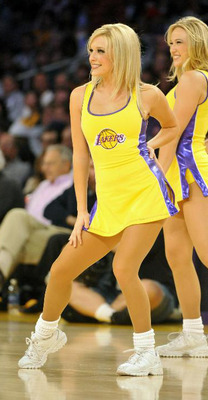 Another classic and world renowned cheerleading squad. Some of their most famous girls are Paula Abdul, Moon Bloodgood, and Emily Harper.
I know what you are thinking, who are those last two women? I had no idea until I did some research and found out that they are both actresses from various television shows and movies.
Regardless of who they are, all the women, former and current, are hot and deserve this spot on my list.
4. HEAT Dancers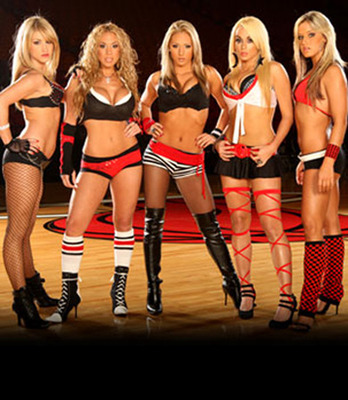 Any cheerleading squad from Miami would almost certainly make this list.
From the looks of this picture, I think I have proven my point.
3. Florida Marlin Mermaids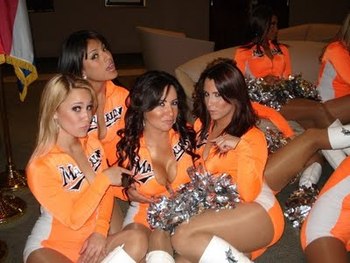 What is the one thing missing at most Major League Baseball games?
Cheerleaders.
Unless you are at a Florida Marlins game and are lucky enough to get a glance at the Marlin Mermaids.
It does not matter how bad the Marlins play, they will always have the Mermaids cheering and dancing on top the dugouts.
2. Dallas Cowboys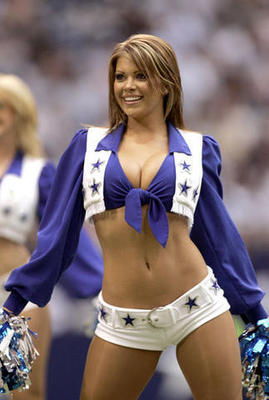 The Dallas Cowboy cheerleaders are one of the most recognizable and famous cheerleading squads of all time.
Knowing this, when they select the team every year, they need to be extremely selective and narrow it down to the hottest of the hot.
They also have to be able to dance and cheer while maintaining that hotness.
I will bet most lists have the Cowboys cheerleaders as the top choice but just wait until you see the next team.
1. Miami Dolphins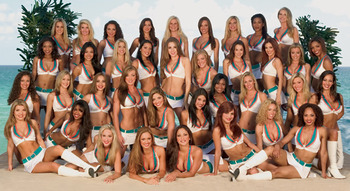 No need to explain the winner here.
I will just include several links that should prove why I chose the Dolphins cheerleaders as the hottest cheerleading squad ever.
Keep Reading