The 10 Best NBA Finals of All Time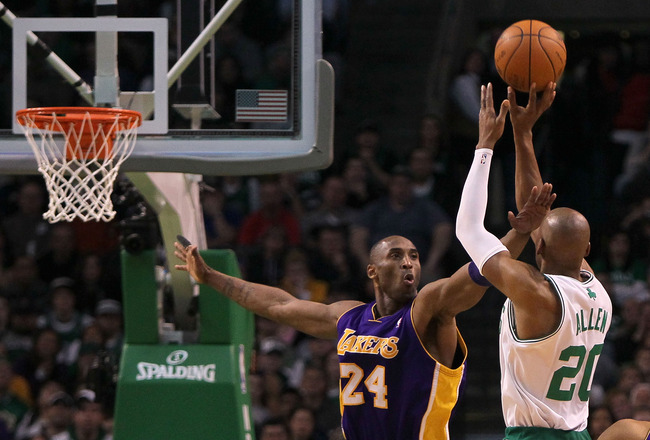 As we sit and wait (and wait and wait…) for this year's NBA Finals between the Eastern Conference-champion Boston Celtics, and the Western Conference-champion L.A. Lakers, who are meeting to decide the league title for the 12th time, it is a prime window for reflecting on the history of the NBA's championship round.
And in examining the past of NBA Finals' match-ups, the questions emerge naturally: What makes for a "great" series?
Is it familiarity and contempt for one another?
Is it two established teams, replete with recognizable faces and names and games, going at it tooth-and-nail for one last (or one more) taste of glory?
Because if those are the primary measuring sticks, the 2010 rendition could soon fall into that category of great.
Two teams, just two years removed from a Finals meeting, with a history and an animosity, and two franchises with deep reservoirs of both, dating back to their first Finals rendezvous, in 1962.
Or, is a memorable series defined by competitiveness?
Are great series really made by great plays and great games—moments frozen in time, seemingly capturing the essence of what a championship should be?
Because, of course, that could surely manifest with an array of talent as balanced and diverse as we will see come Thursday night.
Maybe it will be a Kobe buzzer-beater in the waning moments of a Game Seven.
Maybe a Rajon Rondo 25-15-15 game to put the Lakers away—only time will tell.
Or finally, maybe it's a landmark pivot point in the trajectory of NBA history which renders a Finals legendary?
Because if that's the criteria, the case could be made that either one of these battle-tested units is on the threshold of establishing a mini-dynasty, or, at the very least, groups that must be mentioned as the cream of the era.
In short, there is no right answer, nor one black-and-white formula for classifying the greatness of a series.
Ultimately, how it resonates in time is settled by the content of the games, and the ebb-and-flow of a particular series, and all of the above factors could play a role.
Which is why I have sifted through the 62 Finals already in the books, and carefully selected the top 10 NBA Finals in league history.
Honorable Mention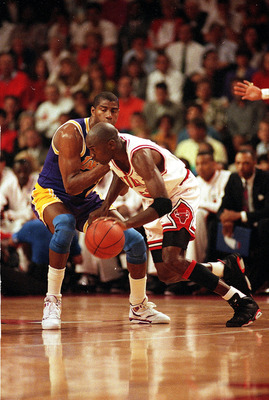 Unsurprisingly, it turns out there have been more than just 10 worthy Finals series that could have earned distinction on this list.
In particular, I found four that were quite noteworthy—just not noteworthy enough.
The first is 1971, when the Milwaukee Bucks, under the direction of Larry Costello, swept the Baltimore Bullets in four games.
While there's nothing especially extraordinary about this series, it is the Bucks sole title, and thus deserved a mention here.
The second series in the best of the rest, is the 1988 Finals where the Los Angeles Lakers bested the Detroit Pistons in seven, giving Pat Riley his fourth win at the helm of the Lake Show, and validating his bold, "back-to-back" prediction, which followed the team's 1987 triumph.
Additionally, Game Six of this series featured the unforgettable performance of a hobbled Isiah Thomas.
Despite being hobbled by an ankle injury partway through the third period, Thomas posted a Finals' record 25 points (en route to 43 for the game,)a mark that still stands today.
The third honorable mention series is 1984, a seven-game series that the Celtics won over the Lakers.
More than anything, this Finals is special because it was the first time the two franchises had met since Bill Russell had retired in 1969—although it wouldn't be the last.
And lastly, it would have been a dereliction of my duty had I not at least mentioned the five-game set of 1991, in which the Chicago Bulls topped the Magic Johnson-led Lakers.
Of course, this was the first of Michael Jordan's six Larry O'Brien trophies, and it was highlighted by MJ's iconic tongue-waggling, right-hand-to-left-hand-in-mid-air lay-up.
10. 1980: Los Angeles Lakers over Philadelphia 76ers, 4-2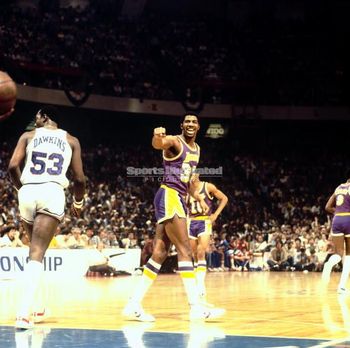 One of only two series to make the list despite going less than seven games, one man and one performance merits it this placement.
You know what I'm talking about.
A 20-year-old, 6'9" point guard who went by the name of Magic, replaced his squad's injured center, Kareem Abdul-Jabbar, who had sprained his ankle in Game Five, on the road no less, and registered a stat line that read: 42 points, 15 rebounds, seven assists, three steals, and one block.
Up to that point, Abdul-Jabbar had dominated the course of the matchup, averaging 33.4 points, 13.6 boards and 4.6 rejections per contest, while Magic had played the role of all-around contributor, posting a near triple-double with 17.4 points, 10.4 rebounds and nine assists a game.
But, with their leader and offensive focal point injured, Magic stepped in and wrote the one of the first paragraphs in his legend, upping his offensive output, demonstrating his unparalleled versatility and beaming that smile that went from "here to Bangor, Maine."
9. 2005: San Antonio Spurs over Detroit Pistons, 4-3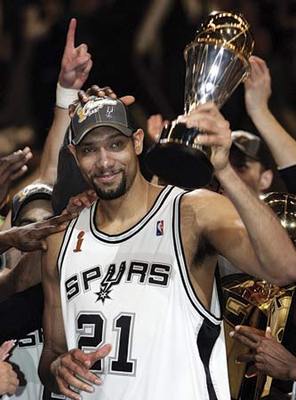 Frankly, this series wasn't real exciting, except for a Game Five thriller that was capped by yet another clutch "Big Shot" Robert Horry game-winner in overtime.
In fact, Horry was really the story of that entire game, putting up 21 points, despite not scoring at all until the end of the third quarter.
Included in the veteran and eventual seven-time champion's outburst was an emphatic left-hand dunk that became the play of the series.
Really, though, this matchup is here in the rankings because of what it represented—two modern franchises that weren't dominated by flamboyant, charismatic superstars.
Sure, Tim Duncan is one, but he certainly doesn't act like it.
These two defense-oriented franchises controlled the NBA during this period, but met in the Finals just this one time, producing the only seven-game series of the 2000s, and only the second since 1988.
8. 1955: Syracuse Nationals over Fort Wayne Pistons, 4-3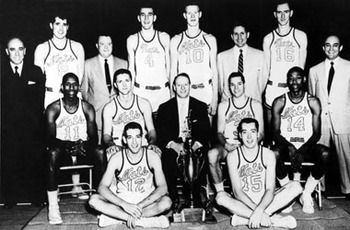 I admit, this one probably doesn't resonate much with too many fans today.
However, it was one of the most dramatic series in history, and it arguably generated more controversy than any other as well.
You see, the series was back-and-forth as most seven-game sets are, but almost all of the first six games were nail-biters, which is a rarity.
The Nats took the first two contests by a combined seven points, before Fort Wayne won three in a row by margins of seven, 27, and three.
And after a five-point Syracuse Nationals' victory in Game Six, the stage was set—and the teams didn't disappoint.
The deciding game came down to a free throw by the Nationals' George King with 12 seconds left, a charity stroke that proved to be the difference when the Pistons' Andy Phillip turned the ball over with three seconds left.
The controversy, though, arose from the fact that the Pistons had held a 17-point second-quarter advantage before allowing the Nats back in it and ultimately blowing it in the waning moments.
That series of events sparked allegations of game-fixing.
Although never proven, the team had included Jack Molinas, who later would conspire to fix numerous college games.
7. 1994: Houston Rockets over New York Knicks, 4-3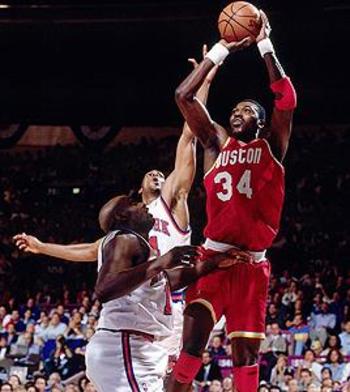 Only the second Finals of the last two decades to make the cut, the 1994 series successfully captured three things: the physicality of mid-1990s basketball, the Jordan-playing-baseball era, and the O.J. chase.
With Jordan out of the game, creating wind gusts with his bat in Birmingham, the rough-and-tumble Knicks took advantage, reaching their first NBA Final since 1973.
By doing so, the dream match-up of an early-1980s college basketball fan came to fruition: Olajuwon v. Ewing, like Phi Slama Jama v. G'Town all over again.
Unlike their 1984 NCAA Championship showdown however, this time Olajuwon got the best of Ewing, averaging almost 27 points a game on 50 percent shooting, compared to just under 19 a game for Ewing, on a meager 36.5 percent shooting average.
And, in a twist unrelated to the games (as I remember frustratingly,) NBC interrupted coverage of Game Five to show footage of O.J. charging down the freeway in his Bronco like he had lineman in front of him.
Although the incident had no bearing on the actual series, it nevertheless became inextricably linked to it in memory.
6. 1957: Boston Celtics over St. Louis Hawks, 4-3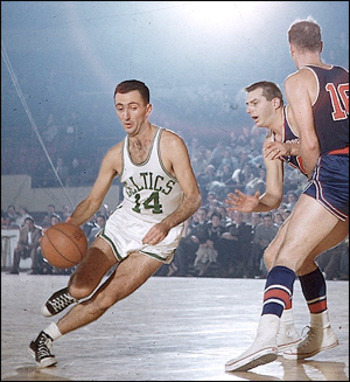 First and foremost, this series makes the list simply by virtue of it being the first title for the triumvirate of Red Auerbach, Bob Cousy and Bill Russell—a rookie at the time—jumpstarting a run of 11 titles in 13 seasons for the green-and-white.
But more than that, it was a freaking great series!
Fresh off two NCAA titles with San Francisco, Russell wasted no time in making his mark on the NBA, establishing rookie records for rebounds in a game (32, in Game Seven) and rebound average (22.9 per.)
Most importantly, there were five games decided by five points or less, and both Game One and Game Seven took two overtimes to decide—coincidentally both ending with a final score of 125-123, with the Hawks prevailing in the first game, and the Celtics taking the decisive seventh.
5. 1951: Rochester Royals over New York Knicks, 4-3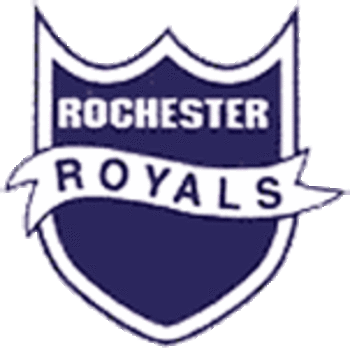 The first seven-game championship set in NBA history, the encounter between the Royals and Knicks featured no shortage of excitement.
After falling behind 3-0 in the early going, the Knicks stormed back, taking Games Four, Five and Six to force a Game Seven—a precursor to the now-legendary exploits of the Red Sox in '04, and Flyers of this year.
In the determining game though, the streaking Knicks were halted, losing 79-75, providing the lone title for the franchise that is now the Sacramento Kings.
The four-point Game Seven margin happens to be the closest in a Game Seven that was forced by a team that had been in a 3-0 hole.
The 1994 Nuggets, an eight-seed, lost by 10 points to the Utah Jazz, a five, in the conference semifinals, and the 2003 Trail Blazers, seeded sixth, fell to the third-seeded Dallas Mavericks, by 12.
4.) 1962: Boston Celtics over Los Angeles Lakers, 4-3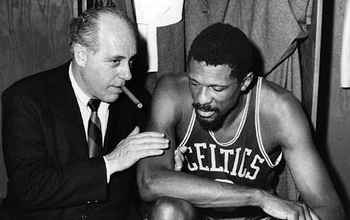 Tomorrow night, these two teams will hook horns (proverbially speaking) for the 12th time.
In 1962, they met for the first—and it was a thriller.
The Celtics were no strangers to greatness as they were making their sixth consecutive trip to the NBA Finals, a streak that included three straight wins, and four of five overall.
But the Lakers, led by a young Elgin Baylor (in his fourth season,) an even younger Jerry West (in his second,)as well as Hot Rod Hundley, a West Virginia alum just like West.
Typically, the series was back-and-forth, with each squad oddly taking two games on the road and one at home to produce a Game Seven.
In the final contest, regulation was not enough, as the match went to OT, with the Celts triumphing, 110-107.
As would be expected from a series with a catalog of future Hall of Famers, some individual statistics were mind-boggling.
In Game Seven, Bill Russell pulled down a record 40 rebounds, including 19 in one quarter, and finished with over 20 rips in all seven games.
And in Game Five, Elgin Baylor dropped a record 62 points, while also topping 30 in every game of the series.
Jerry West, meanwhile, surpassed 20 in each game.
3. 1998: Chicago Bulls over Utah Jazz, 4-2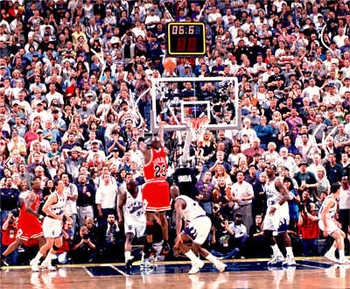 Although this series didn't go the distance, and while it wasn't Jordan's best squad—an honor that goes to the 72-win 1995-96 unit—you can probably guess why this is here.
The sequence is ingrained at this point, the face-up, the dribble right, the push-off with the left, the stroke, and, of course, the pose.
Jordan, one more time ripping out an opponent's heart, finishing in style with 45 points.
It may well be the most iconic moment in Finals' history—but let's not forget how crazy that last minute, and the whole series, really were.
Game One was an OT Jazz win, only the second time a Jordan-led Bulls team had lost the first game of a Finals.
Then, after the Bulls had evened it in Game Two, there was the inexplicable 96-54 thrashing given by the Bulls in Game Three.
But really, it's all about that final minute.
First, there was the Stockton three to give the Jazz an 86-84 advantage.
Then, Jordan's lay-up response, cutting the margin to one, and setting the stage for His Airness's heroics: a steal from Malone and dagger in Bryon Russell's grill.
And lastly, Stockton's last-gasp three, which was too close for comfort.
It wasn't a bad way for arguably the game's greatest player to ride into the sunset—at least for a little while.
2. 1970: New York Knicks over Los Angeles Lakers, 4-3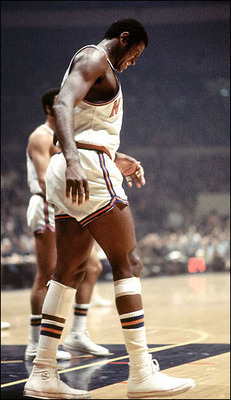 If any one moment can compete with Jordan's step-back, however, it's Willis Reed, limping courageously out to the floor for Game Seven, and proceeding to hit the game's first two shots.
Though he wouldn't score after that, it really didn't matter.
The damage was done.
In a series that had the likes of Elgin Baylor, Jerry West and Wilt Chamberlain for the Lakers, and Walt Frazier, Bill Bradley, Dave DeBusschere and Phil Jackson, Reed overshadowed them all with his dramatic entrance.
Sure, after those two field goals, it was really all Clyde Frazier, who finished with 36 points, 19 assists and seven rebounds, but what mattered was the jolt Reed had sent through Madison Square Garden.
It's a jolt that can still be felt when the footage is re-aired and Marv Albert's voice explains, "And here comes Willis!"
1. 1969: Boston Celtics over Los Angeles Lakers, 4-3 (MVP: Jerry West)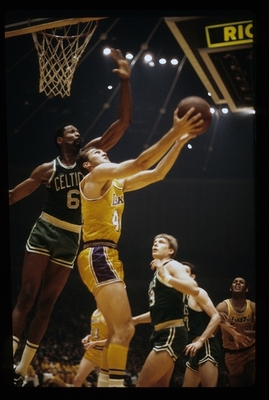 Just one year earlier, however, the Lakers had suffered an even more devastating defeat.
The Lakers led by the three-headed attack of Baylor, West and Chamberlain had cruised to a 55-win season, while the practically geriatric Celtics had earned just a four-seed to get into the playoffs.
And, in fact, it was West above all others who stood out, averaging almost 38 points a game, becoming the first and only player on a losing team to be awarded an MVP honor.
But the best part about this series is the one-last hurrah dimension for the C's.
It was Bill Russell's last go-round, and Game Seven was on the rival's home floor.
Jack Kent Cooke, the Lakers owner at the time, was so confident of a Game Seven win, he had thousands of balloons placed in the rafters and intricate celebrations arranged.
The problem was, despite a triple-double from West—42 points, 13 boards and 12 dimes—the Celtics still owned the Lakers.
Taking a spectacular Game Seven, 108-106, keeping the balloons in the rafters, turning away LA for the sixth time in the decade, and becoming the only road team in NBA Finals' history to earn a victory in a Game Seven.
If the 2010 series can manage to be half as exhilarating, it could make likely make a case to be on this list somewhere, this time next year.
Keep Reading