10 Greatest World Cup Upsets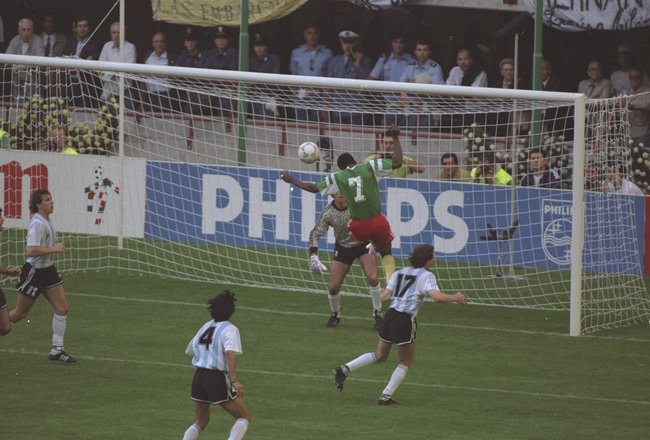 In the long history of the FIFA World Cup, a total of 76 different nations have made an appearance.
Only seven however, have had the good fortune to win it.
A lot of sides are seemingly there just to make up numbers.
Sometimes though, those little mice can roar and send out shockwaves in the football world.
Here are 10 of the biggest upsets in World Cup history.
10: Algeria 2 West Germany 1, 1982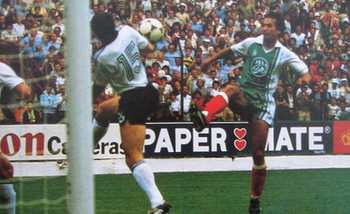 West Germany were 3-1 to win the 1982 World Cup.
Algeria were 1000-1 shots.
No African side had ever beaten a European side in the World Cup.
German manager Jupp Derwell had promised victory and could 'foresee no problems.'
So it was that Algeria were to upset the mighty West Germany, the current European champions, thanks to goals from Rabeh Madjer and Lakhdar Belloumi.
This result also lead to one of the more unsavoury moments in World Cup history when West Germany and Austria allegedly conspired to produce a result in the final group game that allowed them both to progress at Algeria's expense.
9: Costa Rica 1 Scotland 0, 1990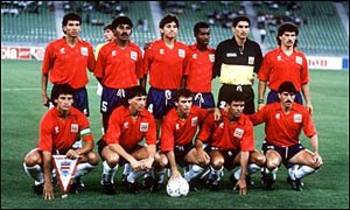 Scotland have infamously never made it past the first round of the World Cup.
Still, you would have fancied them to beat Central American minnows Costa Rica, who were making their first ever appearance in a World Cup, wouldn't you?
Hmm, maybe not.
Juan Arnaldo Cayasso wrote himself into Costa Rican folklore when he scored the only goal of the game just after half time.
Costa Rica were to go on to the second round of the tournament before bowing out to Czechoslovakia, while Scotland were once again home before their postcards.
8: Bulgaria 2 Germany 1, 1994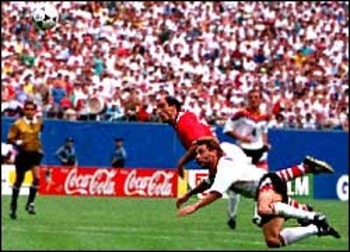 For many, the result of this World Cup quarter-final was a foregone conclusion.
Bulgaria had done themselves proud in reaching this stage of the tournament but the German side had been their usual imperious selves and would surely swat aside these relative minnows.
It certainly seemed to be going to plan when Lothar Matthaus put Germany ahead with a penalty in the 47th minute.
In the 75th minute, Hristo Stoichkov equalised for Bulgaria. Three minutes later, the world was stunned when Yordan Letchkov scored a diving header to win the match for Bulgaria and put them through to the World Cup semi-finals.
7: Italy 1 South Korea 2, 2002
Before the 2002 World Cup, South Korea had never made it past the first round.
This changed when they were chosen to be one of the host nations as they made it through their group at the expense of Portugal no less.
The second round saw them given a tough draw against one of the tournament favourites, Italy.
Italy took the lead in the 18th minute through Christian Vieri.
Seol Ki-Hyeon equalised in the 88th minute to force the game into extra time.
Then in the last minute of extra time, Ahn Jung-Hwan headed a golden goal to send Italy out of the competition.
It would be remiss however, not to mention the controversy that surrounded this game. Most notable were Francesco Totti's red card and Tomassi's disallowed goal for offside though replays suggested he was on.
For Italy there was something eerily familar about all this while South Korea were not done surpising in this World Cup...
6: South Korea 0 Spain 0 (Korea win 5-3 on penalties), 2002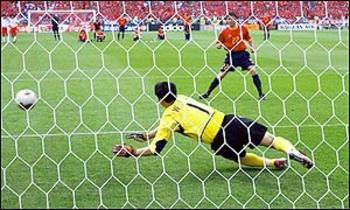 Having vanquished Italy, South Korea were drawn with perennial underachievers Spain in the quarter finals.
Like their encounter with Italy, this game was also mired in controversy. Spain had two seemingly legitimate goals disallowed during the game.
In the end the game went to a dreaded penalty shoot-out but it was the Koreans who held their nerve.
South Korea would lose to Germany in the semi-finals but it still marked the best placing by any Asian side in World Cup history.
5: Argentina 0 Cameroon 1, 1990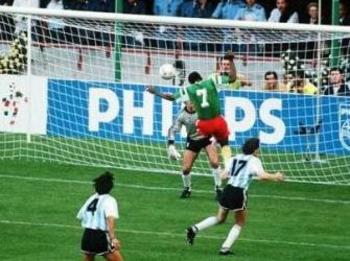 The opening game of the 1990 World Cup finals in Italy.
Reigning World champions Argentina, complete with Diego Maradona, take on African nation Cameroon, making only their second World Cup appearance.
A clear win for the Argentineans you would of thought.
However, in the 66th minute, a Francois Omam Biyick header, a fumble from Nery Pumpido and Cameroon, 'the Indomitable Lions' had shocked the world.
Cameroon would gain a lot of admirers throughout this World Cup, though their football wasn't always for the faint hearted. Indeed, this opening game saw two of their players sent off.
They would eventually make it to the quarter finals before being knocked out 3-2 by England.
4: France 0 Senegal 1, 2002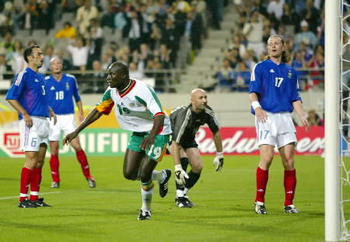 Twelve years on from Italia '90, it was another West African side (Senegal) upsetting the current reigning World champions (France) in the opening game of the 2002 World Cup in Korea and Japan.
This game was settled by a first half goal from the brilliantly named Papa Bouba Diop.
Senegal would eventually be eliminated in the quarter finals by Turkey.
France would exit in the first round having amassed just one point and scoring no goals.
3: Italy 0 North Korea 1, 1966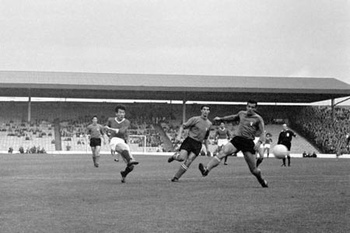 36 years before losing to South Korea in the second round of the 2002 World Cup, Italy had faced another humiliation at the hands of a Korean side. This time it had been their neighbours to the north.
Italy had arrived at the 1966 World Cup in England amongst the favourites, North Korea were expected to make up the numbers.
Pak Doo Ik struck before half-time for the Koreans to send Italy crashing out of the World Cup.
North Korea were knocked out by a Eusebio inspired Portugal in the next round, despite having led 3-0 at one stage.
They received a heroes welcome on their return to North Korea. The Italy team were greeted by rotten tomatoes.
2: England 0 USA 1, 1950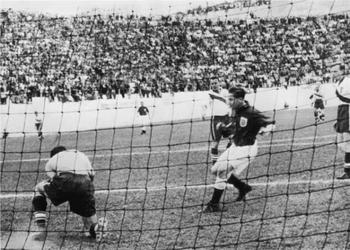 In 1950, England decided to enter the World Cup for the very first time.
Despite having never entered a World Cup tournament, England were still perceived by many as being the best team in the world and the USA would prove no match for the English.
The USA stunned the world with a 1-0 victory.
In fact, so stunned were some English journalists when they received the news on the wire from Brazil they assumed there must have been a misprint and England had actually won 10-1.
So famous a game was this it even inspired a 2005 movie starring Gerard Butler, entitled 'The Miracle Match'.
1: Hungary 2 West Germany 3, 1954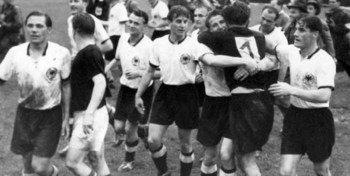 The 1954 World Cup final is often referred to as 'the Miracle of Bern' and with good reason.
In 1954, Hungary were indisputably the best team in the world. They were unbeaten in six years. They were the Olympic football champions. They had scored over 120 goals in their previous 30 games leading up to the 1954 tournament.
Hungary had great players such as Kosics, Tichy and the legendary Ferenc Puskas.
Hungary had become the first foreign side to win at Wembley when they defeated England 6-3.
Nobody gave poor West Germany much chance going into the game, especially as Hungary had already defeated the sorry Germans 8-3 in the group stages.
However, German coach Sepp Herberger had a few tricks up his sleeve and played a side that contained several changes from their first encounter.
Hungary raced into a two goal lead through Puskas and Zoltan Czibor.
Max Morlock and Helmut Rahn then scored for West Germany to make it 2-2 at half time.
Then in the 84th minute, Rahn struck again to give West Germany a 3-2 lead.
There was controversy in the last few minutes when a Puskas effort was ruled out for offside.
West Germany held on to win their first ever World Cup and cause the biggest upset in World Cup history.
Keep Reading