2010 FIFA World Cup: Germany Final Squad Breakdown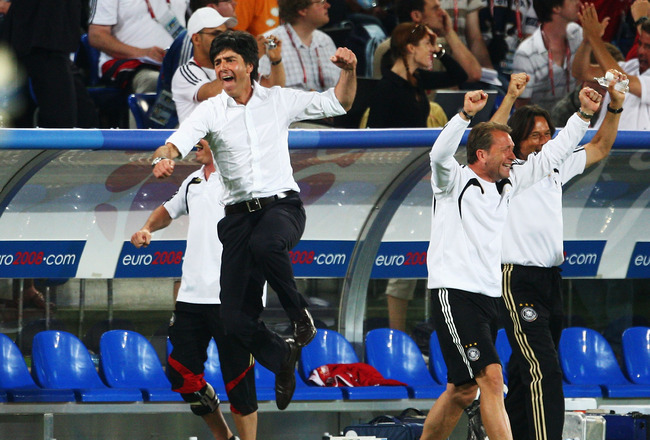 When German manager Joachim Loew announced his 27-man provisional squad on May 6th, he never imagined that team doctors would be making three out of the four cuts necessary to arrive at the final 23-man roster.
Injuries to first-choice keeper Rene Adler and highly touted defensive midfielder Simon Rolfes prior to the selection of the tentative roster were problematic enough for the German coach heading into his first World Cup.
However, a devastating ankle injury to his captain Michael Ballack, along with injuries to midfielder Christian Traesch and fullback Heiko Westermann, made Loew's last cut painfully simple.
Despite the setbacks, make no mistake that the 23 men that will step off the plane in South Africa flying yellow, red, and black are still teeming with talent and are no doubt anxious to prove to the world that the loss of their captain will not result in the loss of their shot at World Cup glory.
Goalkeepers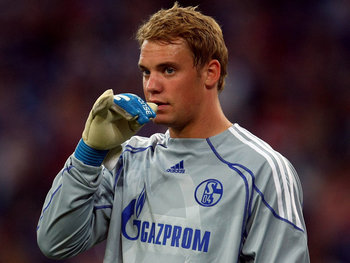 Retained: Manuel Neuer, Tim Wiese, Hans-Jorg Butt
Cut: None
Projected Starter: Manuel Neuer
As expected, Loew held onto all of his three keepers.
Adler was originally the first choice, but Germany won't be losing much by starting Neuer in between the sticks. He's cool, confident, and even Oliver Kahn publicly endorsed Neuer, saying he'd prefer to see him in net.
Not bad for a 24-year-old.
Wiese is a very capable backup coming off of a great year at Werder Bremen, and Butt is more of a "break in case of emergency" option, yet even at 35-years-old, he still has the chops to be the fulcrum of the German defense.
Expect to see Neuer perform well, as long as he doesn't try to challenge for a 50/50 ball with his head at the top of the 18 yard box, like he did against Hungary on Saturday.
Defenders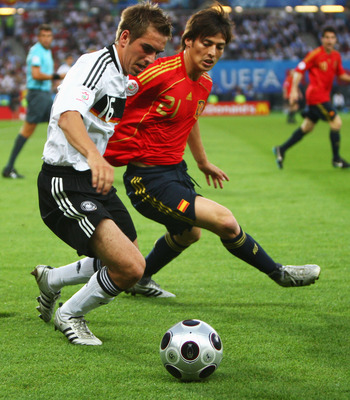 Retained: Philipp Lahm, Dennis Aogo, Holger Badstuber, Arne Friedrich, Serdar Tasci, Jerome Boateng, Marcell Jansen, Per Mertesacker
Cut: Andreas Beck
Projected Starters: Lahm, Mertesacker, Tasci, Friedrich
Hoffenheim's Andreas Beck was the lone cut as Joachim Loew reduced his squad from 24 to 23.
Newly named captain Philipp Lahm is in top form, coming off of his wildly successful campaign with Bayern Munich this season, and is ready to lead what is now his team past the group stages.
Per Mertesacker is a veteran center back that has tons of international experience playing alongside Lahm on the backline; no doubt he'll be inserted into the starting lineup.
One could make equally convincing cases to start either Friedrich or Jerome Boateng at the other outside back position.
Young Boateng has filled his role nicely and gotten good minutes in friendlies; however, Friedrich has more caps and I expect to see him starting against Australia, but that is subject to change.
Tasci wins the second center back slot almost by default, seeing as Badstuber and Aogo are really too young and haven't impressed enough to stake their claim for a starting position. That said, both are versatile and can play outside, so don't be surprised to see them garner some playing time there either.
Jansen is a possible X-factor in South Africa. The winger/outside back combo looked very good after being subbed on for midfielder Piotr Trochowksi against Hungary. He demonstrated good pace and appeared comfortable in the open field.
Midfielders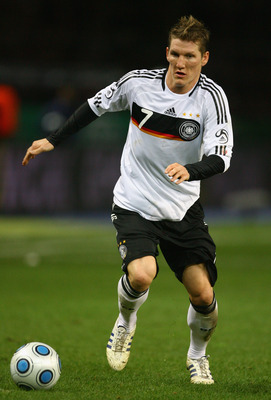 Retained: Bastian Schweinsteiger, Sami Khedira, Piotr Trochowski, Marko Marin, Mesut Ozil, Toni Kroos
Cut: None

Projected Starters: Ozil, Khedira, Schweinsteiger, Trochowski
The diciest position for Germany is finally starting to take shape with the finalizing of the roster.
Loew officially moved Khedira to the second center midfield spot next to Bastian Schweinsteiger, who switched to the center from the wings and has played there effectively the past couple of years.
Khedira has natural leadership qualities and plays a more defensive minded game, while Schweinsteiger is brilliant going forward and can create opportunities effectively for his frontmen. Both of their skill sets combined should suffice to replace one Michael Ballack. Whether or not they can exceed those expectations remains to be seen.
The real weight falls on Schweinsteiger, who many a German supporter are hoping to assume the role as "the new Ballack".
It is a very green midfield. You can see why so many football fans would fancy Germany's chances at a title with Ballack healthy: He provided veteran savvy to young upside. Now the responsibility of bringing the youngsters along rests on the shoulders of Schweiny.
Ozil and Marin are both dynamos who should see plenty of time, while Trochowski has been seeing an increasing role as of late and has assumed said role quite comfortably.
That said, the perpetual story at midfield for Germany will be: So as Schweinsteiger goes, Germany goes.

Forwards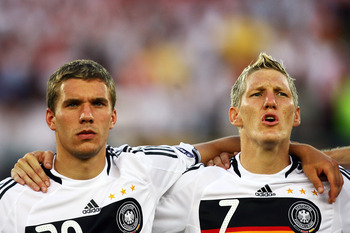 Retained: Lukas Podolski, Miroslav Klose, Mario Gomez, Cacau, Stefan Kiessling, Thomas Mueller
Cut: None
Projected Starters: Klose, Podolski(?)
It's trouble on the high seas for Germany at the striker position.
Die Mannschaft's goal scorers will need to figure something out, and fast, before their first game against the Socceroos.
Perennial superstar Miro Klose has been in torrid form as of late. His dismal club season with Bayern has carried over into World Cup preparation. Loew has publicly cemented his confidence in the 31-year-old striker, but if things don't turn around, Germany's attack could be M.I.A. in South Africa.
Cologne striker Lukas Podolski had a vanilla club season as well, but he's recently proved that he's ready to play on the big stage. He had a hand in all three goals against Malta and buried a penalty against Hungary.
However, Podolski may not be providing the offensive spark at the forward position.
Lukas is known to be played as a withdrawn striker and given more of a midfield role in a 4-5-1 formation. With Schweinsteiger facing huge expectations, expect Loew to start Podolski back at midfield quite frequently to assist Bastian in creating chances and giving his old club buddy some support. Plus, Podli's howitzer of a left foot makes him a unique asset from long ranges.
This scenario would leave one pure striker up front. Klose's in bad form and Cacau has been performing well, but I have a hard time seeing Loew inserting him into the starting lineup right off the bat.
Gomez and Kiessling have been anemic in Mannschaft uniforms. Kiessling hasn't been seeing the field much and Gomez pulling on the German kit is akin to Superman strapping on a Kryptonite vest before fighting crime.
That leaves Mueller, the young forward who actually replaced Klose during the 2009-10 Bundesliga campaign. Mueller has been on leave because of Bayern's continued success in the Champions League and has yet to develop a rapport with the rest of the starting lineup. He may be a factor later on, but for now he has to be brought up to speed.
Keep Reading

Germany (National Football): Like this team?