Five UFA Blueliners the Sharks Should Look At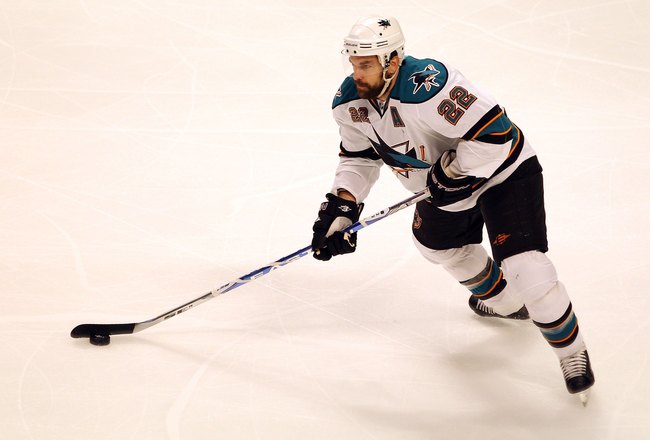 A myriad of offseason questions circle the waters at 525 West Santa Clara, and fans are up in arms with nervous anticipation. Will Nabokov be re-signed? Will the Sharks be able to retain Marleau? Who will go? Who will stay? Many articles will be written from here till then, but I have only one issue to pose.
Many experts, fans, and pundits alike will point to the Sharks lack of offense for the reason they bowed out to Chicago. Some others will offer Nabokov as a scapegoat, some blame the top line, some blame our second line. Whatever the reasoning or details are, behind whoever you blame, here are two large points that many are missing.
1. We had no answer for Dustin Byfuglien.
2. We had no answer for the Blackhawk forecheck
Dan Boyle was the only Shark consistently able to lead us out of our own zone and put together a cohesive attack. With captain Rob Blake seemingly about to retire, and orange traffic pylon Wallin, I offer you the Top Five blueliners the Sharks should look at to upgrade their corps.
Dan Hamhuis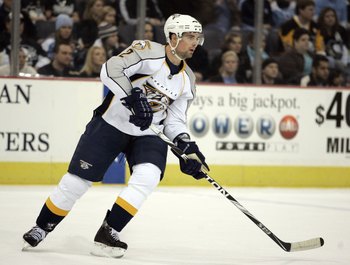 Dan Hamhuis - D Nashville Predators
2009-2010 Cap Hit: $2.0 Million
Hamhuis isn't the type of defense man that will smash you with his physical play, but like Dan Boyle, he is a concise, cerebral player that can command the breakout and quarterback the power play.
A player of his caliber would have helped our struggling breakout immensely against the Blackhawks, as he can move the puck under pressure without making mistakes.
He is due for a salary increase, and may be a bit too pricey, but Hamhuis is a shut down defense man who has managed 20 points or better in all six of his NHL seasons. His aforementioned ability to move the puck is a huge plus for the Sharks both on the power play and even strength.
Negatives to signing: Not a physical presence, high salary.
Anton Volchenkov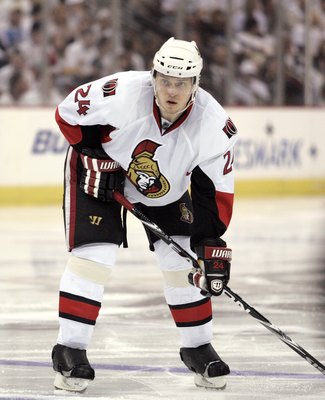 Anton Volchenkov - D Ottawa Senators
2009-2010 Cap Hit: $2.5 Million
Anton Volchenkov is bound to be in demand and the reality is that there is not much chance the Senator will sign in San Jose. Volchenkov is one of the very best shot blockers in the NHL and thrives under pressure.
Volchenkov led all Senators in blocked shots with 172, hits with 153, and combined with Chris Phillips to form the team's top shutdown and penalty-killing tandem. He is also very young and at 28, it stands to reason that his best hockey is still ahead of him.
Often asked to win the one on one battles with the top forwards in the game, Volchenkov is the true definition of a shutdown defenseman. He does not shy away from physical contact and loves to get mean about it.
Many rumors have him going to the Washington Capitals, and he will command a high contract. The fact that he is expensive and injury prone make him a somewhat leery proposition.
Negatives to signing : High salary, injury prone, not good with the puck.
Sergei Gonchar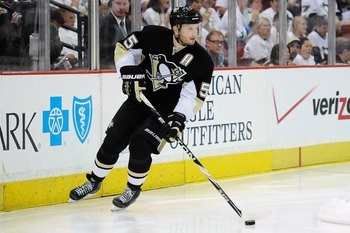 Sergei Gonchar - D Pittsburgh Penguins
2009-2010 Cap Hit: $5.5 million
Sergei Gonchar is a bit of a reach here, as a tremendous talent with a tremendous salary. He is also 37 years old, so this signing would be purely for a playoff run/short term basis. Depending on what happens in the offseason, a player of his caliber could more than boost our offense in the postseason. Gonchar is the cog in the Penguins power play and brings leadership, experience, and a howitzer of a shot from the point.
Gonchar's run in Pittsburgh has netted him some remarkable numbers : 54 goals, 205 assists, 259 points, and 37 power play goals.
Gonchar may re-sign with the Penguins, but it seems that a considerable hometown discount would have to take place for this to happen. Considering his age and familiarity with the franchise a re-signing with a hometown discount does not seem like a stretch.
Negatives to signing : Older player, high salary.
Pavel Kubina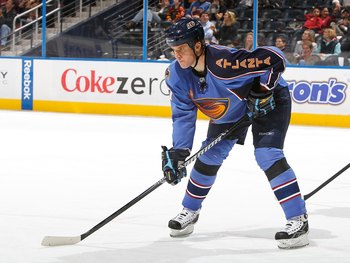 Pavel Kubina - D Atlanta Thrashers
2009-2010 Cap Hit: $5 million
Pavel Kubina is an underrated puck moving defense man who has a great shot from the point. Although he is not known for his physical play, he is responsible in his own zone and can move the puck very well.
The 33-year-old blueliner is also an excellent shot blocker and has shown the ability to log big time minutes for whatever team he plays for.
Despite all this, he is overpaid for the type of player that he is, and most likely will not be awarded a contract like the four-year, $20 million contract given to him in 2006 by the Maple Leafs.
Negatives to signing : Overpriced, not a physical player.
Andy Sutton
Andy Sutton - D Ottawa Senators
2009-2010 Cap Hit: $3.5 million
At 6'6", 245 lbs, Andy Sutton is one of the biggest unrestricted free agents in this year's pool of defense men. Sutton is a physical player that loves to mix things up in the corners and in front of the net.
However, he is 35 years old, and although he's not a bank breaker, he could be costly for the second half of a pair. Pairing him with Dan Boyle or another offensive defenseman would be a win.
Negatives to signing : Older player, one dimensional.
Keep Reading

San Jose Sharks: Like this team?