The 20 Biggest Posterizing Dunks of All Time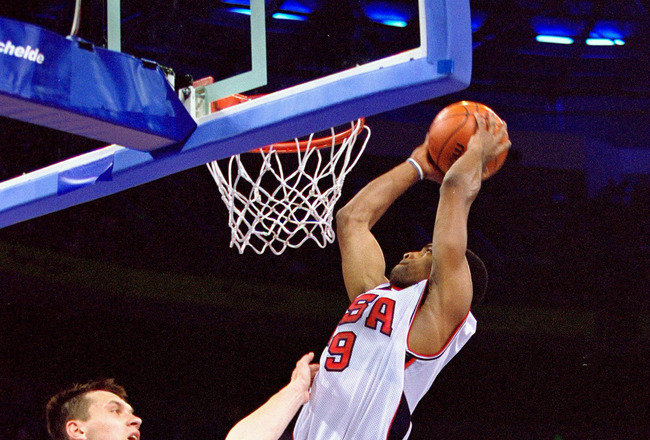 You know it when you see it.
When you see that one dunk, that one throwdown that's simply jaw-dropping. When you either sit in stunned silence thinking, "did that just really happen?!?" or when you jump out of your chair, spilling your beer (or non-alcohol beverage for all you kids) everywhere, screaming "holy ****!!!"
Only one thing can make a monster dunk that much sweeter—when a defender goes up with the foolish attempt of making a play on the ball, then realizing halfway through the play, "I'm about to get slammed on."
So, without further ado, let's jump right into today's list: the top 20 posterizing dunks of all time. The ones where the defenders are probably still a little ashamed or embarrassed, even to this day.
(Note: unfortunately, as great as YouTube is, it can't archive footage from way back in the day. That's why you'll notice that guys like David Thompson aren't included, while Darryl Dawkins is only on here once. But to be fair, they had more than their fair share of posterizations.)
20. Dwyane Wade Over Anderson Varejao, 2009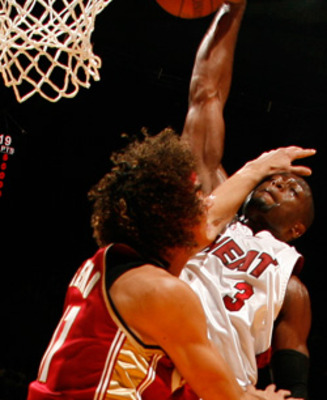 In early 2009, the Cavs and Heat squared off for their first meeting of the season.
Early in the first quarter, Dwyane Wade took off on a fast break. Anderson Varejao, as scrappy as he is, tried to get in the All-Star's path and stop him in transition.
Even with a hand in the face, Wade threw down one of the best dunks of his career. And even though LeBron James and J.J. Hickson returned the favor by dunking on Wade later in the year, the damage was done.
Props to Wade for giving a little step over Varejao at the end too. A little contempt after a dunk...I love it!
(Photo courtesy Slam Online)
19. Shawn Kemp vs. Detroit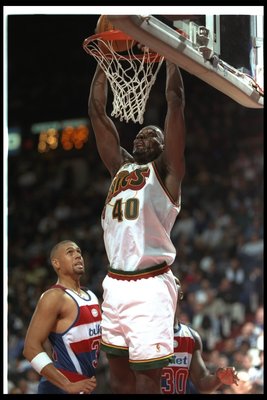 In his prime, few could even dream of stepping in front of Shawn Kemp when he was full-steam ahead.
The Reign Man redefined the power forward position in the NBA: an athletic, versatile, high-flying freak of nature.
In this clip, Kemp grabs the rebound and starts his own two-man fast break. Maybe he gets away with a bit of a carry near mid-court, but this is the NBA—superstars get away with a few calls. He ends it with a towering one-handed slam.
Fast forward to 1:33 to the 1:48 mark.
18. LeBron James High-Flies against Damon Jones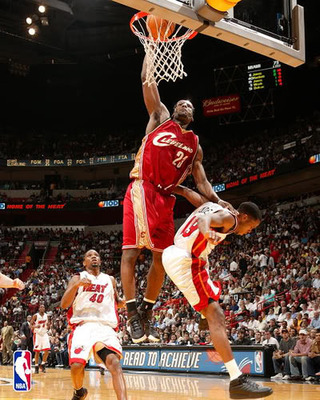 Damon Jones was an NBA journeyman throughout his career. Before he teamed up with LeBron and the Cavs, he was a member of the Miami Heat.
His biggest claim to fame in Miami? Getting absolutely embarrassed by LeBron James on a two-on-one fast break.
Watch his reaction after the play. Priceless.
Oh, and look close enough and you might see one Robert "Tractor" Traylor celebrating James' emphatic dunk.
(Photo courtesy of PhotoBucket)
17. John Starks' Best Playoff Moment Ever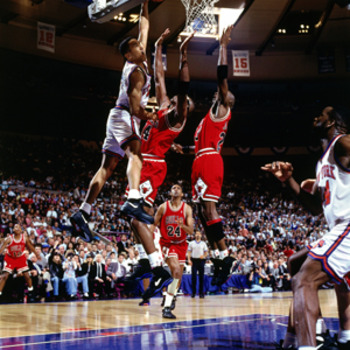 I'll always remember John Starks as the trash-talking little point guard for a team I despised growing up (the Knicks).
I'll remember his dismal performance in Game Seven of the 1994 NBA Finals.
But I'll also remember one of the best dunks I've ever seen, a wicked hesitation step and blow-by to the rim, where he seemingly skied in the air for seconds.
However, let's make one thing clear: he doesn't dunk on Jordan.
(Photo courtesy Slam Online)
16. Darryl Dawkins Makes the Backboard Disappear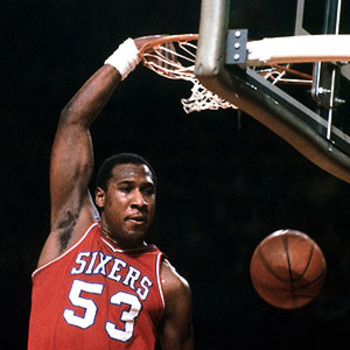 Chocolate Thunder deserves some credit for being one of the first to name his dunks.
"In Your Face Disgrace"...you just don't see creativity like that anymore.
Unfortunately, the pickings of Dawkins' dunks on YouTube are slim, which is unfortunate, because he and David Thompson were two of the great, original dunkers of the '70s.
However, there is this great clip of him breaking the backboard for the first time... and 40 days later, he'd match the feat again.
This gets props because glass is falling down...into the defender's eye! That's beyond harsh.
(Photo courtesy NBA.com)
15. Clyde Drexler Over Ralph Sampson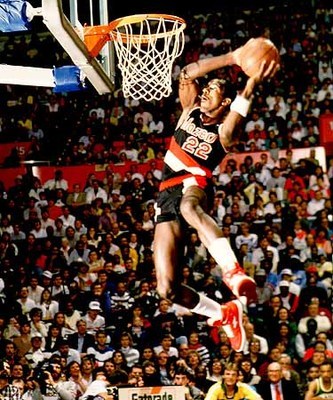 Clyde Drexler is best known as "The Glide."
In his prime, he was known for making everything (dunks, shots, jumpers) look so smooth.
This play is no exception. First, he makes an impressive play leaping in the air to steal the ball. Then, in one fluid motion, he races back up-court. 7'4" Ralph Sampson makes the unfortunate mistake of trying to get in his way.
What follows is one of the more emphatic throwdowns of the Clyde's career.
(Photo courtesy of Sporting News)
14. LeBron James Has No Regard for Human Life
It was Game Four of the 2008 Eastern Conference Semifinals. The Cavs, once down 0-2 in the series, led by seven with just under two minutes to go.
The Celts had kept LeBron James bottled up for the entire series. He struggled mightily in the first two games, and was on his way to his worst career shooting percentage in a playoff series.
More importantly, they kept him from making the jaw-dropping plays that got the Cleveland crowd so animated.
Until now.
Paul Pierce gets beat, and tries to shove James Posey (his own teammate) into position. Defensive Player of the Year Kevin Garnett tries to go up to stop him...to no avail.
Kevin Harlan with the call makes it that much better.
Oh, and how is there no foul on this play??? Garnett puts two hands in James' chest and shoves him, yet this is routinely overlooked. In other news, I'm a Cavs fan who is still bitter about losing this series.
13. Michael Jordan on the Break over Kelly Tripucka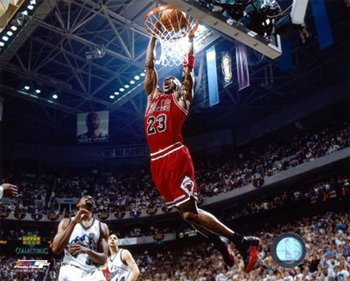 In the '80s, the Kelly Tripucka's of the world were slowly being fazed out with more athletic, dynamic players.
But while Michael Jordan was still there, he made sure guys like Tripucka got good use...as a dunking poster child.
Kelly thinks about going up to challenge the shot and realizes it's probably not the best idea. He instead tries to turn around, but Jordan lands right on his back on the follow-through.
Message sent.
Fast forward from 1:52 to 2:22.
(Photo courtesy Michael Jordan's World)
12. Kobe Bryant Welcomes Dwight Howard to the League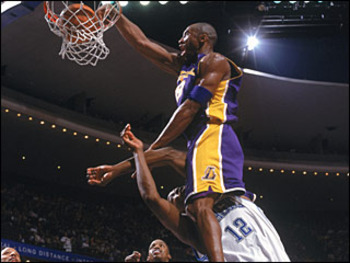 It was Dwight Howard's rookie year and he wasn't quite the defensive presence that he is today.
Meanwhile, a young man in Los Angeles was beginning to take over as the league's premier player.
It's been years since Kobe Bryant displayed this type of athleticism in an in-game situation. Watching the old highlight videos, you begin to remember quite vividly.
Welcome to the big leagues, Dwight. Or, as Kobe said, "I baptized him."
(Photo courtesy All Talk Sports)
11. Dr. J Jumps from Halfcourt (OK, It Just Seems Like Halfcourt)
Trying to pick out a handful of Julius Erving dunks for this list is like trying to pick the best burger at Thurman's—you can settle on one or two, but whatever you decide, it's going to be good.
Let's start with this one. Because of the low camera angle, it's difficult to tell where Erving jumps from.
But it seems like he leaps from the three-point line. He hangs in the air for an eternity, palms the ball like it's a ping-pong ball, somehow gets extra extension while he's at the peak of his jump, and dynamically slams it home.
Me trying to describe it is like me trying to describe all of the subtleties in a Monet painting—you just have to see it to enjoy it.
Fast forward to 1:27.
(Photo courtesy Brooklyn Projects)
10. Family Jam: Vince Carter Over Zo and T-Mac Over Shawn Bradley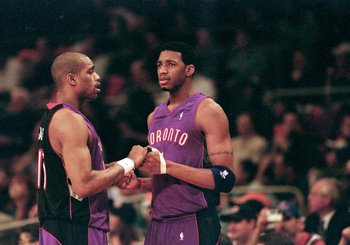 Cousins Vince Carter and Tracy McGrady will have to settle for sharing the limelight at No. 10.
It's not that the dunks are so similar. It's just that they both go so far up over defenders that are substantially taller than them.
Carter gets a loose ball, goes behind-the-back with the dribble, and slams home a one-handed tomahawk over one of the best shot blockers of all time, Alonzo Mourning.
In the 2005 playoffs, McGrady goes baseline and jumps over the 7'6" Shawn Bradley. Sounds impressive, but many will tell you that it's harder to dunk on an empty rim than it is on Bradley.
And once again, anything with Kevin Harlan involved enhances the enjoyment level dramatically.
9. Dominique Wilkins Gets the Best of Larry Bird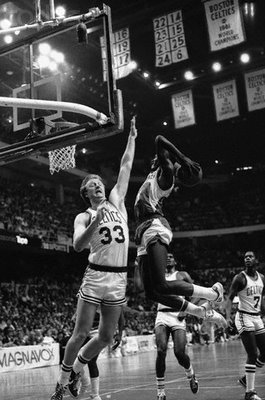 'Nique and Bird traded barbs several times throughout the '80s.
There was their famous fourth-quarter duel in the playoffs in 1988.
There was the time Bird went for 60 and even the Hawks players were celebrating on the bench.
Most of the time, Bird came out on top; the Celts won four championships and the Hawks never advanced to the Finals.
But for one play in 1982, the Human Highlight Reel can say he owned Bird.
(Photo courtesy YouGotDunkedOn.com)
8. Tom Chambers' Career Dunk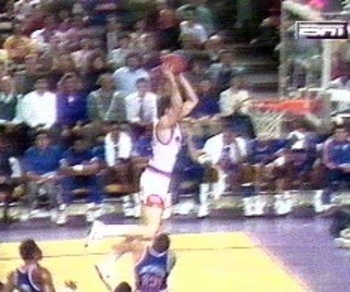 When you think of high-flying, high-energy dunkers, the name Tom Chambers doesn't spring to mind for most fans.
But it should.
Chambers was a surprisingly good athlete and had more than his share of highlight-reel dunks in his day.
His most famous one came against the New York Knicks. Poor Mark Jackson thought about taking the charge, but Chambers pretty much leaped over him. In fact, his head was above the freaking rim! Amazing.
If Jackson were announcing this particular game, he might cap off that sequence with his popular phrase: "Momma, there goes that man again!"
(Photo courtesy Joe Sports Fan)
7. LeBron James Goes Right off 'Sheed's Bald Spot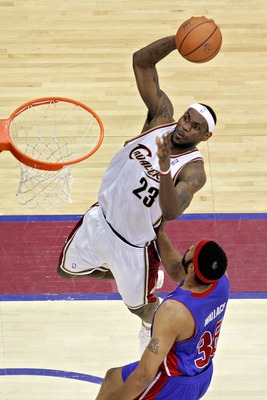 Even years later, I can set up these LeBron James dunks like I'm telling stories about what happened last night.
It was Game Three of the '07 ECF. Down 0-2, the Cavs were looking for any spark they could find.
James had an open three, but decided to attack the rim (where was this guy during this year's playoffs??). He went right at Rasheed Wallace, cocked back, and threw down the best dunk of his career.
Quicken Loans Arena exploded. Commentators Doug Collins and Steve Kerr struggled to find the right words, but could barely stammer anything out besides, "wow...this is big time."
The Cavs never trailed for the rest of the game, won the following three contests, and advanced to their first ever NBA Finals.
6. Alton Lister, Meet Shawn Kemp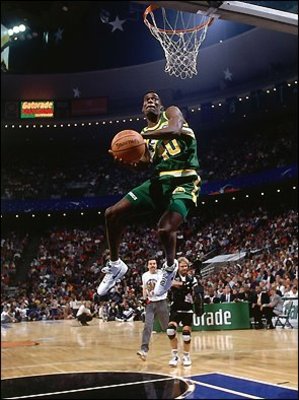 We already discussed the above-the-rim legacy Shawn Kemp left during his days with the Sonics.
Instead of trying to explain this one, just enjoy. My favorite part? When Kemp points at Alton Lister after the dunk. Just fantastic...this is what today's NBA is missing: a little showmanship.
(Photo courtesy NBA Kingdom)
5. Michael Jordan Spins and Slams vs. the Knicks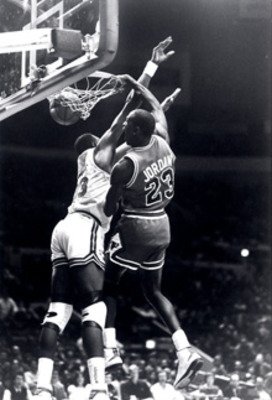 The defining dunk of Jordan's career? Quite possibly.
Of any dunk on this list, it's set up the best. He's completely trapped in the corner, but fakes a move to the wing, spins past one of the best paint defenders in the NBA at the time (Charles Oakley), then caps it off with a monstrous slam over Patrick Ewing.
Instead of getting dunked on by Patrick Ch-ewing, it was the other way around.
And the announcer commentary after the dunk...priceless. "WHOOOOOO!"
(Photo courtesy Slam Online)
4. Send it in Dr. J!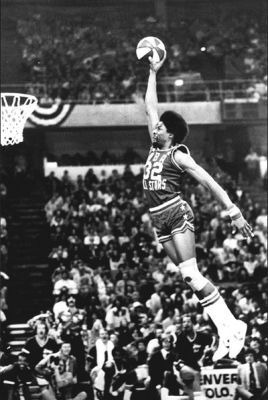 It walks the line of posterizing and simply a great breakaway dunk.
Nonethless, Dr. J gets the nod because...well...he's Julius Erving!
A transcendent dunk of the '80s. Even more impressive, since Erving wasn't at his physical peak when he threw this down.
(Photo courtesy BET)
3. Dominique Wilkins over the entire Miami Heat team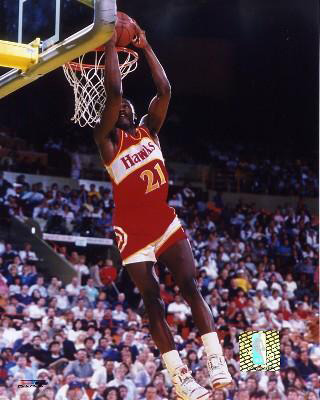 In my opinion, this dunk doesn't get enough pub as it should. But to be honest, we could make a top-20 posterizing dunk list just for Wilkins.
This is one of the most impressive ones I've seen. He splits a faux double-team at the top of the key just before he elevates.
He goes up, and two Heat defenders go with him. One wise defender (Rony Seikaly) just stays on his feet under the other two, but he's in the picture anyways.
Count 'em up...that's five defenders in the paint when Wilkins throws this down. He posterized the whole Heat team!!! You never see anything like that anymore.
Fast forward to :48.
(Photo courtesy Sneaker Files)
2. Scottie Pippen Steps Over Patrick Ewing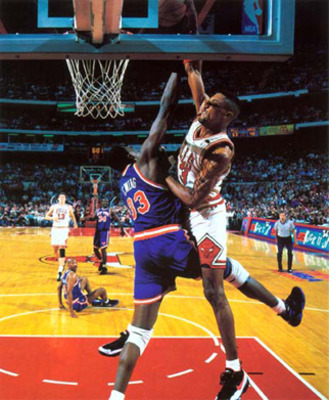 Maybe it's not the most impressive dunk on the list. Maybe it's not the most impressive dunk on Patrick Ewing on the list.
But Pippen's contempt and scorn after he sends this ball back down in Ewing's face is what makes it for me. Watch the look on his face; he's not excited he made the dunk, he's pissed that Ewing had the audacity to try and block it.
He shoves Ewing down with one hand and vehemently steps over him. He then walks over to Spike Lee and the two exchange heated words.
It displays the hatred and animosity between the two sides. We don't see rivalries like this in today's game, and that's what defines this play.
Scottie got T'd up afterward, but the damage was done. And Hubie Brown on the call only enhances the excitement.
(Photo courtesy YouGotDunkedOn.com)
1. Vince Carter Goes Up, Up & Away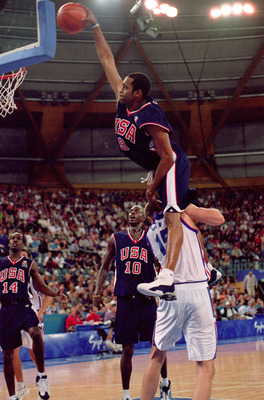 Not a contest. The best dunk from the best dunker deserves the top spot.
When someone else completely jumps over a 7'2" player and sends it in that strongly, we can have a debate. Until then, this will withstand the test of time.
Enjoy the international announcers with the call. Even they can't control themselves.
Keep Reading