Twelve MLB Players Getting Cheated By All-Star Voting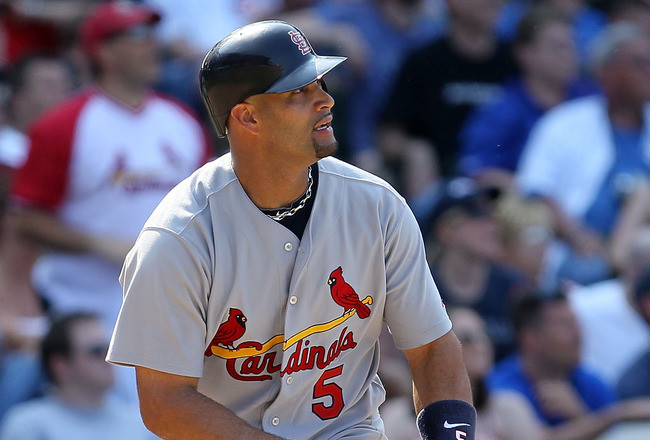 The 2010 All-Star game is more than a month away, and already results are pouring in as to who will start in this year's mid-summer classic.
For years the game has been one of constant debate, whether it be roster sizes, tied games, home field advantage in the World Series, or even the public's right to vote — the All-Star game is better known for the controversy around it than the actual game itself.
Yet, this year as the ballots come in, it is clear that voting needs to be taken out of the hands of the common fans and put into the hands of professional sports writers or the players union. Here is a list of a dozen players enjoying incredible seasons who are not even close to getting a vote to start in the All-Star game.
List of Undeserving All-Stars and Their Stats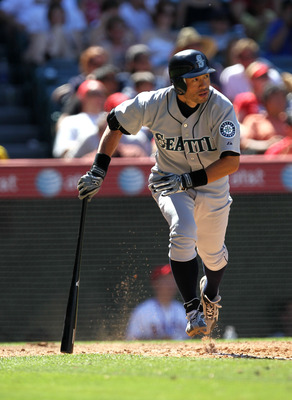 Ichiro Suzuki - Leads AL outfield voting. Stats: .340, 1 HR, 10 RBI, 13 SB
Mark Teixiera - Leads AL first base voting. Stats: .221 8 HR 34 RBI .387 SLG
Yadier Molina - Leads NL catchers voting. Stats: .258 2 HR 9 R, 28 RBI
Jimmy Rollins - Leads NL shortstop voting. Stats: .341 2 HR 7 RBI
Ken Griffey Jr. - Third in AL DH voting. Stats: .184 0 HR 7 RBI
Hideki Matsui - Second in AL DH voting. Stats: .229 7 HR 27 RBI
Placido Polanco - Leads NL third base voting. Stats: .306 5 HR 21 RBI
As one can see, a lot these guys are getting to the All-Star game for two reasons: 1) They have a big name, or 2) They play on big market teams. Ken Griffey Jr. and Ichiro Suzuki are no longer the great players they used to be, yet All-Star voters feel compelled for whatever reason to vote for these two.
Teixeira, is usually hard to argue with as an All-Star, but he has struggled to stay over .200 all season, and did you know that right now six Phillies are on pace to make the NL All-Star starting lineup!? Yes, the Phillies are a great franchise and have been to two straight World Series, but clearly some people are getting snubbed in the NL.
12: Ty Wiggington: Baltimore Orioles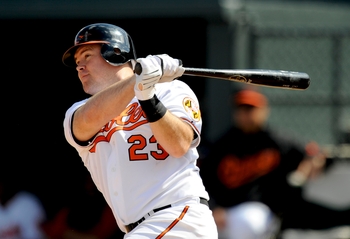 I know what you are going to say: Ty Wiggington? Was he even on the ballot?
Wiggington can play all infield positions for the Orioles, and he has made people forget about Brian Roberts in Baltimore with a spectacular season thus far.
Wiggington leads all second baseman in home runs with 13. He is third in the league in RBI (32) and hitting a consistent .282. If he keeps it up, Wiggington will be on a pace to hit 39 home runs, and 100 RBI. Wiggington has never had a season like this in his career; chances are he will cool off, but his work is deserving of some votes.
This is not to take anything away from Robinson Cano of the Yankees, who is having a brilliant season. Cano deserves to start, but Wiggington should be at the game.
11: Rod Barajas: New York Mets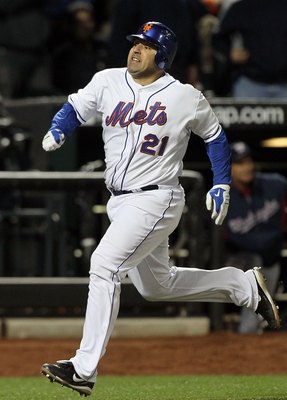 Rod Barajas has been a revelation for the Mets. During the offseason, nobody wanted Barajas, even though he came off a year where he hit 19 homers for the Blue Jays.
Even the Mets had their hearts set on Bengie Molina, but Molina opted instead to re-sign with the Giants. Good thing too. Molina has been awful. He has only two homers and 11 RBI this season. Meanwhile, the Mets signed Barajas just days before spring training and have not looked back.
Barajas leads all Major League catchers in homers (11), RBI (30), and is second in total bases (80). Barajas has even shown a flare for the dramatic. He had a game winning home run against the Giants in May that helped propel the Mets to a 9-1 home stand.
Barajas is not even in the top five in All-Star voting.
10: Casey McGehee: Milwaukee Brewers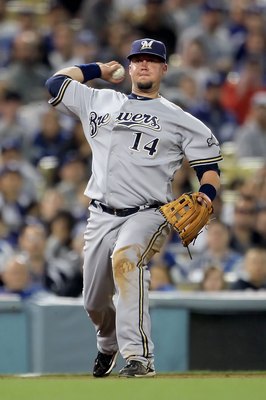 Ever hear of Casey McGehee?
No? That might explain why he is a distant third to Polanco and Wright in the NL balloting.
McGehee is having an incredible sophomore season for the Brewers and has put himself among the top players in the majors. He is just one RBI behind Evan Longoria of the Rays for most RBI by a third baseman (41-to-42), has nine homers, and is hitting .299.
McGehee is one of baseball's vibrant young stars. Eventually he will get more consideration for All-Star games, but he deserves more than 185,000 votes.
9: Ryan Zimmerman: Washington Nationals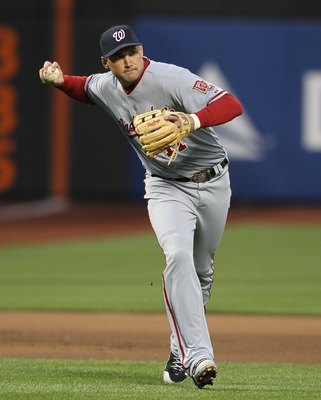 Ryan Zimmerman is one of the best third baseman in the National League. You could even argue that he is the best in the National League. Yet, Zimmerman is nowhere to be found on the NL leaders' ballot.
Zimmerman is only batting .308 with a .603 slugging percentage, 11 HR and 38 RBI, and he also owns a Gold Glove yet doesn't get as much love as David Wright or Placido Polanco do in the National League. There are a lot of solid third baseman out there in the NL, so not everyone can get in, but if one should be the starter on All-Star Tuesday, it's Zimmerman.
8: Corey Hart: Milwaukee Brewers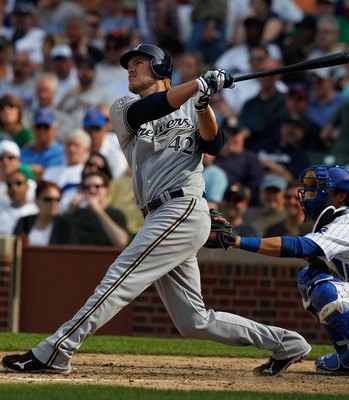 Remember him?
Hart was an All-Star a few years ago when he hit .295 with 24 homers and 81 RBI; however, since that time, Hart appeared to lose his touch, especially after an injury riddled 2009 season. Last year Hart had only 12 homers 48 RBI and hit .260; he even struck out 92 times in 419 plate appearances.
This year, Hart is back to his 2007 form. He is tied for second in the Majors in home runs, 14, and has 35 RBI. His strikeouts are even down: 32 in 157 plate appearances. If he keeps it up, Hart's 2010 could be the best reclamation project of the season.
7:Hanley Ramirez: Florida Marlins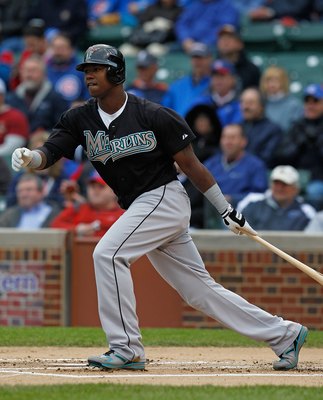 Once again this year, Ramirez was considered a top five pick in Fantasy Baseball leagues across America, yet the guy can't seem to get any respect at the ballot box for the starting job at the All-Star game.
Ramirez is second in the majors in homers among short stops with eight. Alex Gonzalez, another player ignored by the fan voters, leads major league short stops with 11 for the Blue Jays.
Ramirez is fifth among short stops in RBI (27) and is hitting .296. Yet, Ramirez is some 31,000 votes behind Jimmy Rollins. Rollins is a great player, but he has not had a good season with two homers, and seven RBI in an injury-riddled year. Ramirez deserves to start over his divisional counterpart.
6: Dan Uggla: Florida Marlins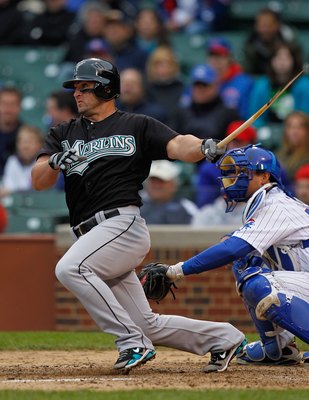 Remember Dan Uggla?
Fan voters don't remember him. Behind Chase Utley, who is always deserving of another All Star appearance, is an inconsistent Rickie Weeks, and four other decent players in Martin Prado, Skip Shumaker and Kelly Johnson. Uggla is nowhere to be found.
Uggla is better than those other four players. So why isn't he behind Utley? Uggla is second in the MLB in RBI among second baseman with 32. He has 12 homers and is hitting a solid .282. He is once again on pace to blast more than 30 homers and drive in over 100 runs. Even though he is not a great defensive player, Uggla's offensive skills cannot, and should not, be ignored.
5: Jose Bautista: Toronto Blue Jays
Now this guy has been smokin' with the bat all year, yet cannot be found anywhere on the outfield ballot results for the American League. Why?
Sure, Bautista, who can play both outfield and third base, has never proven to be much of a hitter in years past, but this season, Bautista is putting up sick numbers. Bautista leads all MLB players with 16 homeruns, is tied for fourth in RBI with 41, and is slugging .591 this year.
Yet his stats are not good enough to get past the likes of Julio Borbon (.234 0 HR 13 RBI), an injury-free Curtis Granderson (3 HR, 8 RBI), a struggling B.J. Upton (.219, 6 HR 21 RBI) and Ichiro to get into the top 15. Ridiculous!
4: Andre Ethier: Los Angeles Dodgers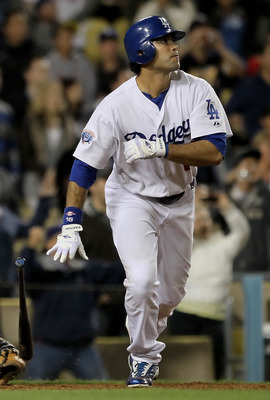 This is debatable because Ethier missed about three weeks in mid to late May due to an injury, but the first 35 games of this season, Ethier was out of his mind. He is batting .376 with 11 homers, and 38 RBI.
Ethier is one of baseball's rising young stars, and if he can regain his stroke quickly, he could be on pace to hit around .320 with 35 homers and 115 RBI — that's All Star worthy.
Ethier is a close fourth in the NL balloting, trailing Shane Victorino, Jayson Werth, and Ryan Braun. All three are deserving of starting in the game, but Ethier could, and should, get a little more recognition since he still leads the NL in hitting.
3: Vernon Wells: Toronto Blue Jays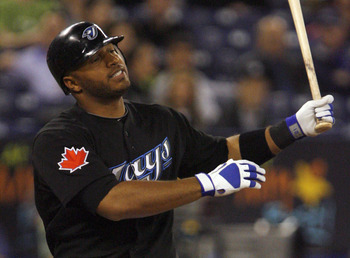 Vernon Wells should be an All-Star. Period.
He is tenth among AL outfielders who have received votes for the All-Star Game, but he is clearly being ignored because he plays in Toronto, and has had a series of bad years.
This year, Wells is on the rebound. He has 13 homers, 37 RBI, an average of .307, and a slugging percentage of .605. He is on pace to match his best seasons of 2003 (33 HR, 117 RBI) and 2006 (32 HR, 106 RBI).
After failing to live up to his enormous contract over the last three years; Wells is finally showing signs of becoming the player the Blue Jays expected.
2: Miguel Cabrera: Detroit Tigers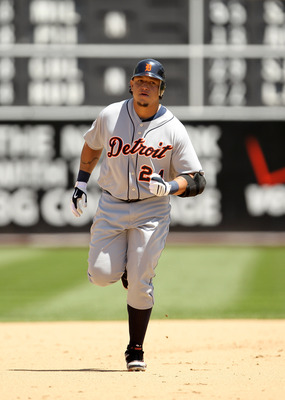 Nobody in baseball has more RBI in the majors than Miguel Cabrera's 48 this season. Cabrera has 14 homers, has struck out only 29 times, and has a batting average of .347.
Yet Cabrera is third in the balloting at first base, trailing Mark Teixeira by 208,000 votes for first base. If he were in the DH category, Cabrera would be trailing the resurgent Vlad Guerrero by 523,000 votes!! Gurrerro has 725,000 votes at DH.
Talk about a flawed system.
Cabrera has been a guy who is notorious for struggling with his weight, and being a bit lazy in the field—that reputation might be hurting him at the ballot box, but his breakout first half in 2010 is getting ignored in the process.
1: Justin Morneau: Minnesota Twins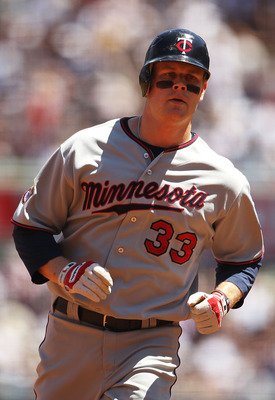 How is it that a guy who leads the American League in hitting is about 73,000 votes behind a guy who is hitting .220?
Can you say East Coast bias?
Morneau has a .374 batting average, a .687 slugging percentage, 12 homers, and 37 RBI. Most power hitters are known for striking out way too much, but Morneau has only 38 Ks compared to 41 walks. He is seeing the ball better than anyone this year, and has a legit shot at going for .400 this year.
This is not to knock Mark Teixeira, who is right up there among the best first baseman in the league, but Tex has struggled with his stroke all year, hitting around .220, and has yet to really turn it on statistically.
Morneau deserves to start over Teixeira in the All-Star game, but don't tell that to fan voters, who vote on how many times they have seen a guy on television, rather than look deeply at season statistics.
Keep Reading