2010 Stanley Cup Playoffs: 5 Philadelphia Flyers Keys to Game Three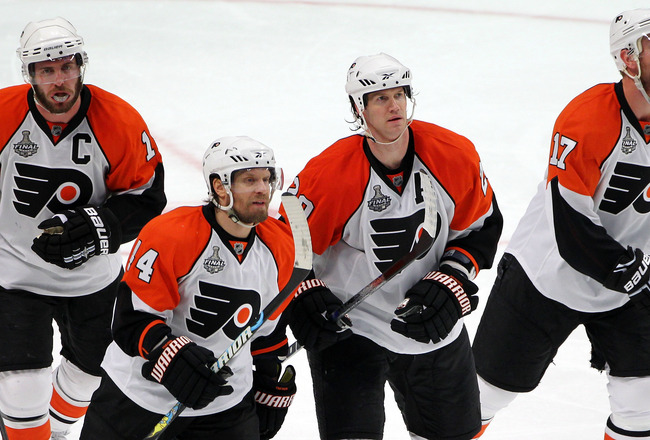 It's now time for a change of scenery in the Stanley Cup finals.
While the "Madhouse" played host to games one and two of this series, giving Chicago fans tons to cheer about (Including eight goals across two games), the Philadelphia Flyers now have their opportunity to get back into this series.
But you've probably seen all the stats on Twitter and sports shows across the country about how a 2-0 deficit in the Stanley Cup final is a huge obstacle.
Well, maybe it is. But weren't you saying the same thing about 3-0?
Key One: The Blackhawks on the Road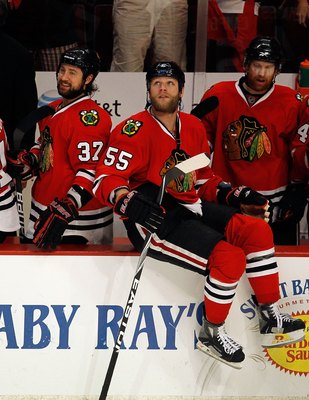 The Chicago Blackhawks have won 14 games and lost just four these playoffs.
And while they haven't lost since May 9 (or Game Five of the Vancouver series), there's something to be said for a little bit of pressure.
Chicago has been on an outstanding run on the road these playoffs, but they really have yet to be challenged. Their only road loss came 4-1 to the Predators in round one, and since then they've won just one game by one goal on the road (Game One vs. San Jose 2-1).
So has it been a matter of Chicago not getting challenged? Or are they just that good away from home?
Who knows? But either way this will be the series we find out.
Key Two: The Crowd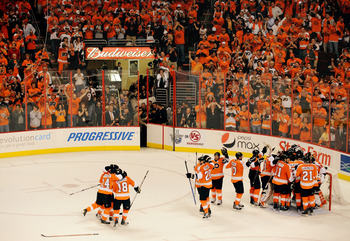 You may have noticed that that's a lot of Orange.
Whether it's just flat-out booing, accosting the visiting media, or tearing down the glass of the penalty box, the Flyers' fans can be ravenous. They can also be dangerous, offensive, and belligerent.
Word is, Brian Burke is looking at some of them to fill out his top-line.
Fact is, Philadelphia is a tough place to play in any sport at any time of year, but the Stanley Cup Finals in the Wachovia Centre?
These fans will be doing everything they can to make sure there's no repeat of "Detroit 4, Philly 0."
Key Three: Power Outage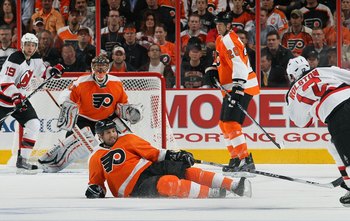 The Chicago Blackhawks have yet to score a power play goal this series.
Granted it's difficult when you had no opportunities to do so in Game One and just three in Game Two, but whether it's keeping them off the board with the extra man or off the power play altogether, Philly has the right idea.
We've seen that Chicago's offense can beat you even strength and they can beat your shorthanded. It's not only no surprise, but it's a testament to what they've been able to build.
But Philly not only negates some quality offensive opportunities for the 'Hawks if they can stay out of the box, but they also keep a key part of their roster fresh.
Key Four: Daniel Briere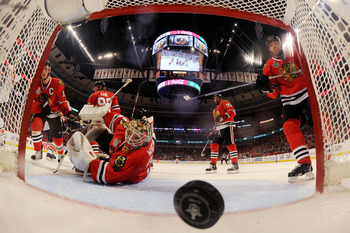 Daniel Briere is become a legend unto himself.
Not only for the contract he signed when he originally came to the Flyers, but how his regular seasons and playoff seasons are polar opposites.
Since joining the Flyers, Briere's regular seasons have been fairly pedestrian.
His playoffs however, have been anything but.
Each year you wonder "just who is this guy?" Briere is a completely different player when it's all on the line. Proof of that is his career playoff line: After Game One's four-point effort and a scoreless Game Two, he's got 79 points in 82 career playoff games.
Over the past five years, Briere has only been held scoreless in consecutive playoff games six times. While that's already happened twice this year (and for three-game stretches), a scoreless game two doesn't bode well for Chicago.
Key Five: Chris Pronger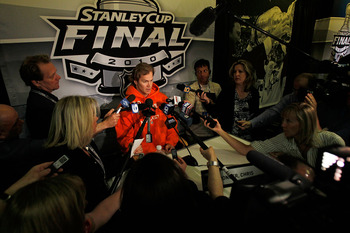 Now before you read this, know that this won't be what you think.
I could talk about Pronger's positioning, his physicality, how he can be a big proponent in wearing out those Chicago forwards, while using his point shot to generate a lot of rebounds for the Flyer forwards.
But that's all moot, because if the Flyers get down by two or more goals, Pronger does something more important.
He'll take the game puck and go home. Then the ball's in Ben Eager's court.
Keep Reading

Philadelphia Flyers: Like this team?