What does Marlin Jackson's injury mean for the Philadelphia Eagles?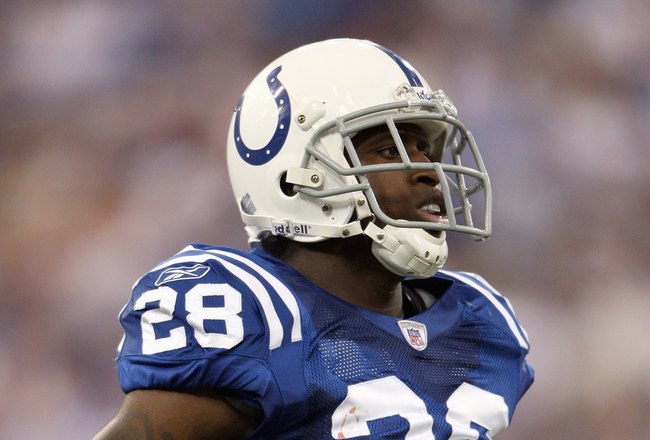 The Philadelphia Eagles announced Wednesday afternoon that free safety Marlin Jackson has suffered a torn right Achilles tendon and will miss the entire 2010 season.
The injury occurred after the Eagles had moved indoors for afternoon OTAs due to thunderstorms. While covering Jeremy Maclin during 7-on-7 drills, Jackson came up lame without contact. He immediately dropped to the carpet and was carted off the field, and after an MRI, the extent of the injury was announced a couple of hours later.
Jackson was already trying to recover from a torn right ACL, and the latest injury is a setback that may possibly even be career threatening, according to some sources.
But what does it mean for everyone else?
For Jackson himself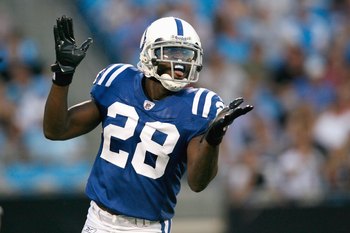 As I said in the previous slide, some believe this could be a career-threatening injury.
This is Jackson's third major leg injury in three years—and it's hard enough to come back from one (or two in a career), let alone three straight.
Even if he does eventually make it back, he's going to miss the season and will likely be released with an injury settlement, meaning he'll only pocket a portion of the $6 million for which he was signed.
And thus, he once again finds out the hard way how non-guaranteed contracts can be a real bummer.
For the Eagles at-large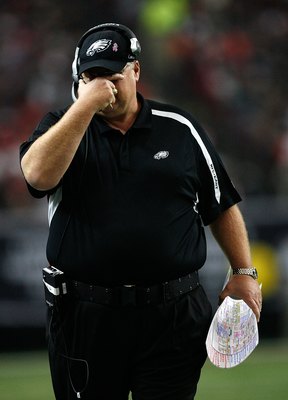 For Philadelphia, the signing of Jackson doesn't necessarily hurt on the field or in the wallet.
In the case of the former, it will change things a little bit, but not as much as it could have.
While Jackson was the de facto starter at free safety, he hadn't fully learned the defense because he was new to the team—meaning it won't be terribly hard for the coaching staff to insert someone else.
So, even though it likely won't be Macho Harris starting at free safety come the regular season, the injury now still gives Nate Allen or someone else the time they need to step into the role and grow.
On the financial side, the signing of Jackson was a "no-risk signing" according to one Eagles source—again, mostly because the majority of his two-year contract wasn't guaranteed.
And because this is an uncapped year, even the amount they are on the hook for in 2010 won't be a significant burden. That wouldn't happen until 2011, but if he's released with an injury settlement, that can take the whole "hit" in 2010.
For Nate Allen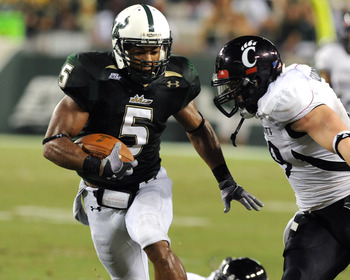 Congratulations kid, it looks like you're now officially the starter at free safety.
Allen is penciled in at No. 1 on the depth chart, and barring a major acquisition, a radical change in philosophy, or a light bulb going on in Quintin Demps' head, the rookie from South Florida should be the man who will try to fill Brian Dawkins' big shoes come September.
Of course, he could be horrible in the pre-season and lose that opportunity—but with little else on the roster at that spot, he'd have to be a bust of Russellian proportions.
For Quintin Demps and Macho Harris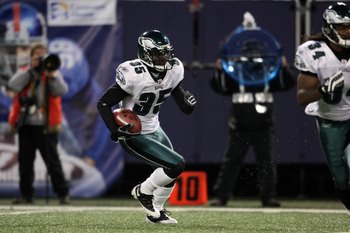 It's going to be an off-season full of wonder.
Last year's starter at free safety, Harris, was moved back to his natural corner position for this season. But he could be yo-yoed between corner and safety, which would stunt his development a bit.
But that conundrum affects Demps too. Quintin has been taking most of his OTA reps at strong safety, and likely would stay there if Harris is the backup free safety.
If that doesn't pan out, then the winner of the fourth safety spot will pretty much determine where Demps plays. Kurt Coleman is more of a strong safety, while Ryan Hamilton was a free safety at Vanderbilt.
And, of course, someone else could still be brought in.
Demps has played both spots (I hesitate to say he's "capable" of doing it, but he has done it), and his fate might not be determined until very last.
For the rest of the DBs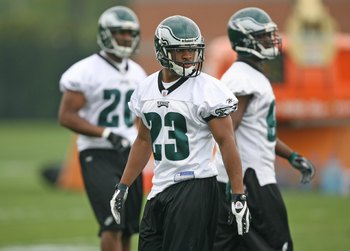 It means, obviously, that another spot is open, and it could ostensibly come down to Kurt Coleman or Ryan Hamilton versus a handful of corners.
That's because, as I said in the last slide, Harris could still be a swingman—and should be the X-Factor in the competition.
Harris was primed to be the fourth/nickel corner, but that could all change now that Jackson is gone.
Minus Marlin, the Birds have five true safeties on the roster right now: Allen, Coleman, Hamilton, Demps, and starting strong safety Quintin Mikell.
If the Birds are confident that Harris can be an effective swingman (ostensibly backing up Allen while Demps backs up Mikell), it would likely open up a spot for a fifth corner behind Asante Samuel, Ellis Hobbs, Joselio Hanson and whoever claims the fourth job.
If not, the aforementioned battle of Coleman versus Hamilton (and maybe more) will determine who wins the fourth safety job (and where Demps plays as well).
There are five men—Geoff Pope, Dimitri Patterson, and rookies Trevard Lindley, David Pender and Devin Ross—who hope Harris moves back to safety, two (Coleman and Hamilton) who don't, and two more, in Harris and Demps, who just want to know where their home is.
Only time will tell who ends up disheveled and/or disappointed.
Keep Reading

Philadelphia Eagles: Like this team?