2010 WAC Football's Top QBs
The 2010 season is upon us, and we are going to take a look at the top QBs in the WAC.
Nine teams make up the WAC conference. All nine have a QB returning in 2010 who started at least some of the season in 2009.
1. Kellen Moore—Boise State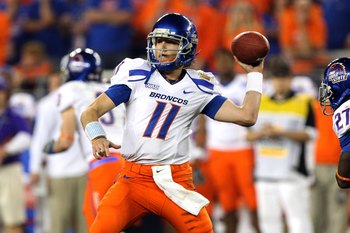 2009 stats: 277-431 3536 YDs 39 TDs 3 INTs
Kellen Moore of Boise State is without a doubt the best QB returning for the WAC.
Moore had a very consistent year with a season—high 354 yards passing against Louisiana Tech and a season—low 181 against Fresno State.
Moore had two games with five touchdown passes— against Idaho and Nevada.
2. Colin Kaepernick—Nevada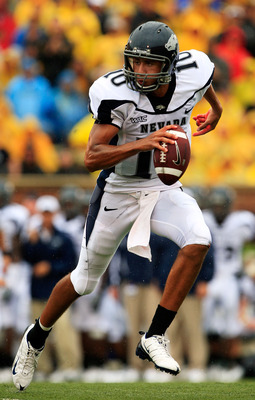 Colin Kaepernick of Nevada is my number two QB in the WAC this year.
Kaepernick is a dual threat. He passed for 2052 yards and ran for 1183 yards last season.
2009 stats: 166-282 2052 YDs 20 TDs 6 INTs 1183 rushing YDs 16 rushing TDs.
Kapernick's biggest game last year was against Idaho when he threw for 178 yards and ran for 230 yards and had six total touchdowns.
His biggest passing day came against Colorado State when he threw for 251 yards.
3. Diondre Borel—Utah State
2009 stats: 214-366 2885 YDs 17 TDs 4 INTs 465 rushing YDs 6 rushing TDs
Diondre Borel of Utah State is a dual QB with better throwing than running ability. Borel had five games throwing for over 300 yards but rushed for 100 yards in a game just once.
4. Nathan Enderle—Idaho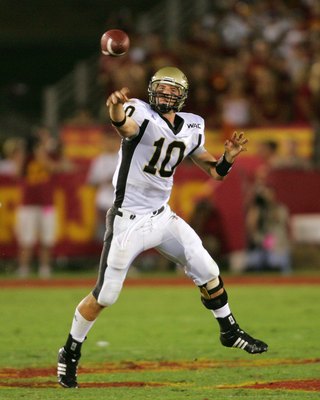 2009 stats: 192-319 2906 YDs 22 TDs 9 INTs
Nathan Enderle of Idaho was statistically the second best WAC passer last year behind Moore.
Enderle had three 300—yard passing days and threw for 2906 yards on the season despite missing two games late in the year.
Enderle could easily hit 3500 yards this season if he stays healthy.
5. Ryan Colburn—Fresno State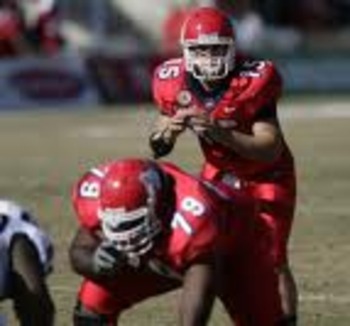 2009 stats: 181-298 2459 YDs 19 TDs 11 INTs
Ryan Colburn of Fresno State is my fifth—best WAC QB entering the 2010 season.
Colburn had an up and down year last year. He would throw 362 yards in one game and then 117 in another.
Colburn's passing stats will always be determined by how well the Bulldogs are running the ball.
Colburn had 10 games last year where he threw for less than 200 yads, but the Bulldogs were 7-3 in those games.
The best of the rest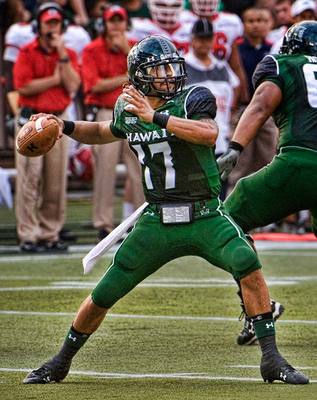 The rest of the WAC could have QB issues or battles before the year starts. The quarterbacks are listed with their 2009 passing yard totals.
6. Bryant Moniz—Hawaii 2396 yards
7. Ross Jenkins—Louisiana Tech 2095 yards
8. Jordan La Seda—San Jose State 1926 yards
9. Jeff Fleming—New Mexico State 789 yards
Also look out for Steven Ensminger (Louisiana Tech), Matt Faulkner (San Jose State), Matt Christian (New Mexico State) and a trio of players at Hawaii to also compete for the starting job.
Keep Reading

Boise State Football: Like this team?