MLB Awards for the First Third of the Season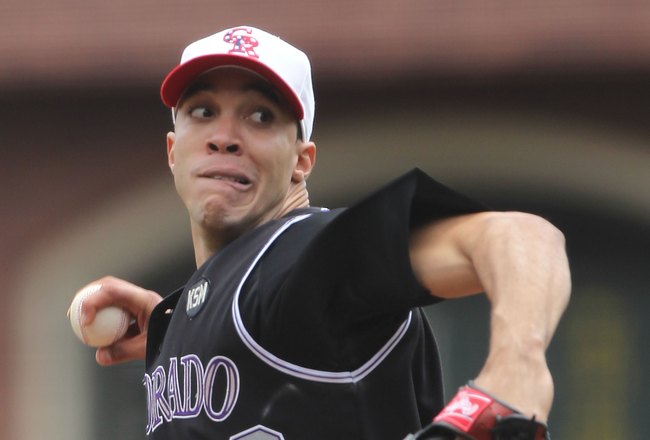 We are now about a third of the way through the 2010 baseball season, and the time is ripe for a new awards list.
Many players on this list are the usual suspects, but there are also a few surprises.
Many are clear cut (see above), where other categories, such as NL Comeback player of the Year, have at least a quartet of deserving candidates.
Not all these players will actually win the award at the end of the season, as this list is who I believe should win right here, right now.
The fellow shown above is on verge of an historic season. Will he be able to continue his dominance for the final two-thirds?
Time will tell.
American League Best Relief Pitcher - Jose Valverde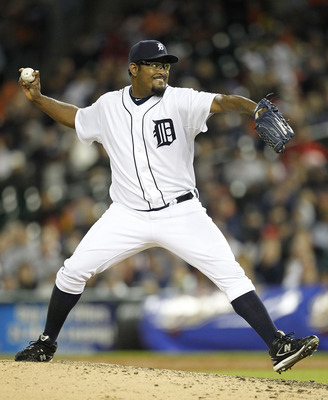 Jose Valverde is very intimidating on the mound. At 6'4" and AT LEAST 255 lbs, and armed with a near 100 MPH fastball and devastating splitter (see grip in photo), it is no wonder his numbers are so impressive.
Often overlooked as one of the games elite closers, Valverde has has 40+ save seasons two times prior to 2010.
He has amped up his production this season by recording a 1-1 record, 0.44 ERA (only one earned run), with a .919 WHIP.
Although he has struck out only seven batters per nine innings, well below his career mark of 10.8 per nine, and a much higher walk rate, he has only allowed a stingy four hits per nine innings.
His ERA+ is a mind-boggling 1012.
He wins over other deserving candidates such as Jon Rauch of the Minnesota Twins, Neftali Feliz of the Texas Rangers, Rafael Soriano of the Tampa Bay Rays, and Mariano Rivera of the Yankees.
Chance to win at end of the year: 60 percent.
National League Best Relief Pitcher - Ryan Franklin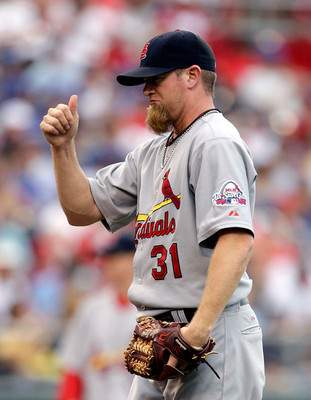 He has solidified a position which Cardinals manger Tony LaRussa deems very important, so important that LaRussa created the modern-closer position back in the late 1980s.
While Franklin has had his share of scary saves, virtually none have been this season where he has posted a 3-0 record, with a 2.01 ERA and 0.896 WHIP and 10 saves.
In his only "Blown Save" Franklin did not even allow a run.
His performance this season wins over Bill Wagner of the Atlanta Braves, Leo Nunez of the Florida Marlins, Carlos Marmol of the Chicago Cubs and Matt Capps of the Washington Nationals.
Chance of winning at end of the season: 40 percent.
American League Comeback Player - Vernon Wells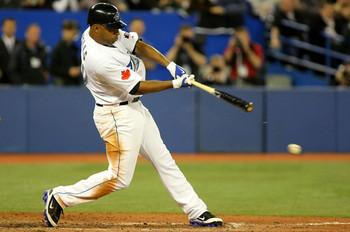 He was considered the player with the worst contract in baseball, and was virtually untradeable last season.
While trading that contract this season is still tough, the Blue Jays are now getting more bang for their buck with Vernon Wells' 2010 performance.
Wells suffered through a bad wrist all last season putting up a line of .260BA/.311 OBP/.400 SLG/.711 OPS with 15 homers and 66 RBI.
Not bad but well below Wells' career numbers.
This season, a healthy Wells, has hit .305/.356/.600/.956 with 13 homers and 36 RBI. His defense is still stellar.
He has helped resurrect an impotent Blue Jays lineup, and combined with the good, young starting pitching, has pushed the Blue Jays within 3.5 games of the division lead.
Chance of winning at the end of year: 90 percent.
National League Comeback Player - Tim Hudson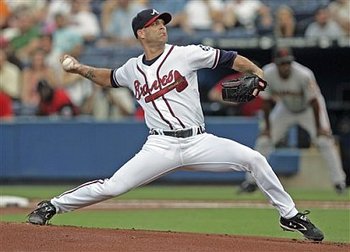 After having Tommy John surgery, Hudson endured the required amount of rehab. He joined the Atlanta Braves again only 13 months after the surgery,missing most of the 2009 season.
The Braves realized what they were missing after Hudson has gone out and put up a 5-1 record, 2.24 ERA and 1.135 WHIP. He has shown you can pitch well and win despite not striking out a bunch of hitters.
Hitting is timing, but pitching is upsetting that timing, and Hudson does that better than most pitchers.
And he is one reason why the Braves are now in first place in the National League East.
Chance at winning at end of season: 90 percent.

American League Breakout Player - Clay Buchholz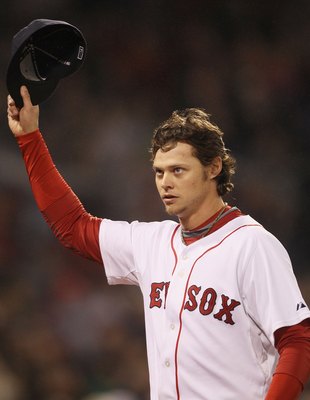 Since his second major league start in 2007 when he no-hit the Baltimore Orioles, the baseball world has expected great things from this talented right-hander.
But he got off to a bad start in 2008, and finally got a full shot in 2009, becoming full time in the Red Sox rotation in mid-July.
He has been in the rotation all year this season, going 7-3 with a 2.73 ERA and 1.128 WHIP. All those numbers are better than teammates Josh Beckett, John Lackey, Dice-K, and Jon Lester, all pitchers making much more money.
He is 14-7 since become a full time starter and has a full arsenal of pitches. He should make this years All-Star team and is breaking out to what was expected of him.
Chance of winning at end of year: 100 percent.
National League Breakout Player - Casey McGehee
From nowhere to somewhere. McGehee was a 10th-round draft pick in 2003 out of college, and did the usual five years advancement through the minors.
Once he got his chance with Milwaukee (not the team which drafted him), he put up a .301/.360/.499/.859 OPS with 16 homers and 66 RBI. He was very much overlooked in the ROY voting, finishing fifth with one first place vote.
However, people are taking notice in 2010 as McGehee leads the National League with 41 RBI.
Looking at his line for 2010 and you can see this is likely not a fluke. His line of .301/.363/.513/.876 OPS is almost identical to last year's line.
McGehee entered the league last season, and is making people really notice year.
Bet the Cubs could still use him instead of Aramis Ramirez.
Other contenders were Colby Rasmus of the St, Louis Cardinals and rookie Mike Leake of the Cincinnati Reds.
Chance of winning at end of year: 70 percent.
American League Surprise Player - David Ortiz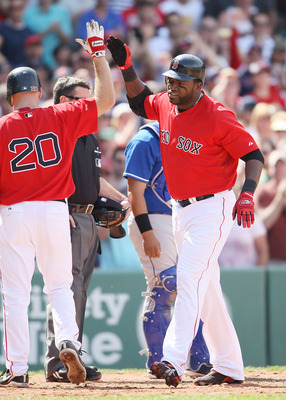 I thought he was done. Last year before he got hot in the middle of the season, and this season when he hit only .143/.238/.286/.524 OPS with a homer and four RBI.
I could even do that in 60 plate appearances.
But in May, Ortiz lead a Red Sox resurgence in the standings with his .363/.4214/.788/.1.211 OPS with 10 home runs and 27 RBI.
I could not do that.
If Ortiz hits at normal levels, the Red Sox might stay in the hunt for the duration.
Chance at winning at end of season: 50 percent.
National League Surprise Player - Carlos Silva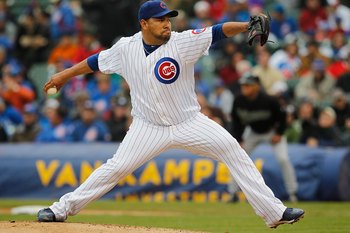 What might have been the worst free agent contract in recent years, has kind of worked out in the Chicago Cubs favor.
When the Seattle Mariners gave Silva a four-year, $48 million contract, they were assuming they were getting a ground ball, low walk rate workhorse. But what they got was a slightly worse version of Carl Pavano.
Silva went 5-18 in two years with Seattle, including a dismal 1-3, 8.60 ERA in six starts last year.
They traded headache for headache with the Cubs for Milton Bradley and the Cubs have gotten the better of that deal.
Silva has gone 7-0 with a 3.12 ERA and 1.104 WHIP thus far in 2010.
Other candidate was Kelly Johnson of Arizona.
Chances for winning at end of year: 80 percent.
American League Biggest Disappointment - Chone Figgins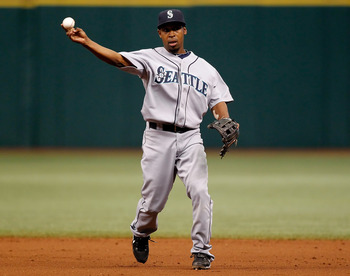 I so wanted to put Josh Beckett here for the primary reason is I think he is a punk. He also just signed what will turn out to be the worst contract this side of Carl Pavano.
But also signed this past off season to another terrible deal, although for not nearly as much money, is Chone Figgins.
Figgins was signed for two reasons. First, he was to provide another top of the order high OBP guy to complement Ichiro Suzuki.
Second, Figgins would continue to provide excellent defense at third base, something the Mariners have improved their team during 2009.
Well, the Mariners are getting no production from Figgins, who is slashing .211/.324/.272/.596 with nine doubles, a triple, NO HOME RUNS and 13 RBI.
He does have 23 runs scored to go along with 10 stolen bases.
No power and a terrible batting average and OBP.
One reason why the Mariners are in the cellar of the AL West division.
Chance to win at end of season: 50 percent, but could rise drastically based solely upon how quickly Beckett comes back from his injured back, and if he is productive if and when he does return.
National League Disappointing Player - Aramis Ramirez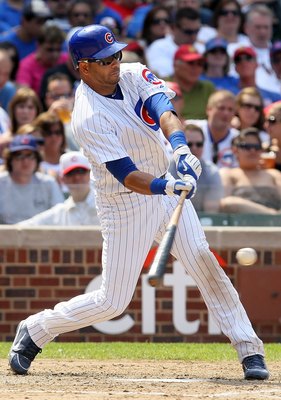 So many to choose from: Jeff Franceour of the Mets, Raul Ibanez or the Phillies, but Ramirez' horrific season even trumps most of his own teammates as well.
Ramirez has a 162 game career average of .282/.340/.496/.836 OPS with 30 HR and 108 RBI.
But in 2010 Ramirez is hitting (are you sitting down?), .162/.227/.269/.496 OPS. Many guys at his position are slugging higher than Ramirez' OPS.
His OPS+ is a measly 28.
Chance at winning at end of season: 100 percent.
American League Rookie of the Year - Austin Jackson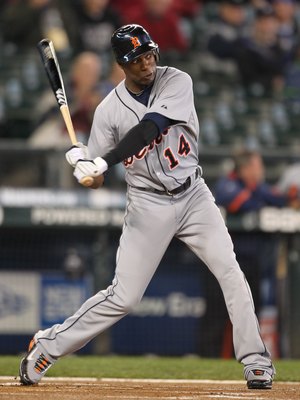 The key player the Tigers received for Curtis Granderson and Edwin Jackson, A-Jax has been a pleasant surprise at the top of the Tigers lineup.
In his first Major League season, Jackson is hitting .330/.380/.445/.825 with 14 doubles, three triples (amazing speed), a single homer (they will come) and 14 RBI (these too).
He has scored 33 runs and stolen seven bases, but has whiffed an amazing 57 times in 200 at-bats.
He barely beats out his fellow outfield teammate, Brennan Boesch, who, if he keeps slugging the ball out of the park, might overtake Jackson by the end of the season.
Chance at winning at end of season: 60 percent.
National League Rookie of the Year - Jason Heyward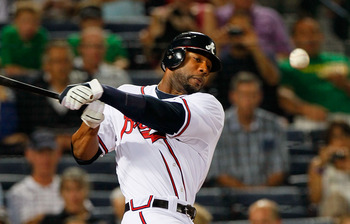 One of only two winners who had no other competition, and Heyward is on the short list for NL MVP, too.
He has exceeded all expectations with a .292/.410/.578/.988 OPS with 10 doubles, three triples, 10 home runs and a staggering 38 RBI.
And Heyward is only 20 years old.
An amazing characteristic about Heyward is his adjustments at the plate. When he went into a early slump, he began to get more selective at the plate.
He was informed by manager Bobby Cox that he took too many pitches, and then started to attack the ball, and began to slug higher.
Chance at winning at end of season: 99 percent, with only a flat out dominating season by Stephen Strasburg could derail Heyward's ROY nod.
American League Manager of the Year - Joe Maddon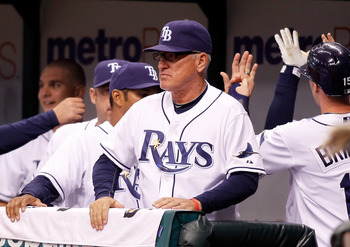 He is innovative in his maneuvers.
When the Tampa Bay Rays came into New York two weeks ago, Maddon had his infield shifted over for Mark Teixeira.
No big deal as all teams do that to Teixeira from the left side, but his second baseman was much deeper and pulled more towards the line than other teams have.
Teixeira then proceeded to hit a bunch of grounders right to the infielders.
But Maddon also had a shift on left-handed hitter Juan Miranda, who was only in the majors for about two weeks and had only a couple dozen at bats.
And I had reported in a prior piece that I noticed Miranda's tendency to pull outside pitches.
Maddon does have a great rotation, but he did help develop those starters, and is not afraid to throw a rookie into a starting role, such as Wade Davis. And David Price and Jeff Niemann last season, and those pitchers are better this year.
He also has a rookie Reid Brignac starting at second base and unheralded John Jaso behind the plate.
Maddon's Rays also have the best record in baseball.
Chance at winning at end of season: 40 percent. Depends on if Minnesota wins the AL Central. Ron Gardenhire will get lots of support since he lost his closer, Joe Nathan, for the season.
National League Manager of the Year - Bud Black
I always would put Tony LaRussa as manager of the year as I believe he is the best manager in baseball history.
But manager of the year dictates a guy who manages a team picked to finish last in the division to the best record in the league get the nod.
His starting lineup looks like a Triple-A squad, with the only guy hitting decently being Adrian Gonzalez, who is not exactingly tearing it up either.
His pitching staff is highlighted by Jon Garland, who was not even signed until late January 2010. A bunch of young kids fill out the rotation.
The bullpen is dominating with Heath Bell and a couple other strike throwing machines.
I have seen this team play in person and none of the four pitchers I saw in a win over the Florida Marlins threw the ball over 91 all day.
They were not impressive at all, and had a lot of easy outs in the lineup that day, but the team strung together a bunch of hits in one inning and won the game.
And that is what they do, they win games.
American League Cy Young Winner - Andy Pettitte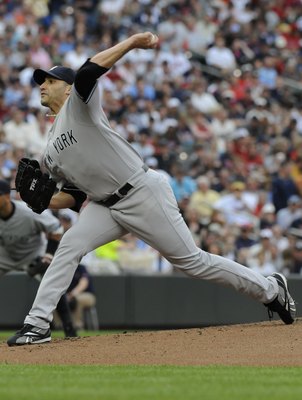 About his 7-1 record, 2.48 ERA, 1.148 WHIP, Andy Pettitte has never had a start this good. With the early season struggles of C.C. Sabathia, Pettitte has become the ace of the 2010 staff.
And with good reason. Except for his clunker against Tampa Bay, he has been masterful in most every performance, and pitched well enough to win in his two no decisions.
He has also proven that you do not need to dominate with a mid-90s fastball to succeed in the majors. His fastball barely reaches and rarely tops 90 MPH.
But that will not sway the scouts and draft-niks who ooh and aah over every 95 MPH fastball from some high school kid.
Since he has talked retirement over the last several years, (becoming more pronounced in 2010), it will interesting to see how Pettitte deals with his baseball future after a great season.
And possibly his first Cy Young award...at age 38.
He is now 100 games over .500 for his career (236-136), and no one in MLB history who is 100 games over .500 has not made the Hall of Fame, or will be in when he is eligible.
Chance of winning at end of season: 60 percent.
National League Cy Young Winner - Ubaldo Jimenez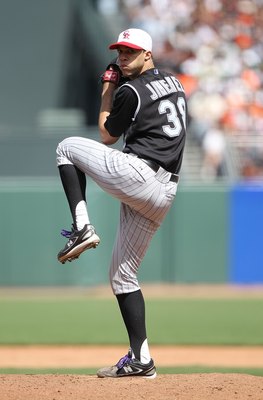 The other unanimous winner.
His numbers are ridiculous, and he also has a no-hitter to boot. His record of 10-1, 0.78 ERA and .896 WHIP is the best start of all-time.
He throws a high 90s fastball with amazing control. In his last start against the San Francisco Giants, Jimenez threw a 99 MPH fastball at the knees on the outside corner to a hitter.
Giants radio broadcaster, Mike Krukow, exclaimed "That is the best pitch of all-time!"
And what I really like is that Jimenez has had 11 starts and had the decision in all 11. Too many middle relievers are getting too many game decisions.
He has thrown 120 or more pitches four times this season, including 128 in both his complete game shutouts.
People are talking if Jimenez can get 30 wins.
The answer is no, but he maybe could reach the Oakland A's Bob Welch's mark of 27 wins in the 1990 season.
Chance of winning at end of season: 100 percent.
American League Most Valuable Player - Justin Morneau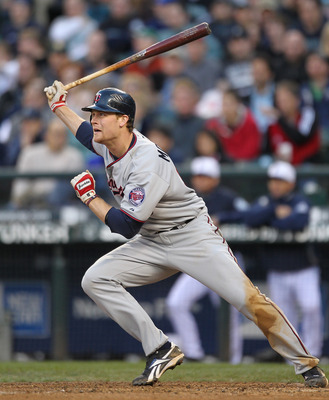 Since the arrival of Joe Mauer, the Minnesota Twins first baseman Justin Morneau has taken a back seat to the hometown boy. Even though he already has an MVP award from the 2006 season.
But pitchers have to throw to Mauer because Morneau is hitting behind him.
And Morneau is hitting very well behind Mauer, to the tune of .374/.489/.687/1.176 OPS with 18 doubles, 12 home runs and 37 RBI.
He is slugging almost .700!
Some people (including me) thought that with his broken back late last season, and now having to hit outside for all of his 162 games in 2010, that Morneau could be ripe for a comedown season.
I was wrong. He is only getting better as a hitter, and has put up these numbers despite the new Target Field, which appears to play very big.
When he came up, Morneau did not hit left-handed pitchers very well, but now he demolishes them, hitting .351 with an OPS of 1.050.
Chance of winning at end of year: 70 percent, especially if Twins stay in first place.
National League Most Valuable Player - Ubaldo Jimenez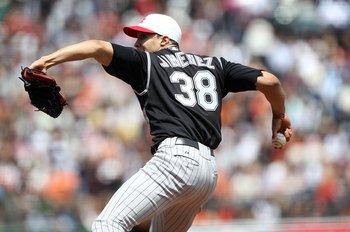 I looked at what perennial favorite Albert Pujols has done for his team.
I saw Andre Ethier's Triple Crown numbers over the first month and a half.
Neither one has carried his team for the full season like Ubaldo Jimenez has done for the Colorado Rockies.
Pujols has not had the typical Pujols season (until his three homer game the other day), and Ethier missed two weeks with a broken finger. The Dodgers actually made their recent run AFTER Ethier was out of the lineup.
But Jimenez has held together a Rockies team widely picked to win the National League West this season. They are still only three games out of first place.
Jimenez has secured a win pretty much every time out, and has allowed the Rockies to stay in contention until their vaunted lineup begins producing at a more consistent level.
Chance of winning at end of season: 40 percent, only because many writers feel that pitchers should not win the MVP award.
Keep Reading