Ready, But Not So Steady: 10 NFL Rookies Who May Have a Case of the Jitters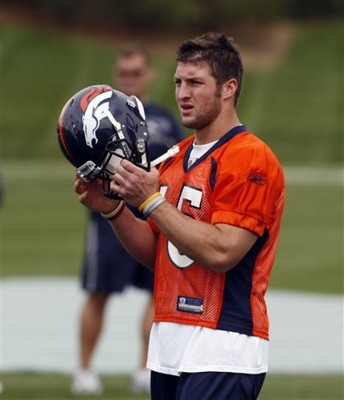 Remember going through schooling always being nervous of standing up in front of the class and delivering a speech? I sure do.
It seemed whenever I was truly confident in my ability to speak in front of 30-odd people, I would still get a serious case of the butterflies prior to standing up in front of everybody.
So how does my little story relate to the NFL? I hear you ask.
Well it's simple, this season the NFL is set to see an influx of new talented rookies that look to leave their mark.
Now, like every young person that is starting out new, most of these guys will feel a little nervous under the helmet especially when Week 1 of the regular season rolls around.
Some will take on the cool, calm and collected approach, while others will struggle miserably to either hold onto the ball, make a decent pass or simply follow instructions.
So which rookies should we consider when looking at who will have Week 1 jitters this season?
It's a debatable topic, but hopefully this list clears things up a little.
10. Ndamukong Suh - Detroit Lions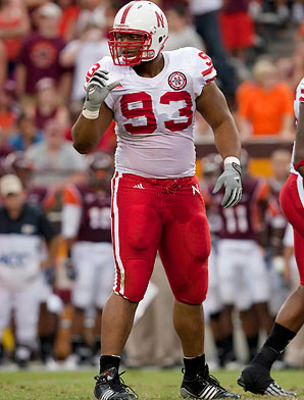 Call me crazy, but Ndamukong Suh may not be the dominant force for the Detroit Lions right from the get-go.
During his time with Nebraska, everyone realized just how much NFL potential all 307 pounds of Ndamukong Suh had.
A great combination of power, strength and overall football knowledge helped Ndamukong Suh to record sack after sack on opposing quarterbacks.
But how does all of this relate to the NFL? As we all know, there is a solid difference between College Football and Pro Football, so a case could be made that Ndamukong Suh may not come out with the big bang that most people expect him to.
Realistically Ndamukong Suh is like a plane taking off. At first he may not be as forceful as he should be, but once he takes off and gains confidence, his career will continue to soar.
For those thinking that I am suggesting Ndamukong Suh won't be a dominating player, think again. I am simply suggesting that perhaps in the first two weeks of the 2010 season, he may take a little while to find his feet.
Detroit are still a rebuilding team, and despite a highly impressive Draft, there are still many kinks to work out in this organization.
Therefore, if Ndamukong Suh is to play at his best, the rest of the Lions roster will also have to pull their weight a little.
9. Colt McCoy - Cleveland Browns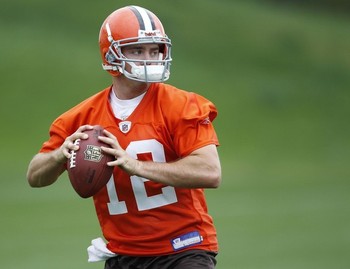 Finally the Cleveland Browns quarterback position seems to be settled. Jake Delhomme is now a part of the Dawg Pound, and former Texas Longhorn Colt McCoy steps in as a possible starter for this season.
Aside from the players the Browns coaching staff also seems to have a stranglehold on this franchise, as both Eric Mangini and Mike Holmgren are well respected men in the world of football.
Looking at the Browns on paper, the obvious factor stands out that Jake Dehomme is the favored starter.
He has earned his chance, and if the Browns are to have any chance of posting an above .500 record, the best way to go about it would be by placing the ball in the hands of an experienced quarterback.
With this said, we can't forget about Colt McCoy. Away from the criticism that surrounds Colt McCoy, there is no doubt that sooner or later ol' No. 12 will be stepping in as a starter some time or another.
Whether this is simply in preseason or for a portion of the regular season remains to be seen. However, given Colt McCoy's shoulder injury, many fans believe that it may take some time for him to adapt to the pressure of NFL football.
The other factor that needs to be recognized is that Colt McCoy won't have the Jordan Shipley luxury with Cleveland that he had in Texas.
Gone are the days of sure-handed wide receivers, and Colt finds himself throwing to a wide receiver core that has struggled at times to post consistent stats.
The ability is there for Colt McCoy, but his future is still in question. Despite people's faith in Colt, a time will come when he is truly tested. Will he have the jitters, or be as calm as he was under Mack Brown?
Who knows, this story is still yet to unfold.
8. Rolando McClain - Oakland Raiders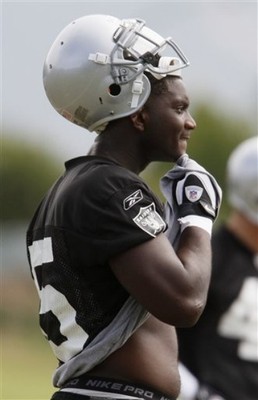 It was a surprise to see Oakland draft Rolando McClain, but looking back now it is an addition that could be extremely useful in the future.
The problem that faces Rolando McClain is both simple, yet complex.
As we all know, the Oakland Raiders have a tendency of eating up and spitting back out seemingly great looking Draft picks. We've seen it in JaMarcus Russell, and we all know just how poorly he played under Al Davis.
So will the Raider Draft curse bite Rolando McClain?
Fortunately, Mel Kiper Jr. didn't praise Rolando like he did with JaMarcus and go as far as calling him "The next John Elway,", but Rolando still has been spoken about regularly in the past three months.
I guess this situation comes down to Rolando McClain's work ethic. If he performs exceptionally well, he will have a successful career.
If he collapses in the first season, then a constant label of "overrated" will be applied to just about everything Rolando McClain does.
The final criticism in regards to Rolando possibly having NFL jitters is the fact that the Raiders are simply a struggling team.
Talent is far and few between, and although Rolando's shoulders are big in stature, this factor alone still can't brace for the heavy load of pressure that Rolando will suffer under this upcoming season.
Like Ndamukong Suh, Rolando McClain is well known for his dominance. Not only will this carry him far in the NFL, it should make opposing defenses think twice before they choose a certain play.
Rolando may have jitters, but this should only be a case of Rolando needing to come out of his shell a little.
7. Taylor Mays - San Francisco 49ers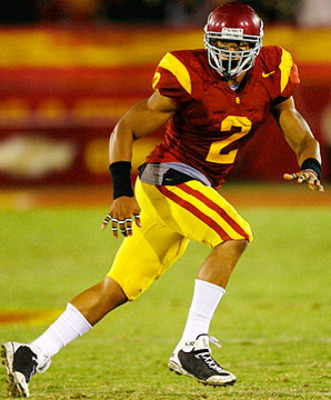 During the lead up to the NFL Draft the constant criticism that faced Taylor Mays will his lack of discipline.
Always going for the hard and heavy hit, rather than containing an opponent and making a safe tackle, Taylor Mays' on-field presence leaves a lot to be desired.
Fortunately for Taylor Mays, he was drafted by the San Francisco 49ers, one of the few teams to have a trusty coach who has zero tolerance for nonsense.
Not only will Mike Singletary keep Taylor Mays on the straight and narrow, he should also offer Taylor a few tips and critiques that he can use to modify his game and take his status to the next level.
In Mays' time with USC, he was a dominant player, but not the most consistent. Therefore in 2010 expect him to have "hot and cold" type games.
He is the type of safety that can make the big play when it truly matters, however at the same time can tend to go quiet when needed.
This is an issue that sould sort itself out over time, but expect Taylor to be aware of the criticism, and be a little nervous during the season opener.
6. Toby Gerhart - Minnesota Vikings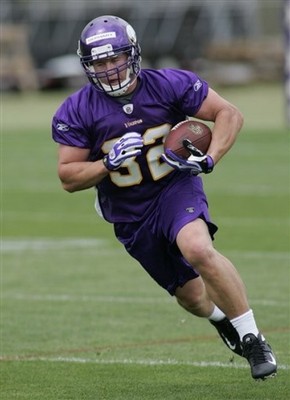 Since Toby Gerhart announced that he was entering the NFL Draft, I became an instant fan. His hard hitting running ability and constant in game presence sets him apart from the rest.
Now that he is with the Minnesota Vikings though, I do fear for his NFL career. Okay, so sooner or later we will see Toby Gerhart take a snap or two, but when will that occasion actually arise?
Most probably it will be during preseason, but knowing Toby Gerhart he will be eager to get his hands on the ball in nearly every regular season game.
Although this thinking is encouraged by most coaches, one man stands in his way. Adrian Peterson.
We all knew that as soon as Gerhart was drafted by Minnesota, he would have a tough time receiving handoffs from Brett Favre all season long.
Come to think of it, Toby Gerhart is probably the last player you'd expect to have a case of the jitters. Although if he fails to receive much attention and game play, his confidence and ability may suffer as a result.
The Vikings do have the option of going for the former New Orlean Saints' "two headed running back" type style. If this is chosen, not only will it suit Toby Gerhart immensely, it could also help tighten some screws in Adrian Peterson's game.
The jitters may not set in for Toby, based on the fact that he may not see the ball very often. But don't be surprised to see Brad Childress utilize him in goal line situations.
Will Toby succeed? It's arguable, and again, you can bet that he will be at least a tiny bit nervous.
5. Bryan Bulaga - Green Bay Packers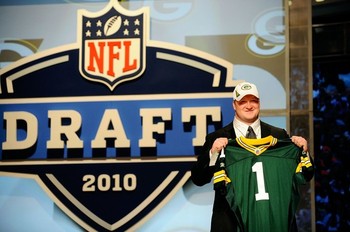 I think you'll agree that the Green Bay Packers answered their offseason needs appropriately in the Draft.
Gaining former Iowa star recruit Bryan Bulaga was not only an absolute steal for Green Bay, his presence should also help protect Aaron Rodgers and secure the offensive line woes that plagued the Packers last season.
Now, as great as this all sounds, a small amount of pressure is on Bryan Bulaga's shoulders.
I'm not suggesting that he will fail, but if he does stumble a little in the early going, the same offensive line concerns arise for the Green Bay Packers that faced them in 2009.
The fact of the matter is, the Green Bay Packers are Super Bowl favorites among others. They have a tough schedule, and need every player to be at his very best.
Bryan Bulaga is perhaps one of the best offensive line prospects to come out of this years Draft, so the concern isn't very high.
However, a failing will not only disappoint, it may also cost him a spot as the starter.
Green Bay know that they had offensive line troubles, and realistically they still do until they can justify that they have addressed this problem.
Should Bulaga fail, Mike McCarthy won't be taking any chances. A shock loss to Tampa Bay was one of Green Bay's darker moments, so the entire coaching staff will try and do everything to prevent a repeat this season.
Is the pressure on Bulaga? Of course. But like Boomer said when Bulaga was Drafted: "This guy just looks like an old school Green Bay Packer." Hopefully Bulaga will only suffer minor jitters, if any.
4. Jermaine Gresham - Cincinnati Bengals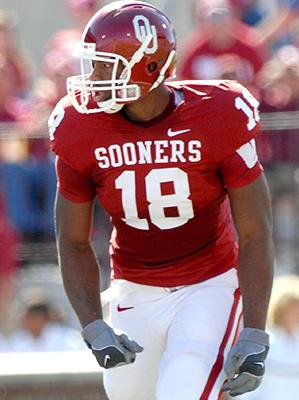 The Cincinnati Bengals are a team on the hot seat. They made the playoffs in 2009, but were flat out embarrassed by the New York Jets in the Wildcard round.
To top it all off, head coach Marvin Lewis is also undergoing some scrutiny as the time has come for him to step up and deliver the faithful fans of Cincinnati a truly convincing season.
So now we focus on 2010. Carson Palmer is still around, along with Ochocinco and the Bengal defense has been addressed a little thanks to the NFL Draft.
However perhaps the biggest addition to the orange and black was Jermaine Gresham. An explosive tight end that should offer Carson Palmer that extra option to throw to this season.
The only problem with Jermaine Gresham, is that we haven't seen him lace up in quite some time.
n his time with the Oklahoma Sooners, Jermaine blossomed into a high caliber tight end due to his glue like hands and bounding personality.
So how will he fare with the Bengals?
Well, no one knows for sure. On one hand, he could excel and perhaps win the rookie of the year award.
While on the other, he could suffer away from such a well organized program, and find that having to show independence on and off the field could come as a bit of a challenge.
Aside from personal criticism though, it is the fans that expect a lot out of Jermaine.
Bengal fans are tired of inconsistent and almost meaningless seasons, so they will look toward Jermaine to add a spark to their somewhat tired and predictable offense.
Jermaine has the ability to reignite the fire, but it may take few strikes at the flint first. He isn't the type of tight end that is great at adapting, and when it comes time to face top notch defenses, he may struggle a little.
Once again I'll use the term "come out of his shell," as that is what Jermaine will need to do in 2010.
3. Tim Tebow - Denver Broncos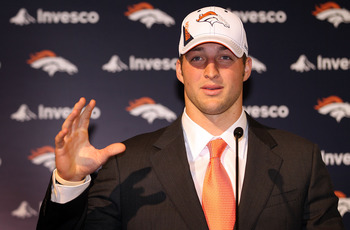 The shock is over, and now reality sets in for Tim Tebow. He is a Denver Bronco, and a highly praised yet criticized quarterback.
Let's get straight to it, the Broncos have a problem. The first is of course the most obvious, the Josh McDaniels saga.
Most Bronco fans dislike him, and if there was an award for the most scrutinized coach, Josh McDaniels would easily win first place.
Therefore, the pressure is not only on Josh McDaniels, but also his players. More importantly though, the issue remains that Denver has three potentially great quarterbacks, who could also fail in the matter of a season or two.
Right now, Kyle Orton is the favored starter, and with Brady Quinn and Tim Tebow behind, all three will have to be prepared.
As for Tim Tebow, the pressure is on. And I mean on.
The media will be watching, the photographers will be ready, and the critics will be ready to jump on anything that Tim Tebow does wrong from the very beginning.
Pre-season jitters? You can bet your house on it. Can Tim overcome it? I don't see why not, but it will take some to develop.
2. Joe Haden - Cleveland Browns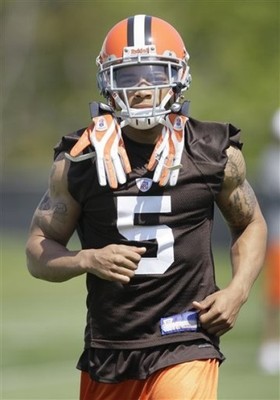 From Florida to Cleveland, Joe Haden has stepped away from the Gators' luxury lifestyle.
Now he finds himself with a struggling team, but one that could very well have an impressive season in store for us all.
As of now Joe Haden is quite underrated. We don't hear a lot about him, and quite frankly this is due to Haden being overshadowed by bigger defensive presences.
The problem that faces Joe Haden in Cleveland is not ability or discipline, it is pressure. The Browns defense ranked 31st in passing yards on defense last season, proving to be one of the main reasons for the Browns' 5-11 record.
Perhaps the biggest issue for Cleveland was at cornerback, thus Mike Holmgren drafting Joe Haden. Therefore Joe Haden simply needs to show everyone why he was drafted so highly by Cleveland.
Like Jermaine Gresham, Browns fans are also relentless on having a winning season, but more importantly on having a top notch defense.
Joe Haden will be focused on heavily this season, so the butterflies may be fluttering in his stomach as we speak.
1. Ryan Matthews - San Diego Chargers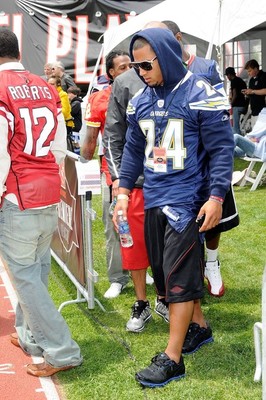 L.T gone and Darren Sproles in is the reality that faces the San Diego Chargers.
The running game has always been heavily focused on in San Diego, so it is important for Norv Turner's men to not totally rely on Darren Sproles, but to also realize that he will act as a main source of points this upcoming season.
While most of the focus has been on LaDainian Tomlinson and Darren Sproles though, one man has been forgotten: Ryan Matthews.
He was drafted for a reason, and that reason was to back up Darren Sproles should he go down injured, or simply need replacing come midseason.
Unlike Toby Gerhart, expect to see Ryan Matthews take a few snaps in the beginning weeks for the Chargers, as they will try and establish Ryan Matthews extremely early, and prepare him for the future.
The issue with this is, is that Ryan Matthews has to not only replace a legend in L.T, he also has to gel with Darren Sproles.
I guess it is a lot like Aaron Rodgers stepping in for Brett Favre in 2008. Noone knew how he would really go, but we all knew we would find out soon enough.
Ryan Matthews is underrated, however he is well aware that the pressure is on. Work ethic, ability and talent will all be on display, so lets just hope this young kid excels.
Personally I find myself rooting for this kid, as I would like to see him fill in the shoes of L.T along with Darren Sproles.
The Chargers are seeking the Super Bowl yet again, so pressure or not, Ryan Matthews needs to forget the jitters, and just play ball.
Keep Reading

San Diego Chargers: Like this team?