Michigan Wolverines Football: How Many Wins Does Rich Rod Need to Save His Job?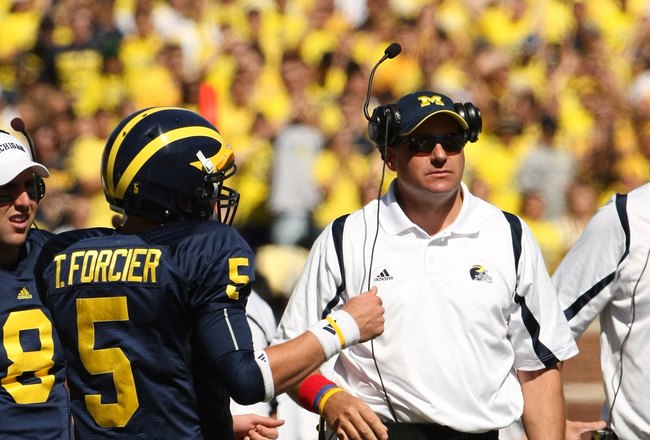 Without a doubt, the coach under the most pressure in the country right now is Michigan's Rich Rodriguez.
Not only has he led the Wolverines to two straight sub-par seasons (going 3-9 and 5-7 in his first two years in Ann Arbor), but he's also under fire for supposed NCAA violations.
He's accused of having too many coaches involved in off-season conditioning programs, staff meetings, and film rooms as well as having practices too often and too long.
Because of these violations, Michigan will probably be put on self-imposed probation at some point in the 2010 season—certainly a low moment for a program which has the most wins in NCAA history while also being considered one of the cleanest programs in the country.
Needless to say, unless the Wolverines have a good year in 2010, Rodriguez may not serve out the term of his six-year contract.
But, how many wins in 2010 will it take for fans and Michigan's athletic department to not only forgive Rodriguez for his rough start, but this embarrassing scandal?
One thing is for certain, Rich Rod is on some perilously thin ice.
Note: Although all games are very important for Rodriguez next year, I've highlighted the ones that are particularly crucial if he wants to hold onto his job.
Week 1: Connecticut
Although the Huskies aren't exactly a powerhouse, they are certainly a formidable challenge for Michigan to open the 2010 season.
UConn has many of their key starters returning, including their quarterback and leading rusher, and should at least compete for the Big East title.
Luckily, the Wolverines get them in Michigan Stadium.
Getting off to a good start is absolutely critical. Any good team will tell you that.
The same holds true for Michigan. Especially for Michigan.
It's not like season openers have been kind to the Wolverines lately (two losses in the last three years).
With his job on the line, Rodriguez needs to get the fans behind him right off the bat and nothing will do that better than a victory over a what should be a tough UConn squad.
A season-opening loss could be disastrous for Michigan's 2010 season and Rodriguez's chances at keeping his job.
Week 2: At Notre Dame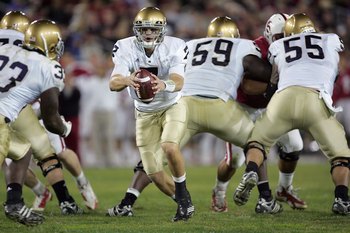 Despite having one of the great rivalries in all of sports, traditional college football powerhouses Michigan and Notre Dame have certainly seen better days.
In what's been a recurring theme over the past few years, both teams will be trying to bounce back from disappointing seasons.
As ex-Notre Dame coach Charlie Weis found out, the Fighting Irish don't take losing lightly. Unless Michigan can sneak out a victory in South Bend, the University of Michigan may teach Rodriguez the same lesson after next season.
This rivalry is certainly Michigan's biggest non-conference game each year and is probably only second in importance to the Ohio State game.
Luckily for Michigan, the Fighting Irish are rebuilding in 2010 after losing some key players from last year's squad, including Jimmy Clausen and Golden Tate.
However, it's not like the Wolverines will be a powerhouse by any means next year. And it's not like anything comes easy for the visitors in Notre Dame Stadium.
If Michigan loses to Connecticut in Week One and then loses to Notre Dame the very next week, Rich Rodriguez will officially have the hottest seat in the country.
Week 6: Michigan State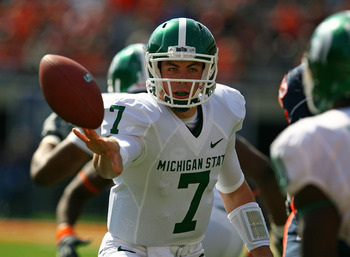 Although the three games after Michigan's battle with Notre Dame are anything but guaranteed wins for the Wolverines (home bouts against Massachusetts and Bowling Green and a tricky road game at Indiana), the October 9 home duel with in-state rival Michigan State is Rich Rod's next key moment.
Although the battle for the Paul Bunyan Trophy has historically been dominated by Michigan, Rodriguez has yet to hold up the wooden statue in his time in Ann Arbor.
Luckily the game is in the Big House, but Michigan will more than have it's hands full with the run-and-gun Spartans.
If Michigan's defense can't keep up with Sparty's high-powered 'O', Paul could be headed back to East Lansing for a third straight year.
A loss here would erase all the good vibes in Ann Arbor after three potential victories.
Week 7: Iowa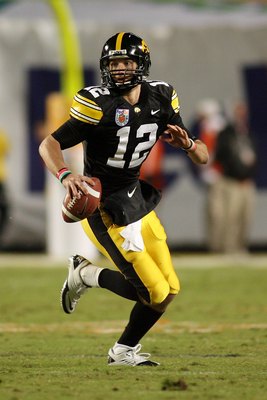 A home game against a potential national title contender is huge in itself, but when that opponent is Iowa and that game falls on Homecoming weekend, nothing could be more vital for Rich Rodriguez and the Michigan football program as a whole.
Iowa could potentially come into Ann Arbor with an undefeated record, and after a heartbreaking loss for the Wolverines last year in Iowa City, Michigan would love nothing more than to spoil the Hawkeyes' season.
Not to say it will be easy.
Iowa will bring one of the nation's best defenses into the Big House, but if the Wolverines can slow down the Iowa offense, they could make it closer than expected and may even pull out an upset.
Although the experts may not agree, Michigan fans will expect the Wolverines to win this game.
Rule No. 1 for any college football player: You don't lose on Homecoming.
The Wolverines have already lost one Homecoming under Rodriguez. Richie can't afford another.
Week 13: At Ohio State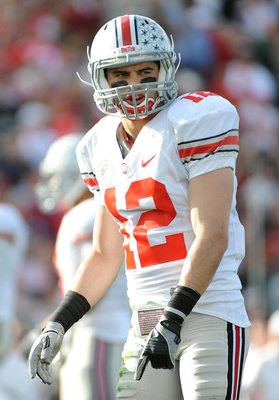 Sandwiched between Iowa and their trip to Columbus are trips to Penn State and Purdue as well as home games against Illinois and Wisconsin. There is certainly a strong possibility for two, if not three losses for the Wolverines in that stretch.
But despite that, Michigan's season finale trumps all.
Simply put, if Rich Rod is to ever establish himself in Ann Arbor, he needs to beat Ohio State. There is no greater rivalry in college football.
Rodriguez has yet to beat the Buckeyes. In fact, the combined score of the two games he's coached against OSU is 63-17 in favor of the Bucks.
Certainly not a great way to win over Michigan fans.
And, the chances of Rodriguez ending Michigan's six-game losing streak in the series are pretty slim in 2010.
Not only is the game in The Horseshoe, but Ohio State will simply have one of the best teams in the country next year.
But, if Michigan can somehow pull off what would be a monumental upset, all of Rodriguez's football sins may be forgiven. The uncharacteristic losing. The NCAA violations. Everything.
This game means that much.
Does He Stay or Does He Go?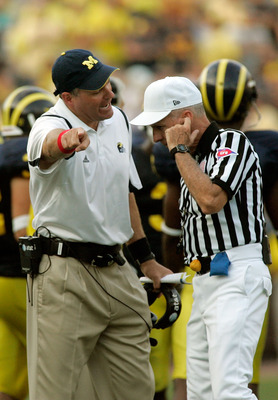 So, after all is said and done in 2010, will Rich Rodriguez still be the coach of the Michigan Wolverines going into the 2011 season?
How many wins, and against whom, will it take for the University of Michigan administration and fan-base to not only forgive Rodriguez for losing, but for embarrassing the football program and university as a whole with NCAA violations?
After all, Michigan's football program has never been on probation in their history. This is a pretty significant scar.
Well, to start off, for Rodriguez to even think of keeping his job, I think Michigan needs to at least go to a bowl game. And, needing only six wins to do that, it's certainly a strong possibility.
But not a guarantee.
A few wins in some of the key games that I mentioned will certainly help Rich Rod's chances of keeping his job. Although in the standings, a win is a win, any college football fan will tell you that some games just mean more than others.
If you can't win the big games, your reputation as a football program takes a hit. And reputation shouldn't be taken lightly in the world of college football.
So what is going to happen?
Best case scenario: Michigan wins eight or nine games, goes to a decent bowl game and Rich Rod is back for 2011.
Worst case scenario: Michigan loses all five key games, falls to Penn State and Wisconsin as well, and also loses a game or two against an inferior opponent. They miss a bowl and Rich Rod's tenure in Ann Arbor is over.
My prediction: Michigan starts off the year hot, with victories over both UConn and Notre Dame, but falls flat in Big Ten play. They lose five games in the conference, possibly six, though they still have enough wins overall to qualify for a bowl game. The Wolverines show improvement, though not much, and it's just enough for Rich Rod to stay in Ann Arbor.
And talks begin on whether he keeps his job following the 2011 season.
Keep Reading

Michigan Wolverines Football: Like this team?