How To Fix a Sink Hole: Dissecting New York Jets' Problems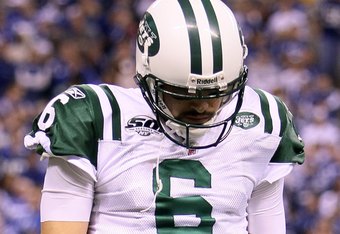 Andy Lyons/Getty Images
The new look 2010
Jets
are preparing to start the season, and the
Rex Ryan
era has officially begun! With the latest polls predicting a deep playoff run for the
New York Jets
, a new stadium (still shared with the
Giants
), and a great new
cast of characters
, everything points to the
Superbowl
.. Everything except the fact that Rex Ryan is trying to build the Taj Mahal on top of a sink hole! What Rex forgot was that while he was playing
hungry hungry hippo
with every free agent available, he still had an unproven, noodle armed, thin mint for a quarterback! While looking at the players who jumped on board the titanic that is the Jets during the off season, I wondered if Rex was going to do anything to fix the sink hole that goes by the name Sanchez. Upon further review I did see some signs of what Rex might have been thinking.... We signed him, lets protect him by surrounding him with beasts, give him a top notch backfield to pitch the ball to, and some high caliber receivers who can jump high enough to one hand a Sanchez duck toss. To further protect his image and poor draft pick, why not do what worked in
Baltimore
some years ago... Let's build a ravenous Defense and while Sanchez plays catch with other teams DBs, we can just win games 3-0, 9-7, 3-2!!! Hey!! It worked for the Ravens of yore, why not the Jets?
In closing, I would just like to tell everyone who seems to think the Jets are Superbowl locks, that I wouldn't go saving up just yet for those Jets Superbowl tickets. The New York Jets of 2010 may seem to taste great, but in the end, I think everyone will find they are less filling.
Peter Comunale
"The Horses Mouth"
This article is
What is the duplicate article?
Why is this article offensive?
Where is this article plagiarized from?
Why is this article poorly edited?