2010 FIFA World Cup: England Squad Player Profiles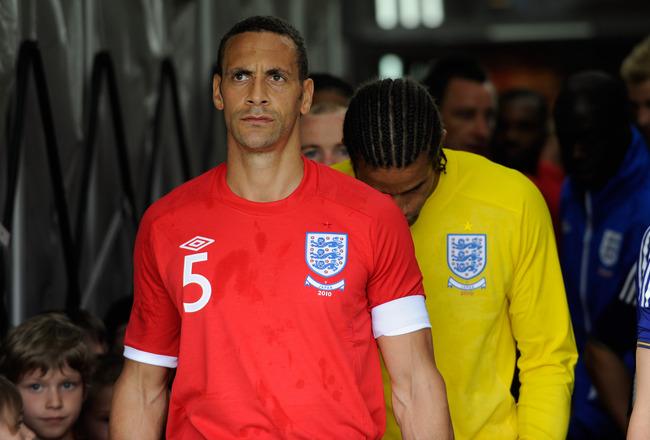 Fabio Capello has named his 23-man squad for the 2010 FIFA World Cup in South Africa.
England take on USA, Algeria and Slovenia in Group C and will hope to progress further than their quarter-final showing in Germany four years ago.
The seven unlucky players to be cut from the 30-man provisional squad named two weeks ago are Leighton Baines, Michael Dawson, Tom Huddlestone, Adam Johnson, Scott Parker, Theo Walcott, and Darren Bent.
The squad contains 12 players who also represented the Three Lions at the last World Cup in 2006.
Robert Green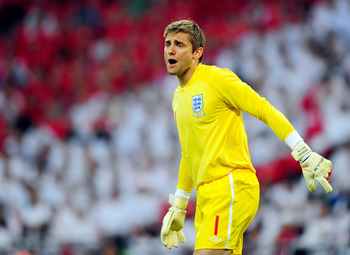 Age: 30
Caps/Goals: 10/0
Previous World Cups: None
The West Ham goalkeeper helped his club maintain their Premier League status in a tough season that saw him cement his place in Fabio Capello's squad.
Green played in four of England's World Cup Qualifiers and has won nine of his ten caps since Capello took charge of the team.
He was named in England's squad for the 2006 World Cup but was forced to withdraw after suffering a groin injury in a 'B' international just weeks before the tournament began.
He will hope for better luck in battling David James for the number one jersey this summer.
Joe Hart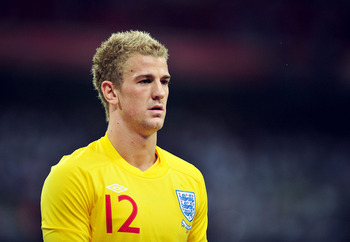 Age: 23
Caps/Goals: 3/0
Previous World Cups: None
Hart excelled during a season-long loan spell at Birmingham City last season and forced his way into the squad through a series of excellent displays.
He was part of England's Under-21 side which lost in the finals of the European Championships last summer. He missed the finals through suspension after both scoring and saving from the spot in England's semi-final penalty shoot-out win.
His inexperience at the top level means he'll most likely be a third-choice providing back-up to Green and James.
David James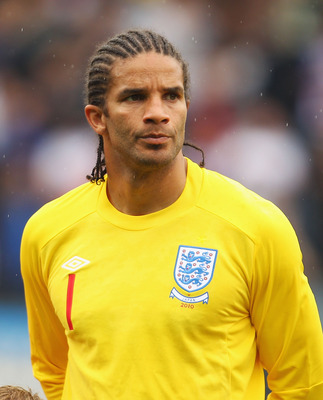 Age: 39
Caps/Goals: 50/0
Previous World Cups: 2002, 2006
The Portsmouth goalkeeper is a veteran of two World Cups. Having been third-choice in 2002 and second-choice in 2006, he'll be hoping that the opportunity to be first-choice presents itself in 2010.
James suffered from various injuries throughout the season which did not help his club side who eventually succumbed to relegation despite making a second FA Cup Final in three years.
Started half of the side's World Cup Qualifiers and appeared for a sixth time as a substitute after Green's red card against Ukraine.
Jamier Carragher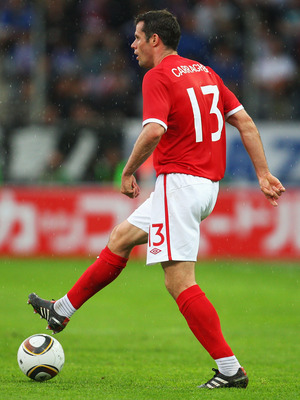 Age: 32
Caps/Goals: 36/0
Previous World Cups: 2006
A massive u-turn has seen Jamie Carragher return to the international game after manager Fabio Capello talked the Liverpool man out retirement.
Carragher previoulsy gave up playing for England in the summer of 2007 after he missed a crucial penalty in England's quarter-final defeat to Portugal in the 2006 tournament.
A center-back at club level, Carragher will find opportunities limited there in South Africa but has been included due to his ability to cover Glen Johnson's position at right-back where he appeared in the warm-up game against Japan during the weekend.
Ashley Cole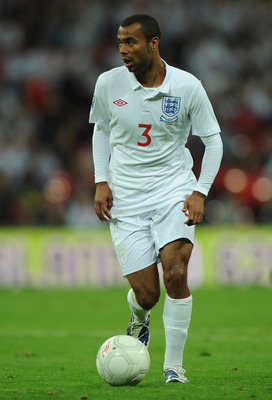 Age: 29
Caps/Goals: 78/0
Previous World Cups: 2002, 2006
Cole has been England's regular left-back for nine years now after first breaking into the team back in 2001 and making the position his own.
He only missed two of the ten qualifiers and recently returned from a serious ankle injury but has returned to full fitness in his few games back for his club and country.
A starting member of England's past two World Cup attempts, Cole will be a key member of England's backline once again this summer.
Rio Ferdinand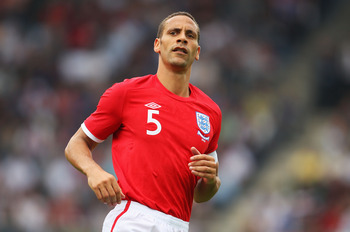 Age: 31
Caps/Goals: 78/3
Previous World Cups: 1998, 2002, 2006
England's captain, Rio Ferdinand, becomes the first ever English player to be named in four World Cup squads. Ferdinand acted as a non-playing member of Glenn Hoddle's 1998 side as a 19-year old but has been a huge present in the quarter-final runs of 2002 and 2006.
He appeared in six of ten qualifiers as injury restricted his appearances increasingly at both club and international level.
Ferdinand started only 12 of Manchester United's 38 Premier League games last season and Capello will be hoping his captain can stay clear of injuries this summer.
Glen Johnson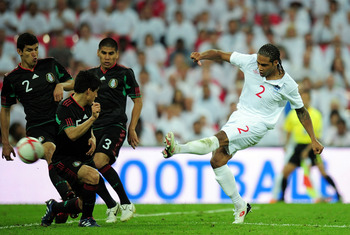 Age: 25
Caps/Goals: 22/1
Previous World Cups: None
Johnson made his England debut back in 2003 as a 19-year old but went almost three years without a cap between 2005 and 2008 before Fabio Capello took over.
Under the Italians, Johnson has shaken off initial competition from Wes Brown to make the right-back spot his own. He has appeared in seven of the qualifying matches.
Johnson showed plenty of attacking promise during qualifications and scored his first goal for his country against Mexico last week.
Ledley King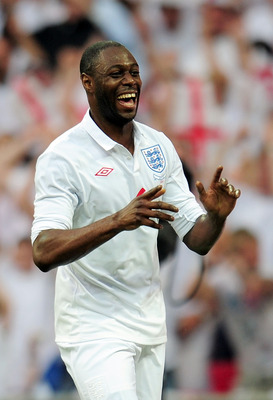 Age: 29
Caps/Goals: 20/2
Previous World Cups: None
Much like Jamie Carragher so too has Ledley King returned from the international wilderness to make the final squad for the 2010 World Cup, although for very different reasons.
King's long-lasting injury problems meant that he hadn't featured for the Three Lions since the summer of 2007. His recent appearance against Mexico at Wembley saw him finally win his 20th cap.
That match remains his only cap under Fabio Capello but King's performances for Spurs which saw them claim the fourth spot in the Premier League was enough to convince the Italian of the center-back's quality.
John Terry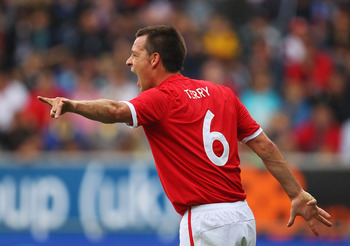 Age: 29
Caps/Goals: 60/6
Previous World Cups: 2006
Terry captained England in his eight appearance during qualifying but will not lead his side out in South Africa.
Nonetheless Terry remains an integral part of Fabio Capello's England side and the Italian will look to his former captain for stability in the face of Rio Ferdinand's uncertain fitness issues.
Terry captained Chelsea to the domestic double this season and will hope that his success can continue into the summer.
Matthew Upson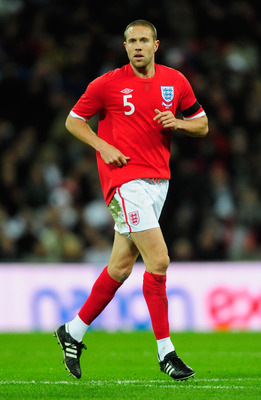 Age: 31
Caps/Goals: 19/1
Previous World Cups: None
West Ham defender Upson won seven caps under Sven Goran Erikkson up until 2004 but then did not feature until he appeared again in Fabio Capello's first game in February 2008.
The center-back appeared in half of England's qualifying games as the first-choice replacement for either Ferdinand or Terry. Although having an ever-present in Capello's squads over the past two and a half years, King may now have leapfrogged him in the pecking order.
Stephen Warnock
Age: 26
Caps/Goals: 1/0
Previous World Cups: None
Wayne Bridge's withdrawal from international selection opened the door for Aston Villa's Warnock (left) who just about held off competition from Everton's Leighton Baines (right) for the second left-back spot as back-up to Ashley Cole.
Warnock was not featured at all in the qualifying campaign and has played only once for the Three Lions. His only cap came in the summer of 2008 when he appeared as a late substitute in the friendly win over Trinidad and Tobago.
This six minute cameo currently marks Warnock down as having the shortest ever career for the Three Lions, a record he will hope to lose in South Africa.
Gareth Barry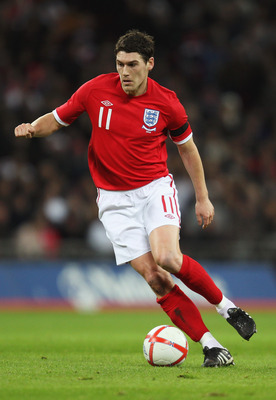 Age: 29
Caps/Goals: 36/2
Previous World Cups: None
Manchester City midfielder Barry has been named in the final squad after much debate over the severity of the ankle injury he suffered a month ago.
Barry is expected to return to training after England's first match against the USA and be available for the second group match against Algeria.
First picked under Kevin Keegan back in 2000, Barry only won eight caps under four managers up until 2007 when Steve McClaren made him a starter for a prolonged period.
Capello has stuck with Barry as his preferred partner over Frank Lampard who now plays midfield. Barry has made 20 appearances under the Italian, more than any other player.
Michael Carrick
Age: 28
Caps/Goals: 22/0
Previous World Cups: 2006
A regular in the Manchester United team that won three consecutive Premier League titles, Carrick struggled with his form towards the end of last season when he failed to start any of the last seven games.
Carrick was only featured once during World Cup Qualifying as Gareth Barry firmly established himself at the front of the pecking order.
Carrick has been a regular squad member under Capello. Capello has overlooked Carrick's recent poor run of form and chosen the midfield ball-player over Tom Huddlestone and Scott Parker.
Joe Cole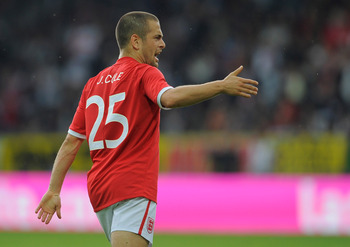 Age: 28
Caps/Goals: 54/10
Previous World Cups: 2002, 2006
Cole returned from a long injury lay off this season but struggled to force his way back into the Chelsea's starting eleven on a regular basis.
Unavailable due to this injury for a long time under Capello, Cole's substitute appearance against Japan during the weekend was his first cap since the 4-1 win over Croatia in Zagreb on September 2008.
Cole scored two goals in his two qualifying appearances and was one of the few England players to come away from the last World Cup with any credit after some splendid individual performances.
Steven Gerrard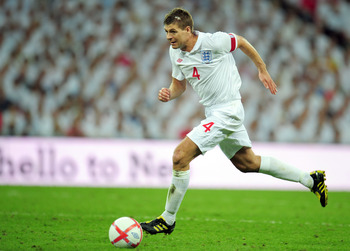 Age: 30
Caps/Goals: 80/16
Previous World Cups: 2006
The Liverpool captain has been an integral part of the England set up for many years but missed the 2002 World Cup due to injury. Although scoring twice at the 2006 edition, he missed his penalty shot in the shoot-out defeat to Portugal.
Gerrard scored three goals in seven qualifying matches. he will most likely line up on the left-hand side of England's midfield where he is given almost a free role to roam and link up with front man Wayne Rooney.
However, Gareth Barry's injury may see Gerrard line-up in a more defensive central midfield role in the first game against the USA.
Frank Lampard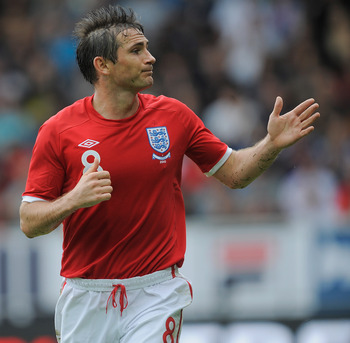 Age: 31
Caps/Goals: 78/20
Previous World Cups: 2006
Frank Lampard goes to South Africa with his best ever goal scoring season at Chelsea in which he found the net 27 times.
A regular scorer for England as their designated penalty taker, Lampard found the net four times during qualifyings as he appeared in all ten matches.
Lampard missed only his second penalty shot for England against Japan on Sunday; his first being a crucial miss as England's first taker in the shoot-out loss to Portugal in the 2006 quarter-finals.
Aaron Lennon
Age: 23
Caps/Goals: 17/0
Previous World Cups: 2006
Lennon looks likely to be England's starting winger on the right-hand side of midfield after Theo Walcott's shock omission.
The Tottenham winger started four of England's qualifiers as he shared duties with Walcott. Lennon impressed at Wembley in the 5-1 victory over Croatia when his pace and dribbling caused huge problems for the visiting defense.
Lennon forced his way into the 2006 squad at the last minute after only making his debut in the warm-up games in June but went on to make three substitute appearances during the tournament, including appearances in both of the Three Lions' knock-out matches.
James Milner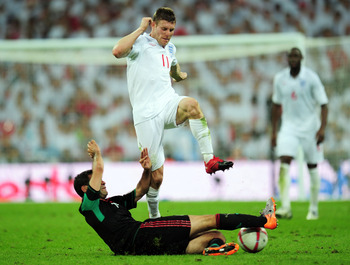 Age: 24
Caps/Goals: 8/0
Previous World Cups: None
PFA's Young Player of the Year, Milner, only made his England debut in August but has racked up eight caps during his impressive season as he quickly established himself as a favorite in Capello's set up.
Milner was a member of England's Under-21 team that reached the European Championship Finals last summer along with Joe Hart. Milner won an incredible 46 caps at that level, a record, before finally progressing to the senior side.
The Aston Villa midfielder made his name as a winger at Leeds and then Newcastle but has adapted to a new role in central midfield for Villa this season with equally successful results.
Expect him to be featured regularly from the bench across the midfield this summer.
Shaun Wright-Phillips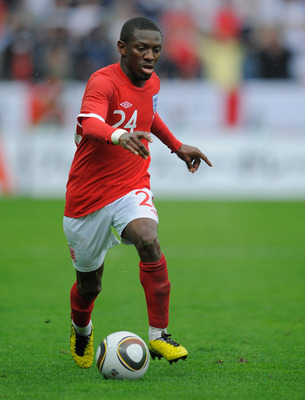 Age: 28
Caps/Goals: 31/6
Previous World Cups: None
Somewhat of a shock inclusion over Theo Walcott, Wright-Phillips will be part of his first World Cup team after just missing out four years ago.
The Manchester City winger only started one qualifying match but appeared as a substitute in four others and has won 13 caps under Fabio Capello in total.
Wright-Phillips found his game time at Eastlands limited after the January arrival of Adam Johnson. Wright-Phillips completed the full 90 minutes only once since December but has edged out his club teammate in the eyes of the England manager.
Peter Crouch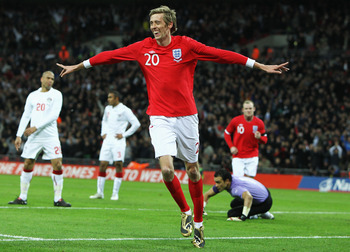 Age: 29
Caps/Goals: 38/21
Previous World Cups: 2006
With seven goals in his past six games for England, Crouch certainly heads to South Africa with some form behind him. Unfortunately his spectacular international scoring rate still doesn't guarantee him a place in Fabio Capello's starting eleven.
The Tottenham striker only played in four of the qualifiers but helped himself to four goals in those appearances as he showed his effectiveness at this level.
Crouch also played in four of England's five 2006 World Cup games, scoring once against Trinidad and Tobago.
Jermain Defoe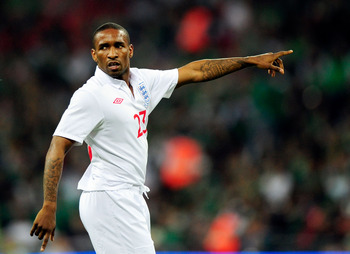 Age: 27
Caps/Goals: 40/11
Previous World Cups: None
Crouch's club teammate Jermain Defoe has slowly worked his way up Fabio Capello's pecking order and eventually fought off the challenge of former teammate Darren Bent for a place in the squad.
Defoe scored four goals in his five appearances during qualifying but it was his two-goal haul as a second-half substitute in Amsterdam to salvage England a draw in their friendly match against the Netherlands. This further proves his ability to take chances at the very highest level.
Emile Heskey
Age: 32
Caps/Goals: 58/7
Previous World Cups: 2002
Seven starts in England's ten qualifying games effectively booked Emile Heskey's place at a second World Cup after a relatively lackluster season for Aston Villa which saw him score only five goals.
His goal record in international play is still much maligned but critics will point to his partnership with Wayne Rooney during the side's near perfect run during the qualifying round. This certainly brought the best out of the Manchester United star whilst Heskey himself only plundered one goal against Kazakhstan.
Wayne Rooney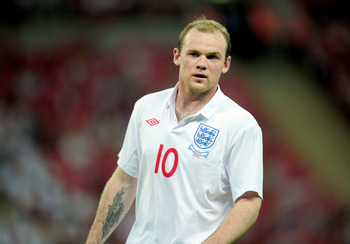 Age: 24
Caps/Goals: 60/25
Previous World Cups: 2006
With 20 appearances under Fabio Capello, Rooney, alongside Gareth Barry, is the Italian's most picked player during his two and a half year tenure. Capello will surely hope that his star striker remains as fit and available over the summer.
Rooney has been entirely prolific during this spell as well and struck nine times in nine qualifying games to finish as the second top scorer in the European qualifying section.
A red card against Portugal in the 2006 quarter-final ended both Rooney and England's chances in the last World Cup. A fully fit Rooney will surely make a bigger and better impact this summer after a career high season saw him net 34 times at club level.
Keep Reading

England (National Football): Like this team?