SEC Football 2010: Predicting the Outcome of Every League Game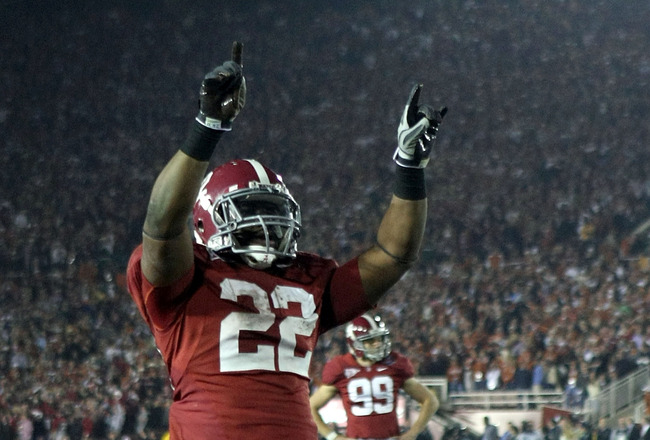 If this were an NCAA Tournament bracket, you'd be prudent to ignore competition and pick Alabama and Florida straight through to the championship—then flip a coin when they play each other.
For the past two regular seasons, only one SEC team has upset either the Gators or Crimson Tide—that would be Ole Miss, a one-point winner in The Swamp back in 2008.
Many project that SEC trend to continue this fall, along with one other—four straight BCS Championships.
Of course, there are new and interesting wrinkles in 2010, like Urban Meyer's health, a new coaching staff at Tennessee, and the fact that roughly half the conference has yet to settle quarterback competitions. However, far and away the most intriguing will occur on October 2, when Florida travels to Tuscaloosa for a regular season showdown with the Tide.
The next installment of college football's hottest rivalry is just one of 48 games we'll pick in the coming slides.
Week Two: Auburn at Mississippi State 9/9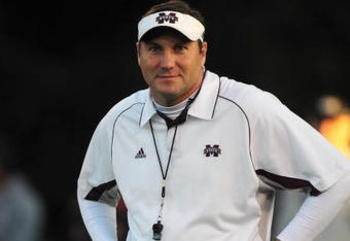 What better way to come storming out of the gates than with a Thursday night prime time event—and an upset special.
Cameron Newton has been named the starter at Auburn, and the Tigers are rightly projected to finish higher in the SEC standings. But with only a home game against measly Arkansas State under his belt, a weeknight road crowd and a national audience will leave Newton a bit wide-eyed.
Pick: Dan Mullen wins this battle of second-year coaching staffs and sets a raucous tone for the 2010 SEC season.
W – MSU (1-0)
L – Auburn (0-1)
Week Two: LSU at Vanderbilt 9/11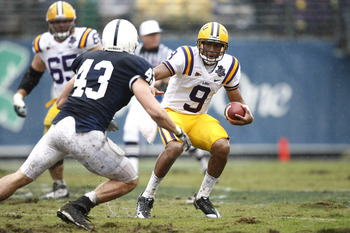 The Tigers open with one of the biggest intersectional games on the entire 2010 schedule—a neutral-site game against North Carolina.
Depending on the outcome, LSU will either be soaring with confidence or desperate not to start 0-2. Either emotional formula should work fine against the consensus SEC cellar-dweller, Vanderbilt.
Pick: Tigers
W – LSU (1-0)
L – Vandy (0-1)
Week Two: Georgia at South Carolina 9/11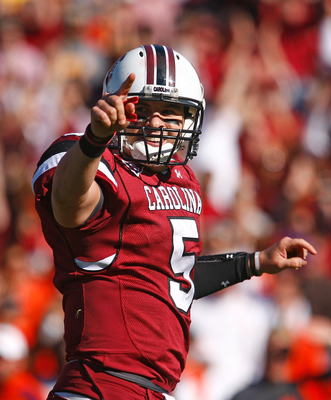 The Quarterback Controversy Classic is the toughest matchup to call in the opening week of SEC competition.
Georgia will go with a redshirt freshman, Aaron Murray. South Carolina is threatening to go with a true freshman, Connor Shaw.
At this point, there are fewer question marks on the Gamecocks defensive side of the ball, with seven returning starters from a unit that finished in the top 15 nationally in 2009.
Pick: USC thanks to home field and Ellis Johnson's established schemes.
W – South Carolina (1-0)
L – Georgia (0-1)
Week Three: Arkansas at Georgia 9/18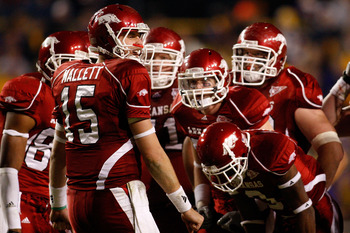 Is the fact that Georgia can ill-afford an 0-2 start in conference play enough to predict a win over Arkansas?
Not if you believe that the Hogs will be as potent offensively as the folks in Fayetteville are expecting.
Georgia was abysmal against the pass last season—almost as bad as Arkansas, in fact—and Ryan Mallett will dissect even the most improved of defenses. The Bulldogs have some skill players who can capitalize on any Arkansas shortcomings, too. But they don't yet have a projected first-rounder under center.
Pick: The Hogs will outscore the Bulldogs and notch an early road tally for the SEC West.
W – Arkansas (1-0)
L – Georgia (0-2)
Week Three: Mississippi State at LSU 9/18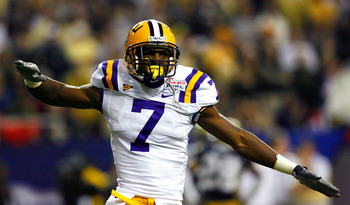 LSU needed an opening pick-six, a late goal line stand, and a punt return for a touchdown in between to weather the conditions and the crowd in Starkville a year ago.
It shouldn't be nearly as difficult this time around.
Jordan Jefferson played one of his best games of the 2009 season against the Bulldogs, and cornerback Patrick Peterson returned that interception for a score. Both are back to help the Bayou Bengals bounce back.
Pick: LSU makes it 11 straight over Mississippi State.
W – LSU (2-0)
L – MSU (1-1)
Week Three: Vanderbilt at Ole Miss 9/18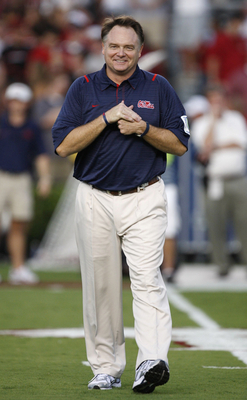 Vanderbilt is the perfect SEC-opening opponent for an Ole Miss program that's trying to buy the offense some time to mature.
The Commodores couldn't buy points in their spring game, much less in the 2009 regular season. And Larry Smith hasn't exactly nailed down the quarterback position for Vandy.
Meanwhile, the Rebels defense will ensure that their signal caller, Nathan Stanley, won't be asked to do much more than put on the pads for this one.
Pick: It has the potential to be a low-scoring, one-possession grinder. However, Mississippi should control start-to-finish.
W – Ole Miss (1-0)
L – Vanderbilt (0-2)
Week Three: Florida at Tennessee 9/18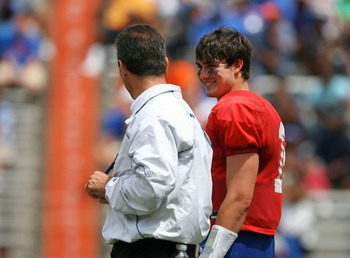 So obvious, it's scary.
There literally are no reasons to take the Tennessee Vols.
Maybe because of Neyland Stadium? Perhaps because Derek Dooley will game plan all summer and provide a first-year head coach bump?
But really, only because it's so obvious, it's scary to go Gators here.
Pick: Not enough to scare us stupid. Florida going away.
W – Florida (1-0)
L – Tennessee (0-1)
Week Four: Alabama at Arkansas 9/25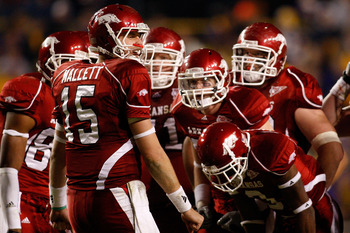 Auburn fans, cover your ears.
Here's Alabama's most likely regular-season loss.
What's Arkansas' biggest strength? Quarterback.
What's the Tide's biggest weakness (fully realizing that's a relative term)? Secondary.
Javier Arenas. Gone.
Kareem Jackson. Gone.
Marquis Johnson. Gone.
Justin Woodall. Gone.
Robby Green. Gone.
The Pick: No doubt, the Crimson Tide has a wonderful new wave of talent ready to shine. But between Ryan Mallet and the Hogs' home field advantage, this has "L" written all over it for Nick Saban.
And if you need another reason to bet against 'Bama, this trip to Arkansas comes a week before the showdown with Florida.
Trap. Game.
W – Arkansas (2-0)
L – Alabama (0-1)
Week Four: USC at Auburn 9/25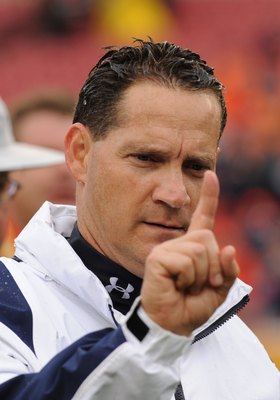 We haven't seen these two programs compete under their current regimes. In fact, it's been four years since the Gamecocks and Tigers last collided, a 24-17 Auburn victory in 2006.
Both return 15 starters.
Both could be breaking in new starting quarterbacks, although my gut instinct says Spurrier will ultimately settle on Stephen Garcia.
I think it will ultimately be decided by which team is getting better contributions from underclassmen—specifically along the offensive line for South Carolina and in Auburn's front seven.
The Pick: The Gamecocks will venture into enemy territory for the first time on September 25, and I can't find enough reasoning to be convinced in their ability to come away with a road win. Auburn in a one-possession game.
W – Auburn (1-1)
L – South Carolina (1-1)
Week Four: Georgia at Mississippi State 9/25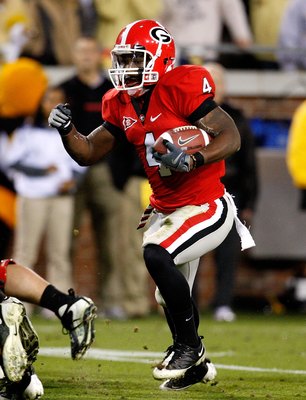 "Surely, he won't pick Georgia to start 0-3 in SEC play."
You're right.
The Bulldogs won't dig that deep of a hole.
The Pick: With their backs against the wall, Aaron Murray having learned from some early lumps, and Mark Richt's job security at stake, Georgia runs right down Mississippi State's throat, picking up a convincing roadie.
W – Georgia (1-2)
L – MSU (1-2)
Week Four: Kentucky at Florida 9/25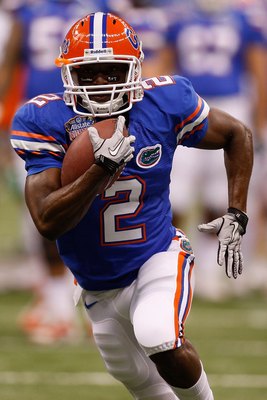 One returner on the offensive line and a bunch of new faces on defense is not the kind of baggage Kentucky wants to bring to Florida.
The Wildcats believes their defensive future isn't too far off, with the likes of Qua Huzzie making noise in the spring and blazing the trail for the reinforcement of Big Blue recruits. But Kentucky doesn't have nearly the depth or experience to run with the Gators weapons.
Meanwhile, Florida is actually in a similar position with it's defensive two deep. However, the star caliber is a bit higher and so are the expectations.
The Pick: Some danger here of the young Gators looking ahead to the showdown with Alabama, but I suspect this is where Florida starts to find it's new offensive identity—one that will be truly tested in Tuscaloosa.
W – Florida (2-0)
L – Kentucky (0-1)
Week Five: Florida at Alabama 10/2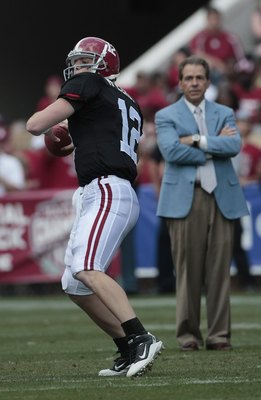 Don't get me wrong—this will be a game worthy of its hype.
However, it's also a straightforward pick.
I don't question that Florida has the talent, coaching and drive to return to the SEC Championship. And if the Gators do, I wouldn't be surprised to see them win it.
But not in Tuscaloosa. Not this soon into John Brantley's tenure. Not against a significantly more experienced Alabama offense. And especially not against an equally motivated Crimson Tide group coming off a predicted upset at Arkansas.
The Pick: The Gators get their first taste of growing pains, but also grow up in a hurry, losing at Bryant-Denny.
W – Alabama (1-1)
L – Florida (2-1)
Week Five: Tennessee at LSU 10/2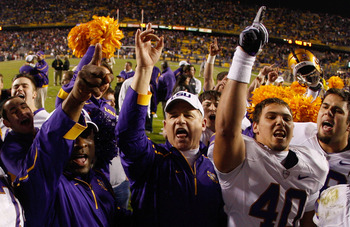 The SEC schedulers frowned upon Tennessee.
Heck, it looks like the SEC schedulers let Lane Kiffin draw it up for the Vols on his way out of dodge.
Three of the first five league games on the road. And the two home games in that stretch? Those are against Florida and Alabama.
The Pick: We'll get to the rest in the coming slides, but Tennessee isn't winning at LSU, and the Vols very well may have to wait until November to notch their first SEC win of 2010.
W – LSU (3-0)
L – Tennessee (0-2)
Week Five: Kentucky at Ole Miss 10/2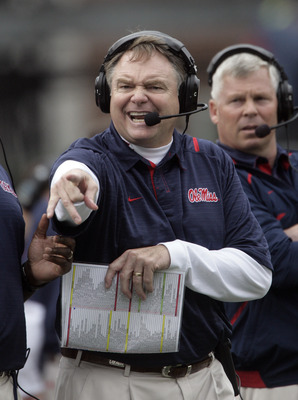 The defensive line of Ole Miss against Kentucky's rebuilt offensive line represents one of the biggest mismatches of the season.
The Rebels linebackers aren't bad either.
The Pick: There's no guarantee Mississippi will put up enough points to run away with this one at home, but they should.
W – Ole Miss (2-0)
L – Kentucky (0-2)
Week Six: Alabama at South Carolina 10/9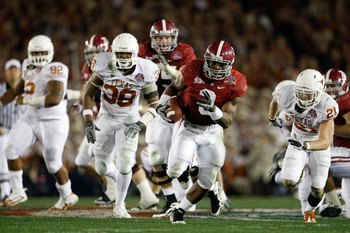 This deep into the season, obviously the game may have changed.
Team-altering injury. Rapid development of a dark-horse. Drastic overrating of an alleged contender.
But in Alabama, you know what you're going to get because we've seen the finished product before. Meanwhile, Steve Spurrier himself doesn't know what he's going to get from his 2010 Gamecocks, so how could we?
Any list of potential SEC upsets should have this game circled, especially since USC has the open date to prepare for the defending BCS champions. But as it stands, it'd be an awfully hard case to make for the Gamescocks in terms of matchups.
The Pick: Coming off a bloodying win over Florida the week before, don't expect the Tide's best game. Just hope it's good enough to get by South Carolina.
W – Alabama (2-1)
L – USC (1-2)
Week Six: Auburn at Kentucky 10/9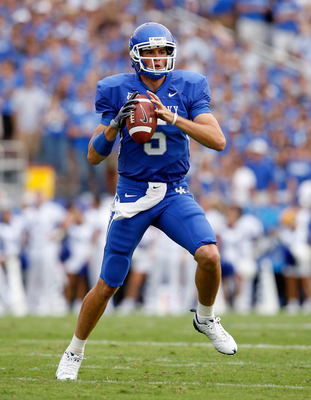 This is almost exactly the point in last year's season at which Auburn began to implode—losing five of seven before staggering across the finish line.
It would be wrong to judge this year's senior-laden group based on last year's results. However, it is fair to point out the fact that the Tigers play 11 weeks without a bye, and the program is still in a mode where peaks and valleys are going to occur.
The Pick: Kentucky thrives on opportunities like this. The Wildcats find ways to get the three or four conference wins they need to go bowling. Knocking off Auburn would give them their first of 2010.
W – Kentucky (1-2)
L – Auburn (1-2)
Week Six: LSU at Florida 10/9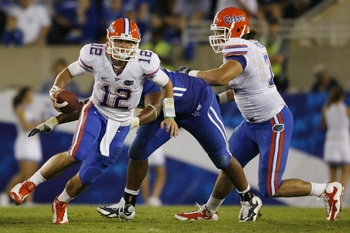 At the time, it was the worst loss of the Les Miles era—still might be.
Granted, Tim Tebow's no longer the Sergeant of the Swamp and mercifully for LSU, Percy Harvin's is now torturing NFL defensive coordinators. Jarrett Lee isn't going to throw a pair of picks for the Tigers in 2010, either. However, I see parallels between Florida's 2008 thrashing of LSU and what could happen this fall.
The Tigers should get to Gainesville undefeated—as they did two years ago—and would be a top-10 team if they do start 5-0. Meanwhile, the Gators will be smarting from their first loss of the year—at Tuscaloosa the week prior.
The Pick: That 2008 home win over the Bayou Bengals set the trajectory for Florida to win the National Championship. I would expect Urban Meyer to establish a similar course versus LSU in 2010. Brantley blossoms and earns his first signature win, albeit in a less dominant fashion than what Tebow and company orchestrated in the last home game against the Bayou Bengals.
W – Florida (3-1)
L – LSU (3-1)
Week Six: Tennessee at Georgia 10/9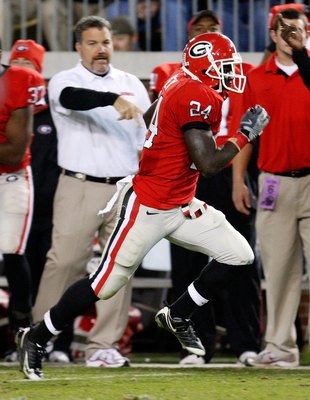 Tennessee's 4-4 had a much different taste to it than Georgia's did a year ago. And that 45-19 throttling in Knoxville was one of the bitterest pills the Bulldogs had to swallow.
I remember wondering at the time if the Vols and Lane Kiffin had so quickly supplanted Georgia as the perennial challenger to Florida's reign in the East. 12 months later, the tide has once again changed and the Bulldogs should return the favor.
The Pick: A must-win at home for Georgia, after a projected 1-2 start in league play, and with Mark Richt's job on the line.
W – Georgia (2-2)
L – Tennessee (0-3)
Week Seven: Ole Miss at Alabama 10/16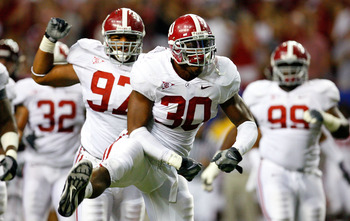 Nick Saban called it his program's most complete game to date when the Tide smothered the Rebels in Oxford a year ago—intercepting Jevan Snead four times, holding Dexter McCluster in check to the tune of 37 yards of offense, limiting Shay Hodge to two grabs, and covering a couple of Ole Miss' special teams turnovers to boot.
The Pick: Without McCluster and Hodge—even without Snead throwing to the opposition—it's hard to envision the Rebels improving much against an Alabama defense that's had their number ever since Saban rolled into town.
W – Alabama (3-1)
L – Ole Miss (2-1)
Week Seven: Arkansas at Auburn 10/16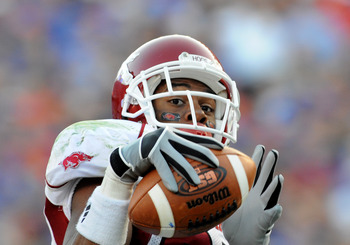 Arkansas' defense is less impressed with Gus Malzahn's high-octane scheme than any unit in the country.
When the Hogs' former offensive coordinator returned to Fayetteville with then-undefeated Tulsa in 2008, his Golden Hurricane managed just a field goal in the second half of a 30-23 loss.
Then with Malzahn calling the shots on The Plains in 2009, Arkansas mustered one of it's best defensive performances of the season against Auburn, turning the Tigers over three times and holding them under 400 yards of total offense—yes, an accomplishment.
The Pick: Auburn fans, I'm not sinking your ship. Trust me. But this isn't the upset to pick based on track record. Arkansas picks up a very valuable road win.
W – Arkansas (3-0)
L – Auburn (1-3)
Week Seven: Mississippi State at Florida 10/16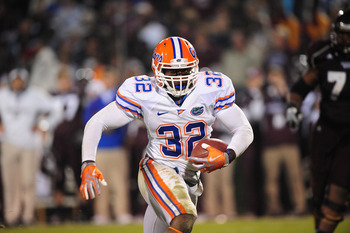 Tim Tebow threw more touchdown passes to Bulldogs (2) than Gators (0), Urban Meyer admitted he didn't coach well, the game was played in Starkville, and Florida still found a way to beat Mississippi State and former offensive coordinator Dan Mullen.
Granted, Dustin Doe's pick-six should have been overturned.
The Pick: 2009 seemed like the perfect storm and didn't pan out. Even with better odds, doubtful the 'Dogs will get as good a look at it this year.
W – Florida (4-1)
L – MSU (1-3)
Week Seven: South Carolina at Kentucky 10/16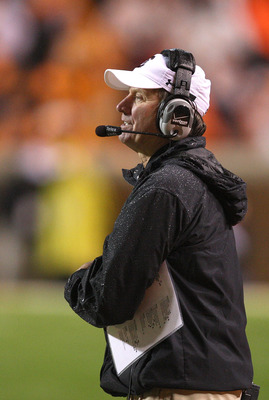 I could give you lots of reasons Kentucky could pull this off—not the least of which would be, the Wildcats might have won at Columbia last season with a healthy Mike Hartline in the second half.
But only one mark matters in this series: Steve Spurrier is 17-0 against UK.
The Pick: 18-0.
W – South Carolina (2-2)
L – Kentucky (1-3)
Week Seven: Vanderbilt at Georgia 10/16
I really believe Georgia has the opportunity to build some mid-season momentum that will produce a compelling Cocktail Party. The Bulldogs should bring (at least) a five-game winning streak into the Florida contest, and a home breather against Vandy is an ideal way to start the second half of the schedule.
The Pick: The Richt rumors finally die down—at least temporarily.
W – Georgia (3-2)
L – Vanderbilt (0-3)
Week Eight: Alabama at Tennessee 10/23
Tennessee's five new starters on the offensive line are going to have to grow up in a hurry to be prepared for Alabama's attacking defense. The Vols thin defensive line could also use another wave of recruiting or two before pursuing Mark Ingram and Trent Richardson.
The Pick: Don't let the Mount Cody blocked field goal fest from a year ago fool you. This is not Lane Kiffin's Tennessee team. If the Crimson Tide shows up, that should be enough.
W – Alabama (4-1)
L – Tennessee (0-4)
Week Eight: Ole Miss at Arkansas 10/23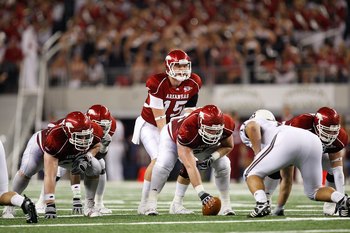 There will be some who look at this matchup, remember the 30-17 thumping Ole Miss laid on Arkansas last year and think, "Upset in the making." Especially since Houston Nutt is 2-for-2 against his former program.
To steal a classic college football cliché, "Not so fast my friend."
Jevan Snead had a career outing that Saturday. Likewise for Dexter McCluster. Both are gone in 2010, as are starting corners Cassius Vaughn and Marshay Green.
The Pick: Ole Miss got transfer and JuCo help in the secondary, but look for the Hogs to throw all over the inexperienced Rebels defensive backfield and break the Houston Hex.
W – Arkansas (4-0)
L – Ole Miss (2-2)
Week Eight: LSU at Auburn 10/23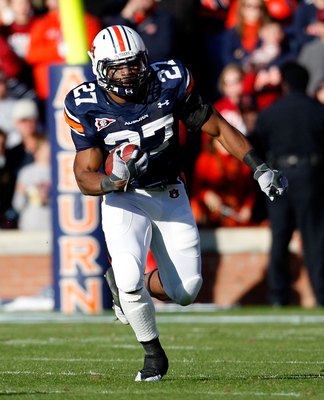 I promise this is the only pick I'll make without at least giving a semblance of a legitimate justification.
For my money, last year's win over Auburn stands as the high-water mark in Jordan Jefferson's career. He was dynamic in the passing game and scored with his feet.
Meanwhile, Auburn's offense puttered to a paltry 193 yards in Death Valley and the Bayou Bengals beat the visiting Tigers for a third straight season.
And despite all that…
The Pick: War Eagle—purely a gut instinct, which is why I'd keep my bank account a mile away from this game.
W – Auburn (2-3)
L – LSU (3-2)
Week Eight: Georgia at Kentucky 10/23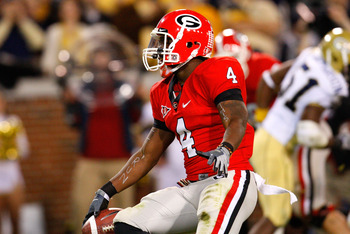 Let the cat out of the bag a bit, here, by previously projecting that Georgia would take a five-game winning streak into the Florida game.
The teams that beat the Bulldogs this season are going to have elite defensive lines, linebacking corps or both. Kentucky doesn't have either. And while it sounds like Joker Phillips has some recruiting pieces to plug holes in the middle left by Micah Johnson and Sam Maxwell, it's a leap of faith to anticipate they'll be able to track down Washaun Ealey and Caleb King—one of the top 10 tandems in the game.
The pick: This victory will be harder-earned than the previous two home contests against Tennessee and Vanderbilt, but the result will be the same.
W – Georgia (4-2)
L – Kentucky (1-4)
Week Eight: South Carolina at Vanderbilt 10/23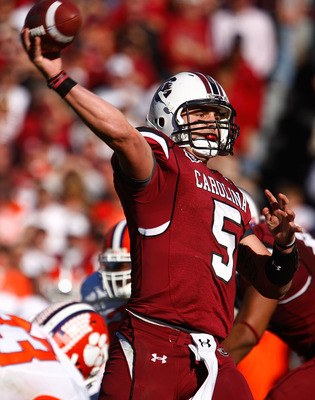 Those of us who don't have an SEC rooting interest would get a kick out of seeing the South Carolina—Florida game (the league finale for both teams) mean something on November 13.
Not sure I buy into the Gamecocks that wholeheartedly, but I certainly won't eliminate them at this stage.
The Pick: The secondary is Vanderbilt's strength, so it may not be Garcia's (or Murray's) best outing. But the Commodores aren't putting up enough points against USC's defense to compete in this one.
W – South Carolina (3-2)
L – Vanderbilt (0-4)
Week Nine: Auburn at Ole Miss 10/30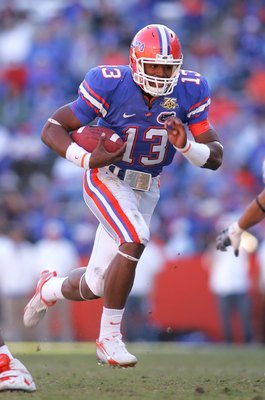 Auburn gives Mississippi fits—holding a 25-9 series advantage including wins in five of the last six. So while it's always difficult to pick a road team in a relatively evenly-matched SEC contest, this is one instance where I'm willing to do it.
If both are healthy this deep in the season, the Tigers' offensive line versus the Rebels' defensive line represents a clash of strengths. However, the onus is on Ole Miss to adjust after Auburn racked up more than 400 yards and 33 points in last year's contest.
The Pick: Cameron Newton will develop faster this season if for no other reason than he'll be better protected than Nathan Staley and/or Raymond Cotton—not to mention, he has more upside. Auburn backs up the LSU upset with a mature road win.
W – Auburn (3-3)
L – Ole Miss (2-3)
Week Nine: Georgia at Florida 10/30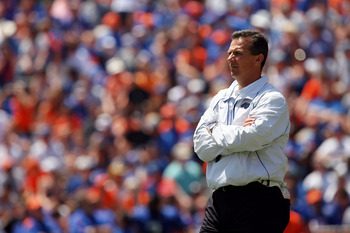 Hard to even remember what this rivalry looks like without Tim Tebow.
But barring a health setback, we know what it'll look like with Urban Meyer on the sideline.
For my money, he's the best big game coach in the sport—and only Nick Saban and Boise State's Chris Petersen are even in the same stratosphere. This year, Meyer also gets an extra week to prepare for the Bulldogs.
The Pick: Florida's has a combined 63 point advantage in the Cocktail Party the past two years. Obviously, the pieces are drastically different in 2010, but that's a mountain of points for Georgia to overcome. Meyer and Florida frustrate Richt again.
W – Florida (5-1)
L – Georgia (4-3)
Week Nine: Kentucky at Mississippi State 10/30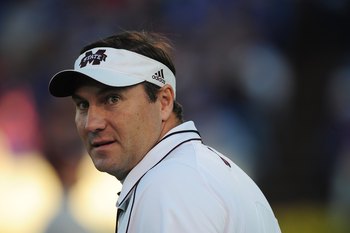 Here's one trend that simply can't continue in 2010.
The road team has won the Kentucky-Mississippi State contest four years running. That's just bizarre.
The Pick: Finally, home field advantage means something in this series—usuallly worth a field goal, right—and MSU kicks a 35-yarder to win at the wire.
W – Mississippi St. (2-3)
L – Kentucky (1-5)
Week Nine: Tennessee at South Carolina 10/30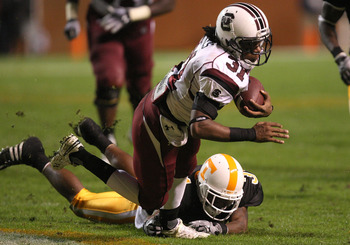 Tennessee can't start 0-5 in SEC play, right? The Vols haven't fallen that far, have they?
Well, yes and no.
Tennessee isn't going to run the table in reverse—the straights aren't that dire and the cupboard isn't that empty.
However, the Vols caught a bad schedule setup for a transition year. Their first five league opponents are better than they are, and the two they've played at home to this point—Florida and Alabama—are arguably the best in the nation.
The Pick: South Carolina hands Derek Dooley another slow-start setback. However, the Vols aren't far from breaking through.
W – South Carolina (4-2)
L – Tennessee (0-5)
Week Nine: Vanderbilt at Arkansas 10/30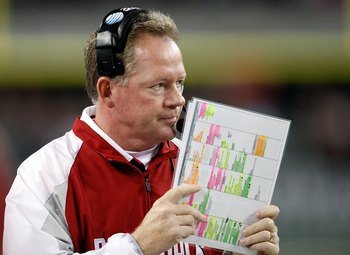 Unlike Tennessee, Vanderbilt definitely is a threat to run the table in reverse—again.
Arkansas could be the best offensive team in the league. The Commodores are the undisputed worst.
The Pick: A blowout in Bobby Petrino's favor.
W – Arkansas (5-0)
L – Vandy (0-5)
Week Ten: Alabama at LSU 11/6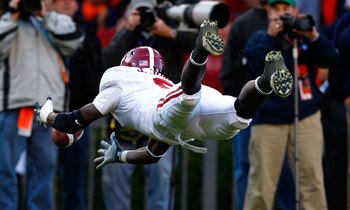 Several factors at work here:
1) Alabama could still be undefeated on November 6. (Note: I have predicted a loss at Arkansas, but clearly that's not iron-clad.) However, I'm thoroughly convinced the Crimson Tide won't win 26 in a row—or 27 (SEC Championship), or 28 (BCS title) for that matter. In fact, it's in Alabama's best interest to shed that yoke in the regular season.
2) LSU played the Crimson Tide as well or better than any other opponent in 2009—Florida included—leading Alabama into the fourth quarter despite losing a starting quarterback and running back to injury.
3) The 2010 edition will be contested in Baton Rouge.
Even if Alabama has dropped one previously, LSU is the still the second-best bet to derail Alabama.
The Pick: That said, I still like the Arkansas upset and don't see Alabama losing more than one SEC game this fall.
W – Alabama (5-1)
L – LSU (3-3)
Week Ten: Arkansas at South Carolina 11/6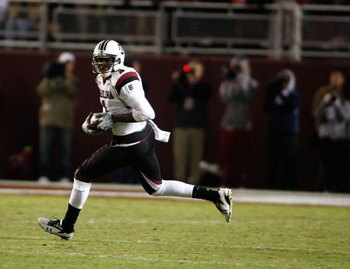 Here's another strength versus strength matchup: South Carolina and Arkansas have returning pass-catchers all over the field and this could be a high-octane offensive game.
I've obviously drunk the Kool-Aid with respect to Arkansas' defensive improvement, but South Carolina is much more established in that department, having fielded a top 15 defense in back-to-back seasons.
The Pick: If there's one team on Arkansas' schedule that can Hog-tie the Razorbacks' passing prowess, it's USC. Plus, Bobby Petrino might have to cope with a bit of the Wily Coyote effect after his team starts 5-0 in SEC competition.
W – USC (5-2)
L – Arkansas (5-1)
Week Ten: Florida at Vanderbilt 11/6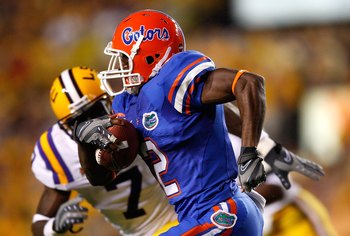 This could go down as the biggest upset of the season.
The Pick: It won't.
W – Florida (6-1)
L – Vanderbilt (0-6)
Week Eleven: Mississippi State at Alabama 11/13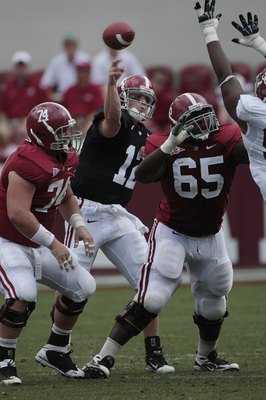 Mississippi State is going to make a late-season push for bowl eligibility—but it won't start this week against Alabama.
The Pick: The Crimson Tide exposed this as an utter mismatch in Starkville last year. Greg McElroy threw right over the top of that Bulldogs defense. Can't expect it to get much better for MSU in Tuscaloosa.
W – Alabama (6-1)
L – MSU (2-4)
Week Eleven: Ole Miss at Tennessee 11/13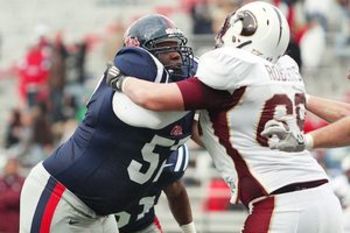 Dexter McCluster is only a mile or so behind Lane Kiffin on the persona non grata list in Knoxville. Mercifully for Vols fans, he won't be there to run amok on Tennessee in 2010.
However, the battle in the trenches has swung even further in Ole Miss' favor in 2010.
In terms of experience, the Vols rebuilt offensive line is as green as their jerseys are orange. Meanwhile, the Rebels feel like they've got the best defensive front in the conference.
The Pick: Tennessee's big uglies may grow up in a hurry, but Jerrell Powe and crew are going to push them around. Vols still winless in the SEC.
W – Ole Miss (3-3)
L – Tennessee (0-6)
Week Eleven: Georgia at Auburn 11/13
What kind of contributions are the Tigers going to get from Mike McNeil, Aairon Savage and Zac Etheridge? Will any of them be a shadow of their former selves after missing time in 2010 due to injuries? Or will all three veterans solidify Auburn's back end by returning to form?
That position group will likely be the key to holding serve at home against Georgia—as they'll not only be needed to hawk A.J. Green, but also to support the run versus Caleb King and Washaun Ealey.
Green did not play in the second half of the 2009 contest, watching with his arm in a sling as his Bulldogs rallied from a 14-0 deficit to win.
The Pick: Trusting that the Bulldogs will have a viable option under center by this point in the season, and judging from the lack of depth and endurance Auburn exhibited in the latter half of 2009, Georgia wears down the Tigers much as they did a year ago.
W – Georgia (5-3)
L – Auburn (3-4)
Week Eleven: South Carolina at Florida 11/13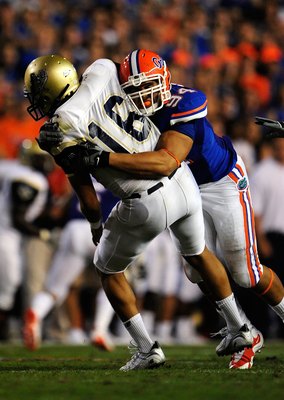 I wonder if Stephen Garcia still has Justin Trattou nightmares.
South Carolina has top-ranked Florida on the ropes until that fourth quarter interception in 2009—which provoked a classic Spurrier headset spike.
Don't know if Garcia will be on the field when the Gators and Gamecocks collide in The Swamp. But barring injury, Trattou will be. And he'll be reinforced by arguably the best defensive line class in recruiting history—Ronald Powell, Sharrif Floyd, and Dominique Easley—all of whom could have nine games worth of experience under their belt at this point of the season.
The Pick: Urban Meyer hasn't been defeated by his predecessor since their first meeting back in 2005. His teams—and his talent—get better as the season wears on. Rest assured, by November, this Gators squad is going be elite. When in doubt, pick the coach.
W – Florida (7-1)
L – South Carolina (5-3)
Week Eleven: Vanderbilt at Kentucky 11/13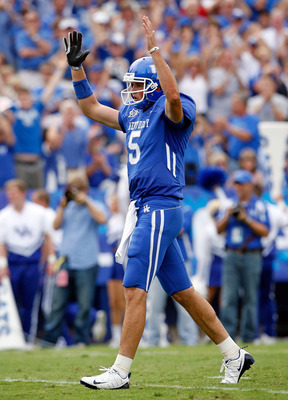 Odds are, Kentucky's going to need to win one of it's final two games—and maybe both—to become bowl eligible.
Home to Vanderbilt is the Wildcats best bet, so expect them to capitalize. The Commodores come in after this four-week gauntlet: at Georgia, South Carolina, Arkansas, Florida.
They'll be beaten up and out of gas.
Conversely, Kentucky has a relative breather with Charleston Southern on November 6 and the motivation of something to play for down the stretch.
The Pick: Mike Hartline only played in one contest in the second half of 2009—at Vanderbilt. Expect the Wildcats QB to make amends for that 2-of-6, one interception performance. That is, unless Kentucky decides to ram it right between the tackles for another 300 rushing yards against the Commodores.
W – Kentucky (2-5)
L – Vanderbilt (0-7)
Week Twelve: Arkansas at Mississippi State 11/20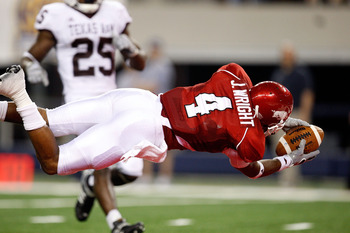 A pairing of the two worst passing defenses in the SEC from last season.
Unfortunately for the Bulldogs, they also ranked second-to-last in passing offense—whereas Arkansas led the league through the air in 2009 and will again in 2010.
Mississippi State is really going to have to wreak havoc up front to have any chance of keeping Ryan Mallett and the Hogs in check. I'm talking career games for Pernell McPhee, Sean Ferguson and the rest of the defensive line—truly the Bulldogs best position group.
And if it's possible for the Bulldogs to rush for 300-plus again Arkansas again, that wouldn't hurt in terms of keeping Mallett off the field, either.
The Pick: Mallet threw for five scores to four different receivers—albeit with two picks—in Fayetteville last season. Expect a similar aerial assault for Arkansas, as the Razorbacks stay in the driver's seat in the SEC West hunt with one week to play.
W – Arkansas (6-1)
L – MSU (2-5)
Week Twelve: Ole Miss at LSU 11/20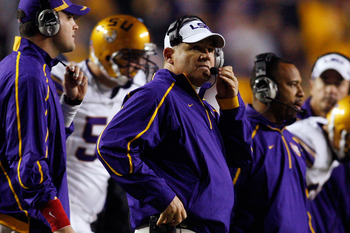 The pressure will also be on LSU to keep pace—as the Tigers need to win out and hope Auburn can upset Alabama in the Iron Bowl.
This is of course the perfect opportunity to relive Les Miles' clock mismanagement in the 2009 game in Oxford—a slow motion debacle that is in no small part responsible for the simmering temperature of the head coaches' office chair.
The 17 painstaking seconds lost at the end of the 25-23 loss to the Rebels prompted my favorite quotation from last year, courtesy of Mr. Miles:
"It's my fault that we didn't finish first in that game."
The Pick: LSU—so long as Les doesn't screw it up.
W – LSU (4-3)
L – Ole Miss (3-4)
Week Twelve: Tennessee at Vanderbilt 11/20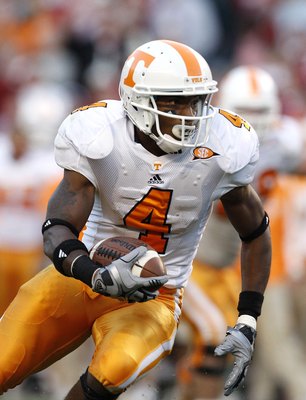 Dear Tenneessee Fan,
It was at this point I realized I had not picked the Vols to win a league contest. And as it's getting late in the season, that just didn't seem logical.
So I swear to you, I went back through every pick I made against Tennessee and searched for a stone cold reason to reverse it—and came up empty.
I don't know whether to apologize, offer a comfort hug, or both.
The Pick: How about I extend a win over Vanderbilt as an olive branch, instead?
W – Tennessee (1-6)
L – Vanderbilt (0-8)
Week Thirteen: Auburn at Alabama 11/26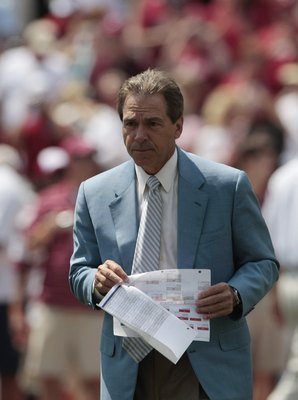 I might be accused of crafting this hypothetical season with the intent of taking the SEC season (and this slide show) down to the wire.
In all sincerity, there was no predetermined design—at least to this point.
However, at some point, the means have to justify the ends, and Alabama is my pick to win the SEC. I can't in good conscience publish a prediction to the contrary.
So how does it happen in the final week of the regular season?
The Pick: It starts with an Iron Bowl win over Auburn (and simultaneously an Arkansas scouting report is sent by courier from Nick Saban to his old soldier Les Miles).
W – Alabama (7-1)
L – Auburn (3-5)
Week Thirteen: Mississippi State at Ole Miss 11/27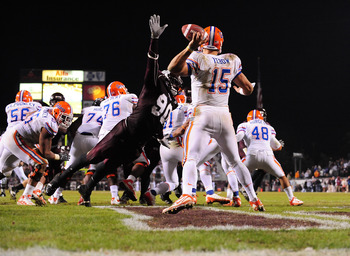 The home team has won 10 of the last 11 Egg Bowls—but we won't dismiss the road Bulldogs that easily.
Last year's contest was a coming out party for Chris Relf, who is expected to split time with redshirt freshman Tyler Russell. Ole Miss struggled to contain his dual-threat ability, while Jevan Snead simply struggled through his late-season tailspin.
Assuming the Rebels manage to sweep another soft non-conference slate, their post-season eligibility will have already been secured, whereas it's highly likely the Bulldogs will have to have this one to earn a thirteenth game.
The Pick: So Ole Miss has the revenge factor and home field. MSU has more to play for and the confidence carry-over from last year's throttling. I'll stick with Mullen and Relf trumping the host-team's track record in this series. Bulldogs go bowling.
W – Mississippi St. (3-5)
L – Ole Miss (3-5)
Week Thirteen: Kentucky at Tennessee 11/27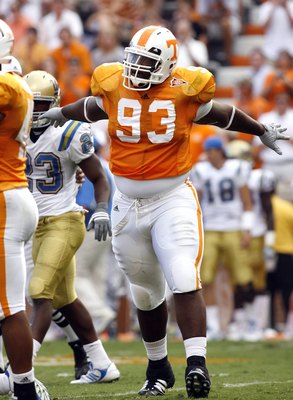 Here's one track record that can't be ignored—Tennessee has won 25 in a row over Kentucky thanks to an overtime escape in the 2009 border rivalry.
But there are new faces at the front of both programs, and breaking that nasty streak has to be a priority for Phillips (not that maintaining the streak won't be a priority for Dooley).
Desperate for some positive momentum heading into the off-season, the Vols young offensive line plays it's best game of 2010, Tauren Poole rushes for 100-plus, wide receiver Da'Rick Rogers gives Tennessee a glimpse of the future, and whatever quarterback the Vols settle on finds a way to get the ball to Rogers and the rest of his talented receiving corps.
The Pick: Neyland ensures that 25 becomes 26.
W – Tennessee (2-6)
L – Kentucky (2-6)
Week Thirteen: LSU at Arkansas 11/27
Remember, it's the means have to justify the ends principle. But there's also legitimate reason to believe LSU can go into Arkansas and win one for Alabama.
It's going to take a phenomenal defensive effort to beat the Hogs in 2010—particularly in the secondary. The Tigers have one of the best defensive backfields in the country, much less the SEC. Patrick Peterson versus Ryan Mallett promises to be the best showdown of the season, especially given what's at stake.
The Pick: Mallett goes away from Peterson, only to find LSU sophomore Morris Claiborne at the opposite corner. The Bayou Bengals defense smothers Arkansas, as the Hogs buckle under the pressure of a potential trip to the SEC Championship Game, and Les Miles lives to see another season in Baton Rouge.
W – LSU (5-3)
L – Arkansas (6-2)
Final Standings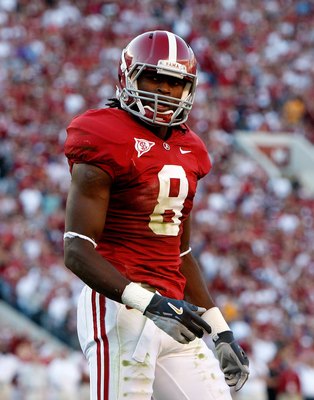 Final Standings
SEC West
Alabama 7-1
Arkansas 6-2
LSU 5-3
Auburn 3-5
Mississippi St. 3-5
Ole Miss 3-5
SEC East
Florida 7-1
Georgia 5-3
South Carolina 5-3
Tennessee 2-6
Kentucky 2-6
Vanderbilt 0-8
Championship Game: Alabama 27 – Florida 24
Keep Reading