NHL Entry Draft: Finding the Best Player Available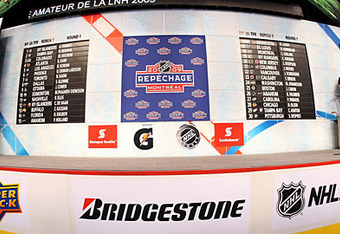 The NHL Entry draft has been broadcast live on TV in Canada since 1984. SportsChannel America carried the event live for the first time in the US in 1989.
If you're a fan of the NHL Entry Draft, it's likely that you have seen interviews conducted by these and other television networks and websites asking NHL GM's who they are going to take in the Draft.
Usually we hear a GM say "We are going to take the best player available."
I always hated that answer, but honestly what else are they going to say. Do the networks really think they're going to let the cat out of the bag?
The NHL Entry draft has come a long way.
Originally called the Amateur draft, the NHL Entry draft is a total shift to what it's original purpose was.
For many years prior to the creation of the Amateur Draft, NHL teams would "sponsor" junior teams for the purpose of providing a stock of player talent to their parent NHL club.
Over time as more and more junior teams appeared on the hockey landscape, independent clubs were emerging and these clubs were also developing young skilled players.
Things were simpler in those simpler times and it wasn't uncommon for an arena manager to call his favorite NHL hockey team to rave about a young player who drew the minor hockey crowds out of there seats.
Scouting as we know it today didn't exist. It was trusted relationships and taking chances...chances were somebody knew somebody nearby.
The NHL was eager to find a way for their hockey clubs to tap in to this resource without it being a free-for-all. For those clubs with more money and connections, it could become a monopoly and therefore the rich get richer.
NHL owners realized that if the league was to grow and look to future expansion, the sponsorship system might be too much of a financial burden, especially for those newer clubs joining the existing league.
Whether we knew it or not, some of the Original Six hockey clubs were not the best run and they were not the richest of North Americas professional sports teams.
In fact, some owners barely put enough money into their teams to operate them, rather bleeding them dry of whatever profits they would generate.
Teams would buy and sell players, own or operate a minor hockey club, and pay the least amount of money possible for coaches and other staff members.
The owners had enough money that they all weren't too eager to spend it on the clubs they ran.
They all knew the value of a dollar and we have seen countless stories on how they used their power, the power to take a player's dream away, if they did not follow the club rules. Numerous Gordie Howe and Eddie Shore stories certainly come to mind.
The honest beginnings of what would one day become the lifeline of the NHL was not overly used by every team or even deemed necessary. The sponsorship system provided, in most General Managers eyes, the best way to develop players and build relationships with young players and their coaches.
The fact remained that there were some talented players not playing on sponsorship teams. NHL owners were floating around the idea of some sort of future expansion. They wanted to figure out a way to stock their teams and save boat loads of cash doing it.
Why buy the cow when you can get the milk for free?
In 1963, the NHL set up the Amateur Draft to select those players who were at least 17 years of age and not sponsored by any NHL club.
The first Amateur Draft was held at the Queen Elizabeth Hotel in Montreal on June 5 , 1963. It was nothing fancy, just one item on a long list of items on the NHL owners agenda.
The first Amateur Draft on that afternoon in Montreal in 1963 yielded four rounds with the Original Six clubs.
The Montreal Canadiens selected Garry Monahan from St. Michael's (Toronto, Ontario) Juveniles. Monahan would go on to play three seasons with the Peterborough Petes of the OHA before playing 748 NHL games with Montreal, Detroit, Los Angeles, Toronto and Vancouver.
Ironically, the Detroit Red Wings only selected in the first two rounds while the Chicago Blackhawks skipped the final round. Could you imagine that happening today?
The Detroit Red Wings used their first selection to take Pete Mahovlich, who played in over 800 NHL games.
The Toronto Maple Leafs drew the most success from the first Amateur draft by selecting three players who each would go onto play in over 600 NHL games (Walt McKechnie, Jim McKenny and Gerry Meehan).
In 1969, the Amateur Draft was changed to include any amateur player 20 years old or younger on any amateur team to be drafted and ended the Sponsorship system.
While over the next 47 years the Amateur Draft would go through numerous changes. One thing that hasn't changed; finding the best possible player.
Enjoy the Draft and good luck to all players selected.
This article is
What is the duplicate article?
Why is this article offensive?
Where is this article plagiarized from?
Why is this article poorly edited?