The Top 10 Outrageous Sports Fan Moments of All-Time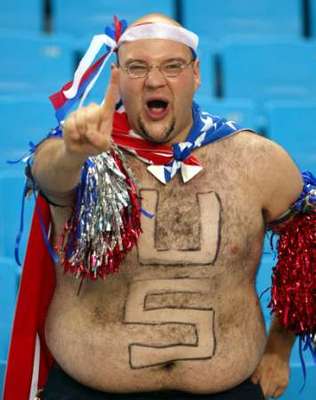 Over the years there have been some amazing moments in sports history. Buzzer beaters, walk-offs, and game winning touchdowns all come to mind. You remember all the names of the players that parent these moments.
But when you're talking about moments such as these you don't remember the moments in which a Joe Schmo fan gets his 15 minutes of fame. We all laugh when Sportscenter shows them during a highlight of a game but they're soon forgotten.
So here is a tribute to 10 Outrageous Fan Moments that shall never be forgotten.
10. Hail Mary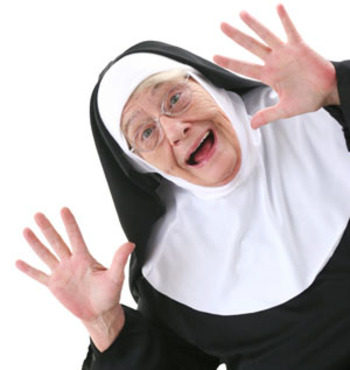 In the closing seconds of an arena football game featuring the Philadelphia Soul and the Tampa Bay Storm, Tampa Bay tries to tie the game by throwing up the good old Hail Mary. Ironically, the pass is caught by a nun attending the game.
9. Georgia Bulldog Fanatic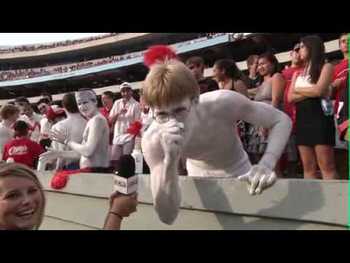 A crazy fan shows his Bulldog pride and sends a message to Steve Spurrier and his visor. He also includes some good instructions on body painting if anyone is having difficulties achieving a nice shiny coat.
8. Rob Ray Beats Down A Fan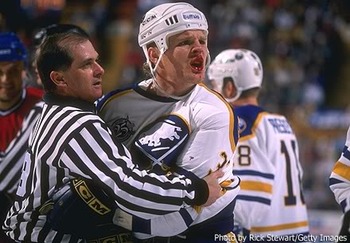 Hockey bad boy Rob Ryan beats down a fan in Quebec. The fan managed to hop over the glass and approach the bench only to get hit by a flurry of Ryan's punches.
7. Fan Pushes Eddie Guerrero Off Of a Ladder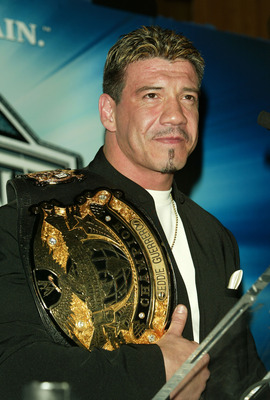 During a ladder match vs RVD on RAW, Eddie Guerrero gets the ladder pulled from under him as he reaches for the belt. The nimble Guerrero miraculously lands on his feet and manages to get in a punch on the fan as he's dragged out by security.
6. Indonesia Fan Gets Stonewalled
In the final minutes of a friendly match between Indonesia and Oman a crazy Indonesian fan decides to take matters into his own hands. He scrambles down field only to get stonewalled by the Oman goalie. So close but yet so far away.
5. Tie Domi vs Flyers Fan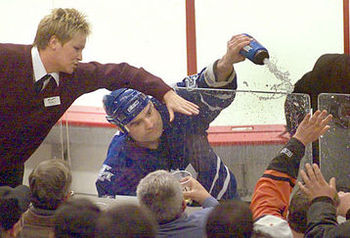 While Tie Domi is sitting in time out in the penalty box, typical Philadelphia sports fans begin to throw garbage. Tie Domi responds by squirting some water onto the fans. One fan dives over the glass and gets into a skirmish with Domi.
An interesting side note, this wasn't Domi's first run in with a spectator. In high school he beat up the opposing mascot.
4. Pork Chop on a Stick
The Yankees visit Minnesota's new Target Field to take on the Twins. Field reporter Kim Jones gets herself a Minnesota fan favorite pork chop on a stick.
She was holding it for 3 innings when all of the sudden a fan comes up and takes a nibble! It was like a scene from the movie Jaws.
My favorite part is when Michael Kay does the play by play of the pork chop on a stick burglar.
3. Don't Mess With Mom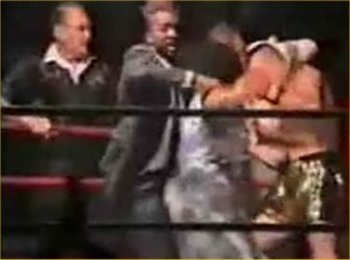 During a boxing match a mother jumps into the ring to protect her son from being knocked out. She comes in armed with a shoe and does damage...to her sons manhood.
We've all been embarrassed by our mothers at one point. Maybe while giving mommy a kiss before school in front of all of your friends or having to claim the mom who is obnoxiously cheering your name in the stands at varsity game. But this, this one hurt.
2. Celtics Fan Rocks Out To Bon Jovi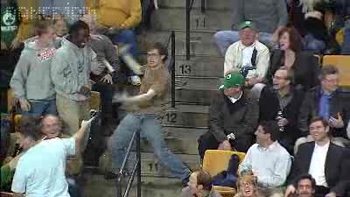 Now this one is my favorite. During half time at a Celtics game Bon Jovi's Livin on a Prayer blasts through the PA system. A fan jumps out of his seat and puts on a show.
This guy deserves free tickets to every Celtics game ever. He didn't miss a note and is dance moves remind me of the late Michael Jackson.
1. Parachutist Crashes the Ring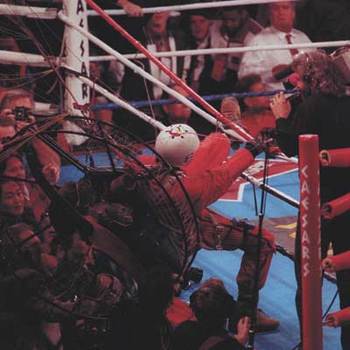 This one would have to crack the top 10 amazing moments in sports list period. This being the outrageous fans moments list, the Fan Man takes No. 1 hands down.
During a 1992 heavyweight bout featuring Riddick Bowe and Evander Holyfield a parachutist falls from the sky and lands in the ring at Cesar's Palace.
Honorable Mention: Cheater Takes A Dive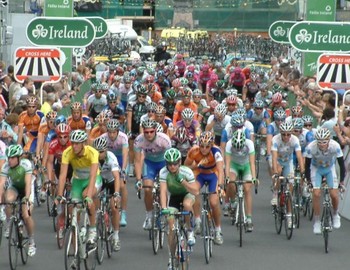 In a road bicycle race a competitor decides to shove an opponent sending both men to the ground. A spectator witnesses the cheat and sends a message to the cheater by throwing him off of a bridge.
Keep Reading