Mayday, Mayday! Five Ways to Improve the Chicago Cubs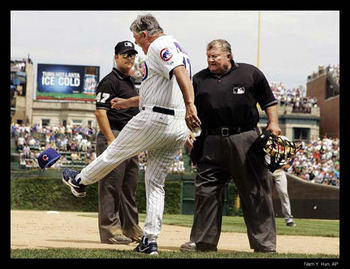 It's now June and the Cubs sit four games below .500 and six games behind the Cards and Reds.
With 52 games in the books, the season is getting dangerously close to one-third over. So all the cries not to worry because it's early are starting to ring hollow.
Meanwhile, we know that Jim Hendry doesn't have money to work with, and is stuck with expensive, long-term contracts that have no-trade clauses.
So any suggestions must work within these limitations.
So while I'd love to suggest we go out and obtain Roy Oswalt—we need to be practical here.
So here is one man's opinion on some quick, basic changes that can help begin to turn the season around in a positive manner, before Lou Piniella loses his cool.
(Actually, on second thought, that may not be a bad idea).
So, without further ado, as Pat Hughes would say, away we go...
Play Mike Fontenot Every Day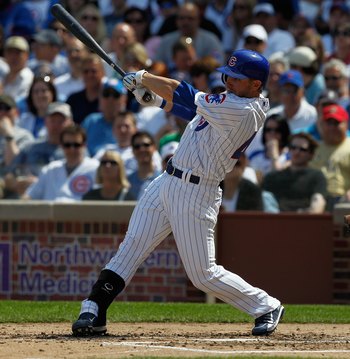 Well, at least against all right-handed pitchers.
Look, Fontenot seems to have rebounded from a bad year last season and while his defense at third isn't great, it's no worse that Ramirez at this point.
Meanwhile, his bat is a HUGE improvement over Ramirez.
What, you say, A-Ram makes too much money and his return to form is a key to the Cubs success? OK, fair enough. Then play Fontenot at second.
One way or the other, Fontenot needs ABs. Now.
More Playing Time for Tyler Colvin, Please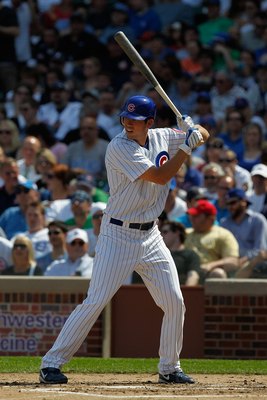 I know, I was the one who said that Colvin's ceiling was that of a forth outfielder. While that still may be true, it doesn't make sense to bring up a 24-year-old to sit on the bench.
Forget Xavier Nady—signing him when he can't throw was not a good idea in the first place.
All three Cubs outfielders are currently slumping a bit, even Soriano. Now, I'm not suggesting benching Soriano or Byrd, as both are having a good year.
But at least get Colvin in there much more often, perhaps at the expense of Fukudome at times. Between resting all three regulars, Lou should be able to get more playing time for Colvin.
The Cubs sorely need left-handed run production.
If Lee and Ramirez Must Play, At Least Spread Them Out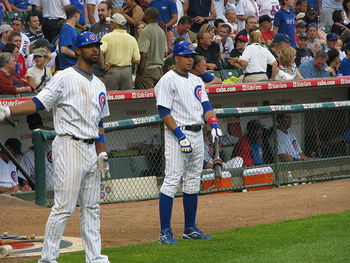 I know what I would do with Aramis Ramirez—I would sit him and let him know that it's because he's not producing. I'm tired of Lou protecting players and worrying about their pride.
And as for Lee, he wouldn't be in the 3-4-5 spots in the lineup until he shows he can turn it around.
Above all, at least quit batting them in back-to-back spots in the lineup. That's just stupid and it has to end.
Release John Grabow Before He Implodes Again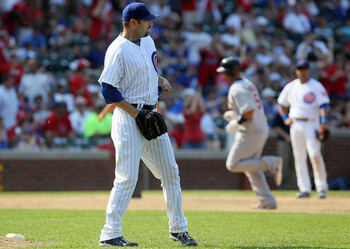 If you can't get another team to pick up the lefty reliever off waivers, then just admit your mistake and cut your losses.
If he clears waivers and will accept a minor league assignment, fine. But he can't get anyone out and the bullpen just can't support his lousy pitching any more.
While many baseball people raised their eyebrows when Jim Hendry felt he needed to sign Grabow to an expensive, two-year deal this winter, if he at least pitched like he did last year, he might be passable.
Goodbye Grabow, we don't need you, especially with Gorzelanny moving to the bullpen.
Trade Ryan Theriot to Toronto for Jason Fraser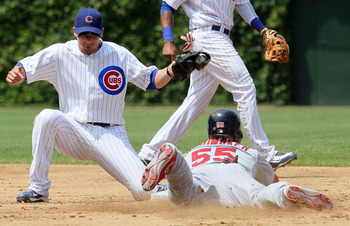 I've saved the most controversial move for last.
Toronto is looking for a shortstop, and the Cubs are searching for a set-up man, so this would be a match made in baseball heaven.
Frasor isn't having a great season, but he throws hard and will be a free agent after this season. The salaries are fairly close, too.
This way, the Cubs can play Fontenot at second, with Baker as the backup, and Toronto gets a guy who, while slumping, has hit for average and plays a passable shortstop.
Look, it makes sense. Too much sense maybe.
Keep Reading

Chicago Cubs: Like this team?