That Hurts: MLB Careers Derailed By Injuries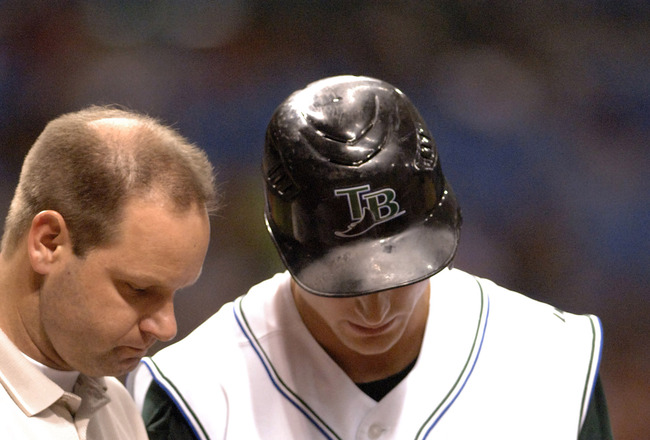 Baseball is a grueling, unforgiving sport. But, injuries are part of the game, right? Tell that to these guys.
Here are some recent baseball players whose promising careers (all were first-round draft picks) were either cut short or have become less than glamorous due to injuries. These are the guys you almost have to feel sorry for, as their lack of
Rocco Baldelli - OF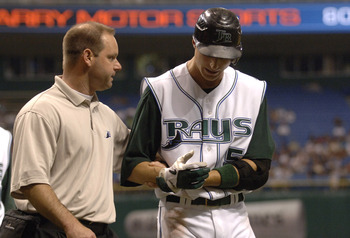 Rocco Baldelli has had the widest array of injuries over his career you could imagine. One of his most recent injuries wasn't even a baseball-related injury.
Baldelli came up with the Tampa Bay Rays in 2003, after being a first round pick in the 2000 draft. He wound up finishing third in the AL Rookie of the Year voting behind Angel Berroa and Hideki Matsui that season. But that was pretty much the end of his glory days in baseball.
He missed the entire 2005 season and the first half of the 2006 season after tearing his ACL while playing baseball during the offseason with his brother. And between 2006-2009, he only averaged 54 games played - mainly due to more injuries.
He missed the final half of the 2007 season with a hamstring injury. And then, in 2008, he was diagnosed with a mitochondrial abnormality - a condition that caused him to be constantly tired and unable to play baseball.
He recovered from that and played half of the 2009 season with the Boston Red Sox, before injuring his shoulder which has left him on the shelf ever since. He has recently joined the Rays' staff as a special assistant, but insists his career is not over. He's only 28 years old, but any significant return seems highly unlikely.
Chris Carpenter - RHP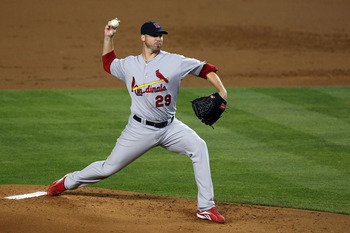 Here's a guy that doesn't quite fit in this list. Chris Carpenter has been riddled with injuries throughout his career. Yet, somehow he's managed to overcome them and become one of the most dominant pitchers in baseball.
He had 117 career wins entering the 2010 season. But he went on the DL three times in 2002, had arthroscopic surgery in September of that year to repair a torn labrum in his right shoulder, missed the entire 2003 season thanks to that operation (had a second operation that July), and appeared in a combined five games between 2007-2008 due to Tommy John Surgery.
He underwent another elbow surgery in November of 2008, but came back strong in 2009, going 17-4 that year. Carpenter is still pitching well as the ace of the Cardinals' staff. And even at 35 years of age, and all of the injuries and surgeries, he hasn't shown any signs of slowing down.
Eric Chavez - 3B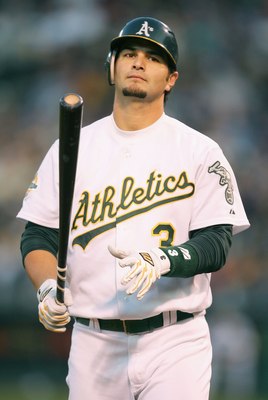 There may not be a player with a sadder story than this man. Eric Chavez, who was a first round pick by the Oakland A's back in 1996, has worked very hard to stay in the lineup and off of the doctor's table. Unfortunately, it hasn't quite worked out that way.
Chavez began his career in 1999 (after a cup of coffee in 1998). He was a perennial Gold Glove winner at third base, winning the award every year from 2001-2006. From 1999-2006, he averaged over 500 at-bats and 26 home runs.
But a back injury that has nagged him ever since has really derailed his career. Since 2006, he has accumulated just 571 at-bats and 18 home runs. At 33 years of age he's still playing, but in a limited third base/designated hitter role for the A's, as that back injury has depreciated his value significantly.
Last week, he went on the disabled list with a bulging disk in his neck. There have been whispers that he may never come back off of the DL.
Bobby Crosby - IF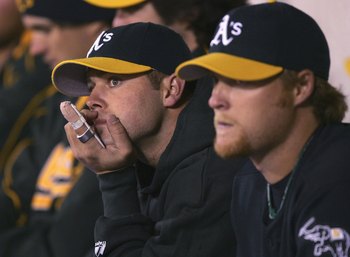 Bobby Crosby was a first-round pick by the A's in 2001, and three years later he was the AL Rookie of the Year. But all of the hype surrounding the young shortstop quickly turned into a quiet simmer.
Injuries completely took the sails out of Crosby. In 2005, he spent two stints on the DL, thanks to a fractured rib and a fractured ankle. He took two more trips to the disabled list in 2006 with a myriad of injuries, including a lower back strain, a lacerated finger, strained right biceps, and a bruised hand.
For the third straight season, Crosby failed to play 100 games for the A's in 2007. A broken left hand was the culprit this time, and his season ended in late July. Crosby managed to remain rather healthy in 2008, but was back in the trainer's room in '09. He once again played in fewer than 100 games, and for the first time in his career played another position other than shortstop.
Crosby said goodbye to the Bay and hello to the Steel City as he joined the Pirates prior to the 2010 season. His offensive production has definitely been affected by his durability (or lack thereof). In his rookie season, he hit 22 bombs. He's hit 40 in the four and a half seasons since, averaging only 91 games played over the span.
Nomar Garciaparra - IF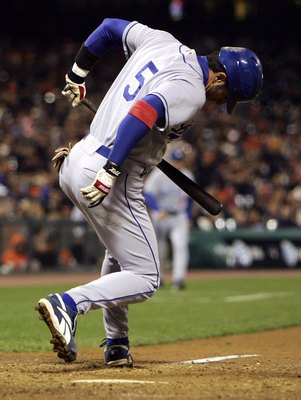 There may not be a bigger name on this list (in length and fame) than Nomar Garciaparra. He was a first-round pick by the Red Sox in 1994, and got his career off in a bang. He was an All-Star and AL Rookie of the Year in 1997. He lead the league in batting average in 1999 and 2000. He was on track for a sure-fire Hall of Fame career.
In 2001, he played just 21 games while recovering from April wrist surgery, requiring two stints of the DL. He missed the first 57 games of the 2004 season with tendinitis in his right Achilles. He was traded to the Cubs at the trade deadline that season, which was the beginning of the end to what was an illustrious career.
He missed about 2 1/2 months of the next season with a right groin injury. 2006 was a bounce back season for Nomar, as he hit 20 homers in his first season with the Dodgers, on his way to being named the National League Comeback Player of the Year.
He joined the A's in 2009, and has never really been the player he was as a member of the Red Sox. Prior to the 2010 season, he signed a one-day contract to retire as a member of the Red Sox. He's a borderline Hall-of-Famer, but to Red Sox fans, he will never be forgotten.
Mark Mulder - LHP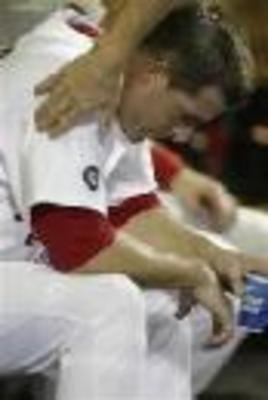 Mark Mulder was once a part of the best starting pitching trio since Smoltz/Glavine Maddux of the early-to-mid 1990s. He, along with Tim Hudson and Barry Zito helped the Oakland Athletics become one of the top teams in the early part of the decade. The trio was finalized in July of 2000 when Zito made his debut.
Mulder was a big part of the trio. He won 21 games in 2001, just his second season in the big leagues. He was an All-Star that year and finished second in the Cy Young Award voting to Roger Clemens.
But as dominant as the three-headed monster was, its longevity was not all that impressive. Hudson left for Atlanta in 2005, the same season that Mulder went to St. Louis. Zito eventually went across the Bay to San Francisco in 2007.
But Mulder's career has taken the biggest turn for the worst of the three. After having a strong debut season in St. Louis in '05 (16-8, 3.64 ERA), the lefty appeared in a combined 23 games between 2006-2008. He underwent two separate shoulder operations in 2008, and hasn't thrown a pitch in the Major Leagues since July of '08. In October of that year, the Cardinals cut ties with the oft-injured 33-year old.
He attempted a comeback with the Brewers this past spring but all signs point to the once promising career of Mark Mulder to be over.
Mark Prior - RHP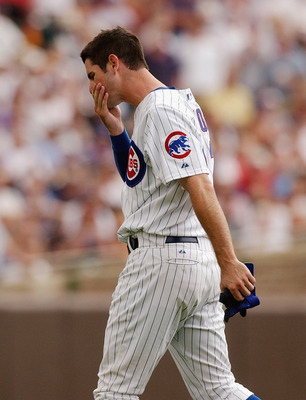 Mark Prior was a first-round pick (2nd overall) by the Chicago Cubs in the 2001 draft. He made hsi MLB debut the following May, and boy did he look like he had all the makings of a true phenom.
He struck out 147 batters in 116 2/3 innings pitched that season, and finished seventh in the NL Rookie of the Year voting. But it was his 2003 season that could be looked at as the beginning of the end for this talented right hander.
In '03, Prior was an All-Star. He struck out 245 batters in over 200 innings pitched, and had an ERA of 2.45. He finshed third in the NL Cy Young Award voting, and ninth in the MVP voting. But perhaps most importantly, that season, thanks to some over usage by then manager Dusty Baker, his career took a downward spiral.
In a four-year span from '02-'05, Prior had already logged 613 innings, and struck out 719 batters. In 2004, his rash of injuries began. Woes to his Achilles', elbow, and shoulder prompted the flame thrower to shut things down mid-way through the 2006 season, and had surgery on a torn labrum in 2007 - his first of two such operations.
Prior, 29, became a free agent after the Cubs released him following the 2007 season and tried to latch on with the San Diego Padres. But the injuries have kept him from throwing a pitch since August of '06 - and perhaps for the rest of his life.
John Patterson - RHP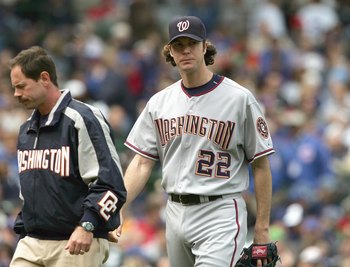 John Patterson's name has been pretty much forgotten over the past few years. But he was a first round pick of the Arizona Diamondbacks in 1996 (5th overall), and showed some signs of potential as a member of the Expos/Nationals.
In 2005, he started 31 games and went 9-7 with a 3.13 ERA and 185 strikeouts for the Nats. But he spent more than 10 weeks on the DL in 2004 with a right groin strain. Even in his breakout '05 campaign he missed time on the disabled list with back spasms. But that was only the beginning.
He missed all but 8 games in 2006 with a right forearm injury, the ended up requiring surgery in July. And in 2007, he made only seven appearances for the Nationals, thanks to recurring right arm soreness. He underwent another surgery in September of that season, and has not made any appearances since. At 32 years of age, Patterson's career seems all but over.
Kerry Wood - RHP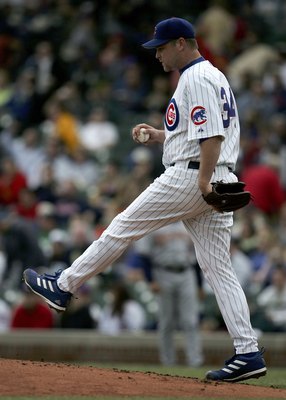 Kerry Wood's story has been well-documented over the years. He came up in 1998 and took the baseball world by storm. He struck out 20 Astros in a game on May 6 that season. But in that rookie season, he threw 166 2/3 innings, and wound up missing the entire 1999 season after undergoing Tommy John Surgery.
His career hasn't been quite the same since then. Though he hasn't missed as much time as some of the other members of this list, his effectiveness has certainly been effected by the injuries he's amassed over the years.
From 2004-2007, Wood's career was at it's all-time low. In '04, he spent two months on the DL with a triceps injury. In 2005, Wood went on the DL three times due to a right shoulder strain, a stiff right shoulder and ultimately arthroscopic surgery on the right shoulder. That surgery caused Wood to miss nearly the entire 2006 season, making just four starts for the Cubs that season.
In 2008, Wood made the transition to full-time closer. He saved 34 games for the Cubs that year, spending only limited time on the DL (had one stint due to a blister on his pitching hand).
Prior to the 2009 season, Wood signed on to be the closer for the Cleveland Indians. He saved 20 games that season. As for 2010, Wood began the season on the DL (where else?), and was activated on May 8. He'll be 33 next month, and one can certainly look back on that 1998 season as the beginning of the end for Mr. Wood.
Keep Reading