10 Bearded Figures that Flyers' Scott Hartnell Can Relate To
With the 2010 Stanley Cup Finals underway, I want to pay tribute to one of the more epic hair/beard combos that I have seen in a long time. That would be the Philadelphia Flyers' Scott Hartnell. He began growing a beard before the playoffs even began, and has just kept it growing.
Now Hartnell's beard and hair have grown to a considerable length that he has begun to look like a character that popped out of a movie or a book. The next ten slides display bearded figures that Scott Hartnell can relate to.
Begin Slideshow

»
Not the greatest match I admit, but it was better than ZZ Top to start this off. Silent Bob, part of the Jay and Silent Bob series, also making cameo appearances in movies is known for staying silent throughout the movie, until the end, saying only one line.
The beard isn't as thick as Scott's but it's a decent start. The hair isn't curls, of course, but it's at that hair length where it matches Scott's length.
The only cartoon character in this all, and it does well in representing Scott. He's got a club that could be looked at as a hockey stick, he's got the beard... possibly hair. And above all else, he's wearing orange and black, Flyers colors.
This may come as a surprise to some, considering that he had a beard for a brief time in the movie and that he doesn't have the hair length to match... and I agree. However I can't get enough of this picture and if he did have the hair length, the picture would be a bit funnier.
Again, like Burgundy, he has the beard, but not the hair length. A bit longer than Burgundy, but not Hartnell long. It should also be mentioned that he has the curls in his hair, like Hartnell does. The beard is thick like Scott's which places him a notch above Burgundy.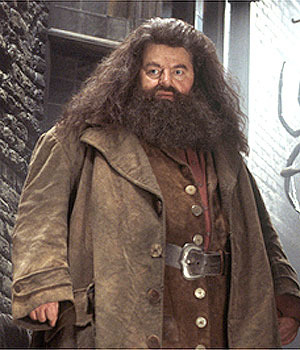 Ah yes, Hagrid from the Harry Potter series. I bet people were expecting Gandalf or even Dumbledore but I have the reason as to why I chose Hagrid over those two. For Gandalf, his beard is white. Last time I checked, the only player that I've ever seen have a white beard in the NHL was Scott Niedermayer in 2007, and that was a little patch out of multiple patches of blonde, auburn, grey, and white colored hairs.
For Dumbledore, he didn't have the hair. He had the beard, but not the hair. Hagrid had both the hair and the beard. Maybe not the girth (look at the size of him!) but I'm looking at the beard and the hair.
In all honesty, not many people will know about this movie. The Road was one of those post-apocalyptic movies that have been popular lately, and the main character Viggo Mortensen played a guy named The Father.
It's a good beard and good hair length, maybe not the best to compare with Hartnell. But there aren't many that can compare with Scott's hair and beard, and if their hair and beards went toe to toe in a fight, this is one of the few that could last for a few minutes.
This was the last one I plucked out, which was a surprise because I used to watch WCW (pro wrestling for those who weren't aware and yes I'm aware that is the WWF title).
But Macho Man Randy Savage and Hartnell have more in common than the beard and the hair. They both have the body and physical strength, making them tenacious foes (well Macho Man was tenacious).
But the beard and hair go very well with Hartnell's. The hair might not have the curls that Hartnell's has, but it's still at appropriate length.
I had to dig a little to pull this one out of my memory bank, but Chuck and Scott have the hair length and the beard thickness. Sure he isn't as bulky as Scott, but come on, he's been on an island and his best friend was a manufactured volleyball.
I haven't seen Castaway in such long time, it was a really good movie.
I think this was one of the highly expected figures to be in this, and why not? He could be put in there and nobody would tell the difference. It's also funny how they brought the Caveman to Fenway Park on Winter Classic and into the Flyers locker room just to stand by Dan Carcillo and Hartnell.
This is the first one I actually came up with, but I think everyone would have been able to put Scott and Jesus together.
The hair, the beard, it's a perfect match.
They say Jesus could walk over water. Hartnell does the next closest thing by skating over frozen water.