Mike Conway's Spectacular Crash in Indianapolis 500 Race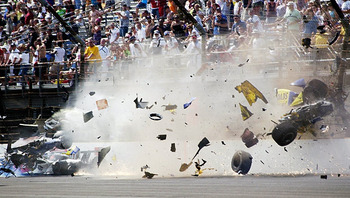 British IndyCar driver, Mike Conway, will miss at least three months with back and leg injuries from his frightening crash in the Indianapolis 500.
Conway had surgery for multiple fractures in his left leg and has a compression fracture in his back.
The crash happened on lap 199. Conway was going about 220 mph through the short chute between turns three and four, and couldn't avoid running into the back of Ryan Hunter-Reay.
The contact sent Conway airborne and into the catch fence, splitting the car into two large pieces though the driver's seat remained intact.
He was airlifted to a local hospital after the race, where he had surgery.
Conway takes to the skies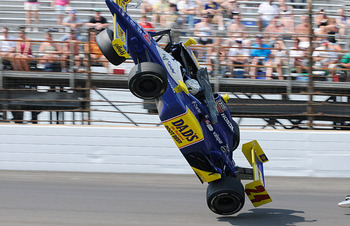 The Indy 500 is exciting enough, but when a car flies into the air, it gets a little more exciting.
British driver, Mike Conway, decided to go one better than previous crashes as he takes to the skies.
Flying Backwards - not even a good idea for a plane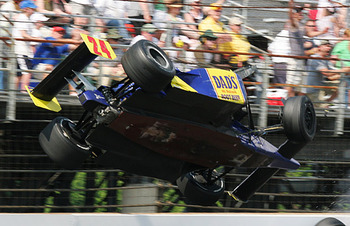 Conway's car turns in the air and heads for the metal fencing around the circuit. Imagine what is going on in his mind .... ARGH!
First impact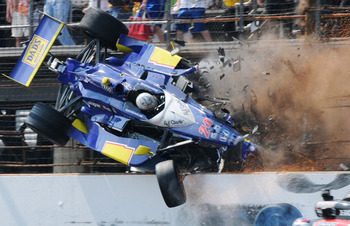 The car slams into the protective fence and rips the car apart.
Watch out!!!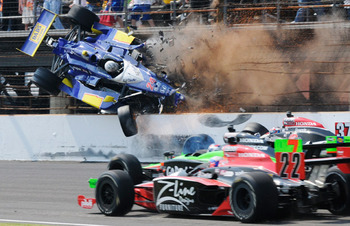 The race goes on around, with cars just missing the crash. Conway heads back down towards the track.
Obliterated ...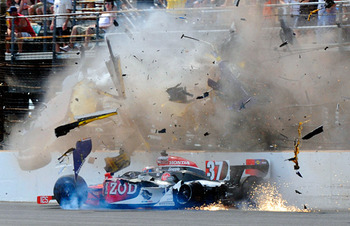 Another car crashes just below the flying wreck.
Conway is lost in the debris of his car.
Crash! Bang! Wallop!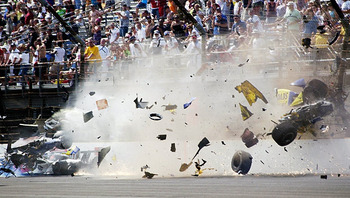 The car gets shredded by the fence and lands back down to earth with a bone shattering crunch.
Final resting place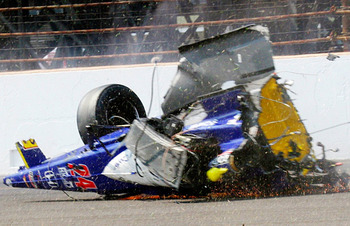 Conway and the car land back onto the track, mangled and cut in half.
He received fractures to his back and left leg, and was airlifted to the hospital.
He's a tough Brit .... so he'll be back racing in no time.
Keep Reading