The 10 Best College Football Coaching Jobs That May Soon Be Available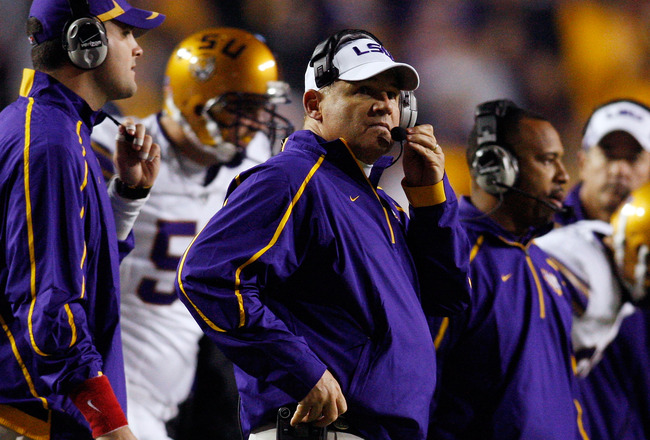 Is that heat coming from the summer sun, or from certain college football head coach's seats?
The clock is now officially ticking for some college football head coaches. It could be due to poor performance, opportunities in the NFL, or good old mother nature. One thing is for certain, someone is going to lose their job or voluntarily leave during or after the 2010 season.
Let's take a look at the top-10 best coaching jobs with potential upcoming vacancies.
10. Ron Zook - Illinois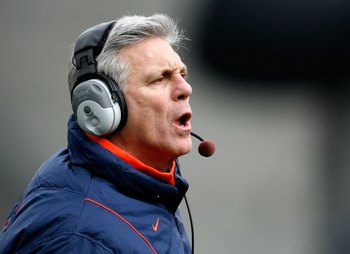 Let's start with the Zookster.
When he was named head coach of the Florida Gators, he had the task of replacing a legend in Gainesville, and Spurrier's departure was shocking to say the least. It took three seasons for Zook to be fired, but he had to be perfect if he were to survive the Gator Nation.
Next stop—Illinois, the land of basketball not football. Many thought Zook's fiery personality and relentless recruiting would bring a winner to Champaign, but in six seasons the Fighting Illini have gone 21-39 under Zook's leadership.
Don't count on Zook surviving after season seven. Unless he takes Illinois to a bowl game, he will be unemployed at the end of the 2010 season.
9. Ralph Friedgen - Maryland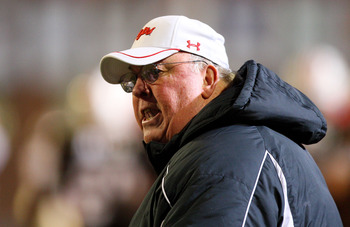 "The Fridge" (his affectionate nickname around College Park) is expected to retire after the 2011 season. He may not make it that long.
The 2009 season saw Maryland accomplish a whopping 2-10 record after a Humanitarian Bowl victory and 8-5 record in 2008.
Similar to the situation at FSU where Jimbo Fisher played the "coach-in-waiting" role behind Bobby Bowden, Maryland has James Franklin on standby. The question is: Will Maryland wait for Friedgen's retirement or pull the trigger a season early?
8. Dan Hawkins - Colorado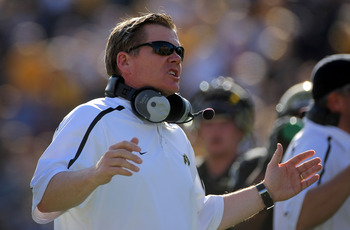 I wonder if Colorado has given up it's college football program. Coach Hawkins has done everything to sink this once proud program into an abyss.
In four seasons since his arrival in 2006, Hawkins has led the Buffaloes to a stunning record of 16-33, with one losing appearance in the Independence Bowl in 2007.
It will be a miracle if Coach Hawkins survives the 2010 season. Nothing short of eight or nine wins will save his job. That being said, will there be a program left once Hawkins is launched? Who would want to go in and clean up that mess? Many I'm sure since Colorado is a great place to be.
7. Kirk Ferentz - Iowa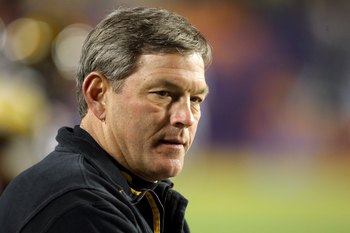 How this guy hasn't yet jumped ship to the NFL is beyond me.
Coach Ferentz is loved like no other in Iowa City, and he is the face of Hawkeyes football. After the 2009 season, he was given a contract extension through 2015 and a raise earning $3.02 million per year.
However, every year he is always on the list for possible successors to fired NFL coaches. Will some NFL team finally be in a position to lure him away Iowa?
With Lovie Smith's looming demise in Chicago, I could see Ferentz finally making the jump to the NFL after the 2010 season. He would look great standing on the sidelines in Soldier Field.
6. Steve Spurrier - South Carolina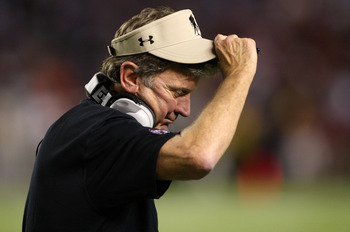 Some feel that this could finally be the OBC's year at South Carolina. Florida is reloading, Georgia may continue to struggle, and Tennessee has first year coach Derek Dooley cleaning up the Lane Kiffin debacle in Knoxville.
South Carolina has some of the best fans when you think of the mediocrity they have endured for quite some time. If Spurrier fails to bring home the hardware to Columbia, or even make it to the SEC Championship game, don't be surprised if he calls it quits or gets fired after the season is over.
5. Mike Sherman - Texas A&M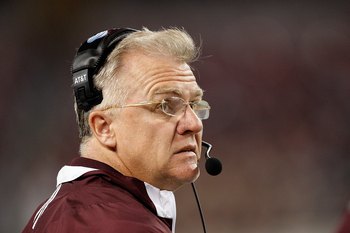 The one-time head man of the Green Bay Packers, Coach Mike Sherman has struggled to keep the Aggies competitive with in-state rival Texas.
When he arrived in College Station in 2007, he had just completed a one-year stint as offensive coordinator with the Houston Texans. He immediately changed the offensive style of Texas A&M by switching to a pro-style offense whereas the zone-read option offense has been employed under former coach Dennis Franchione.
The results have been rather lackluster. In two seasons, Texas A&M have gone 10-15 overall and 5-11 in conference play. 2010 will be Sherman's third season as head coach, but if he doesn't show significant improvement it will most likely be his last.
4. Joe Paterno - Penn State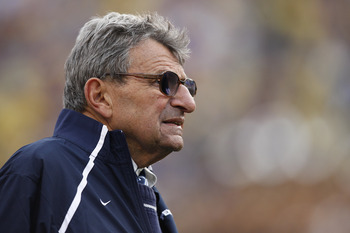 In his 45 years as head coach of Penn State, Coach Paterno has a record of 394-129-3. Now that Bobby Bowden has called it quits (forced out is more like it), Coach Paterno must be thinking that this will be his last season.
No one will ever catch Paterno's number of games won. No one.
I feel sorry for the gentleman who replaces JoePa. That's one shadow no one should ever have to stand in. Nittany Lions fans enjoy JoePa while you can now that he is entering his 45th and possible final season as head coach.
3. Rich Rodriguez - Michigan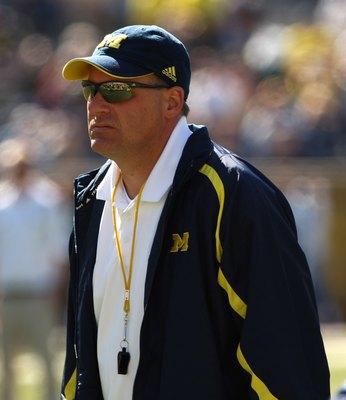 You have to give credit to Michigan for thinking outside the box and attempting to bring their program and Big-10 football into the 21st century by bringing in an outsider.
So far it was a bad choice.
In two seasons with Michigan, "Rich Rod" has led the Wolverines to a 8-16 record. This simply will not cut it in Ann Arbor.
Factor in all the problems reported in the program, and the clock is ticking loudly for Coach Rodriguez. A bowl game appearance is all that is keeping Michigan from launching Rodriguez and reaching out to a "Michigan guy" as his replacement.
2. Les Miles - LSU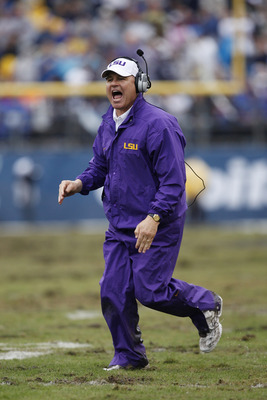 I bet Les Miles wishes he could erase the 2009 season from memory. Bad coaching decisions and a mediocre season did not sit well with the faithful in Baton Rouge.
Now that former LSU head coach Nick Saban is winning championships while leading rival Alabama, LSU fans are beginning to wonder if Coach Miles has what it takes to lead LSU. Many feel the championship he won was with Saban's players.
If Coach Miles has another mediocre season, he could easily find himself unemployed after the 2010 season. Perhaps Ann Arbor may call him to replace Rich Rod as they purportedly did back in 2007 when Lloyd Carr called it quits. Stranger things have happened.
1. Mark Richt - Georgia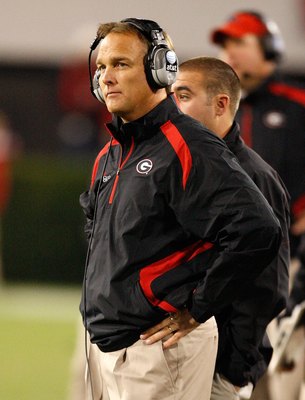 The Bulldog faithful are quickly growing impatient with Coach Richt. It's been awhile since Georgia has contended for a SEC or National Championship, and with bitter-rival Florida beating them convincingly year in and year out, the folks in Athens are growing restless.
It's been since 2005 that Georgia has won an SEC Title, and 2007 since getting to the SEC Championship game. This does not bode well at all for Coach Richt.
The annual World's Largest Outdoor Cocktail Party has become mundane due to Florida's dominance, but with Urban Meyer's gone and back routine, and Florida in rebuilding mode, this may be Richt's last chance for a while to get Georgia back to Atlanta.
If Georgia doesn't get to Atlanta and loses to Florida again this year, that may be enough to end Richt's tenure in Athens.
Keep Reading