Ingredients for Success: Chicago Blackhawks and Philadelphia Flyers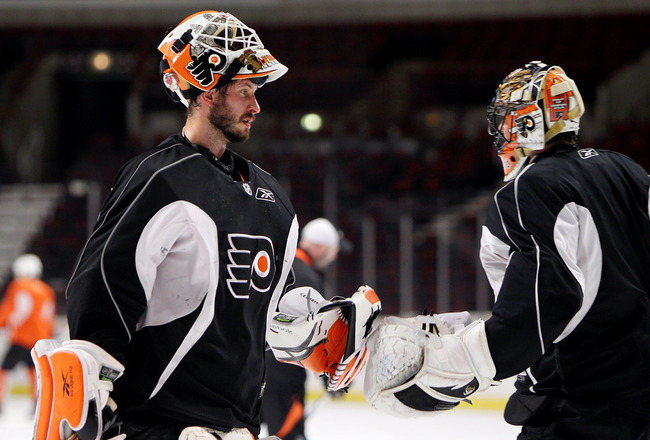 The recipe for a Stanley Cup victory is often the same—get great goaltending, stay out of the penalty box, and hope that your best players are, in fact, your best players.
Game One of this year's Stanley Cup Finals ignored most of these ingredients to success.
Both goalies struggled. And almost all of the Flyers' and Blackhawks' best forwards were kept off the score sheet.
Needless to say, after Saturday night's debacle, both the Flyers and Blackhawks need to make changes if they want to win Game Two.
Let's take a look at five things the Flyers and Hawks need to do in order to inch closer to that all-important Stanley Cup victory.
***
For more NHL news and notes check out my website at www.theslapshot.com
Philadelphia Flyers: Contain Dustin Byfuglien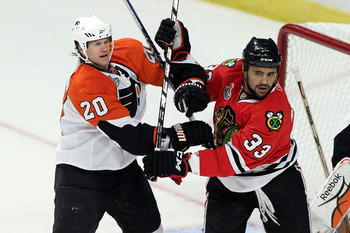 Chris Pronger did a masterful job of keeping Chicago Blackhawks forward Dustin Byfuglien out of the crease area.
Pronger initiated contact and physically competed against the man they call "Buff."
Byfuglien, who stands at 6'4" and weighs 257 pounds, is extremely tough to keep at bay.
His size, tenacity, and ability to draw penalties makes him a very dangerous player for the Hawks.
For Pronger, the key to stopping Byfuglien is to use his size and experience in front of the net.This means battling Byfuglien without taking costly penalties.
If Pronger can keep Byfuglien at bay, it will give the Flyers goaltender (either Brian Boucher or Michael Leighton) the ability to see pucks, making it relatively easy to make saves.
If Pronger loses battles in front of the net to Byfuglien, the Orange and Black will be in big trouble.
Byfuglien often makes you pay, as illustrated by his team—leading eight goals. Three have come on the power play and four have been game-winners.
Bring Back Brian Boucher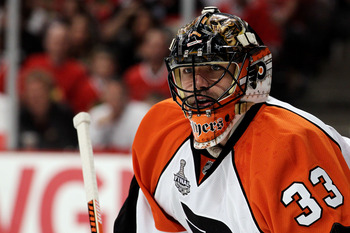 It's only one game. But the way Michael Leighton played (without confidence, with poor rebound control and often out of position) makes me believe that Flyers head coach Peter Laviolette will opt to put Brian Boucher between the pipes in the next game.
Boucher played well in relief of Leighton, stopping 11 of the 12 shots he faced. Simply put, Boucher was calm, cool, and sharper than Leighton.
Needless to say, buckling down defensively will also help Boucher or Leighton out, especially in the neutral zone, where the Hawks' forwards can pick up speed.
Should Boucher falter, the Flyers can always go back to Leighton.
Then again, if the Flyers' goaltending lets them down again, this series may be over.
Mike Richards and Jeff Carter Need to Contribute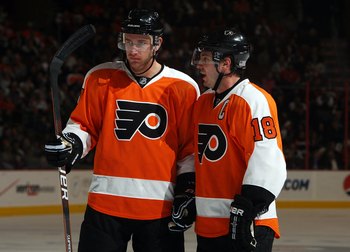 As bad as Chicago's threesome of Patrick Kane, Jonathan Toews and Dustin Byfuglien were (combined minus-nine in Game One), the Flyers' two best players were, in fact, among their worst.
Jeff Carter and Mike Richards combined for zero goals and a minus-four rating.
For the Flyers to win, they will have to get strong contributions from both Carter and Richards, especially on the power play.
Carter and Richards failed to register a single point out of four power play opportunities in Game One.
Stay Out of the Penalty Box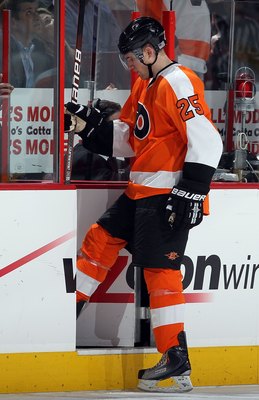 The Flyers did a great job of staying out of the penalty box in Game One. They didn't draw a single penalty.
The Blackhawks can kill you on the power play. The Flyers would be doing themselves a favor if they continued to play clean hockey for the rest of the series.
However, staying out of the penalty box will not be easy.
For one, Pronger will have to try to keep Byfuglien (a player who often draws penalties) at bay.
Speedy Blackhawk forwards Kane, Hossa, and Toews may also draw holding and/or interference penalties from some of the slower Flyers.
Score Early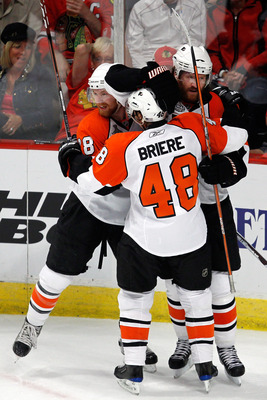 In Game One, the Flyers were fortunate enough to score first. They took the crowd out of the game—if only momentarily.
Should the Hawks score first, they will get a huge boost from the crowd.
Conversely, should the Flyers score first, they will: A) earn some much-needed confidence and gain momentum, and B) take the boisterous Chicago crowd out of the game.
It would also help if the Flyers manage to keep the lead for more than one minute.
Chicago Blackhawks Need a Better Effort from Antti Niemi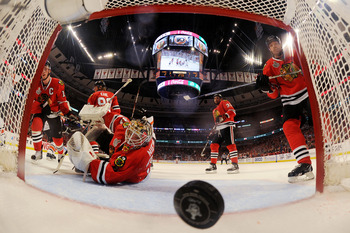 The only reason Blackhawks head coach Joel Quenneville didn't pull Antti Niemi in Game One is because of the Cristobal Huet factor.
Huet, who has a penchant for giving up bad goals, doesn't even seem to be on the radar as an option for Quenneville, and rightfully so—the guy is a sieve!
Much like Flyers goaltender Michael Leighton, Niemi struggled to find his confidence and seemed distracted by the enormity of the game.
Niemi, a Finland native, will need to be much more focused in Game Two. He will likely see more traffic in front of him and face a similar amount of shots (he faced 32 in Game One).
Patrick Kane and Jonathan Toews Need to Step It Up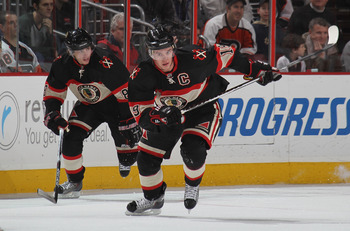 Prior to Game One, if you were to tell the Flyers they would be able to keep Patrick Kane and Jonathan Toews off the scoreboard, and have both players emerge with a combined minus-six rating, the Flyers would have taken it.
Keeping players of Toews' and Kane's caliber off the score sheet is no easy task. It is fairly improbable that the Flyers can keep it up.
With that said, Toews and Kane need to step up their play in all areas of the game, and it wouldn't hurt if they could draw a penalty or two.
Toews registered just one shot in Game One, with Kane registering a paltry two shots. Needless to say, that's simply not good enough—Toews and Kane will be better the remainder of the series.
Tighten Up Defensively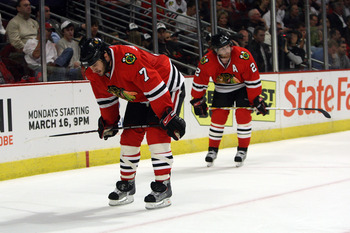 Clearly, having given up a combined 11 goals in Game One, both Philadelphia and Chicago could benefit greatly from playing a tighter defensive game.
For the most part, the Hawks' defensemen did a decent job in front of Niemi, clearing bodies out of the crease area and keeping Jeff Carter and Mike Richards off the score sheet.
The Blackhawks' forwards were another story. Byfuglien, Kane, and Toews ended the match with a combined minus-nine rating.
Just as it will be tough for the Flyers to contain Toews and Kane, the Flyers' Mike Richards and Jeff Carter (amongst others) will be gunning for the Hawks.
The Hawks better tighten up, or they'll let the Flyers right back in this series.
Stay Out of the Penalty Box, Part II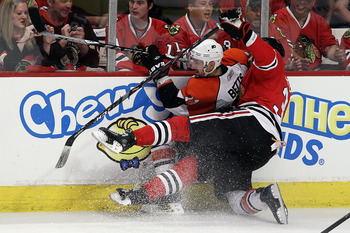 The Blackhawks gave the Flyers four power play opportunities, one of which the Flyers scored on to tie the game at 2-2 (Scott Hartnell at 11:50 of the first period).
Given the Flyers' propensity for taking advantage of their power play opportunities throughout the regular season (ranked third overall at 21.4 percent) and in the playoffs (humming along at 20.9 percent), the Hawks need to stay out of the box.
Flyers defenseman Chris Pronger has been particularly dangerous throughout the playoffs (scoring three power play markers), as has Flyers forward Danny Briere, who has 10 power play points, including three goals.
Despite the four penalties the Hawks took, what impressed me was the poise with which some of the Hawks' more "yappy" players played.
They opted to turn the other cheek, instead of chirping with the Flyers (who have their fair share of "yappers" as well).
Defense Needs to Score on the Power Play
Quick quiz: How many goals have the Chicago Blackhawks' defensemen scored on the power play during their quest for the Stanley Cup?
Answer: Zero, none, zip, not a one!
In fact, the only defenseman to register a point on the power play for the Hawks in the playoffs is Duncan Keith, who has three assists thus far.
Now, it's tough to score on the power play when you don't draw any penalties.
But suffice it to say, with the likes of defensemen Keith, Brian Campbell and Brent Seabrook blasting shots from the point, you'd expect a better result in the goal department on the power play.
Wouldn't you?
Keep Reading

Philadelphia Flyers: Like this team?