Bargain Hunting: A Position By Position Look at the NBA's All-Value Team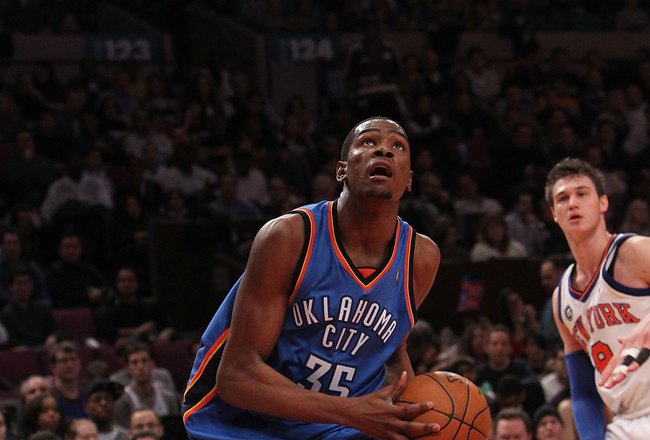 There was once a time in professional sports where the players barely made enough money to live off of and many had to work secondary jobs in the offseason just to make ends meet.
But today the reality of athletes struggling to get by are about as long gone as Joe Montana's credibility after doing those Sketchers commercials.
More recently, sports have become embedded into American culture and television contracts have exploded into billion dollar revenue sources which allow athletes to live comfortably.
When it comes to the NBA, we started along the financial path that has brought us to where we are today in the early eighties.
In 1983, as part of the new collective bargaining agreement and as a way to keep all teams on a level playing field, the NBA implemented a salary cap for the start of the 1984-85 NBA season.
The agreement stipulated that a team could spend a maximum of 53 percent of its gross revenue on player salaries.
In what seems unimaginable in today's market, the salary cap for the 1984-85' NBA season was $3.6 million dollars. Over the next 25 years the salary cap has risen incrementally to the $57.7 million dollar cap that was in place for the 2009 NBA season.
Because the NBA salary cap has steadily risen, so have player salaries, and we now find players who make over $20 million dollars just for one season.
While there are an abundance of NBA veterans collecting huge paychecks, there are also young rising stars whose contracts are a bargain compared to their high-priced counterparts.
There's no doubt that if the players on this list continue their superb play, they will one day be rewarded with a huge contract, but for now they are part of the NBA's all-value team for the 2009-10 NBA season.
Starting Point Guard: Rajon Rondo- $2.09 Million Dollars in 2009-10'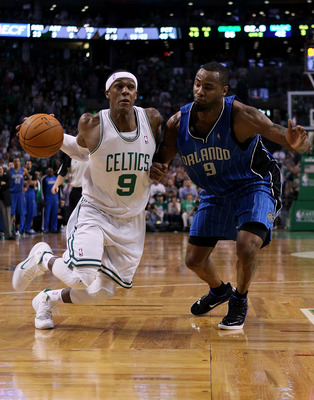 The 24 year-old from Kentucky gets the starting nod on the all-value team over Derrick Rose and Russell Westbrook.
He's got everything you want in a distributor, and has proven that he can score despite being an average shooter.
Rondo not only had a great regular season which saw him earn his first All-Star selection as well as post career highs in points (13.7), assists (9.8), and steals (2.3) but he has also brought his game to the next level in the playoffs.
Despite only being 6'1" Rondo's incredible length and athleticism allow him to play much bigger than his height, which enables him to impact the game in a multitude of ways. Rondo will help out on the boards and he's one of the best defending point guards in the league.
He's also a proven winner, having helped his team win a title in 2007-08, and to another appearance this year in the NBA Finals.
With all that Rondo brings to the table his $2.09 million dollar salary this past season is an unbelievable value.
The Reserves: Derrick Rose ($5.18 million), Russell Westbrook ($3.75 million), Tyreke Evans ($3.61 million), Stephen Curry ($2.71 million), Brandon Jennings ($2.16 Million), Darren Collison ($1.26 million), Rodney Stuckey ($1.8 million), Aaron Brooks ($1.11 million).

Point guard is one of the deepest and youngest positions in the NBA, and presents a spot that teams can get some very good production out of for little money.
Rose and Westbrook should only continue to improve as both just finished outstanding sophomore seasons in the league and could easily have been named the starter on the all-value team.
There are also four point guards on this list who were a part of the 2009 NBA draft and have already begun to put their stamp on the NBA.
Finally, Stuckey and Brooks are two young players who have made the most of their starting jobs and look to have bright futures in the league despite not being seen as starter caliber players when they were drafted.
Starting Shooting Guard: Brandon Roy- $3.91 Million Dollars in 2009-10'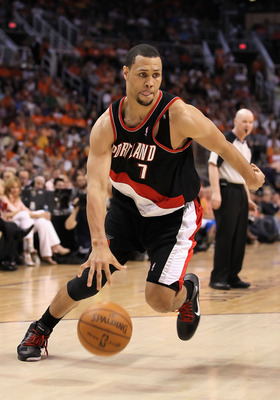 There's not much of a debate about this one; Brandon Roy is easily the best value out of the shooting guards in the NBA.
Roy has had an instant impact in the league since being drafted out of Washington in 2006 where he established himself as a starter from day one.
At 6'6", Roy is one of the most versatile guards in the league, as he has the ability to play both the point and off-guard positions and can be a volume scorer as well as a distributor.
He has also been one of the main reasons for the turnaround that the Portland Trailblazer franchise has enjoyed recently, leading them to the playoffs in each of the last two seasons.
Roy has established himself as one of the best young players in the league and has been rewarded for his extraordinary play with three straight All-Star appearances.
Being a team leader and perennial All-Star all for under $4 million dollars this past season makes Brandon Roy one of the best values in the NBA.
The Reserves: O.J. Mayo ($4.16 million), Eric Gordon ($2.81 million), Courtney Lee ($1.26 million), Wesley Matthews ($475,588), Marcus Thornton ($457,588).

In his second year in the league, O.J. Mayo has continued his solid play and started all 82 games for a surprising Memphis team that won 40 games this past season.
Another player who built off the success from his rookie year was Eric Gordon. The 6'3" shooting guard struggled with injuries during the 2009-10 season, but still managed to be one of the lone bright spots in another disappointing campaign for the Clippers.
The only two players on the all-value team who aren't millionaires are Wesley Matthews and Marcus Thornton.
Matthews was an undrafted shooting guard out of Marquette and managed to play himself onto the Jazz's roster at the beginning of the season and eventually became the starter as the year progressed.
He was also a key contributor in Utah's first round upset over the Denver Nuggets where he averaged nearly 14 points per game.
Despite not playing much at the start of the season, Thornton found himself getting starter's minutes towards the end of the year thanks to injury troubles on the New Orleans Hornets. Thornton made the most of these minutes and averaged over 20 points per game in February and March.
Starting Small Forward: Kevin Durant- $4.79 Million Dollars in 2009-10'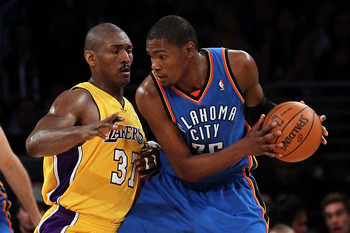 Considering that Durant has become one of the best players in the NBA in just three years, his $4.79 million dollar price tag for the 2009-10 season might be the best deal in the entire league.
The 6'9" swingman is one of the best pure scorers we have in the game today, and he has showcased his ability to light up any arena on any night all season long.
Durant edged out LeBron James for the NBA's scoring title with an average of 30.1 points per game and finished second to James in the MVP voting this past season.
Everyone knew Durant would be a big time scorer coming out of Texas, but there were questions about how well he would adapt to the rest of the NBA game.
In his third season, Durant has answered these doubts by hitting the glass, getting his teammates more involved, and picking up his intensity on the defensive side of the court, making him more than just a scorer.
Along with teammates Jeff Green and Russell Westbrook, Durant helped lead the Oklahoma City Thunder to a franchises-best record and first playoff appearance since the team relocated from Seattle.
The scariest part about Durant is that he's only 21 years old, meaning that the sky is truly the limit for the Oklahoma City small forward.
The Reserves: Jeff Green ($3.51 million dollars), Rudy Gay ($3.28 million dollars), Grant Hill ($3 million dollars), Wilson Chandler ($1.25 million dollars).
After getting acclimated to the NBA in his rookie season, Rudy Gay has been a consistent performer at small forward for the Memphis Grizzlies.
The former UConn standout has averaged at least 19 points per game for the last three seasons, and is one of the most exciting players to watch in the open court.
He will be testing the free agent waters this off-season and while many are debating whether or not he's worth a max contract, it's clear that he's a great deal at $3.28 million dollars.
Fourteen-year veteran Grant Hill is by far the most senior member of the all-value team this season.
The former third overall pick of the 1994 NBA draft has had his career ravaged by injuries but has still managed to be a productive player in his twilight years. Hill started all but one game this past season and has provided a steady veteran presence on a fairly young Phoenix squad.
Starting Power Forward: LaMarcus Aldridge- $5.84 Million Dollars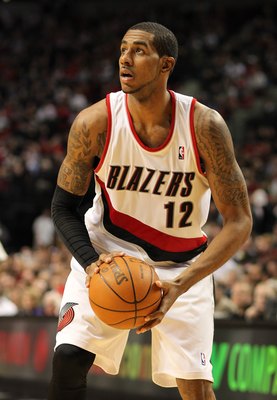 LaMarcus had himself another very nice season for the Portland Trailblazers and continued to make his case as one of the best young power forwards in the league.
The wiry 6'11" Aldridge averaged 17.9 ppg, 8.1 rpg, and 2.1 apg as the second option to Brandon Roy on an up and coming Portland team.
And at only 24 years old he already has the ability to score with his back to the basket and features a bevy of post moves that confounds most defenders.
Aldridge should only get better as he continues to mature and add weight to his frame which should make him even more of a threat in the post.
While he hasn't been named to an All-Star team yet, if he continues to play the way he has the last couple of seasons, it's only a matter of time.
Hopefully the Trailblazers enjoyed the bargain of paying Aldridge's $5.84 million dollar salary this past season because his salary is due to almost double to just under $11 million dollars next year.
The Reserves: Kevin Love ($3.4 million dollars), Luis Scola ($3.28 million dollars), Carl Landry ($3 million dollars), Andray Blatche ($3 million dollars).
In his third season in the league, Luis Scola showed that he has what it takes to be a team leader for the Rockets.
Without Yao Ming, the 6'9" power forward from Argentina took on a bigger role in the Houston offense and also led the team in rebounding. Scola looks to build off his best season in the NBA and could very well take another big step forward next year.
Andray Blatche definitely had an up and down season for the Washington Wizards but when he was given a chance to start he made the most of the opportunity.
After the Wizards front office traded Antawn Jamison and Caron Butler in the wake of the Gilbert Arenas gun suspension, Blatche became the focal point of basketball in the nation's capital. For the final 35 games of the season Blatche averaged over 20 ppg and nearly eight rpg.
Starting Center: Al Horford- $4.3 Million Dollars in 2009-10'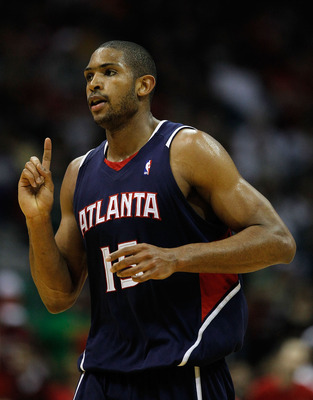 Since being drafted out of Florida in 2007 Al Horford has been one of the most consistent big men in the entire league.
He hit the ground running his rookie season and immediately became the starting center for the Atlanta Hawks. Big Al's known around the league for his prowess on the boards and has averaged at least nine rebounds per game for each of his first three seasons in the league.
Despite not coming into the league with an NBA ready post game, Horford has worked hard on his offense and it is starting to pay dividends.
This past season, the 6'10" Horford posted a career high 14.2 points per game despite only taking about 10 shots per game.
Horford will do whatever is asked of him and isn't afraid to take care of the dirty work under the basket. One of the best parts of his game is that he doesn't need the ball in his hands to have a big effect on the game and Horford is a consummate teammate who always looks to get other players involved.
Al's great play was recognized this past season when he was named an All-Star reserve, and at only 23 years old, he should be an All-Star game fixture for many seasons to come.
The Reserves: Kendrick Perkins ($4.5 million dollars), Marc Gasol ($3.33 million dollars), Joakim Noah ($2.45 million dollars), Brook Lopez ($2.25 million dollars)
Although Kendrick Perkins doesn't put up great numbers, his toughness and defense can have a major impact on any game.
He's one of the best defending centers in the league and was a big part of the Celtics championship run in 2007-08 and has also helped the team reach the Finals again this year.
Brook Lopez just endured one of the worst seasons in NBA history playing with the New Jersey Nets, but had a great individual year.
The seven-footer raised his game in his second season in the league and looked much more comfortable in the post and with the ball in his hands.
Lopez can also make a difference on the defensive end of the floor and should continue to be an intimidating presence inside which should make players think twice about coming into the lane.
Keep Reading