Head Bucks: The Top 5 Ohio State Football Coaches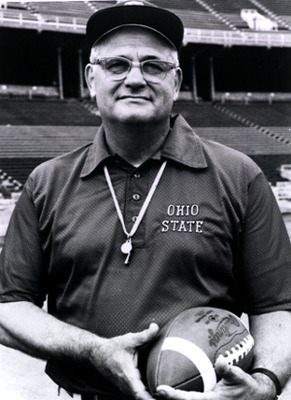 Ohio State is one of the more tradition-rich college football programs in the nation. Therefore a storied program has more than likely had a few legendary coaches.
For around the first twenty years of Ohio State football, the Buckeyes shuffled head coaches quite a bit. In the first 22 years of the program, there were nine different head coaches.
Of course, OSU football has become much more stable in the last 60 years, having only employed only four head coaches.
Without further ado, here are the top five head coaches in the history of Ohio State football.
John Cooper
Cooper, whose 111 wins in 13 years at Ohio State is second all-time in Columbus, will always be dogged by his 2-10-1 record against Michigan. However, that doesn't mean his tenure at Ohio State wasn't a success.
He won three Big Ten titles (although none were outright) and the 1997 Rose Bowl over Arizona State. Cooper was an outstanding recruiter, as players such as Eddie George, Terry Glenn, Orlando Pace, Robert Smith, Antoine Winfield and David Boston played for him.
His 3-8 bowl record, 6-6 season in 1999 and his team's lackluster performances against Michigan led to his firing after the 2000 season.
Earle Bruce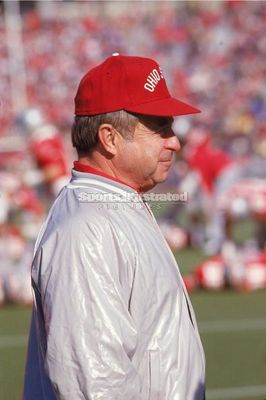 The two reasons why Earle Bruce, the man who preceded John Cooper, is higher on this list than Cooper are his 5-4 record against Michigan and his four Big Ten titles (one more than Cooper).
Bruce also briefly played at Ohio State and coached at three Ohio high schools (including at the famous Massillon Washington high school) before moving on to the collegiate level.
In his first year, Ohio State went undefeated but lost the Rose Bowl and consequently, the National Championship. Bruce was fired just before the Michigan game in 1987, but still coached the team to a victory in Ann Arbor. Michigan coach Schembechler told Bruce after the game, "I always mind losing to Ohio State but I didn't mind so much today."
Paul Brown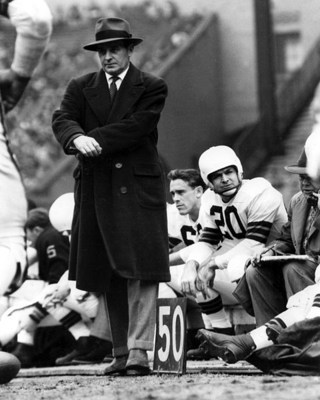 Although he only had a brief three-year stint in Columbus, Brown made lasting impact at Ohio State. He delivered the program's first national championship in 1942, with half the team being sophomores.
In his three years on the job, Brown went 18-8-1. After a stint coaching the Cleveland Browns franchise that bore his name, Brown became interested in again coaching the Buckeyes in 1951.
Despite monumental campus support, OSU's athletic board turned down Brown in favor of Woody Hayes.
Jim Tressel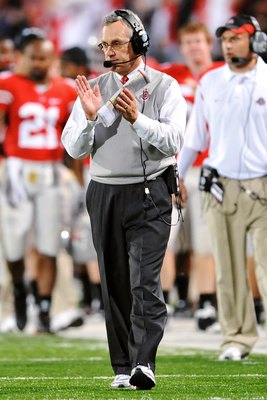 While he could conceivably pass my No. 1 on this list sometime in the future, for now The Vest will have to settle for second.
His 94 wins are third all-time at OSU and his 8-1 record against Michigan makes him the anti-Cooper. Tressel delivered college football's first ever 14-0 season in 2002 along with a national championship over heavily favored Miami of Florida, in just his second year on the job.
Although his conservative play-calling and his team's recent struggles in BCS bowl games may leave some fans frustrated, the fact his Tressel has been wildly successful since taking over in 2001.
Woody Hayes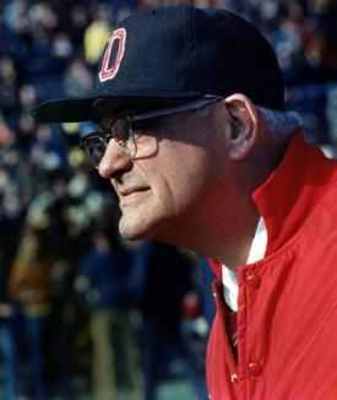 Wayne Woodrow Hayes coached in Columbus from 1951-1978, compiling a program-record 205 wins, 13 Big Ten titles and five national championships (three consensus).
Hayes ran conservative offense, often referred to as "three yards and a cloud of dust" and also made sure his players were in good academic standing, and would conduct postgame interviews in the locker room (only after losses or ties) in the nude.
Despite an ugly firing after the 1978 Gator Bowl (after Hayes punched a Clemson player), Hayes is beloved in Columbus. Over 15,000 people attended his funeral in 1987, with the eulogy being delivered by former President Richard Nixon.
Keep Reading

Ohio State Football: Like this team?