The 12 Schools That Should Comprise the SEC's Expansion Candidate List
The SEC's commissioner recently advised that if major realignment at the BCS ranks occurs, the SEC has some ideas in mind for an SEC expansion to assure their conference remains one of the elite BCS conference.
Since then there has been a rumoured leak of 2 plans for the SEC. The master plan? - Add Texas, Texas A&M, Florida State, and Clemson.
If they cannot land Texas, add FSU, Clemson, Georgia Tech, and Miami.
Mr. SEC has written a very well researched series of five articles on the potential SEC expansion that I strongly recommend.
With the minor exception of (IMO) a slightly distorted view of the timeline of Big 12 origin and as such a slightly distorted view on UT's availability to the SEC, it is a very well written, thoughtful, and informative series.
Among other things, Mr. SEC speculates that unlike the Big Ten which contracted expansion analysis out, that if the reported SEC candidate plan is accurate it may be more of plan based on a "who the SEC likes", fuelled by extreme confidence that they can land whoever they like and a belief that they understand the financials and don't need a company acting as a paid advisor.
I thought there was a need to take a more comprehensive look at who is out there and who it would make sense for the SEC to pursue and why.
A month ago, I'd have argued that to be able to afford to add schools in the existing footprint, the SEC would need to add major new markets outside of the existing footprint. The logic being that if TV already has Florida & South Carolina in their SEC package that can give them a game with great ratings and interest especially accross those states, how much more money would TV give the SEC for another Florida school or Clemson?
Now obviously with no TV in the equation (or even smaller TV in the equation) adding a school like Clemson that draws ~80K per game and is nearby offering lots of travelling fans could make a lot of financial sense for the SEC's eastern schools who would be playing them. At that scale of program often local money (booster contributions, ticket sales, merchandise sales, etc.) outweight TV money concerns.
In the SEC though, TV is a lot of money. This would seem to make the SEC a bit of a prisoner to their success in that adding most schools would lead to per team TV shares decreasing.
History suggests TV would demand valuable new markets in exchange for expanding the money total. As Vandy, Arkansas, Ol' Miss, and Mississippi State in the West take in a lot less athletic revenue than the other SEC schools and would not see a local revenue bump from the conference adding Clemson, a cut in leaguewide TV revenue shares to add Clemson would be a much bigger hit for their athletic programs than for the other schools, increasing the differences between the haves and the have nots.
Today, after the ACC recent deal, the near absolute nature of that new market for new money logic with regards to conferences not owning their own networks seems somewhat in question.
Today, I am lot less certain that the SEC could not add selected schools in their footprint and still retain a similar per share TV payout.
The reason for this is that the ACC deal seems to have been based in part on a network buying the rights to game broadcasts to retail out to other networks down the road.
In that kind of dynamic, I think it would be tough to say with any certainty that the SEC couldn't add two national brands like Miami and Florida State and that a TV networks wouldn't match the current per team payouts for 2 more members strictly on the idea of reselling some of those games. After all, those are the two national brands that the ACC was selling in landing their deal.
With this in mind, I have listed 6 schools within the existing footprint followed by 6 schools that offer new sizeable markets that all could legitimately fit the SEC in this new TV environment along with some thoughts on the viability of their candidacies.
With no further ado, 12 schools that the SEC should have on their list of candidates.
12. The Georgia Tech Yellowjackets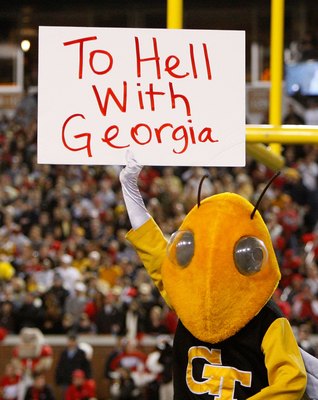 Location: Atlanta, GA
2009 Average Home attendance: 51,584 (not in the top 30)
Stadium Size: 55,000
Why them?
Playing major draws like Georgia, Florida, Tennessee, and South Carolina in conference would likely allow Georgia Tech to expand their stadium to 80K (if they desired) and actually fill it semi-regularly at those levels. That and a greater TV payout would have Georgia Tech pulling in millions more each year.
SEC fans seem to view Georgia Tech fondly as "the one that got away" in a way that they don't view former member Tulane.
Why not?
Georgia Tech may not be keen on a return. Remember they chose to leave the SEC. Now they may have regretted it from time to time, but they are in a pretty good place today. The ACC has a pretty decent TV deal and is a much better academic affiliation. Both the ACC & SEC have started academic consortiums, but the ACC's is much further along.
11. The Oklahoma State Cowboys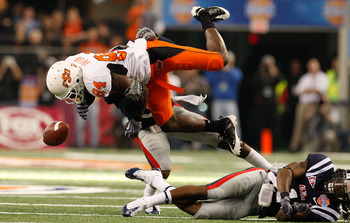 Location: Stillwater, OK
2009 Average Home attendance: 53,719 (not in the top 30)
Stadium Size: 60,218
Why them?
The arguement is that Oklahoma State might be needed to allow the SEC to bring in the state flagship of Oklahoma.
The program is geographically near Arkansas (comparitively), has a statewide following, strong programs, and a very healthy athletic budget.
Why not?
Who are Oklahoma State's advocates?
Oklahoma only has 3.7M people. How much would the SEC really want to add a strong number two school from a small state?
I can't see any scenario that gets them in without OU, and even with OU the odds seem long.
10. The West Virginia Mountaineers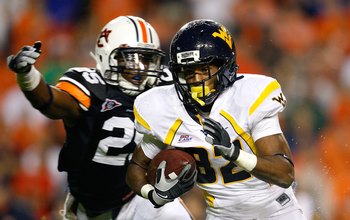 Location: Morgantown, WV
2009 Average Home attendance: 57,317 (not in the top 30)
Stadium Size: 60,000
Why them?
Culturally they are in line with the SEC. The SEC is the conference of the deep south and appalachia.
WV fans care about football. They are one of the better road draws out there.
They have a very competitive BCS level athtleic program, especially in the money sports.
Why not?
A tiny, tiny state and poor to boot. Not exactly TV gold, hence their placement with the non-new market teams.
9. The Miami Hurricanes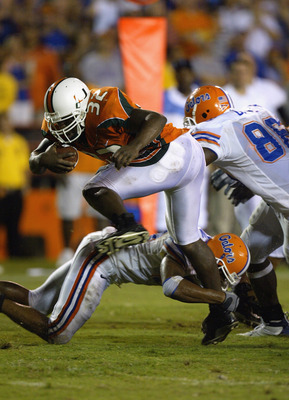 Location: Miami, FL
2009 Average Home attendance: 47,551
Stadium Size: 76,500
Why them?
The Hurricanes may be one of the top 5 national brands in the country. If the ACC contract is any barometer, selling their games could more than pay for their inclusion.
Why not?
Where to start. Miami's a great market, but in general TV terms is worth far less to the SEC than other conferences because the SEC already has Florida.
Miami's other sports offerrings do not match up to their historic football prowess.
Miami draws poorly at home due to NFL competition.
Miami has not been a consistently dominant football team in almost a decade.
If the SEC invites Miami, there are a lot of ways you can see the SEC schools losing chunks of the money Miami would bring in.
Finally, why would you leave the ACC if you are Miami?
They are far enough south that they are not likely to get the mass of travelling fans (and the financial benefit) that say Georgia Tech, FSU, and Clemson would probably get from SEC membership. Miami could find itself with one of the smaller budgets in the conference, never an easy position from which to attempt to consistently win.
The ACC has a lot of privates that operate using similar financials to Miami. The SEC does not.
If FSU leaves, then all Miami needs to do in the ACC is run the table and beat Va. Tech in th echampionship game to potentially be in the national title game each year. Plus the money is similar and the academics are far, far better.
8. The Clemson Tigers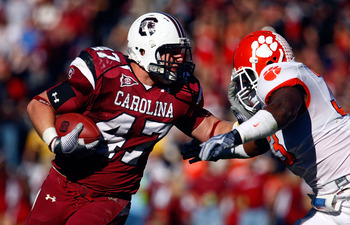 Location: Clemson, SC
2009 Average Home attendance: 75,793 (#17)
Stadium Size: 81,500
Why them?
Clemson has been drawing 70-80K for the last 2 decades+. Adding another major draw in a region can generate a great deal of local interest, travelling fans, and more booster contributions for SEC teams in that division.
They have a national title to their name and aren't far from Charlotte, a pretty good market.
Clemson has been an SEC-like, uber-talented, smash mouthed team for decades. They are no South Carolina.
Why not?
The SEC already has South Carolina and the state of South Carolina is not an especially populous state.
7. The Florida State Seminoles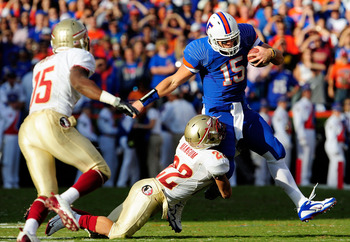 Location: Tallahassee, FL
2009 Average Home attendance: 74,345 (#70)
Stadium Size: 84,300
Why them?
FSU is a great national brand and a team that draws in that 70-80,000 range. This is probably the safest add of the teams that don't add new markets.
Playing in the SEC would likely ramp up FSU's attendance to near capacity as well as adding the added TV revenue.
Florida State spent decades trying to get into the SEC.
Why not?
There seems to be a bit of a love/hate relationship between the SEC and FSU. How will FSU feel today? While logically this seems like a school waiting for the SEC and perfectly suited to the SEC, FSU could decide to stay in the ACC as it is a better academic conference.
And because they feel like it.
Today.
6. The Missouri Tigers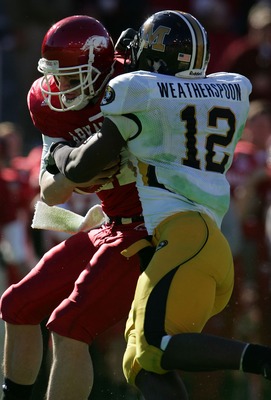 Location: Columbia, MO
2009 Average Home attendance: 64,120 (#28)
Stadium Size: 71,004
Why them?
Big Ten rumours aside, Missouri would make a fine SEC school.
They appear to have grown into a near clone of SEC member Arkansas, although the state of Missouri has twice as many residents. They offer a nice new collection of markets
Why not?
As with any conference adding Missouri, The SEC should remember that 1/3 of Missouri's football roster is from Texas. If you add Missouri you should add them with the idea that their Texas recruiting is likely to dry up and their football excellence may disappear overnight...just like Arkansas's.
5. The North Carolina State Wolfpack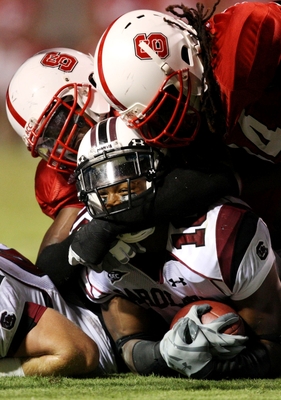 Location: Raleigh, NC
2009 Average Home attendance: 56,422 (not in the top 30)
Stadium Size: 57,583
Why them?
NC State averaged just under 98% of stadium capacity to see a 5 win team last year.
They were under a 1000 fans per game behind UNC for the title of top draw in the state. There is definitely a statewide following.
This is an emerging program in a populous state.
This is not such a good academic school that they would likely resist an offer from the SEC over academic snobbery.
Furthermore, this is a school with little to hang their hat on in comparison to their in-state neighbors in the ACC. Duke and UNC are elite academic schools and national basketball royalty. Wake Forest is also a top academic school and regular tournament team in basketball.
North Carolina State needs an identity. Why not the undisputed football power in the state?
If NC State joined the SEC, they could expand their stadium and probably be drawing 80,000 per game within a few years.
North Carolina produces a lot of good football talent and their fans are vastly underrated in their support of football teams.
Adding the state of North Carolina could also bridge the SEC to allow adding a Virginia member if they desired.
Why not?
NC State may not be inclined to leave Duke and UNC behind.
4. The Virginia Tech Hokies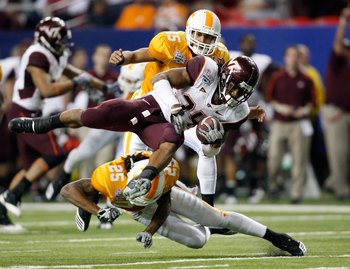 Location: Blacksburg, VA
2009 Average Home attendance: 66,233 (#23)
Stadium Size: 66,233
Why them?
Va Tech draws better than Virginia and is consistently a better team.
They averaged a sellout each game this year.
This is another team with a strong statewide following. Va Tech fans are rabid in their support, like SEC fans. Admission to the SEC would probably lead to a stadium expansion some time soon. It is unclear how much better Va Tech would draw in the SEC, but it seem unlikely they would draw less than they do in the ACC.
The fans may also be receptive to such a move.
Why not?
An argument out there is that Virginia would use the legislature to block Va Tech from joining the SEC. Afterall, the argument goes, Va Tech used the the state legislature to force Virginia to admit them to the ACC.
I don't know if I buy that. Afterall, Virginia didn't fight to add Va Tech to the ACC and may be totally content in seeing them join an academically inferior neighbor to underscore the differences between the two schools.
3. The Oklahoma Sooners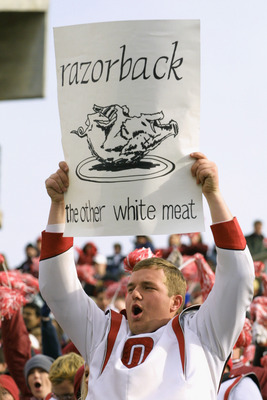 Location: Norman, OK
2009 Average Home attendance: 84,778 (#12)
Stadium Size: 82,112
Why them?
Oklahoma is a very consistent winner, a national brand, delivers Oklahoma and is very popular in Dallas/Fort Worth.
OU has recruited DFW and Noth Texas successfully for decades. It is very likely that even if they joined the SEC, they would be able to continue to recruit that region to suppliment in state recruiting and would continue to be a top 10 caliber team even if no Texas schools come with them.
The TV relevance they offer in Oklahoma and DFW would make them a fine add for the SEC.
Finally their options may be limited. OU is far away from the Big Ten, ACC, and Pac-10, does not do a lot of research (comparitively), and in terms of BCS automatic qualifer schools, is academically mediocre.
That combination will likely have the Big Ten passing on OU and the Pac-10 resisting efforts to shoehorn OU in with other schools they do favor like Colorado and UT. Their options may boil down to the Big 12 or the SEC.
Why not?
OU seems pretty content in the Big 12 today. That said, if the Big 12 starts to frey, they could be the first team from the Big 12 looking into SEC membership.
2. The Texas A&M Aggies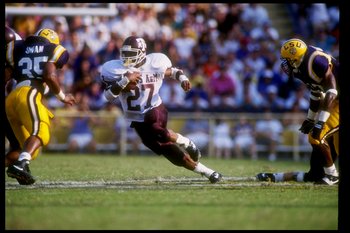 Location: College Station, TX
2009 Average Home attendance: 76,800 (#16)
Stadium Size: 83,002
Why them?
If UT didn't exist every conference in America would be foaming at the mouth to add A&M.
The plain facts that are frequently ignored in these discussions are that A&M is usually graded only slightly behind UT is most academic areas and has a larger research budget than UT.
It is a university with a giant enrollment that treats football as part of their educational birthright.
Yes, UT by itself can deliver TV relevance across the state of Texas to any conference... but so can A&M. People from out of state have no idea how rabid A&M's fans and alumni are.
UT draws 100k per game in Texas's 4th largest city (1.7M residents in the metro area) with no pro competition to boot.
A&M is located in College Station, a comparative hole in the ground at 86,000 people. It is part of the Bryan/College Station metro area that totals 203,000 residents.
A&M drew 76,800 per game to watch a bad team last year.
You go to A&M, you graduate a rabid Aggie football fan.
And they are now pretty good at basketball too.
Why not?
A&M has never been a move first kind of school. At least in my opinion. They generally seem content to let UT to go first and take the criticism.
After UT takes all the heat, A&M makes their move under the cover of having to make a move due to UT's arrogance. That was the plan in the last days of the SWC, before A&M was bribed by the Lt. Governor into joining the Big 12 in return for the votes to fund a new basketball arena in College Station.
Other factors that could come into play is the fact that Texas Governor Rick Perry (A&M Grad) is apparently great friends with the Chancellor of the Texas Tech system, Kent Hance, that has lead some to speculate the 3 Texas Big 12 public schools might be a package or at least difficult to seperate. UT's President Bill Powers has also said words publically suggesting UT has an intention of looking out for Texas Tech. Maybe it is just PR. Maybe it isn't.
Additionally there are rumours that UT & A&M have an unstated agreement to either stick together or at least ensure that both teams are in equally strong conference situations. That would make a lot of sense as the only school in the state that can definitely generate the support legislatively to hurt UT is A&M... and vice-versa.
1. The Texas Longhorns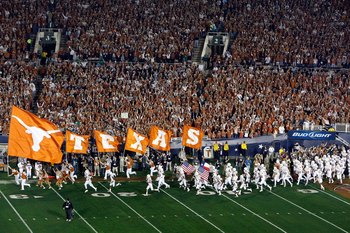 Location: Austin, TX
2009 Average Home attendance: 101,175 (#4)
Stadium Size: 100,119
Why them?
UT generated $138M in revenue for their athletic department last year.
They are a national power or contender in most sports in which they participate.
They are ranked ahead of almost all of the SEC schools in academics and research dollars. They are the flagship of the UT system that includes a ton of medical schools that if I recall on their own do over a billion dollars of research combined each year.
They can deliver the TVs in the state of Texas. Texas has over 24M people. If you do the math that means UT alone can deliver the a state that has a population equal to 40% of the SEC schools' home states' combined population.
Why not?
I question whether UT's leadership has any desire to join the SEC. What exactly are the benefits for UT?
If UT moves to the SEC they move away from the schedules and consistent success that have allowed them to rack up $138M in revenue this year. National titles, good rivalries, strong success, and a large affluent alumni base drive the UT money machine, not TV revenue.
UT pulled in $12M in TV revenue from the Big 12. That is less than 9% of their total athletic revenue. Moving to the SEC "only" would add $5M in TV revenue. If the other revenue were to stay the same, the TV revenue would only be a little under 12% of UT's total revenue.
It is entirely possible, if not likely, that UT would lose more money overall by replacing their Big 12 South schedule with an SEC West schedule. Angry boosters and fans could protest by boycotting their games and not buying their merchandise. Donations would likely drop. Leaving Tech behind in a perceived unfair way in particular could create a PR backlash in state that would really hurt UT in those areas.
An SEC West schedule with OU and A&M games out of conference would be a signifigantly more difficult path to a national title game than UT has today.
Finally UT (or A&M) in the SEC would blow the doors to Texas recruiting wide open to the SEC, reducing UT's deathgrip on the state's best talent. This outflow of talent would improve the SEC and specifically the SEC west making UT's path to a national title game even harder.
Then there is academics. UT and the SEC were close to a deal years ago before the end of the SWC, but UT's president at the time was unimpressed with the SEC's academics and balked.
That decision is no secret among UT administrators, boosters, or alumni.
It isn't like the Big Ten scenario where UT would be joining an obviously higher cailber academic conference and probably seeing millions upon millions of new research dollars annually from that affiliation. Texas residents might hate that kind of move, but they could at least respect and understand it is ultimately a financial positive for the state.
The SEC is perceived as a lesser academic conference than the Big 12. The SEC has made moves recently to improve that perception starting their own academic consortium and and educational network, but both efforts are in their infancy.
The Big 12 would need to go into a total economic meltdown for this kind of move to occur.
Even then the SEC would either need to mount a heck of a sales job to land UT or to convince A&M AND OU to move, creating a situation where UT would feel a need to move to slow what could be a very quick erosion of their recruiting, binding UT to the SEC - possibly long term.
It is difficult to imagine UT making this move by choice - or even not attempting to quietly stop A&M if they tried to move to the SEC.
Area schools not included on the list.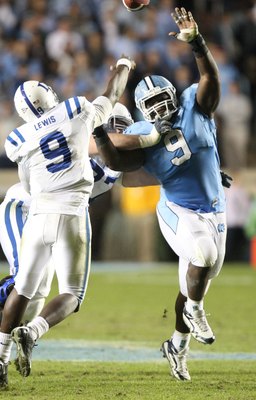 Why NC State and not UNC? Why Va Tech and not Virginia?
I cannot see the SEC adding Duke, a school with a craptastic stadium, a poor historic committment to football, and a totally undeveloped fanbase in that sport that keeps their turnout among the lowest in at the FBS level. I just cannot see it.
I also can't see Virginia or UNC bailing on Duke. Both universities appear to value their rivalries with Duke too much to consider leaving for the SEC.
Maryland is too far north, is not that developed of a program, and doesn't seem to share the culture.
South Florida is probably still at least a decade away from SEC consideration.
TCU has too small of a fanbase and really doesn't resonate with DFW residents outside of the Fort Worth city limits.
Texas Tech is too far away to be a likely candidate.
Houston draws too small of a crowd to be of interest to the SEC.
Troy doesn't draw enough fans and would likely be blocked by current SEC members.
Have I left any legitimate candidates out? Do you think there are stronger arguments for some of the candidates than I have made? Do you have insights about your school you want to share? I'd love to hear them.
Edit: OK, I missed one school that defintiely should have been on this page and another that maybe should have as well. I don't want every response to start with What about Louisville, so I have decided to go back and add them in.
Louisville offers a very strong if not elite level basketball program. That is a great asset to offer. They also offer a decent football program in terms of fan support, recent on-the-field lack of success overlooked. The reason I would not put them on the list of 12 is because they don't offer a new market and would be an outlier. The combo of outlier status and no new market hits me as something hard to justify. Now if they had the stadium and today were drawing 80k, I might have an entirely different take.
Memphis is another school mentioned. I think Memphis is a much lesser candidate due to the basketball coaching change and the fact there is NBA basketball there. I think you will see a gradual decline in the Memphis BB program at the box office and that is the main draw for Memphis.
Keep Reading

Virginia Tech Football: Like this team?